Looking for online business ideas?
Here are 15 ways to earn money online in Kenya in 2023.
In fact, these are the same old ways used to make money online by thousands of Kenyans, myself included.
And instead of just giving you the ideas, I will take one step further and show you what you need to get started.
If you are interested in making money as soon as possible, go ahead and use this guide.
Become a freelance writer
Freelance writing is the #1 way to earn money online in Kenya in 2023, for a good reason.
First, it is easier to get started and anyone, no matter where they are can do it.
Secondly, its potential is unlimited. In fact, I know of friends in my circle who are earning over 100K per month. And no, they aren't bankers, real estate agents, or sons of some rich parents.
They are just doing online writing.
So, what is freelance writing and how can you become a freelance writer right away?
Well, I will start with a shocking revelation.
As of January 2020, there were 1.7 billion websites in the world! Wow! That's huge.
And of all these websites, content is required, a necessity that quadrupled in recent years, thanks to the emergence of smartphones and internet penetration.
Now, looking at it from this angle, where do you think the content needed for these websites come from?
There are three ways to create content for your website:
Write by yourself – here, the owner of the site takes the initiative to produce content himself without external help. But what happens if you are too busy to DIY?
Spin content – spinning is the quickest way to generate unique content from what is already out there. Here, you take an article from someone else's site and change words using synonyms. If it is quick, why isn't everyone doing it? Because of penalties and shame waiting on those taking this route. Better way?
Hire a writer – here, the owner of the site pays someone else to create content on their behalf. This is where freelance writing comes in. As the owner of the website, all you have to do is generate some topics you'd like to publish, forward the list to your writer (s) and pay them to write.
How to get started as a freelance writer in Kenya
First, you need writing skills.
It is wrong to call yourself a writer when you haven't written anything in your life. Luckily, writing is a skill you can learn easily.
In fact, there is a ton of free training online, especially on YouTube teaching this skill. So I won't dive deep on it here.
Secondly, you need to create a portfolio.
This is a document or a list of your previous work.
It shows what you have done before.
When approaching clients, it will be hard for them to decide whether you are the best fit without
proof.
The easiest way to get samples is to do free work for a few clients.
Approach a website owner and offer to write for free in exchange for a testimonial. Also, you get a sample.
Armed with the sample, go ahead and hunt for clients, which is the third step.
The best place to start is your immediate circle of friends. Ask if there is anyone with a website and looking for a content writer.
Negotiate rates after getting the projects.
Now, while this is not the 'ultimate guide to getting started, it should get you started right away.
Create a blog and run ads on it
While working as a freelance writer in Kenya is a great way to earn money online in 2020, you can take it one step further.
Since you already have an interest and maybe experience in content writing, you can combine the two and make even more money.
Instead of relying on clients to pay you for the articles you delivered, you can be earning through your own blog.
How?
Simple.
Pick a topic you are interested in, which should be easy if you are already doing some work writing online in Kenya.
Say you are writing about digital marketing in Kenya. You can start a blog about digital marketing. Doing so will serve you in two ways.
One, you create and publish articles by yourself.
As such, you are slowly building a portfolio to show your clients that you already understand enough
about the topic.
Secondly, since it is a topic, you are passionate about, you are bound to be consistently churning content and keeping it updated.
Soon, you will be attracting thousands of readers.
To make money, consider serving ads on the site. The best program for such is Google AdSense.
So, you are not only benefiting from publishing your work, but also earning from the ads, talk of win-win-win.
Besides, having a blog about your freelance writing topics depicts authority, a trait you can spin to command higher rates and earn even more from doing less work.
You can easily earn money online in Kenya in 2023 through online trading and investing.
Does it work?
Tell me this, do you know these people: George Soros and Warren Buffet?
They are recognized as the greatest investors of all time, and they have billions of dollars to show for it.
Investing online isn't a complicated task as it may sound.
While I am not implying it is easy, it is a skill that can be learned by anyone with willingness and patience.
Let me give you a simple example:
During this Covid-19 pandemic period, many of the stock and commodities markets registered a huge decline.
A good example is the Oil market which dropped at least 50% of its normal value.
When this happened, a ton of people rushed in to cash in on the market decline, knowing that it will come back up, after all, whatever goes down, always comes up.
I can't tell you how many people became millionaires when the market corrected itself in just a short period.
On the flip side, thousands lost money as a result of a market drop.
I guess what I am saying is that online investing and trading is a risky business.
And that's what makes it more rewarding, all you have to do is master how to correctly predict the market, and hence be in a position to enter or exit the market at the right time.
With trading apps and platforms like Olymp Trade, you can immediately start making money online as a trader of commodities, shares, crypto, Fixed Time Trades, etc.
How to get started as a trader in Kenya
Learn everything you can about trading, trading strategies, using technical analysis tools and trading psychology.

Pick a platform to conduct your trades. I'd recommend Olymp Trade. They are the best in the industry with huge bonuses and training materials

Practice your craft. Put to test whatever you have learned. Luckily, Olymp Trade comes with a free demo account with $10,000 free virtual funds. This means that you can trade the real market without risking real funds.

Move to a live account and start making real money. Once you are confident with your skills, deposit as low as $10 to Olymp Trade and start implementing what you learned to earn you real money online in Kenya 2023.
Online shopping doubled in 2023, thanks to the Covid-19 pandemic.
People were forced to stay indoors due to restricted movements. As you can guess, even in such situations, life must continue nonetheless.
To get the essential items, Kenyans turned to online shops such as Jumia and Kilimall.
This is something you can replicate and start earning online immediately.
How?
All you need is a product proven to sell and the platform to showcase your products.
For the products, it is up to you to choose.
You can go for items like Fashion, foodstuffs, or electronics, after all, people must get entertainment even during such periods, right?
Once you have the product, go ahead and look for the platform to open your shop. Here, there are two ways to proceed:
One, build an online store from scratch. Yes, you can be the next Jumia competitor, but your advantage is that you are offering only one product category.
If this is the case, you can either create the website by yourself or hire someone to do it for you if you have the budget (at least 10K).
Two, leverage already available markets to sell your products online. For example; sites like JiJi.co.ke. Jumia and Kilimall are accepting new sellers on their platforms.
All you have to do is sign up and if accepted, proceed to upload your products and set up a store.
Alternatively, social media platforms can serve as your stores.
In fact, Facebook has a really great online shop feature.
Go ahead and create a Facebook page and turn on the shop feature. Upload photos of the products, descriptions, and prices.
Also, include the order information. 
Here, you buy and sell website names for profit.
How?
See, domain names are like virtual real estate on the internet. There are some advantages of getting the coolest website name for your business, and that explains why people are constantly looking for the best names.
To make money here, all you have to do is identify the best domain name, register it, and put it up for sale.
What does the best name look like?
It is Brandable, meaning it can be easily turned into a business

Short and easy to pronounce, for example, Voice.com, car.com, etc

Contain keywords about the business. For example, if you are targeting kitchen customers, the name should show that e.g. Kitchen.co.ke, KitchenAppliances.com, etc.
Once you have the domain, go ahead and sell it. There are platforms like Dan.com, Flippa.com that can help with the sale.
Is it worth it?
Voice.com was sold for at least $30 million, business.com for $345 million, and carinsurance.com for $50 million, the list is long.
So yes, it is lucrative. The trick is to get a domain name that will be valuable for someone.
This follows the above strategy of buying and selling domains.
What if instead of just buying and selling 'naked' domains, you instead develop a complete website with traffic and sell it for even higher prices?
It is possible.
All you have to do is buy a valuable domain, curve out a website out of it that is attracting consistent traffic.
Then sell the complete website to prospects.
Here is what to do to increase the odds of making money:
Pick a niche or industry. Do not create a website in any industry. Some niches are known to attract more paying clients than others. For example, a kids' website won't sell more than a website targeting adults

Pick a befitting domain name; Brandable, short, and memorable.

Create a complete website with content to generate traffic.

Consider monetizing it with ads. Doing so will increase its value, thus fetching you more money.
Once the website is up and ready, go ahead and reach out to those who'd be interested in the audience your website is attracting.
Let me explain.
If you have a website about Kitchen appliances in Kenya, it means it attracting people who are interested in kitchen stuff.
Now, ask yourself, who'd be interested in such an audience?
Kitchen appliances brands, right?
Go ahead and pitch to them why they should buy your website.
This is where the traffic aspect of it comes to your rescue. If you approach them and say, 'my kitchen website is already attracting 10K readers per month' will attract their attention.
I mean, who'd want to miss out on such numbers?
Do this more and you can turn it into a thriving business.
Also Read: – HOW TO EARN A MILLION IN A MONTH WORKING FROM HOME
A podcast is recorded audio uploaded online for people to download or stream. If you possess great speaking skills, consider this as a way to earn money online in Kenya in 2023.
To get started, you need to pick a topic.
In fact, starting a podcast in Kenya is like creating a blog. Only that instead of written content, it is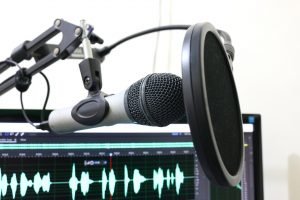 audio.
Make sure it is something people are interested in, for example, starting and running a business.
To make money, you can offer branded merchandise, inviting sponsors, paid content, and donations.
The challenge here is growing the number of listeners. Once you have that dialed in, everything else should fall in place.  
Blogging is about creating and publishing written content on a blog (website). Vlogging works in the same way, but only this time you are creating and publishing video content.
And just like blogging, you need an interesting topic to vlog about.
This is because your success is pegged on the number of people watching and engaging with your videos.
To get started and make money vlogging, you need quality content and subscribers.
For example:
To start making money on YouTube, you need at least 1,000 subscribers and over 4,000 watch time.
On Facebook, you need at least 10,000 followers and garner at least 30,000 views on 3-minute videos.
Again, the key to successful vlogging is creating an engaged audience.
To get that, you need to produce quality content. And quality content comes from understanding your target audience.
For example:
If you are targeting business owners, ask yourself, what would they be interested in? Provide that and they will love you for it.
Get paid for your opinion and answers
Online surveys and polls in Kenya are growing in popularity. This is because they are easy and promise easy money.
While they don't offer much, it is enough to be worth spending a couple of minutes rather than idling around.
To get started, visit popular survey sites like GeoPoll and register. A warning though, do not rush into every survey site promising quick cash.
Some of them are just after your personal data and won't give you anything.
Do you consider yourself multilingual? And understand Kiswahili exceptionally well?
You can earn money online in Kenya in 2023 by helping brands translate into and from the Kiswahili language.
All you have to do is join sites like ProZ and Upwork. They have a lot of projects requiring your skills.
I must mention, you have to be exceptional in Kiswahili and other languages such as English. If you understand other foreign languages like French will be an added advantage.
There are several ways you can make money online as a social media marketer in Kenya.
Social media manager –  as a social media manager you will be helping busy entrepreneurs and small businesses manage their social media accounts.
Facebook ads consultant – brands will be paying you to create, run, and manage their Facebook ads.
Social media influencer – if you have a sizable following on social media, say 30,000 Facebook fans, you can make money through sponsorships, endorsements, affiliate marketing, and selling your own merchandise.
Creating and selling social media accounts – if you understand how to start and grow accounts, you can make money easily. For example, Telegram and Tik Tok are upcoming social platforms. Brands and individuals interested are looking for already established accounts.
Pinterest marketing – Pinterest is another popular social media platform, and confusing at the same time. Most businesses avoid it just because they cannot understand how it works. If you can figure that out, you can build a following, and get paid to either build for others or promote brands to your followers.
– Online tutoring
If you understand a certain academic subject well, you can easily make money online through tutoring.
Especially now when students are at home and parents are overwhelmed with too much playtime, your services will be welcomed with open arms.
To get started, pick a subject you are confident to deliver stellar results. Approach parents and negotiate rates and modes of payment.
After that, deliver your lessons online through Skype, Zoom, or WhatsApp.
You can make money by testing websites and applications.
See, brands and individuals always strive to deliver the best experience through their services. As such, getting feedback before the launch of the product is vital to their success.
In your free time, consider joining sites like UserTesting.com.
You'll get paid to test websites and apps, a process that takes less than 30 minutes to complete.
To get started, you need a reliable internet connection and a smartphone, having a laptop is even better.
Airbnb is an online platform bringing together homeowners and guests looking for a place to rent.
If you have an extra room, you can make money now by registering on this site.
Upload the pictures of your room, set prices, and contact information.
To increases, the chances of getting a client, make sure your room is well maintained, decorated, with all basic amenities like clean water, Wi-Fi, and security.
Kenyans are hungry for information.
They take their curiosity to search engines, which disappoints in most cases because there is not enough information out there.
If you can figure out what people are actively searching for and can't get enough information, you've got one piece to unlocking the making money online puzzle.
The other job would be to create a valuable piece of content answering their questions adequately.
And what is the best way to do that than an e-book?
It is easy and free to create. Armed with answers, you can create a complete guide to a pressing question within days using only MS Word.
The tricky part is knowing what people are looking for, or is it? Go to Google and look at what people are searching for. Use tools such as the Keyword Planner tool and Ubersuggest.
Both give you what people are looking for and the number of searches per month. I'd recommend you go with a query with over 1,000 searches per month to make sure that enough people are looking for the answers.
Once you have the e-book, price it moderately. After all, the only expense is your time and effort, which means you are bringing in 100% profits. Use platforms like Kindle to publish the guides.
Wrapping up on Easy Ways to Earn Money Online In Kenya
Making money online in Kenya in 2023 is easy if you know how to.
The secret here is to command the attention of a few thousand people and you are halfway there.
Tagged With : best apps to earn money online in kenya • how can i earn money online in kenya • how to earn money online in kenya • legit ways to earn money online in kenya • ways to earn money online in kenya