Affiliate marketing for beginners: 6 steps to success in 2020
You must have heard that affiliate marketing is the most lucrative way of making money online.
That's true for two reasons:
It has low entry barriers – unlike other ways of earning online, you can start affiliate marketing as a beginner with absolutely zero money.
You have control of your business –  As an affiliate, no one will be bossing you around to do things you don't like
In fact, the affiliate marketing industry is projected to hit $6.8 billion mark in 2020.
---
Want a piece of that cake? Start your affiliate marketing business today.
You don't know how and where to begin?
I Know!
That's why I have created this affiliate marketing guide for beginners with you in mind:
To not only show you the exact steps you need to take to join affiliate marketing, but to also let you in on how you can earn money promoting a product or two.
But before that, I feel like I need to cover the basics first to keep you updated.
What is affiliate marketing?
This is a form of marketing where you are paid to promote someone else's products.
That's right.
You get rewarded (in form of commission) when you help a business or company make a sale.
How easy is that?
For every customer that you direct to buy from a business, you get paid a percentage of the sale revenue.
You are simply that company's salesperson but instead of a normal monthly salary, your affiliate marketing salary is in the form of commissions.
As you can already tell, there are two parties:
You the affiliate marketer a.k.a the publisher and… .
The company a.k.a the merchant.
And from now onwards, I will be using the terms interchangeably.
Having said that, the next question is:
How does affiliate marketing work?
When you sign up with a company as their affiliate marketer, they will assign you a unique URL.
This URL contains a special piece of code that helps track the origin of whoever clicks on it.
Whenever anyone clicks on the link, a special file known as a cookie is installed on their device browser.
This affiliate cookie does two things:
Helps the merchant track the origin of the sale which in this case, points to you as the publisher who initiated the sale.
The cookie also holds duration –  It has an expiry date, which means it won't stay forever on the user's browser.
The catch is that you get attributed to everything that the customer buys even if she doesn't check out immediately
To help you get that last bit, here's an affiliate marketing example:
Imagine you are promoting a phone on Jumia. A customer clicks on your special link to the Jumia store.
While in there, something comes up that requires her immediate attention and she leaves the house.
Later that week, she logs back on Jumia where she finds the phone she wanted and a couple other things.
This might seem like a lost course. But here's the good news:
You see, earlier, she had clicked on your affiliate link and the cookie was installed on her browser. And since Jumia cookies last 7 days, you still get the money when she buys.
Even better, you will be compensated for everything she bought. Regardless of your link only pointing to one product category – Jumia phones.
Now, let's talk about the numbers game:
How much money can you make as an affiliate?
Sorry to say this, but there's no magic number or limit as to how much affiliate marketing can bring in for you.
You see, there are a ton of niches you can work with. And each of them comes with their own rates. For this reason alone, your effort is a huge factor here.
Let me explain.
The more work and time you put into pushing the affiliate offers, the better chances of you cashing in big checks.
That's right.
Pay attention to the rates of the programs you are pushing, and regarding your monthly income target, crunch the average number of sales you need to bring in.
As I said, this is a numbers game.
How to start affiliate marketing in 2020 as a beginner.
Do you feel like this is something you'd be interested in?
Well, in a nutshell, here are the steps you need to take now:
Pick a platform.
Pick affiliate product niche.
Join affiliate programs.
Create great content.
Drive traffic to that content.
Optimize the content for conversion.
Study analytics.
Now, let's discuss each of these steps in-depth.
1. Choose a platform to use.
This is the crucial step that will either make or break your affiliate marketing ambitions.
As much as you can pick any platform out there to build your business on, I recommend you start a blog. Or buy One.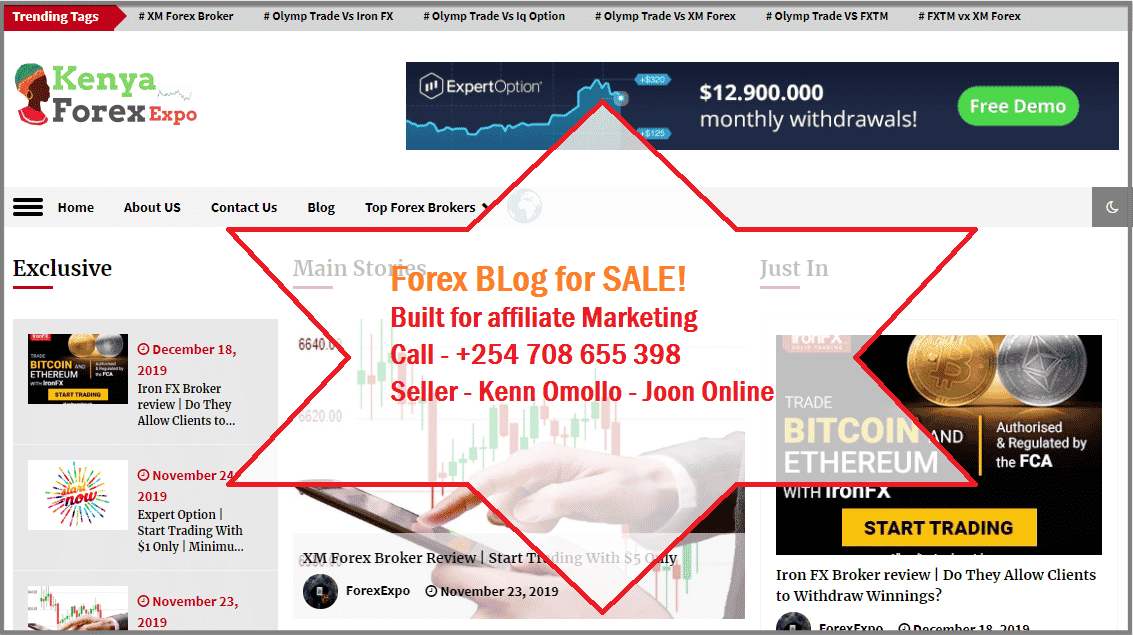 Yes. Your own website is an asset when it comes to affiliate business.
Let me explain.
You can choose to use social media as a platform to promote your offers; a good example is using Instagram, where you put affiliate links on your bio.
Well, this might sound awesome. But there's one downside:
You don't own your Instagram account. You might think you do, but Facebook Inc does. That's why every time they make an algorithm update, your account suffers.
Like seriously, why build someone else's platform when you can work on your own?
By starting a website, you gain in many ways. To name but a few:
You control what happens on your blog, who sees what, where and when.
You don't have to worry about waking up one day and everything is gone. This is a true story by the way. Your income will be consistent (as long as you keep working).
Also Read: – If You Just Installed WordPress; This is What You Did Wrong!
Once your blog is up and running, optimize it so it can be found on search engines such as Google. This way, you can rank and benefit from free organic traffic.
Affiliate marketing on YouTube
Alternatively, you can create video content, upload it to YouTube and on the description you include your affiliate link.
YouTube as an affiliate platform works best for video review creators. Here, you record a video talking about the features as well as the pros and cons of a certain product.
Then, in the end, ask the viewers to use your link or special discount code (usually on the description) if they are interested in the product.
Now, comparing the potential of a blog and a YouTube channel, a website wins every time. For this reason, this guide will cover using the website as an affiliate platform.
2. Go ahead and pick a niche.
I will start this section with bad news.
There were over 500 million blogs last year (2019) alone. As if that's not enough, the number of bloggers in the US alone is expected to hit 31.7 million in 2020 (source: Statista)
What does that mean for you who wants to start affiliate marketing?
You are going to face stiff competition which is going to get worse as time goes.
If blogging is going to work for you, you need to niche down. Let me explain.
If you are going to be blogging about 'health' for instance, you stand no chance because that topic is broad and has a lot of established publishers.
Hence, you need to dig deeper and go with a little more specific topic like 'weight loss for women.'
With such a specific niche, you have a shot at making money promoting affiliate offers.
Because you can build a more targeted audience and you can rank easily on search engines.
That's what Kenn did with this site.
Instead of focusing on finance topics which is so broad, he picked a specific niche, 'making money online.'
Don't get me wrong here. I'm not urging you to shy away from some niches just because you think there is competition.
As it turns out, competition is a good sign that a niche is profitable and worth investing in.
This brings me to how to actually make sure that you pick the right niche.
Tips on how to pick affiliate marketing niches.
I recognize the tough task involved in deciding a niche. But don't worry because I have some tips for you to take into consideration.
Pick a niche you are passionate about – Affiliate marketing as any other money-making venture isn't like walking on the roses. You will feel like quitting at some point. And when that happens, only passion will keep you going simply because it is hard sticking to what you don't like.
You need a niche that has keywords with enough search volume such that when you rank on search engines, you get decent traffic.
Go for niches with moderate to low competition. – As I said earlier, competing with notable brands is a losing battle.
You need a niche with products that actually solves people's problems. Avoid promoting products just to make a quick money.
Don't narrow too much down a niche. You'll find yourself stranded – With too narrow niches, you will run out of topic ideas too soon.
That last point matters a lot. Find niches with moderate depth.
3. Choose affiliate marketing programs.
Right off the bat, affiliate programs can be put into three categories:
Low-volume programs but pays high commissions.
Such programs have huge payouts and hence attract huge competition. And since you are starting out, this might not be a good program to join because you will be going head to head with marketers with a ton of experience and deep pockets.
High-volume programs but with low payouts.
Such programs pay lowly but attract huge customer bases. A good example is the games industry, very popular. A PS4 game goes for at least $50. But pays peanuts for commissions usually between $2 and $4 per sale. If you are going for such programs, you need to drive a ton of traffic.
High-volume programs with huge payouts – with such programs, there is huge demand and the commission rate is huge.
A good example here is a credit card. Almost everyone needs a credit card. And companies are willing to pay the top bucks to acquire new customers.
Despite its appealing nature, such programs have one huge downside; it attracts affiliate marketing 'whales.'
These are marketers with deep pockets and a ton of expertise. And in most cases, such marketers can even play 'dirty' to make a sale by all means.
Now that you know what affiliate programs exist, it's time to choose one to focus on.
How to know which program to go with.
The program that you will choose will depend on your expertise as well as your niche.
If your niche is targeting consumers, it makes more sense to enroll in the second model (low payout with high sales volume).
Alternatively, if you are dealing in the B2B sector, high payout and low volume is the suitable model.
A majority of affiliate marketing companies with such models are under the web hosting industry, for instance, BlueHost.
Meanwhile, a quick Google search will yield a ton of results you can easily sort through.
For instance, you can search affiliate marketing programs that pay high commissions. Then filter the results based on your niche.
Subsequently, looking at what your competitors are promoting can help. If they are having the success you have high stakes of making it too.
Similarly, if there's a product you really want to promote, why not reach out to the company and ask if they can partner with you.
Once you've exhausted this stage, it is time for the next step:
Also Read: – 9 Online Jobs That Paid Me 305,867.51 Shillings in January 2020
4. Creating content and driving targeted traffic to it.
Not just any content though. You need actionable content that your readers crave for and your affiliate links will fit naturally.
Wondering how to do that?
If you are creating review content of certain products, don't just wink it. Instead, actually, purchase the product and experience it first-hand.
And when the time comes to write a review, you'll have more useful information.
I can't tell you enough how this strategy alone is a deal-breaker in affiliate marketing. This is because most of your peers are just curating content from other blogs.
However, if you do not have enough cash to purchase every product you are promoting, there's a way out.
Start by reviewing products you already use or better yet, interview close friends who own and use such products. Then compile their views into a video or a post.
Remember to include your affiliate link in the content.
While creating content may seem like all there is to nailing affiliate marketing, there are other parts that come together to make this a lucrative venture.
I'm talking about driving traffic.
How to generate traffic to your affiliate content.
Without an audience to consume your content, no commission cheques coming your way.
So, how do you get eyeballs to your content?
Actually, I have 3 sources of traffic you can choose from or better yet, employ all of them.
a) Paid traffic
This is where you spend some dollars to generate traffic through ads.
For instance, using Social media ads and PPC (pay per click) ads.
Paid traffic is a blessing and a curse.
Let me explain.
A blessing because you get targeted traffic the moment you pay.
It is a curse in the sense that your traffic stops the moment you run dry of funds or stop paying. Besides, it is eating into your profits.
Consequently, as an affiliate marketing beginner, I'd advise you to stay away from paid traffic. Only use it when you have a budget. Otherwise, stick to the next traffic source.
b) Free organic traffic from search engines.
You can get free traffic through search engines, thanks to SEO (search engine optimization).
This is where you optimize your content with keywords users use when researching your niche.
With this traffic source, you are sure to get consistent readers as long as you are ranking for your chosen keywords.
Basically, what you have to do is:
Research on what your target audience is looking for online.
Create content around that topic.
Attend to technical stuff that will help you rank and stay there.
Given that getting traffic to your content takes a little effort and sometimes needs you to throw a couple of dollars at it, I have added a bonus traffic source for you.
c) Build an email list
As sure as death, some of your readers will never return to your blog ever again, unless you do something.
That something is capturing their emails so you can stay in touch with them while you promote some of your other content to them.
To do this, you will need to offer something for free (lead magnet) in exchange for their email address. The freebie should be valuable or else no one will take it.
Example:
If you are blogging about weight loss programs, create a workout course and offer it for free in exchange for an email address.
With this in mind, you don't have to break your bank trying to come up with a perfect lead magnet. Here are some other ideas you can offer for free
An e-book.
A cheat sheet.
A checklist.
A discount code.
Gift card, etc.
As long as your freebie is valuable enough, you are good to go.
Niche, check.
Program, check.
Content, check.
Time to wrap up everything and get them working towards one goal: making the sale.
5. Optimize your content and blog for conversion.
Having mouth-watering content will not guarantee you will make sales. That is to say, people don't just go about clicking on links without apparent reason.
Thus you need to be intentional on how you position your affiliate links.
This is how:
Put the links where your readers are more likely to click on them, it is a bad idea to put them at the bottom of the page. Know where and when to include an affiliate link (context).
Use comparison tables, lists, and bold texts to highlight important parts of the content. Doing so captures the attention of skimmers.
Two things happen when a customer lands on your content.
Clicks on the link to the product page.
Purchases the product.
The truth is, you are only in control of the first action: clicks. And using the tactics above, you can increase the chances of that happen.
The problem is in the other end: checkout.
This is the merchant tuff; hence you don't control their conversion rates whatsoever.
One thing you can do though is to make sure that all the products you are promoting have been proven to convert. To uncover them,
Ask the merchants what their conversion rates look like.
Look for products your peers are already making money promoting. You can get this by looking at their income reports (if they publish them publicly).
Trust your gut. If a product landing page is a whack, ditch it.
Lastly, you don't need to be repeating the same mistakes. To avoid this, look at the next step.
6. Study analytics and learn from mistakes.
Sure, you will make a ton of mistakes along the way, there's no doubt about that. Problems only arise when you repeat the same mistakes over and over again.
Analyzing data is the only surefire way to avoid pit holes. Luckily for you, several of the affiliate marketing sites will give you access to a dashboard.
Here, you get aggregated information showing the performance of your affiliate campaigns. All that's left for you is to sort through them, find what you care about and use it to make future decisions.
Example:
If you are running several affiliate marketing campaigns for various products, you can generate reports on the best performing products based on conversion rates.
Then, take that information and tweak your affiliate marketing strategy towards such products.
By doing so, you are ensuring that 20% of your time is spent on offers that are responsible for 80% of your income.
Final thoughts on affiliate marketing for beginners.
There is no doubt that affiliate marketing works even if you are an absolute beginner. The only problem is rushing to it thinking you will be rich overnight.
Affiliate marketing needs patience, consistency and learning from your mistakes just like any other business out there.
All you have to do is follow the blueprints shown here and within no time, you'll be earning your first affiliate commission.
Concentrate on building a loyal customer base because this is the pillar of your business. And your future sales will come from them.