Best Forex affiliate programs to join in 2021
Did you know you can make money through Forex without trading or investing?
That's right.
You don't have to put your capital on the line in order to profit from Forex companies. There's another way. Better if you own a website/Blog.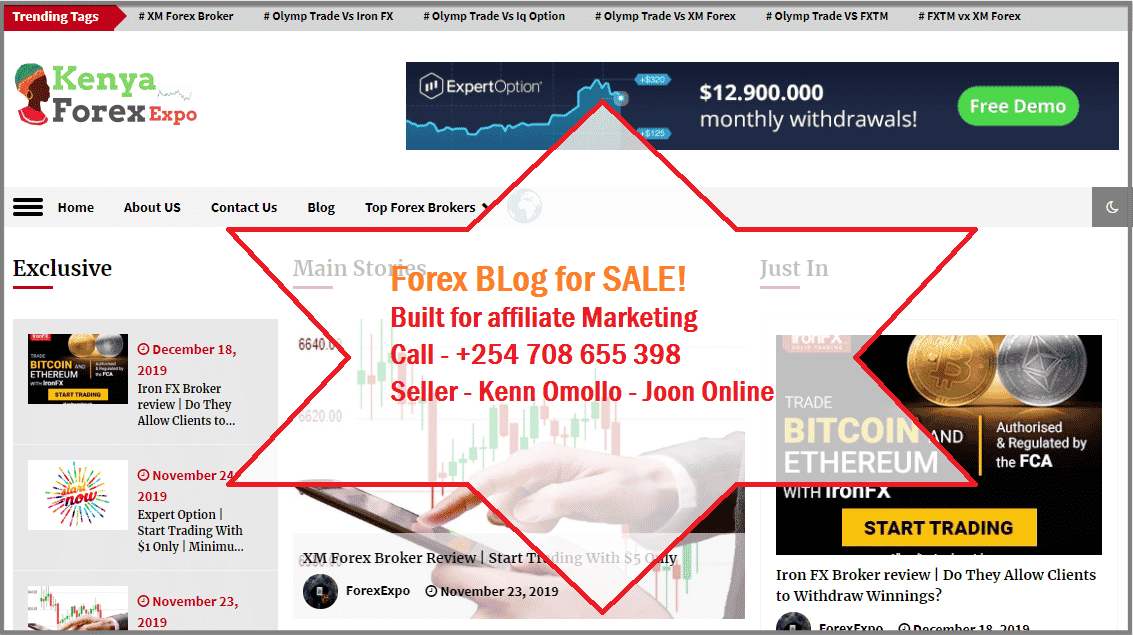 What I'm about to show you is only known by a few savvy people who are constantly looking for ways to add new streams of passive income into their portfolio.
I'm talking about Forex affiliate programs.
First things first:
What is a Forex affiliate/Partner program?
This is where Forex companies like Orbex, XM, FXTM, Kingfin (Olymp Trade) Iron FX and the others pay individuals to refer customers to their platforms.
And you are paid commissions when your referral opens a trading account and proceeds to place his first trade.
Actually, trading affiliate programs have no difference with traditional affiliate marketing.
Let me explain.
How Forex affiliate marketing works
This doesn't differ much from traditional affiliate marketing you are used to, only that here; the product is a financial service. Also, how you are paid as a Forex affiliate slightly differs from the traditional one; I will discuss this in a second.
But first, let's look at an example:
You liked what Orbex are doing; their platform and services are great. So as a Forex affiliate, you decided to promote this company to earn a commission.
First though, you will need to register on the Orbex website as an affiliate, and once you are accepted, you will get a special link/code that's unique to you.
The second step is to promote the affiliate link to aspiring traders. For you to make money, two things must happen:
The client clicks on your link.

And opens an account with the Forex company (action).
The last part may differ from one Forex broker to another. Some may require that the client must place her first trade for you to receive your commission.
Now that you know how trading affiliate programs work, let's look at the next thing:
How much can you earn by promoting Forex affiliate programs?
This a good question.
After all, you signed up because you were looking for an additional stream of income (a side hustle), right?
This is a question you will be able to answer by yourself once we cover the types of commissions in Forex affiliate programs.
By the same token, the size of your commission cheque will depend on the Forex program you are promoting.
That's why later I will give you a list of some of the best Forex brokers to consider for this venture.
Types of affiliate commissions in Forex.
As you know, affiliate marketers are paid on a commission basis.
And in Forex, there are four ways you can be compensated for your efforts.
1. CPA (Cost Per Acquisition).
This is on of the most common terms in the online marketing industry.
CPA stands for Cost Per Acquisition. This means that you only get paid when your referral:
Opens an account.

Make their first fund deposit or.

Execute their first trade.
This means that there's no commission for you if they do not complete this process simply because the company hasn't acquired them.
CPA is calculated based on the lifetime value (LTV) of the client. Such numbers differ from company to company, consequently, you will find that Forex companies have their own CPAs.
Despite this fact, the acceptable industry standard is anything between US $150-$250 per acquisition (per client).
Don't worry though, because this number is not written on a stone. Actually, it can go higher than this depending on the size of the fund deposit.
Now, with a rough estimate of how much you stand to make from each client you refer, I think you can arrive at a close size of your income projections.
Meanwhile, if CPA looks daunting to you, the next type of Forex affiliate program commission may excite you.
2.  CPL (Cost Per Lead).
Cost Per Lead or CPL is where you get paid when your referral completes the sign-up process with the broker.
Here, the company gets the following information from the client you referred:
Name.

Email address.

Phone number.
When that happens, we say the broker has acquired a lead and you receive your Forex affiliate commission.
In a nutshell, a lead is a potential customer.
Sounds like a piece of cake, right?
I agree, but there's a downside to this:
Sometimes, on the sign-up page, one of the requirements is for the client to fill in details of the person who referred them.
You know how forgetful we can be sometimes. If that happens, that referral is lost.
Not to worry though, the next type of commission is a deal-breaker; huge potential.
3. Revenue sharing.
You know how Forex brokers make money, right?
Through the spread as well as the traders' losses of course.
It turns out, some Forex affiliate programs can offer to share with you part of this revenue. To do this, you need to agree on the percentage.
This is a lucrative deal and can ramp up your income in no time.
While these are the main types of commissions you will get, some brokers make their affiliate programs enticing by combining all of them like in the next affiliate commission type.
4.  Hybrid.
As you can by the name, this is the combination of all of the above commission types.
Example:
You can get a broker offering affiliate a CPA and revenue share as a way to compensate you for their referrals.
5. Sub-affiliates.
Popularly known as second-tier, where, as a Forex affiliate, whenever you successfully refer fellow affiliate to the program, you earn a share of their commission revenue.
This can be through a percentage of revenue or a fixed amount.
Let's now look at some of the brokers with the best Forex affiliate programs you can join in 2020.
1. XM Forex (Partner Program).
XM is considered by many traders as the most successful Forex broker of the 21st Century.
This can be reflected in its customer base; over 2,500,000 clients in 196 countries.
XM offers its customers a large pool of trading instruments ranging from Forex, CFDs, Equity indices, Energies, as well as precious metals.
This brokerage firm earned its position by providing leading trading policies, educational materials not to forget on-going promotions.
You don't have to worry about being scammed here.
Why?
XM is regulated by reputable bodies including ASIC, the FCA, and CySEC. This means that your funds are safe and trading is in a secure environment.
What you need to know about XM Forex affiliate/partner program.
Potential earnings: up to $25 per lot.
Commission payouts: monthly ($50 minimum).
Cookie duration: 2 months.
Regulating bodies: FCA, CySEC, ASIC.
Promotional materials: Multi-language banners, text links, flash banners, static banners, landing pages, newsletters.
Commission types: sub-affiliates 10%, no CPA.
XM Forex Partnership Pros and Cons.
Pros.
It's a regulated company hence funds safety.

Availability of promotional materials for affiliates.

It's a popular brand.

Easy to use affiliate software.
Cons.
Sometimes you can be asked to scan your ID and provide proof of address before earning. This shouldn't be a problem if you want to earn.

Does not send daily affiliate statistics daily anymore.
Why You should Join XM Affiliate Program.
Their payments are consistent.
Here's an example of a payment made to Joon from XM in January.

2. Forex Time Affiliate Program.
Popularly known as FxTM, Forex Time is a brokerage firm started back in 2011 with only one goal:
To revolutionize the Forex industry through the provision of innovative products and services.
True to its mission, FxTm now offers over 250 trading instruments to their clients. And all of their activities are monitored and overseen by four regulatory bodies, CySEC, FCA, FSB, and IFSC.
The broker has opened offices in London, Cyprus, Limassol, and in the UK. Free demo accounts are available. And later you can upgrade with a minimum deposit of $100.
What you need to know about FxTM Partners program.
Potential earnings: up to $15 per lot.
Commission payouts: weekly withdrawals ($50 minimum).
Cookie duration: 30 days.
Regulating bodies: FCA, CySEC, FSB, IFSC.
Promotional materials: animated banners, custom text links, static banners, landing pages.
Commission types: CPA, Lot rebate commission and Sub-affiliate (10%).
FxTM Partners affiliate program pros and cons.
Pros.
Free educational materials that include videos, ebooks, articles, and tutorials.

State-of-the-art reporting dashboard.

Customizable multi-language banners.

Recognizable brand.
Cons.
Doesn't accept US citizens.

Their platforms are only on Metatrader.
3. IronFX Partner Program.
IronFX is a global leader in the online trading industry. Their high-class services have earned them numerous accolades and recognition across the Forex industry.
IronFX supports over 30 languages, a move that has spurred their growth into over 180 countries.
Their growth doesn't seem to be stopping anytime soon. They have offices in Cyprus (HQ), London, Johannesburg, and Sydney.
With them, you are sure to find over 200 trading instruments. And like other brokers, IronFX is regulated by ASIC in Australia, CySEC in Cyprus, UCRFIN in Ukraine, and FCA in England.
Side note: IronFX is also an official sponsor of FC Barcelona.
What you need to know about the IronFX affiliate program.
Potential earnings: up to $10 per lot.
Commission payouts: monthly withdrawals.
Cookie duration: 60 days.
Regulating bodies: FCA, CySEC, ASIC, UCRFIN.
Promotional materials: banners, landing pages.
Commission types: CPA of up to $600, lot rebate commisson.
IronFX affiliate program pros and cons.
Pros.
High commission payouts.

Advanced affiliate referral tracking tools.

Variety of commission plans you can choose from.
Cons
There are minimum requirements you must meet to be accepted as an affiliate.
Join Iron FX Affiliate Program.
4. Orbex Affiliate Program.
Orbex is an international investment company serving the financial markets since 2010 through the provision of a secure environment for inter-bank liquidity.
The Forex broker is also EU regulated and licensed by FCA and CySEC.
Orbex operates segregation accounts that hold clients' funds. Such accounts protect funds from negative balances at all times.
The company also runs an online trading platform that offers several instruments; CFDs, commodities, currency markets, futures, indices, and precious metals.
What you need to know about Orbex affiliate program.
Potential earnings: up to $10 per lot.
Commission payouts: monthly withdrawals ($50 minimum).
Cookie duration: 100 days.
Regulating bodies: FCA, CySEC, Bafin, MiFID.
Promotional materials: banners, landing pages, newsletters, widgets.
Commission types: sub-affiliate (decided individually).
Orbex affiliate program pros and cons.
Pros.
Regulated and licensed broker.

Excellent customer support.

Competitive spreads.
Cons.
Lacks promotional offers.

Only operates a Metatrader platform.

Higher minimum deposit for clients.
5. Kingfin Affiliate Program (Olymp Trade).
Olymp Trade is the go-to platform for binary options lovers. Its user-friendly and multi-functional platform is a winner for many a trader.
That's why its customer base of over 25,000 daily traders comes as no surprise.
The broker has been in business since 2014 and they haven't looked back ever since. Olymp Trade's always working round the clock to improve its platform through round the clock support.
Over the years, their hard work has paid. This can be seen through numerous prestigious awards they have won which include:
Best options broker (Forex Expo 2017).

Best Financial Broker (CPA Life Awards 2017).

The Fastest Growing Broker (ShowFx World 2016).
What you need to know about the Olymp Trade affiliate program.
Highest revenue share percentage in the whole industry (60%).

Variety of promotional tools available in 7 languages.

Highest conversion rates (registration-to-trader).

Minimum payout of $10.

Withdrawals upon request and they accept over 10 payment methods.
Olymp Trade affiliate program pros and cons.
Pros
A low initial deposit of $10.

Beginner-friendly – Focus on training beginners on binary trading.

Focus on short term trades (15 seconds to 24).

Fast payouts – takes 1-3 days. Instant payment on Skrill and other e Wallets.

You can get personalized promotional materials just for you.

Dedicated affiliate manager to guide and answer your questions.

Training Materials in English.
Cons
Less variety of trading instruments.

Their training videos are not in all languages.
Join KingFin Affiliate Program.
6. Expert Option Affiliate Program.
ExpertOption is a binary options broker offering over 100 tradable financial instruments which include currencies, commodities, stocks, and cryptocurrencies.
The broker is located in Port Vila and has been in business since 2014. With over 13 million accounts, ExpertOption is regulated by Vanuatu Financial Services Commission.
Considering the number of clients that trade with them daily, you can infer that ExpertOption is a reputable company.
New traders get a chance to practice through a free demo account and later upgrade with a minimum deposit of $50.
What you need to know about ExpertOption affiliate program.
Withdrawals are done twice per month.

Minimum payout of $10.

You get access to a variety of promotional materials that include, ready made landing pages, banners, and texts.

You earn 50-60% in revenue share options. No hybrid or CPA.

Timely payments.
ExpertOption affiliate program pros and cons.
Pros
Excellent 24/7 customer support.

Detailed referral stats.

A whole library of promotional materials.
Cons
Doesn't accept US citizens.

Only Pays twice a month.
Expert Option Top Earner's Commissions | Partners Report.
Join Expert Option Affiliate Program.
7. IQ Option Affiliate Program.
IQ Option is an online trading platform that allows its users to trade any of the following financial assets.
Binary options.

Cryptocurrencies.

Stocks.

Forex.
As a trading broker, it is regulated by CySEC in Cyprus and run by IQ Option Ltd. Founded in 2013; the platform has gained popularity and became one of the fastest growing online trading platforms.
As we speak, the IQ Option has over 20 million active accounts from around the world.
What you need to know about IQ Option affiliate program.
Automatically transfers your commissions to accounts of your choice twice per month.

Revenue share commission type (50%).

A very high conversion ratio.

Lifetime commission system.

Variety of promotional tools available.

You get a personal affiliate manager dedicated to helping you.
IQ Option affiliate program pros and cons.
Pros.
Reputable brand.

Timely payments.

User-friendly interface.

Variety of promotional material available.
Cons.
Their customer service is wanting.

Country restrictions.
There you have it; the best Forex affiliate programs you can join in 2020. Considering this is a fairly large selection of Forex affiliate programs, here are some tips to help you sort through them.
How to choose the best Forex affiliate program.
First, take into consideration the history of the broker. Some have been known to scam their clients as well as affiliates.
On the same note, pay attention to transparency and openness.
You see, as an affiliate, these are some of the things your clients will be looking at. So you better do your homework early.
Secondly, you should look at the reporting tools available. As a forex affiliate, you need to be able to follow through in real-time from the moment a lead comes in through one of your links up to the point they open an account.
You should avoid those brokers who only provide reports at the end of the month.
Third tip: look at the deposit and withdrawal process. Your clients should be able to deposit and withdraw their funds and profits without headaches.
Therefore, this falls on you to recommend to them a forex broker with a smooth payment process, variety of deposit options and that is transparent on its dealings.
While this is not a conclusive list of what to consider when choosing a forex affiliate program, the above tips are the important ones.
How to promote Forex affiliate programs.
Picking the best forex affiliate program is not the final; it is time to embark on promoting it to potential clients.
How?
1. Using your blog.
With a blog, you can create content and include your forex affiliate link within it. The content should be useful to readers.
For example:
You can write a blog post reviewing the IQ Option trading platform. Then encourage readers to register using your forex affiliate link.
Once you've created content, remember to drive targeted traffic to your affiliate partner.
And there are two ways you can do this:
Using paid traffic – promote your content using ads.

SEO – optimizing your forex content to be found on search engines.
If you don't have a blog, here's a guide on how to create one. Alternatively, opt to buy our very own – Kenya Forex Expo Blog – designed with affiliate marketing in mind.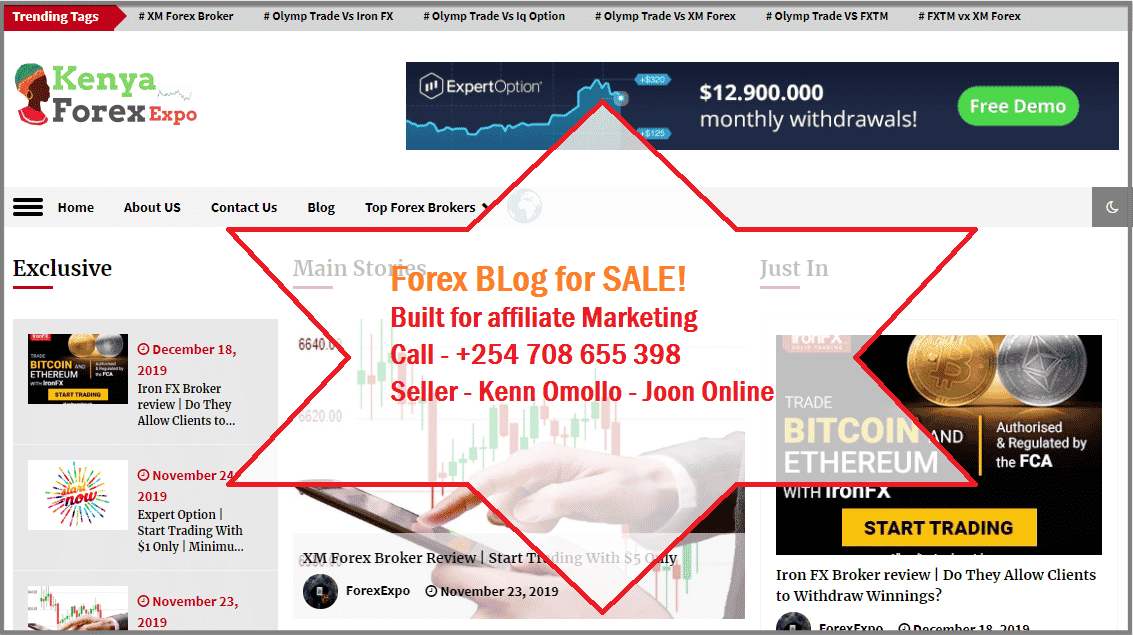 Or
See the next tip to learn how to promote forex affiliate programs.
2. Use YouTube to Promote Your Affiliate Partners.
You can create video tutorials and upload them to the YouTube channel.
Example: –
You can create a video tutorial on how to use make money online using Olymp Trade.
Towards the end, encourage your viewers to sign up with the platform.
Upload the video to YouTube. (Checkout our YouTube Channel and subscribe)
And on the description of the video, include your Olymp Trade affiliate link.
Facebook, for example, has over 2 billion monthly users, not to mention Twitter and Instagram.
With such a population, you can make money by sharing your affiliate link on the platforms.
Example.
Create a Facebook group about FxTM trading and teach your members everything you know.
Occasionally, share your FxTM affiliate link on the group so the members can use it to sign up.
Bonus way of promoting forex affiliate programs.
Email Marketing.
Email marketing is one of the oldest and most trusted online marketing strategies.
In fact, 93% of B2B trust email to help then distribute their content.
This doesn't come as a surprise?
Here's why:
Studies show that for every $1 you put into email marketing, you get $38 back.
That's insane for something that costs almost nothing to get started. Right?
So, why not follow these steps to start promoting forex affiliate programs using email?
Create valuable content (lead magnet) like e-book, tutorial, course. Should be related with forex or program you intend to promote.

Sign up for email autoresponder provider (Get Response is the email service I'm currently using). Try it.

Ask users to input their email addresses in exchange for the free content you created in step I.
That's how you can do it in a nutshell.
Once you've collected enough emails, be keen on building a relationship with your subscribers. Ask questions.
Curate content around their answers.
Example:
You can ask your subscribers what their biggest challenge when it comes to Forex trading is.
When you get the answers, try providing in-depth answers.
And occasionally promote your forex affiliate program when it makes sense.
In conclusion
Up to this point, you should by now know that utmost diligence must be taken when choosing the best forex affiliate program.
This is the only way you can avoid future problems.
Forex affiliate earnings can give you a lifestyle you've always dreamed about. Use this guide to get there.
Tagged With : best forex affiliate program • best forex affiliate programs 2020 • best forex broker affiliate programs • forex affiliate marketing • forex affiliate programs • forex trading affiliate programs