If you're looking to boost your success in the Quotex in 2023, you'll want to use these 11 indicators.
In this article, we'll take a look at each indicator that's available on the Quotex platform and provide tips on how to use them to help improve your position on the Quotex leaderboard and to help you make more money on the platform.
Before we get started with the indicators though, let's learn what indicators are and how you can use them on trading charts.
What are Indicators?
An indicator is simply a tool that provides you with information about the market. There are a variety of indicators available to traders, and the one you use will depend on your trading style and strategy.
However, some of the most common indicators used in day trading include moving averages, Bollinger Bands, RSI, and MACD.
a). Moving Averages.
Moving averages are a great way to identify trends in the market. They help you to identify whether prices are moving higher or lower over time, and they can help you to identify when a trend has begun or ended. More on this later in this guide.
b). Bollinger bands.
Bollinger Bands are another popular indicator that is used to identify price fluctuations. They help you to identify when a security is overbought or oversold, which can help you to make better trading decisions. More on Bollinger bands and how to use them to trade later on in this guide.
c). RSI.
RSI is another popular indicator that is used to measure the strength of a stock's current trend. It helps you to identify whether a security is in an uptrend or downtrend, and it can provide valuable information about how strong the current trend is. We will talk more about RSI in our next article covering Quotex oscillators.
d). MACD
MACD is another popular indicator that is used to track the momentum of a security. It helps you to identify whether a security's price is moving up or down more than average, which can provide important information on places to BUY or SELL securities.
What are Oscillators?
Oscillators are indicators that help you make profitable trading decisions. Unlike indicators which are plotted directly in trading charts, oscillators are plotted at the bottom of the charts.
They are used to identify trends and movements in the market. Oscillators can be used to identify trend reversal points as well as overbought and oversold zones on the charts.
There are a few types of oscillators that are commonly used in trading. The most common type is the moving average crossovers (MACD), which measures the difference between two moving averages.
Another common type of oscillator is the stochastic oscillator, which measures the percentage of changes in prices over a period of time.
How Many Indicators Are Available in Quotex?
Quotex is a trading platform that offers traders a variety of indicators to help them make better trading decisions.
The platform offers over 50 different indicators including drawing tools and oscillators.
To find the best indicators for your trading strategy, you first need to decide what you are looking for.
Some indicators are designed to help you predict the future movement of markets, while others are used to identify trends and patterns in data.
Once you have determined what you want from an indicator, plot it on your chart.
Read the next sub-topic to learn how to set indicators in Quotex.
How to Set Indicators in Quotex
If you have an account in Quotex, log in and follow this guide to plot your first indicator in Quotex. If you don't have an account, create one here to follow along with this guide.
Logged in?
Now click on the indicators tab to reveal all indicators in Quotex.
Which indicator do you want to plot on your chat? Moving averages, Parabolic SAR, or Fractals? Whatever indicator you are interested in setting on your chart, click on it and it will be plotted.
It's that simple. Look at the image below to follow along. After adding your preferred indicator on Quotes, use the setting window to change color, chart type, or even the period of the indicator.
Best Indicator Combination in Quotex
One of the best indicator combinations in Quotex is the combination of moving averages and other indicators. This combination will help you figure out when to buy and when to sell financial instruments with so much success.
To find the best indicator combination in Quotex, you need to look at different factors.
The first factor is the time frame in which you are looking to make money.
For example, if you want to make money quickly, then you should focus on indicators that track current market trends. However, if you want to make money over a longer period of time, then you should focus on indicators that reflect long-term market trends.
The second factor to consider when choosing an indicator is the quality of the data. It is important to choose an indicator that has reliable data and fewer delays so that you can be sure that your investment decisions are based on sound information.
Last, but not least, you should look at the accuracy of the indicator. You want an indicator that is accurate enough so that it provides accurate predictions about future market movements.
One such combination is the combination of moving averages and Parabolic SAR. The moving average will show you where the market is heading and the parabolic SAR will show you the right time to enter a trade.
1). Alligator Indicator in Quotex
One of the most important indicators in Quotex that will help you win more when trading is the alligator indicator. You can form various strategies with the Alligator as either the first indicator or the confirmation indicator.
If you choose to use the Alligator indicator as your preferred indicator then these are some of the things you must know.
The Alligator indicator has three moving averages. The alligator jaw, teeth, and lips.
Alligator's jaw – plotted on the chart as a blue line on most broker platforms. It is a 13-period SMMA and smoothed by 8 bars forward.
Alligator's teeth – drawn as a red line. Represents the 8-period SMMA (Simple Smoothed Moving Average) smoothed 5 bars forward.
Alligator's lips – shown as a green line. It is in fact a 5-period SMMA smoothed 3 bars forward.
Other important things to note in the Alligator indicator.
The design of the Alligator is based on an assumption that the financial market is non-trending most of the time (80%) and only spends the rest (20%) trending.

If

prices remain above the Alligator's Jawline (which is one of the moving averages of the alligator), you should expect the prevailing uptrend to continue.

On the flip side, when the asset starts trading below the 'Jaw,' it should tell you that the market is on a downtrend.
How to Use Alligator Indicator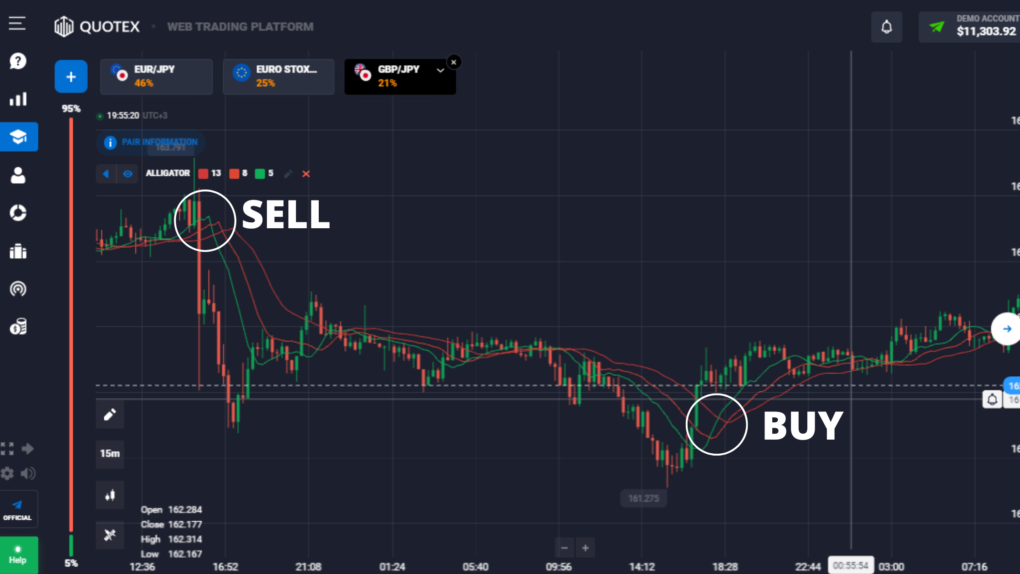 The Alligator goes through three phases:
Sleeping – depicting the absence of trends in the market.
Awakening – new trend gaining momentum.
Sated – trend losing momentum.
When it comes to generating trading signals on Quotex, most traders use the convergence and divergence of the three moving averages.
Remember the Jaws are slower while the Lips are faster.
As a result, when the lips cross down the other lines, that is an indication of a short-selling opportunity.
Conversely, when the lips cross upwards, it is a sign of buying opportunity.
2). Bollinger Bands Indicator in Quotex
Bollinger bands is another indicators in Quotex that will help you win more in Quotex if used correctly.
This indicator shows how much volatility there is in the market and provides an indication of when to buy and sell to make profits.
You can learn more about Bollinger bands in this article, we wrote earlier on this blog.
How to Use Bollinger Bands Indicator
There are very many different winning strategies that have been formed around Bollinger Bands. Some of the best Bollinger bands strategies that you can try on Quotex include: –
Ranging markets strategy with the Bollinger Bands.

Trading Breakouts with the Bollinger Bands.

Double Top and Double Bottom with Bollinger Bands Trading.

Trading Outlier Bars with the Bollinger Bands.

Trading the Gimmee Bar with the Bollinger Bands.

The 'MACD-Bollinger Band' Trading.
If you're not sure how to use these strategies then you must read this post on Bollinger band's strategies.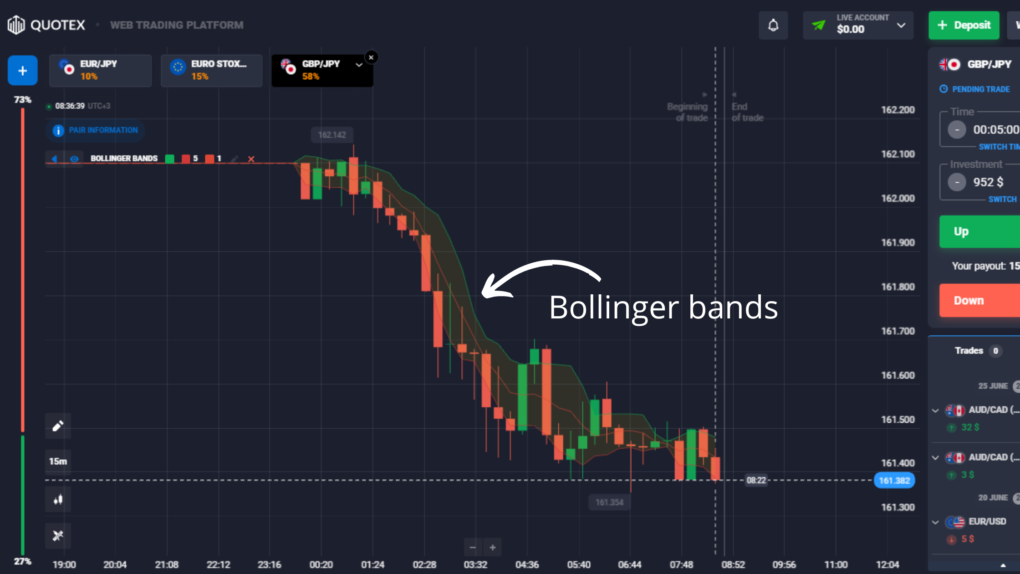 3). Fractal Indicator in Quotex
The fractal indicator is unique in that it identifies a price pattern and marks it on the chart to show traders which directions to trade.
The fractal indicator can also help you predict when a market trend will change.
If the fractal indicator shows that the market is headed for a decline, it may be a good time to sell your stocks. On the other hand, if the fractal indicator shows that the market is headed for a rise, it may be a good time to buy stocks.
You can add the fractals indicator to your chart by tapping on it under indicators on Quotex.
How to Use Fractal Indicator
Using the Fractals indicator is easy.
Traders can use fractal indicators to determine the possible direction of price in a market. One easy way to use fractals is by trading in the direction shown by Fractals.
Traders should BUY if the price moves above the buy arrow as this can be translated easily to a breakout on resistance.
Conversely, traders should SELL if the price moves below a SELL arrow as this can be translated easily to a breakout on support.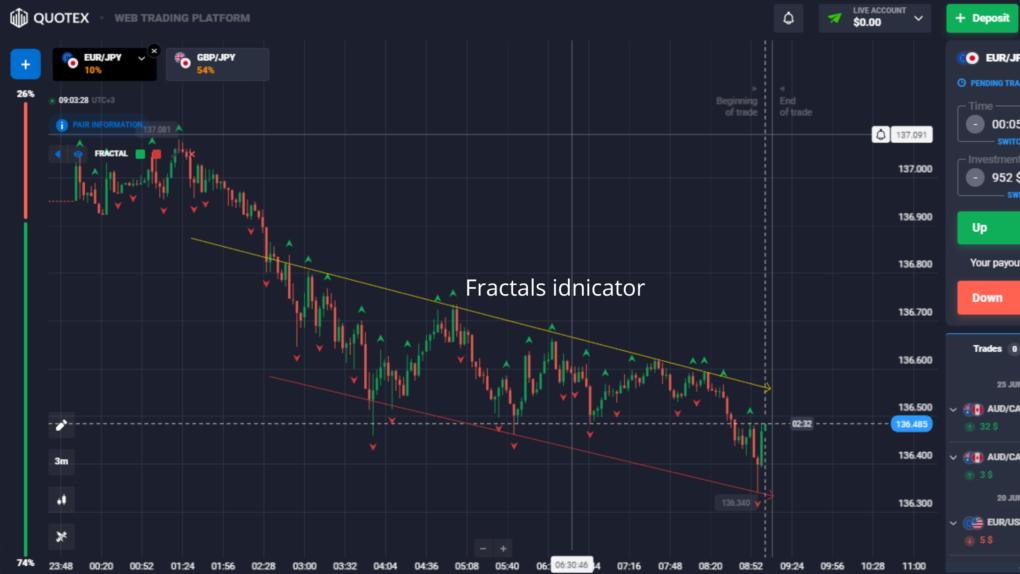 Other Indicators in Quotex
Envelopes
Ichimoku cloud
Keltner Channel
Donchian Channel
Supertrend
Zigzag
Parabolic SAR
Top 10 Best Quotex Oscilators.
ADX
Aroon
Awesome Oscillator
Bears power
Bulls power
CCI
DeMarker
ATR
MACD
Momentum
RSI
Rate of change
Stochastic Oscillator
Schaff Trend Cycle
Vortex
Volume Oscillator
William %R
Weis Wave Volume Oscillator
Top 10 Drawing Tools on Quotex (Qx broker)
Arc
Cross line
Curve
Cyclic lines
Date Range
Date and price range
Disjointed Channel
Extended Line
Fibonacci Fan
Fibonacci Retracement
Flat Top/Bottom
Gann Box
Horizontal Line
Parallel Channel
Pitcfan
Pitchfork
Price Range
Ray
Rectangle
Trend Angle
Trend Line
Triangle
Verticle Line
Quotex Overview
Quotex, is a binary options trading platform that was launched in 2019 and has since revolutionized the trading industry.
With features like free trading signals and over 50 different oscillators, indicators, and drawing tools, Quotex Broker has appealed to binary options traders of all levels.
Is Quotex Legal And Safe to Use?
Yes, Quotex is legal and safe to use.
It is registered by the International Financial Market Relations Regulation Center (IFMRRC) with the number TSRF RU 0395 AA V0161, and it has passed all safety and compliance checks for users.
That coupled with the fact that Quotex is also secured with SSL encryption makes it even safer for users. Plus, you can also use 2-factor authentification to increase the security of your Quotex account.
Overall, Quotex is a safe and reliable binary options trading platform that offers users a variety of features and options to trade.
How to Register a New Account in Quotex
New account registration in Quotex is easy and only takes a minute.
To get started go to the official Quotex website on either of these URLs – www.quotex.com, www.qxbroker.com, or www.quotex.io and register.
Once on the platform, click on the register or create an account button to begin the registration process.
You only need an email address and be 18 years and above to trade with Quotex. If you are not ready to use real money, start with a demo account.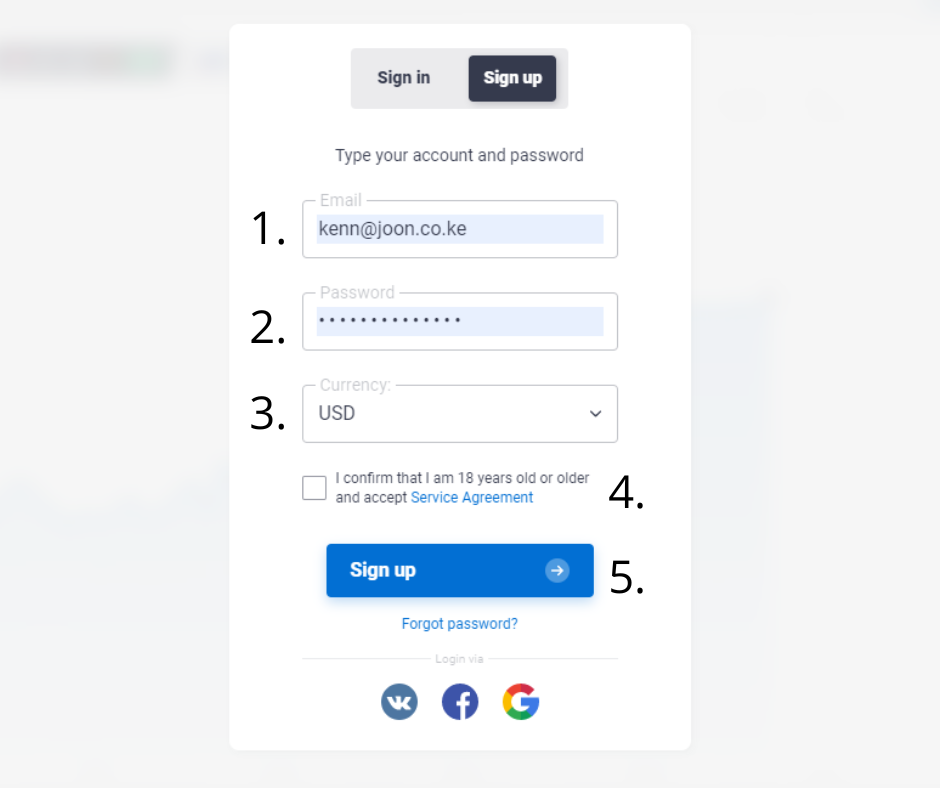 Conclusion
Quotex has more than 40 different indicators, oscillators, and drawing tools that you can either use independently to trade or in combination with indicators and trading tools.
These are just some of the most commonly used ones. If you don't have an account in Quotex and you'd like to start learning how to use advanced indicators to trade, register here and we will help you achieve success with these tools.
Happy trading.
Tagged With : apakah broker quotex resmi • are brokers legit • are brokers safe • best indicator for quotes • Bhutan • broker explained • broker quotes bloomberg • broker quotes definition • broker quotex opiniones • brokers or broker's • do brokers lose money • download broker quotes • how to use indicators • how to use indicators in quotex • is quotex a regulated broker • is quotex a trusted broker • is quotex broker legit • is quotex legal in us • is quotex legit • is quotex regulated • is quotex.io legit • partner quotex broker • quotes broker demo account • quotes indicators • Quotex • Quotex Afghanistan • Quotex Algeria • Quotex Angola • Quotex Antigua And Barbuda • Quotex Argentina • Quotex Armenia • Quotex Azerbaijan • Quotex Bahamas • Quotex Bahrain • Quotex Bangladesh • Quotex Barbados • Quotex Belize • Quotex Benin • quotex binary options review • Quotex Bolivia • Quotex Botswana • Quotex Brazil • quotex broker • quotex broker affiliate • quotex broker apa • quotex broker apakah aman • quotex broker apiis quotes a good broker • quotex broker apk download • quotex broker app • quotex broker dari mana • quotex broker demo • quotex broker descargar pc • quotex broker erfahrungen • quotex broker id • quotex broker indonesia • quotex broker legal • quotex broker login indonesia • quotex broker opiniones • quotex broker pc • quotex broker penipuan • quotex broker regulated • quotex broker review • quotex broker web • quotex broker wikipedia • Quotex Brunei • Quotex Burkina Faso • Quotex Burundi • Quotex Cabo Verde • Quotex Cambodia • Quotex Cameroon • Quotex Canada • Quotex Central African Republic • Quotex Chad • Quotex Chile • Quotex Code D'Ivoire • Quotex Colombia • Quotex Comoros • Quotex Congo • Quotex Costa Rica • Quotex Cuba • Quotex Cyprus • Quotex Djibouti • Quotex Dominica • Quotex Dominican Republic • Quotex DR Congo • Quotex Ecuador • Quotex Egypt • Quotex El Salvador • Quotex Equatorial Guinea • Quotex Eritrea • Quotex Eswatini • Quotex Ethiopia • Quotex Gabon • Quotex Gambia • Quotex Georgia • Quotex Ghana • Quotex Grenada • Quotex Guatemala • Quotex Guinea • Quotex Guines Bissau • Quotex Guyana • Quotex Haiti • Quotex Honduras • Quotex India • quotex indicators • Quotex Indonesia • Quotex Iran • Quotex Iraq • Quotex Israel • Quotex Jamaica • Quotex Japan • Quotex Jordan • Quotex Kazakhstan • Quotex Kenya • Quotex Krygystan • Quotex Kuwait • Quotex Laos • Quotex Lebanon • quotex legit • Quotex Lesotho • Quotex Liberia • Quotex Libya • Quotex Madagascar • Quotex Malawi • Quotex Malaysia • Quotex Maldives • Quotex Mali • Quotex Mauritania • Quotex Mauritius • Quotex Mexico • Quotex Mongolia • Quotex Morocco • Quotex Mozambique • Quotex Myanmar • Quotex Namibia • Quotex Nepal • Quotex Nicaragua • Quotex Niger • Quotex Nigeria • Quotex Oman • quotex options • Quotex Pakistan • Quotex Panama • Quotex Paraguay • Quotex Peru • Quotex Philippines • Quotex Qatar • quotex regulated • quotex review reddit • quotex reviews • Quotex Rwanda • Quotex Saint Kitts And Nevis • Quotex Saint Lucia • Quotex Saint Vincent And The Grenadines • Quotex Sao Tome & Principe • Quotex Saudi Arabia • Quotex Senegal • Quotex Seychelles • Quotex Sierra Leone • Quotex Singapore • Quotex Somalia • Quotex South Africa • Quotex South Korea • Quotex Sri Lanka • Quotex State of Palestine • quotex strategies • Quotex Sudan • Quotex Suriname • Quotex Syria • Quotex Tajikistan • Quotex Tanzania • Quotex Thailand • Quotex Timor-Leste • Quotex Togo • Quotex Trinidad And Tobago • Quotex Tunisia • Quotex Turkey • Quotex Turkmenistan • Quotex Uganda • Quotex United States • Quotex Unitex Arab Emirates • Quotex Uruguay • Quotex Uzbekistan • Quotex Venezuela • Quotex Vietnam • Quotex withdrawal • Quotex Yemen • Quotex Zambia • Quotex Zimbabwe • quotex.io legit • Suotex South Sudan • what are common indicators • what are the 4 indicators • what does an fx broker do • what exactly does a broker do • what is indicators mean • which broker has lowest deposit • which indicators are examples of self indicator