Previously on our candlestick lessons, we listed some patterns which may be formed by individual candlesticks on daily charts.
We put names on these candlestick patterns beginning with: – 
Hammer candlesticks.

Then shooting-star Candlesticks.

Bullish spinning top.

Bearish spinning top.

Bearish opening Marubozu.

Bullish opening Marubozu.

Bearish Marubozu.

Bullish Marubozu.

Bearish Closing Marubozu.

Down to the bullish Closing Marubozu.
On the same article, we introduced candlestick pattern formations – showing pictures of formed candlesticks together with their names.
In a nutshell, we showed how: – 
Bearish separating lines are formed.

How bullish separating lines are formed.

Descending hawk.

 Homing pigeon.

Downward gaping Tasuki.

Last engulfing top.

Last engulfing bottom.

Matching low.

One neck line.

In neck line.

Thrusting line.

Two black gaping candles. 

Matching low.

Matching high. 

Meeting lines bearish. 

And the upside Tasuki gaping.
Today we yet talk about specific pattern formed on upward trends and how you can use them to win more in Olymp Trade. 
If you already have an Olymp Trade account, open the demo account and stretch your chart to see possible places you would have capitalized on if you had this knowledge.
If you don't have an account yet, create one here to practice as you read. 
These patterns combined with other indicators in Olymp Trade will help you salvage a dollar or two and earn you more money when you start trading live.
6 Bullish Candlestick Patterns That Will Earn You Money in Olymp Trade.
1. Hammer.
As seen on the patterns shown on our introductory article for candlesticks, the hammer candlestick pattern is formed when a short body with a long wick comes though to complete a candle.
Often found at the bottom of a downward trend.
In essence, the formation of the hammer in any particular chart shows that dispute the market having some selling pressure during the day, an upward trend is yet to form. And the Hammer is the witness.
Note: – These hammers can either be RED or GREEN in color, but a green one depicts more bullishness than the red one.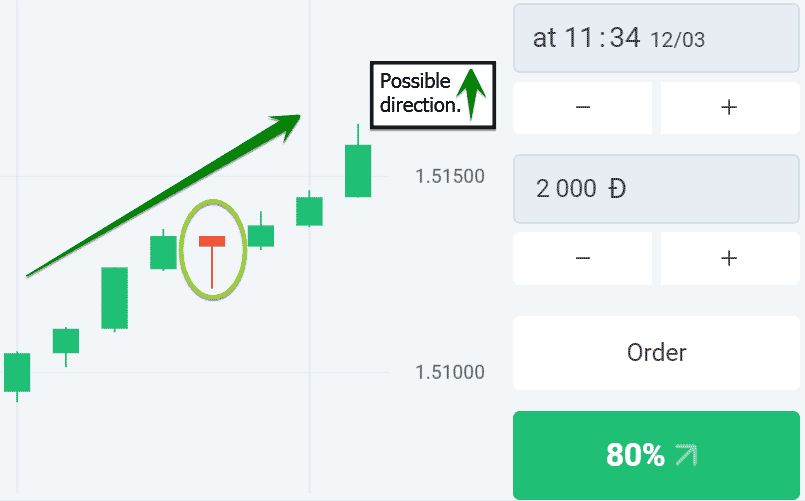 2. Inverse Hammer.
On the flip side is the inverted hammer. 
Just like the hammer, an inverted hammer shows potential bullishness in a market.
The only difference between the two patterns is that the inverted hammer is formed by a long upper wick and a shorter lower wick with a smaller body joining the long and the shorter wick.
If you see the inverted hammer when trading, know that there is a buying pressure in that market and the selling pressure driving prices low isn't so strong enough to sustain lower prices longer. Hence the reversal of the prices.
The inverse hammer suggests that buyers will soon have control of the market.


3. Bullish Engulfing.
Unlike hammer patterns, bullish engulfing patterns are formed of two candlesticks.
The first candlestick being a small red body that's overshadowed by a larger green candlestick.
When trading in Olymp Trade, if you follow the buy signal you are likely to win because a bullish engulfing pattern wouldn't do anything but push prices up.
4. Piercing line.
Like the Bullish engulfing pattern, the piercing line pattern forms from a combination of two candlesticks.
The only difference is, in the piercing line pattern both candles must be formed Marubozu candlesticks – showing both the opening and closing prices.
The first candlestick should be red in color followed by the green candlestick. 
Another notable feature of this pattern is the gap that forms between the first candlestick's closing price and the green candlestick's opening.
A piercing line pattern indicates a strong buying pressure, as the price is pushed up to or above the mid-price of the previous day.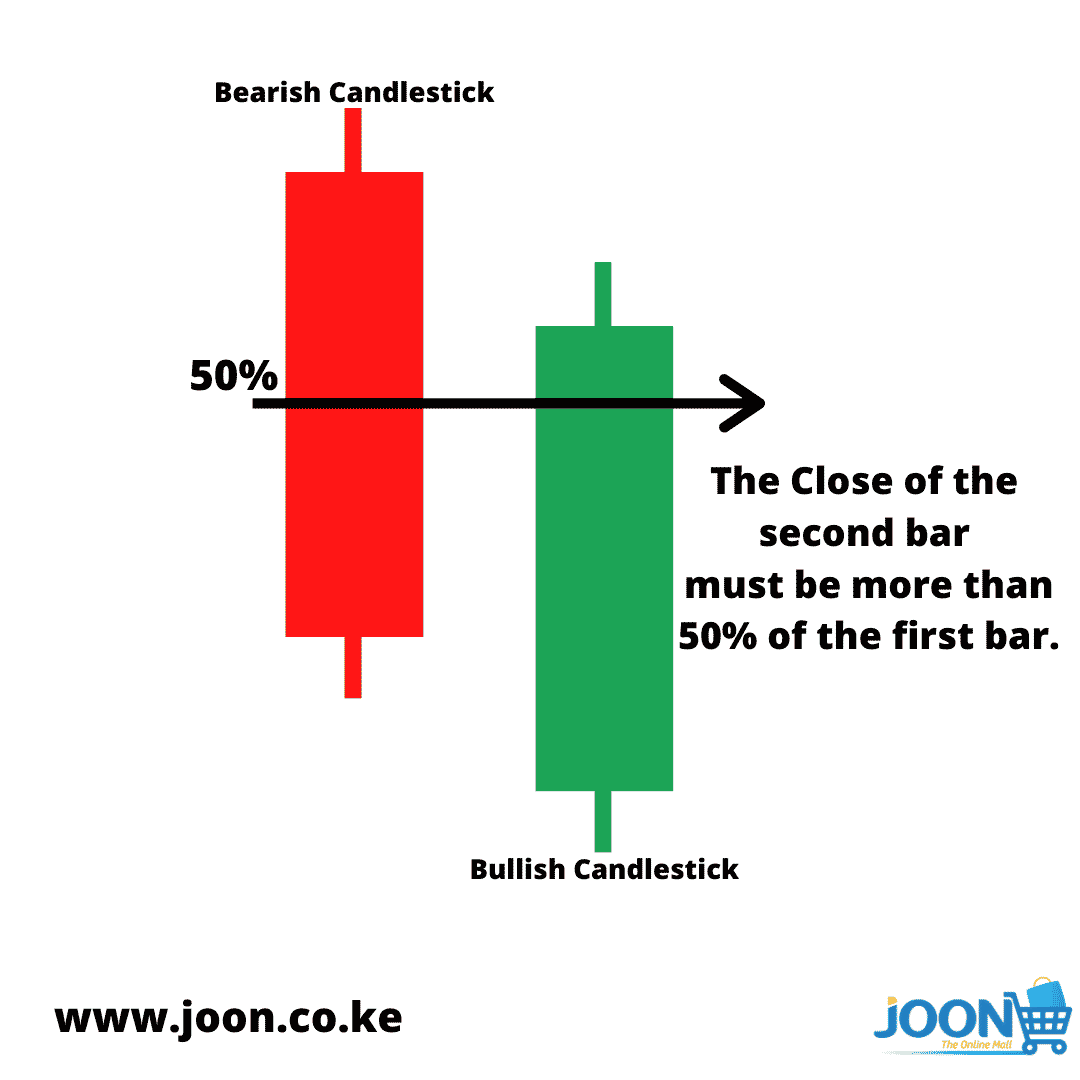 5. Morning Star.
This is a three-stick pattern formed by a short-bodied candle between long red and long green candlesticks.
To many hawk-eyed traders, the morning star candlestick pattern is a sign of hope in a market that has been trending downwards.
It signifies an ending downward trend and a possible bull market coming up.
6. Three White Soldiers. 
Three white soldiers is another great candlestick pattern used to pick downtrend reversal points on trading charts.
The pattern occurs over three days forming three green consecutive candlesticks with small wicks.
Each of these green candlesticks opens and closes progressively higher than the previous day (when the red candlesticks were reigning).
Should you see these three white soldiers on your price chart then this is an indication of a steady buying pressure advancing in the market. 
Place buy order.