Starting a clothing and retail business can be a great way to make money, but it's important to do your research first. There are a few things you need to consider before starting your own store.
In this blog post, we will discuss the basics of starting a clothing and retail business, from choosing a location to stocking your shelves.
We'll also talk about some of the challenges you may face along the way, and how to overcome them. So if you're thinking about starting your own clothing store, read on!
---
What is a Clothing And Retail Business?
A clothing and retail business is a store that sells clothes and other merchandise to the public.
Clothing stores can be standalone businesses, or they can be located within a larger retail complex.
And what's a retail complex you ask?
These are retail marketplaces.
Retail complexes usually sell a variety of different types of products, including clothes, electronics, home goods, and more.
In order to start a successful retail store in 2023, you will need to follow or at least follow these steps.
1). Pick a niche for your clothing store.
While a clothing and retail store can sell family clothing, kid's clothing, lingerie, specialty clothing, and/or sports clothing both in one roof, it is important that you pick a niche and focus on selling one type of clothing.
Now, this might not be important if your idea is to sell everything but if you want to build a brand that is centered around specific clothing, then brush the thought of skipping this step.
Still don't have an idea of what to sell?
You might want to consider opening a women's clothing store, or a store that specializes in selling men's suits.
No matter what you decide to sell, make sure you choose a niche that you're passionate about.
And why is passion important you ask?
Passion is important because it will be the driving force behind your business.
If you're not passionate about what you're selling, it's going to show in your store, and customers will pick up on that.
2). Choose a Clothing Business Model.
Without taking the retail store off the table, try to think of a clothing model that can serve both your online and offline clients.
Would you like to start a print-on-demand business for your clothes? Starting a business website for this case would be inevitable.
Do you want to start a clothing and retail business without the need to keep inventory? Then why not start drop shipping.
Otherwise, set up a factory if your ideal clothing business is manufacturing.
The choice is yours!
3). Write a Business Plan for Your Clothing and Retail Business.
After you've chosen your niche and business model, it's time to start writing your business plan.
This may seem like a daunting task, but I promise it's not as difficult as it sounds.
A business plan is simply a document that outlines your business goals, strategies, and how you plan on achieving them.
It's important to have a business plan because it will help you stay on track and make sure you're making progress toward your goals.
If you're not sure where to start, there are plenty of templates online that can help get you started.
Once your business plan is finished, don't just file it away in a drawer.
Review it regularly and make changes as needed.
The next step is to take care of the legal documents for your business.
4). Register Your Clothing Store Business in Kenya.
Before you can start selling clothes to the public, you will need to register your business.
This process can vary depending on what country you're located in, so I recommend contacting your local government office for more information. Or working with lawyers and business management consultants to get your best foot forward.
Some of the things you will need to register your business include a business name, an EIN (Employer Identification Number), and a business license.
Once you have all of these things, you will be able to start operating your clothing and retail business!
Other things to do to make your clothing and retail business a success.
Now that we've gone over the basics of how to start a clothing and retail business, it's time to get started on making your dream a reality.
If you follow these steps, you'll be well on your way to starting a successful clothing and retail business in 2022!
But there are a few other things you can do to make sure your business is a success.
a). Develop Your Own Clothing Line.
Have I already mentioned that the main objective of most GenZ businesses is to make profits?
Well, you can make enough profits if you stop at step 4 and open your doors for business. But you can make even more profits if you go through these other steps to the end.
Don't just sell other people's products throughout the lifetime of your clothing business. Start thinking bout how to create your own clothing line.
Your clothing line will be an expression of your brand and what you're all about. It's a great way to differentiate yourself from other businesses in your niche and to control the value chain.
b). Plan Your Clothing Manufacturing And Logistics.
If you're going to manufacture your clothes, it's important to plan out your manufacturing process and logistics.
You need to determine where you're going to manufacture your clothes, how you're going to get them made, and how you're going to get them to your customers.
There are a lot of moving parts when it comes to manufacturing and logistics, so it's important to have a plan in place.
c). Market Your Clothing And Retail Business.
No matter how great your clothes are, if you don't market them they won't sell.
You need to create a marketing strategy that will reach your target audience and get them interested in your products.
There are a lot of different marketing channels you can use, so find the ones that work best for your business. And the ones that are within your channel.
Some of the easiest ways to market your clothing and retail business for free or for some little pay include:
i). Social Media Marketing.
This is where you create social media accounts for your business and post content that will interest your target audience. You can also use social media ads to reach a wider audience.
ii). Content Marketing.
This is where you create content such as blog posts, videos, or infographics about your products or industry. This content can help you attract traffic to your website and increase brand awareness.
iii). Email Marketing.
Refers to sending your target audience emails about your products and services. You can use email marketing to increase sales, build relationships with customers, and create loyalty among customers.
d). Look For Investments And Partnerships.
If you want to grow your clothing and retail business, you need to look for investments and partnerships.
Investments can come in the form of loans, equity financing, or grants. And partnerships can be with other businesses, suppliers, or manufacturers.
Both investments and partnerships can help you get the resources you need to grow your business.
Why Start a Clothing And Retail Business in 2023?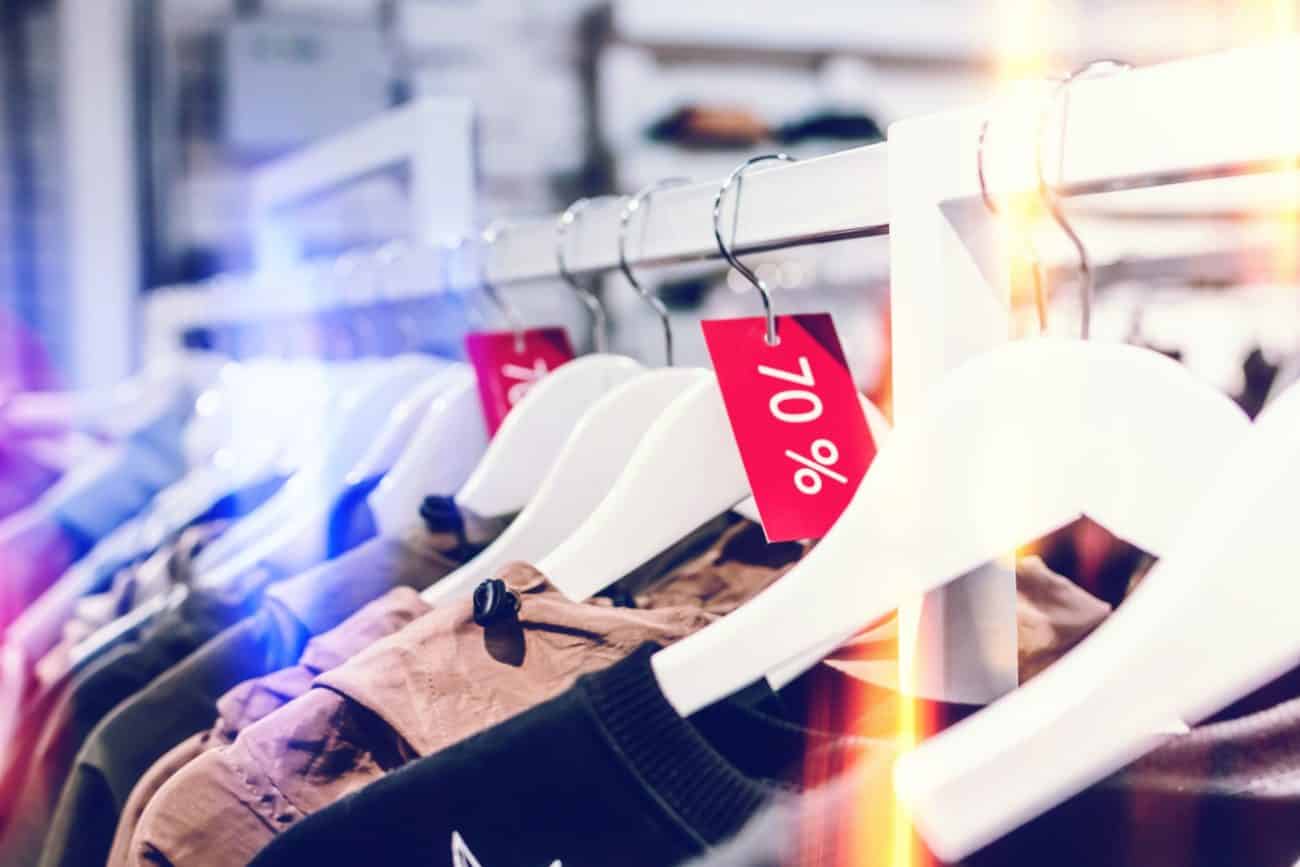 Now that we've gone over how to start a clothing and retail business, let's talk about why you should start one in 2023.
There are a few reasons why starting a clothing and retail business is a good idea:
The industry is growing. The global apparel market is expected to reach $ USD trillion by 2025. So, now is a great time to get in on the action.
There are a lot of opportunities. With the industry growing, there are a lot of opportunities for businesses to succeed. Start yours today to leverage the opportunities.
You can be your own boss. One of the best things about starting your own business is that you're in control. You get to decide what products you sell, how you sell them, and who you sell them to.
How to choose a location for your clothing and retail business.
In case you decide to do your business offline, you will need to choose a location for your business.
Don't get in a hurry though. Not so fast. Here are a few things to consider to get the best off your business location.
You want a location that has high foot traffic so that you can expose your business to as many people as possible.
You don't want to choose a location where there is already a lot of clothing and retail businesses. This will make it difficult for you to succeed. On the flip side, it may be the only reason you succeed. Be wise.
Make sure that the rent and location costs are reasonable. You don't want to be paying a lot of money for a location that isn't generating any sales.
How to start a clothing business with the dropshipping model.
Dropshiping is a business model in which you sell products without having to carry any inventory.
When a customer orders a product from your store, you simply contact the supplier and they ship the product directly to the customer.
This is a great way to start a clothing business because it doesn't require any upfront investment.
All you need is a computer and an internet connection and you are good to go.
Here's how to use dropshipping to start a clothing and retail store step by step.
1). Write a Business Plan For Your Dropshipping Business.
This is essential for any business, but it's especially important when you're starting a dropshipping business.
Your business plan should include information about the products you'll be selling, how you'll market your store, and your financial projections.
You can use this guide to help you write a business plan for your dropshipping business.
2). Choose an Online Platform For Your Clothing and Retail Dropshipping Business.
There are a lot of eCommerce platforms out there, but not all of them are suitable for dropshipping businesses.
Shopify is the most popular platform for dropshipping businesses and it's what we recommend you use. It's easy to set up, has a ton of features, and integrates with a number of suppliers.
Plus, it has a 14-day free trial so you can try it out before you commit to anything.
Other great platforms for dropshipping businesses include WooCommerce, BigCommerce, and Magento.
You can read more about the different eCommerce platforms here.
3). Create a Brand for Your Clothing And Retail Business.
Your brand is what sets you apart from your competitors. It's what makes you unique.
Think about what kind of image you want to portray and then create a name, logo, and website that reflects that image.
If you need some help creating a brand, check out this guide.
4). Choose a Dropshipping Supplier for Your Clothing Business.
One of the most important decisions you'll make when starting a dropshipping business is choosing a supplier.
Your supplier will provide you with the products you'll be selling, so it's important to choose one that is reliable and has good quality products.
Also consider the prices they charge, and the shipping times.
You can read more about choosing a dropshipping supplier here.
Once you've chosen a supplier, you'll need to create an account with them and add your product details.
5). Strengthen Your Brand.
Now that you have a brand, it's time to start promoting it.
There are a number of ways you can do this, but some of the most effective include content marketing, social media marketing, and email marketing.
For more information on how to promote your brand, check out this guide.
Challenges Facing Clothing And Retail Businesses.
The main challenges facing clothing and retail businesses in 2022 are the increase in online sales, the rise of fast fashion, among other factors.
Online sales have been growing at a rapid rate over the past few years and this is expected to continue in 2023.
This means that you'll need to have a strong online presence if you want to be successful in the clothing and retail business.
Regardless of if you want to do business online or offline, you will need some online presence. If you can't do Twitter, Try TikTok, if TikTok doesn't work try Youtube. Or pay for ads altogether. Or try both.
Fast fashion is a term used to describe clothing that is designed to be worn for a short period of time and then discarded.
This type of fashion is becoming more and more popular, as people are increasingly looking for affordable, trendy clothes.
As a result, traditional clothing retailers are struggling to compete with the prices of fast fashion brands. Take this factor into consideration when starting a fashion and clothing retail store because it's going to affect your business anyway.
Trends in The Fashion and Retail Business.
The fashion and retail business is always changing, so if you are still planning on starting this business in 2022, then also keep in mind that you will need to stay up-to-date with the latest trends.
Some of the current trends in the industry include sustainable fashion, TikTok marketing, vintage fashion, and unisex clothing.
If you want your store to be successful, you'll need to incorporate at least one of these trends into your business while still keeping an open mind for future trends.
Conclusion.
Clothing and retail businesses are still thriving in 2023, despite the challenges that they face.
If you're thinking of starting a clothing or retail business, then make sure you consider these challenges and plan accordingly. And good luck!
Tagged With : Clothing and retail business • Clothing business • Entrepreneurship • Start a business • Start a business offline • Start a business online