Has anyone made money on Olymp trade?
I came across this question on Quora yesterday and I thought, Mh, I have earned so much money in Olymp Trade.
So, why not write a review to help answer this person?
---
And what better way is there to give a legit Olymp Trade review than to show my withdrawals and account balance too?
Has anyone made money on Olymp trade?  Check the image below and decide that for yourself.
With the data shown above, do you still not believe that there is money to be made in Olymp Trade?
Plus, you only need a $10 deposit to begin trading online.
Here's How to Make Money Online in Olymp Trade (For Beginners).
Step 1: Register an account in Olymp Trade.
If you have not created an account in Olymp Trade yet, you may want to create one here for Free.
You will get $10,000 demo units which you can use for trading practice and figure out the Olymp Trade platform.
To start trading and make up to $20 daily with your Olymp Trade account, you will need to make a deposit to your trading account.
On your trading platform, you will need to click on the deposit button and choose a deposit method.
Other than using your bank card to fund Olymp Trade, you can fund your account via
Skrill
Neteller
Advcash
Ngan Luong payment gateway
UPI, AstroPay Card, GlobePay
Bitcoin, BNI Bank of Indonesia
BRI (Bank Rakyat Indonesia)
BCA (Bank Central Asia)
Mandiri Virtual Account (Mandiri Online)
Internet banking Mandiri
Kasikorn Bank
Help2pay
Bao Kim
Mpesa.
Whichever method you choose to fund your account, the process begins with: –
Going to the Deposit menu on the Olymp Trade platform and keying in the deposit amount.
Choosing the deposit method.
And following the rest of the prompts to complete the deposit process.
How to Fund Olymp Trade With Mpesa, step by step.
Once you enter the amount you wish to deposit and click on continue, you will receive a prompt on the mobile number you entered to key in your pin.
Enter your M-Pesa PIN to authorize your payment of (Amount) to the account number (will be shown after your complete the deposit process).
If you do not get a prompt within 30 seconds, use the instructions below to make your payment: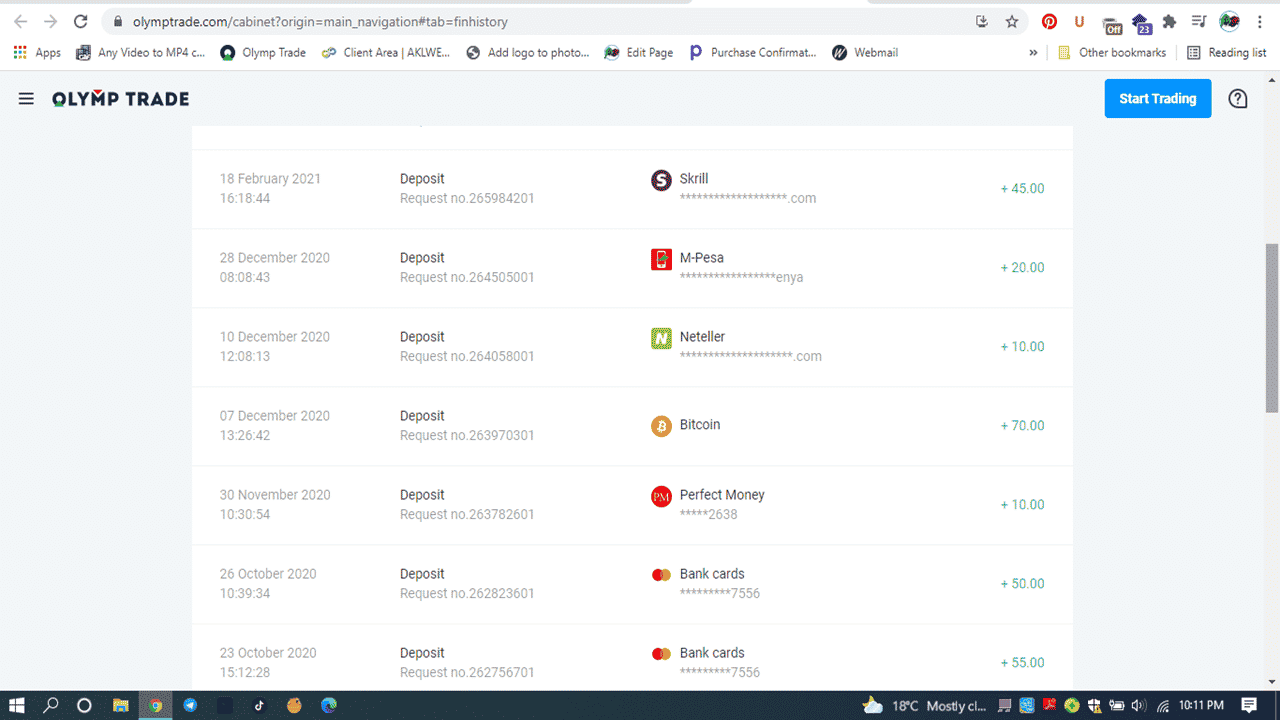 Go to your Safaricom SIM Tool Kit
Select M-PESA menu
Choose Lipa na M-PESA
Select Pay Bill
Enter Business no. 589036
Enter Account no. (will be part of the instructions)
Key in Amount (shown in the instructions)
Enter your M-PESA PIN and press OK
Your payment will automatically be confirmed once you approve.
The minimum deposit in Olymp Trade is only $10. And if you have followed the instructions to this point, you should.
Have a trading account and have at least a $10 account balance.
Now to the third step.
How to trade easily in Olymp Trade to make $20 per day.
Now, in order to start making money with your new Olymp Trade account, you will need to do the following.
Choose an asset to trade.
The image above will guide you on which asset to choose. It will show you the change within 24 hours and it also shows you the rate of return for different assets.
As a new trader, you may want to choose currency pairs on your first trade.
2. Next, you will need to choose a chart pattern that works. 
Japanese candlesticks are some of the simplest and commonly used chart patterns in trading.
Should your chart be showing anything other than Japanese candlesticks, change it as shown in the gif shown below.
3. But picking a chart pattern and choosing an asset isn't all?
As a rule of thumb, you need to always use a strategy while trading.
Some of the simplest trading strategies in Olymp Trade will involve the use of indicators such as: –
Among other assets.
For this tutorial though, I'll only show you how to use one indicator. Then you can find some free time to learn about using more indicators here.
Do you know where to find these indicators in Olymp Trade?
See the image below. And pick SMA.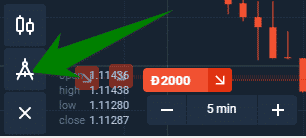 4. Set the timeframe.
Last but not least, you need to set the chart time frame as shown in the image below.
At Olymp Trade, you can set the chart time from 15 seconds to 1 month.
If you set the chart timeframe to 1 minute, it simply means that each of the candlesticks on the charts will be formed in 1 minute.
For a chart timeframe of 1 minute, set the trade duration to 2 minutes.
How to Trade
With everything set, you can begin to start making new orders in Olymp Trade.
You will open up trades if you see your chart crossing the SMA line from the bottom upwards.
And down trades, if you notice prices crossing the SMA line from the top down.
Managing risks while trading with this method.
There are various money management strategies that you can apply to your Olymp Trade account to grow your account while conserving capital.
One of those methods is: –
The Martingale trading method – This strategy involves doubling the trade size every time you face a loss.
Anti-martingale trading method – This is a reverse of the martingale. It involves halving a bet each time there is a trade loss and doubling it each time there is again.
In order to make $20 daily with this strategy and the above money management methods, you will need to win at 5/5 trades.
Conclusion.
Now, this is manageable.
If you lose any of your trades though, you should continue trading tell you to get it.
It will only trade a few winning trades to succeed.