If you're in Kenya, Uganda or Tanzania and looking to start trading on Quotex, one of the first things you'll need to do if you want to make real profits is deposit money into your account. In this article, we'll show you how to deposit money to Quotex through Mpesa, a popular mobile payment service in East Africa.
Before we get started though, here's a brief introduction to what Quotex is all about.
What is Quotex ?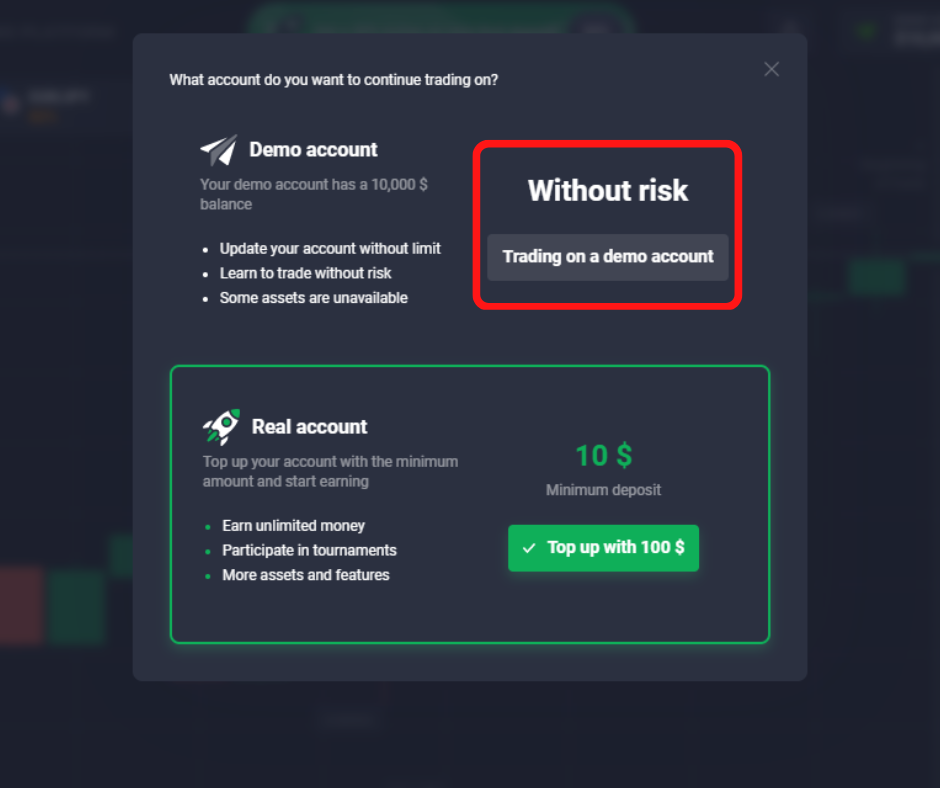 Quotex is an online broker that allows you to trade digital options on assets such as commodities, currency pairs, crypto, and stocks. It is a regulated broker by the International Financial Market Relations Regulation Center (IFMRRC) under certification number TSRF RU 0395 AA V0161.
---
Quotex offers a safe and secure trading environment and is committed to providing its clients with the best possible trading experience.
Assuming you already have an account in Quotex, you can fund your account in the steps outlined below. Otherwise, here's how to register a new account in Quotex if you are coming across this broker for the first time.
How to Create a Demo Account in Quotex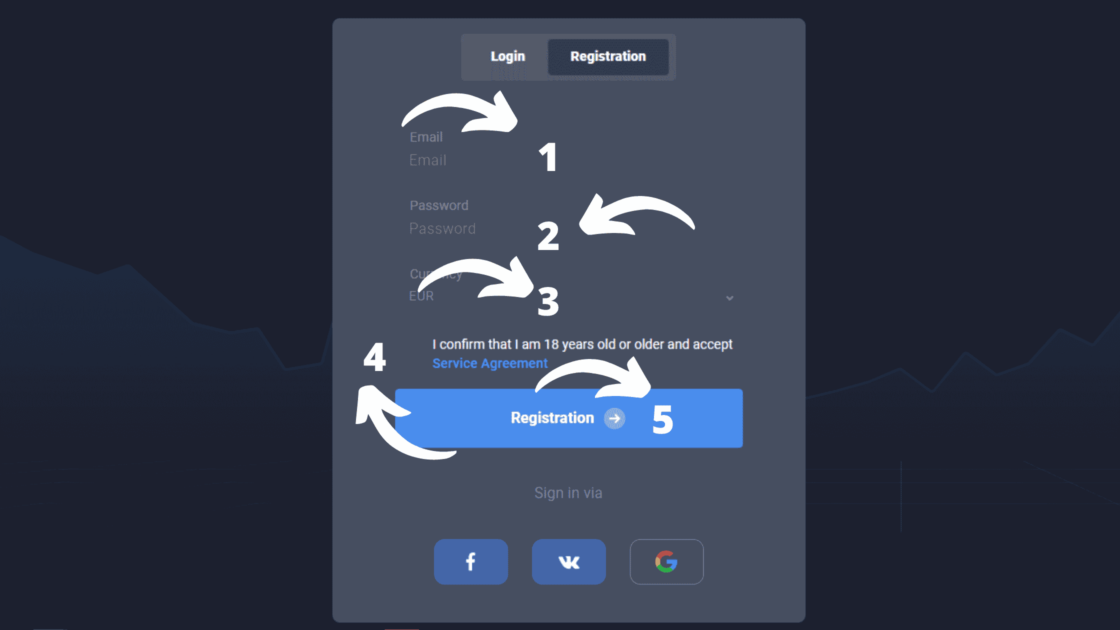 If you want to start trading in Quotex, you will need to create a demo account first. This will allow you to get familiar with the platform and try out different strategies without risking any real money.
Again, assuming you don't have an account and you want to familiarize yourself with the platform before making your first deposit, here is how you can create a demo account in Quotex:
1. Go to the Quotex website and click on the "Create account" button.
2. Enter your personal details "email address and password" to continue.
3. Choose the currency you want your balance to be shown in. For example, EUR, USD, BRL… etc
4. Read the service agreement and check the box preceding it to confirm that you are 18 years of age or older.
5. Click on the "Register" button to complete the process.
Once your account has been created, you will be able to login and start trading on the Quotex platform.
Remember, because this is a demo account, all of the prices you see will be simulated and you will not be able to make or lose any real money.
How to Deposit Money to Quotex Through Mpesa
After you have familiarized yourself with the DEMO account, it is now time to deposit real money to make real profits. Follow these steps to get started.
It's easy to deposit money to your Quotex account through Mpesa. Here's how to do it.
1. Click the deposit button on the Quotex platform.
2. Scroll to the bottom and click on Mpesa under E-payments
3. Enter the amount of money you want to deposit (minimum deposit in Quotex is $10) and if you have a promo code, toggle the bonus button to use it.
If you are depositing for the first time and you deposit $100 or more, you will get a 30% bonus on your deposit.
4. Click the deposit button to continue.
5. A push notification will be sent to your phone. Enter your Mpesa PIN to confirm the deposit.
If you followed this guide to this point, then your Deposit should reflect in Quotex immediately.
That's how easy it is to deposit money to your Quotex account via Mpesa.
Are there any fees for depositing or withdrawing money from Quotex?
No, there are no fees for depositing or withdrawing money from your Quotex account. That however does not mean that the Mpesa transfer fees won't apply. Mpesa will still charge you normal rates depending on the amount you transfer to Quotex.
Conclusion.
In conclusion, we have seen how easy it is to deposit money to Quotex through Mpesa. Feel free to ask any Questions regarding Quotex deposit and I'll answer you as soon as I can.
Happy trading.
Tagged With : apakah broker quotex resmi • are brokers legit • are brokers safe • best indicator for quotes • broker explained • broker quotes bloomberg • broker quotes definition • broker quotex opiniones • brokers or broker's • do brokers lose money • download broker quotes • how to use indicators • how to use indicators in quotex • is quotex a regulated broker • is quotex a trusted broker • is quotex broker legit • is quotex legal in us • is quotex legit • is quotex regulated • is quotex.io legit • partner quotex broker • quotes broker demo account • quotes indicators • Quotex Algeria • Quotex Angola • Quotex Benin • quotex binary options review • Quotex Botswana • quotex broker • quotex broker affiliate • quotex broker apa • quotex broker apakah aman • quotex broker apiis quotes a good broker • quotex broker apk download • quotex broker app • quotex broker dari mana • quotex broker demo • quotex broker descargar pc • quotex broker erfahrungen • quotex broker id • quotex broker indonesia • quotex broker legal • quotex broker login indonesia • quotex broker opiniones • quotex broker pc • quotex broker penipuan • quotex broker regulated • quotex broker review • quotex broker web • quotex broker wikipedia • Quotex Burkina Faso • Quotex Burundi • Quotex Cabo Verde • Quotex Cameroon • Quotex Central African Republic • Quotex Chad • Quotex Code D'Ivoire • Quotex Comoros • Quotex Congo • Quotex Djibouti • Quotex DR Congo • Quotex Egypt • Quotex Equatorial Guinea • Quotex Eritrea • Quotex Eswatini • Quotex Ethiopia • Quotex Gabon • Quotex Gambia • Quotex Ghana • Quotex Guinea • Quotex Guines Bissau • quotex indicators • Quotex Kenya • quotex legit • Quotex Lesotho • Quotex Liberia • Quotex Libya • Quotex Madagascar • Quotex Malawi • Quotex Mali • Quotex Mauritania • Quotex Mauritius • Quotex Morocco • Quotex Mozambique • Quotex Namibia • Quotex Niger • Quotex Nigeria • quotex options • quotex regulated • quotex review reddit • quotex reviews • Quotex Rwanda • Quotex Sao Tome & Principe • Quotex Senegal • Quotex Seychelles • Quotex Sierra Leone • Quotex Somalia • Quotex South Africa • quotex strategies • Quotex Sudan • Quotex Tanzania • Quotex Togo • Quotex Tunisia • Quotex Uganda • Quotex withdrawal • Quotex Zambia • Quotex Zimbabwe • quotex.io legit • Suotex South Sudan • what are common indicators • what are the 4 indicators • what does an fx broker do • what exactly does a broker do • what is indicators mean • which broker has lowest deposit • which indicators are examples of self indicator