In this article, I will show you how to earn lakhs per month without a Job in India.
See, all our lives since childhood, we have been conditioned to think that existence is all about getting good grades, marriage, and being a doctor, engineer, or anything your parents wanted you to be.
Failure to follow these blueprints, society perceives you as 'lost' and you will not amount to anything.
Well, I am here to debunk that, especially the finances part.
You don't need a job to make a living.
And by a job, I mean the 9-5, Monday to Friday desk job. I can't tell you how many people do almost nothing from Monday to Friday and they still make money.
Today, there are a ton of stories around the internet championing the 'laptop lifestyle.'
Ideally, what this means is that you can take back your freedom, and set out to explore the world, chase your dreams by just depending on a laptop and a good internet connection.
Do I believe in that?
Absolutely. Do I do that? No, and I have my reasons.
Is it achievable?
It is very much achievable, but the sustainability of such a lifestyle relies heavily on your system.
The system I am talking about builds around the activities you choose to do.
I mean, without a good activity that is generating enough income to sustain your current lifestyle and the whole 'chasing dreams' thing, you soon go back to beg for a 9-5 job.
While that may sound harsh, it is the truth.
And I'd hate to see you go back there.
That explains why I have compiled this list of activities you can engage in to earn lakhs per month without a job in India.
How to earn lakhs per month without a job in India
Again, just to be clear and so we are on the same page, a job, in this case, refers to the 9-5, Monday to Friday desk job.
Why is online trading the best way to earn lakhs per month? And isn't it a job?
Let me explain.
Trading involves predicting market movements, a process that has the potential to make you lakhs every month if your predictions are correct.
As a trader, you are your own boss, meaning you set your own schedule.
You can decide when to trade and when to just sleep the whole day.
Well, you can't do that sustainably if you are working a full-time job, right?
Now, to trade, your success rate relies heavily on your ability to study the market movements and eventually make a correct prediction.
I will tell you for free, there is no shortcut to being a successful trader. You need to learn everything by doing. As such, here are the tips to almost guarantee you hit the ground running.
To make it even more interesting, you can have a goal to earn a certain amount of lakhs per month trading.
With that clear goal, all you have to do is to know how many trades to place per day to reach your goal.
Once you have achieved your daily goals, you can relax and enjoy your freedom. That is something unheard of in a 9-5 setting.
 Being a freelancer means you are not tied down to a desk pushing papers, hating your life and a boss breathing fire down your neck.
As a freelancer, you pick your working schedule, projects, and most importantly, set your own rates.
Freelance writing is the process of helping website owners generate content (blog posts) for their sites.
Here, you take on projects such as producing marketing articles for a product launch, educative blog posts for a course, the list is limitless.
To get started, you need the following:
An understating of how to write quality articles that inspire action and drive results for the clients. You will find emphasizing this trait will help you get more clients and thus make more lakhs per month without a job in India.

Since you will be working online and remotely, a good laptop and a strong internet connection are required. Good thing there are several data rates options available that are cheap and last long. As for the laptop, it doesn't have to be yours. You can borrow from a friend and buy yours once the money starts streaming in.

Have a portfolio. Before the clients trust you with their projects, they first need to be certain you can deliver. And the only way to do that is by going through your previous work. It is, therefore, a good idea to ask for testimonials from your past clients to help you close more deals

Start reaching out to prospects. A good place to start is to pick a niche or industry. I mean, instead of going after a whole internet, you can decide to focus on writing articles on the digital marketing niche. Doing this makes it easier to get clients, build experience, and eventually command higher rates.
With the prospects starting to respond, you need to set your rates. I'd recommend you base your rates on how much lakhs you want to make at the end of the month, then work backward.
Let me explain.
If you wish to make 1.5 lakhs per month, for example, how much do you need to make per day to achieve that?
Do the math and you have your answer.
Start a dropshipping business in India
If you can find a way to make more than 1.5 lakh per month without a job, you are a winner. Well, this is it.
Dropshipping is the process of selling products to customers without keeping the inventory.
I mean, can you imagine selling something you have never seen or touched?
I know how that sounds, but trust me, it is a legit business and it is growing in popularity day by day,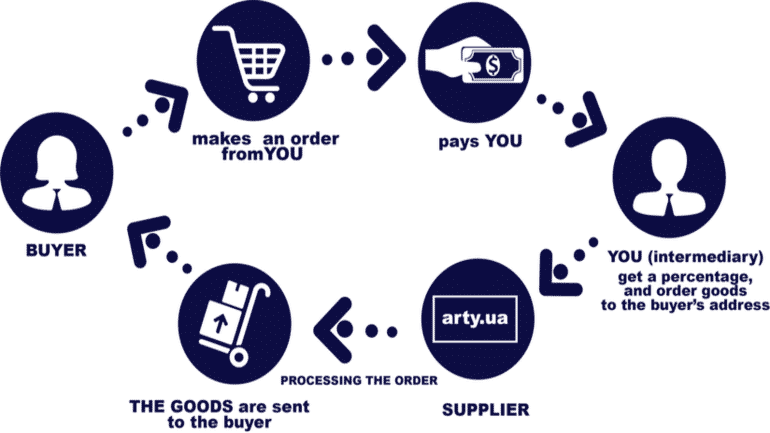 thanks to e-commerce websites like Alibaba Express.
As a dropshipper, all you have to do is pick a product you'd love to sell in India, look for a cheap and quality supplier in Alibaba Express and enter a contract.
Also Read: HOW TO MAKE MONEY DROPSHIPPING IN INDIA
Go display the product images on your website or social media accounts and include a slightly higher price than what the supplier is selling.
Here is where it gets interesting, whenever you get an order, forward the details to the supplier, who will in turn ship the product directly to the client's address.
He does the shipping, you pocket the price difference.
A classic way to make lakhs per month without a job in India.
Remember, all of these can be done through a phone anywhere you are.
If you are good at something, or people always ask for your input or help with something, it means you have something people are looking for.
If that is the case, trust me, you don't need a job to earn lakhs per month in India.
For example:
If people tend to ask you to help with the electronics, be it fixing laptops, phones, TVs, you can start a YouTube channel and make money without a job.
All you have to do is create video tutorials walking people through solutions to common problems they
encounter frequently.
Now, to make money, you need an audience.
These are people who watch your videos every time you upload one.
That should be easy to accomplish, considering people already see you as the expert in the subject, and thus constantly come to you for help.
Whenever someone comes to you, refer them to the YouTube videos.
Once you have enough subscribers on your channel, consider joining the YouTube Partner Program.
It is an initiative by YouTube to enable creators like you to make money through their content.
Among several ways to make money on YouTube, AdSense is the most popular and most rewarding.
Here, you are allowing YouTube to display ads on your videos, and in return, you split the revenue.
Based on this fact, it is clear that the more views you have, the more money you earn.
As such, once you have enabled monetization of your YouTube content, your goal should be driving more views to generate enough lakhs per month.
One way of doing that is by being consistent.
Have a schedule where you share content regularly.
Doing so ensures that you stay on your audience's mind.
For this to work, it doesn't have to be only about electronics. You can create comedy videos like pranks, create video content around your industry, among other ideas.
Be a social media influencer
An influencer is someone who not only has a sizeable social media following but also can sway their decisions.
For example:
The Kardashians.
You can say they are influencers because most people (mostly women) follow them purely because of their fashion sense. They influence the shopping behavior of their audiences.
For this reason, you will find that many brands approach Kardashians to endorse their products and services. Because by doing so, it results in more sales and revenue.
Why is this important?
I want you to pay attention to it.
You have been using social media obviously. Tell me this, how long does it take to post something on Facebook?
Barely a minute, right?
It takes zero energy to update your status on Facebook, upload a picture on Instagram, or tweet on Twitter.
If there is an easy way on how to earn lakhs per month without a job in India, it is being a social media influencer.
To get started, you need to build an audience.
To do that, all you need is a posting valuable content regularly. Being friendly, and building trust with your fans.
You can achieve that by sharing your personal life, teaching a subject exceptionally well, or doing something that captures people's attention.
Once you have gained a following, go out and approach brands and enter endorsement contracts.
As an influencer, your work will be updating posts on social media, a task that takes less than 3 minutes, and the potential to earn you a lot of money per month.
Designing and selling T-shirts
Selling t-shirt designs is a lucrative business, capable of earning you lakhs per month without a job.
All you need is some creative sense which doesn't have to be sophisticated, and a platform to sell your products.
For example:
Of late, I have seen a lot of people printing famous or funny quotes, motivational stuff on t-shirts and they sell like crazy.
Once you have the finished product, take pictures, and upload them on Instagram to attract attention.
Also, you can use sites like Merch by Amazon.
In fact, this is the best way to operate such a business.
Why?
Because all you have to do is upload the t-shirt designs on the platform.
When a customer buys it, Amazon does the printing, delivery, and customer services and you get your money.
You can make money per month by renting out that extra room in your house.
Go to the Airbnb platform, upload the pictures of the room, set the rates, and wait for clients to stream in.
Airbnb is the largest marketplace where people, especially travelers go to when looking for cheaper places to spend a night.
If you have an extra room, help them have a place for the night, and you earn lakhs without a job in India.
Wrapping up
Up to this point, I don't think there's any doubt in your mind that it is possible to make lakhs per month without a job.
If you can implement any or even all of these ideas, you should be able to make enough money to support your lifestyle.
Go ahead and implement everything you have learned.
Do not forget to share this guide with your friends.
Tagged With : how to earn lakhs per month • how to earn lakhs per month in india • how to earn lakhs per month online