In this article, I will teach you how to make money making videos in Kenya.
Besides giving you the ideas to consider, I will go an extra step and outline the exact strategies to take if you want to see results as fast as humanly possible.
Personally, I am a believer in working hard. I don't advocate get-rich-quick schemes because they are scams 99 percent of the time.
---
As such, the ideas I am about to teach won't work if you are the lazy type and always looking for shortcuts.
I will save you some time, there are no shortcuts in how to make money making videos in Kenya.
And if you are thinking, "but Pritam said there are hacks to these gigs?" My friend, most of the time, these hacks only work if you are doing the right thing.
Wake up and to the reality.
But, why videos?
Video consumption is growing at an alarming rate.
In fact, there is a projection that by 2022, people will be spending an astonishing 100 minutes every day watching online videos.
Woah!
In the year 2019, the daily viewing minutes stood at 84.
This shows that by 2022, video viewership will be up 19 percent.
Do you know what that means for you as a video editor or creator?
With more people spending more time watching videos, there will be increased opportunities for creators to make money.
And if you can implement the strategies on this guide, you are on your way to generating income by making videos.
But there is something else I don't want to overlook: how to make videos.
Why?
Let's just say it doesn't make sense for me to give you fish hook and line without teaching you how to actually fish (or at least try).
How to create videos that make money in 4 steps
Learning how to make money making videos in Kenya without having any clue on how to make the videos in the first place, is putting the cart before the horse.
You have everything you need to continue with the journey but in the wrong order.
Even though I won't dump the whole video creation curriculum on you, I will show you the basics.
Actually, I have distilled the whole creation thing into only four steps.
Step #1. Get video editing equipment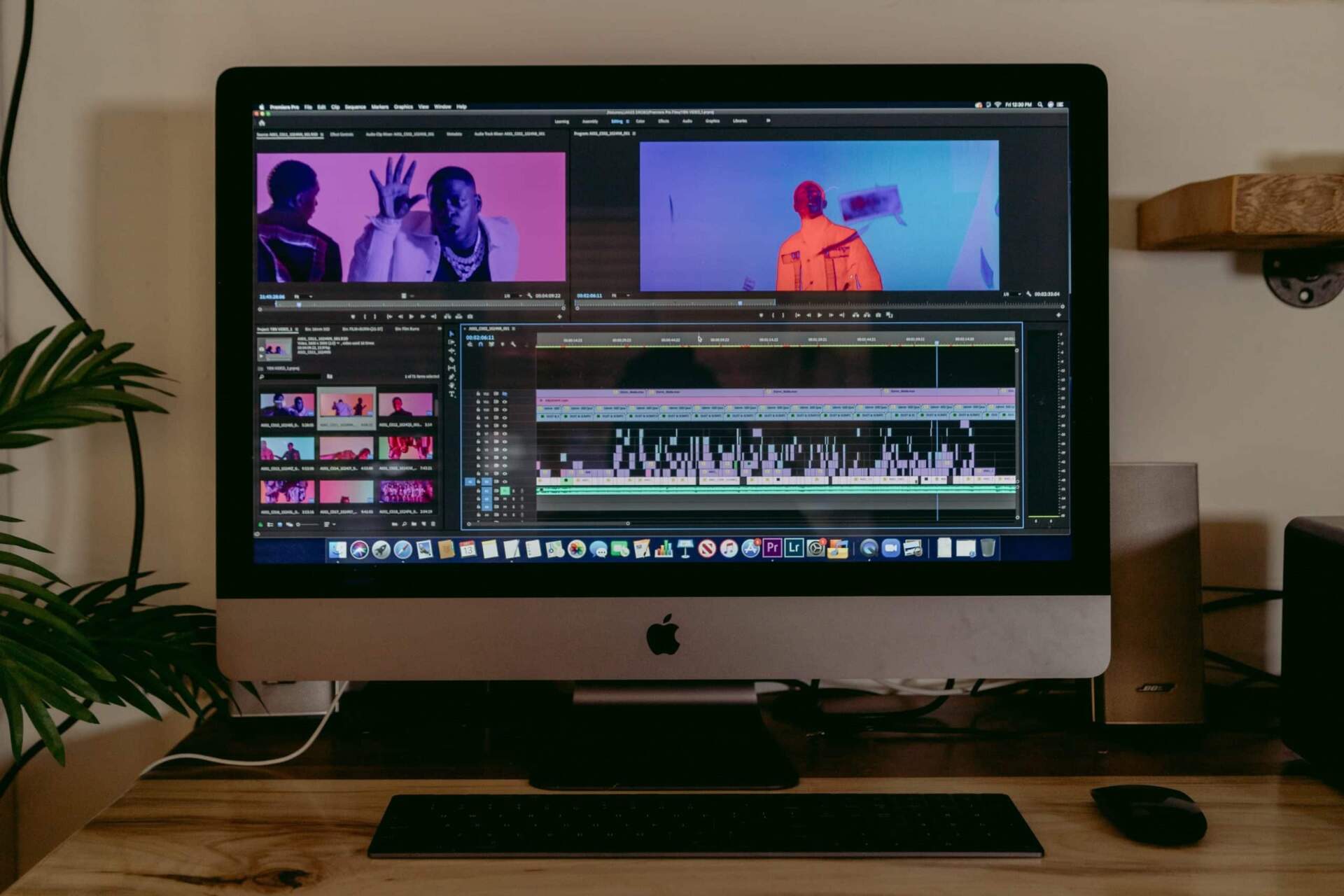 These are the hardware you will need to edit videos. And no, I am not talking about a whole studio.
All you need is a powerful laptop. Most of the PCs now are built to handle any demanding tasks such as rendering video footage.
Want to know how to identify a powerful laptop?
It is simple.
If it can play video games, say NFS Most Wanted, then it can handle small-scale video editing.
In the end, the laptop should have:
Enough memory gigabytes. Remember raw footage takes up a lot of space

Adequate USB ports to support extra external tools

Powerful CPU and matching graphics card
Additionally, you will need things like quality headphones (any can do as long the output is clear), extra storage spaces, and a camera (optional stuff).
Step #2. Decide on a video editing software
There is a ton of video editing software out there. Some are free while others are paid tools.
Here are the most popular ones:
DaVinci Resolve – has both free and paid versions. I hear some video creators swearing by it

VSDC Free Video editor – yes, it is a free video editor but also a pro version. What I like most about it is it doesn't add watermark to videos when using the unpaid version

Adobe Premiere Pro CC – this is the best editor, but really expensive. Consider it when you start making money with videos consistently.
Here is my suggestion:
Besides obviously going for the free editors, also lean towards ones with adequate tutorials.
Why?
Your time is the best to spend learning how to make videos rather than how to use the software. Does that make sense?
Talking of tutorials, here's the next step to learning how to make videos.
Step #3. Leverage online classes and YouTube tutorials
No one is born an expert in making videos. You learn it and over time, you get good at it.
On the other hand, you don't have to pay anything to learn. There are a ton of free tutorials online showing you exactly how to go from a beginner to an expert in under a week.
All I ask from you is the willingness to learn and dedication, both in time and effort.
On the flip side, it doesn't hurt if you can invest a couple of bucks to speed up the learning process. Check out the following sites for such short courses:
Check them out.
Once you know how to make videos, there is one more step before I show you how to make money making videos in Kenya.
Step #4. Practice, Practice
If you take one thing from this guide, take this:
Perhaps the best way to learning how to make and edit videos is by actually doing it.
This is the part when, you get the footage, set the equipment, install the program, and get down to work.
If there is one big mistake you can ever make is thinking that as a video editor, your work is only cutting and trimming footage.
No.
You are a storyteller.
For this reason, you need to understand how aspects like directing, use of lighting, and audio work together to create a worthy film together.
To this point, you have the skills to actually create a video people will want to watch, re-watch, and finally hit the share button.
Now let me show you how to make money making videos in Kenya.
4 Surefire Ways Guaranteed To Make You Money Creating Videos
Create a YouTube Channel
Let's face it, YouTube is massive.
In fact, YT receives over 2 billion unique users every month. As such, it is one of the largest social media platforms of our generation.
One more thing: YouTube users are highly engaged, watching 1 billion hours of video content each day!
That puts the number of time spent on site per user at least 12 minutes every day.
If these numbers don't convince you to open a channel, I don't know what will.
But,  assuming you are willing to open a YouTube channel, what will it be all about?
Just thinking about it makes it scarier.
But when you actually sit down with a pen and paper to brainstorm topics, it suddenly gets easier.
If you are wondering what to create videos about, ask yourself the following questions:
What topics are you interested in (passion)? Business? Technology? Sports? Teach those topics. For example, if you love entrepreneurship, teach about how to start a business.
What skills do you already have? Like sales, crocheting, or trading online. You can create a YT Channel teaching that skill to beginners or create a channel showing people how to make money trading online.

What are you good at? What do your friends ask for your help?
With a channel up, it's time to monetize it.
How to monetize a YouTube Channel
Before you start making money off your channel, there are some requirements you have to meet:
Have at least 4000 hours of watch time within the last 12 months.

The channel must have at least 1K subscribers.

Comply with all YouTube's policies, break one and you risk getting your account closed or banned forever
Here are some common ways to monetize YouTube channels.
Sign up for the Google AdSense network – here, Google will pay you to show ads before, in between, and after your video. The more people watch your video, the more money you make
Affiliate marketing. You can create videos reviewing products or services. Add affiliate links on the description and encourage your viewers to click and buy
Brand partnerships. If your channel is teaching about how to trade online, brands like Olymp Trade may approach you to sponsor your content and in turn, promote them in your channel
The first step is the hardest; getting subscribers and building a fan base.
After that, it's all walk in the park.
Work as a freelancer
Working as a freelance video editor has its advantages.
For example, you decide what projects to take and the ones to reject.
More importantly, you set your own rates.
Freelancing is the way most professionals are making money today.
It gives you much-needed freedom to work from anywhere you want, be it a pitch in Peru or a train in Moscow.
It is always rosy in here.
Being independent means a possible low stream of projects, hence need to learn how to market yourself. Consequently, the an inconsistent flow of income.
Since you need a constant flow of work to survive as a freelancer, consider joining the following platforms to get work.
These are general marketplaces. You can find all kinds of skills being offered here.
The following sites are more dedicated to video creators.
Tongal – on the platform, you can get writing, animation, editors, and videography jobs posted by businesses
ViEdit – you get paid to create business, social media, travel, home videos, and much more.
Besides what I have provided here, you can research other video editors' job boards.
Working with small businesses
Within your local city, there are small businesses that rely on video marketing to bring customers and drive sales.
Such businesses understand the importance of having a quality commercial, thus willing to invest in getting the best.
Usually, they have budgets to cover the production of those commercials.
All you have to do is approach them and show them why their money is best invested in your video-making and editing skills.
If you do a great job of selling yourself, you will have a consistent workflow and a way to make money making videos.
Use these tips to increase your chances of getting the contract:
Have a portfolio featuring your best work

Show them similar businesses you've worked with and the results they got.

Compose a personalized pitch, with customized video and content that captures their business values at their best
You can do walk-ins around town pitching your services.
Alternatively, hold small training for local businesses teaching them how to drive results using videos.
Work for busy celebrities or influencers or a company
Some brands and individuals have realized the importance of good quality video production.
Despite knowing this, they are too busy to do it by themselves and normally seek help from pros like you.
For example:
Influencers like Gary Vee produces video content daily for his #AskGaryVee daily vlog.
Do you think he records, edits, and uploads the footage by himself?
Of course, Gary has a budget, consequently, he can afford a team to help with the production.
You can join such a team or better yet, approach growing leaders or influencers to hire your services.
Alternatively, companies are constantly looking for video creators to work either part-time or freelance. Approach a company and make them see why you are the best for the job.
Set your rates, that is how to make money making videos in Kenya.
Wrapping up
It is true, it is possible to make money making videos. And this is the time to get started.
Do not forget to keep up with the trends. The video creation industry is moving fast, make sure you are moving with it.
Tagged With : can you make money making videos on facebook • can you make money making videos on youtube • how can i make money making videos • how do you make money making videos on youtube • how to make money making videos • how to make money making videos on facebook • how to make money making videos on youtube • how to make money making videos online • make money making videos • make money making videos online