If you are reading this post then chances are, you are convinced that Xm is the best broker for retail Forex, both locally and globally. And the truth is, XM is the best broker for experienced traders, intermediate traders, or even beginning traders.
But for a beginning trader who has never created a Forex trading account, what should you expect, and what's the procedure for getting started?
If these are your concerns, then you are reading the right post.
In today's post, I will show you how to create a trading account with XM Forex, step by step.
Read this post to the end to also learn the dos and don'ts of opening a new trading account.
How to Open a Trading Account With XM in Kenya.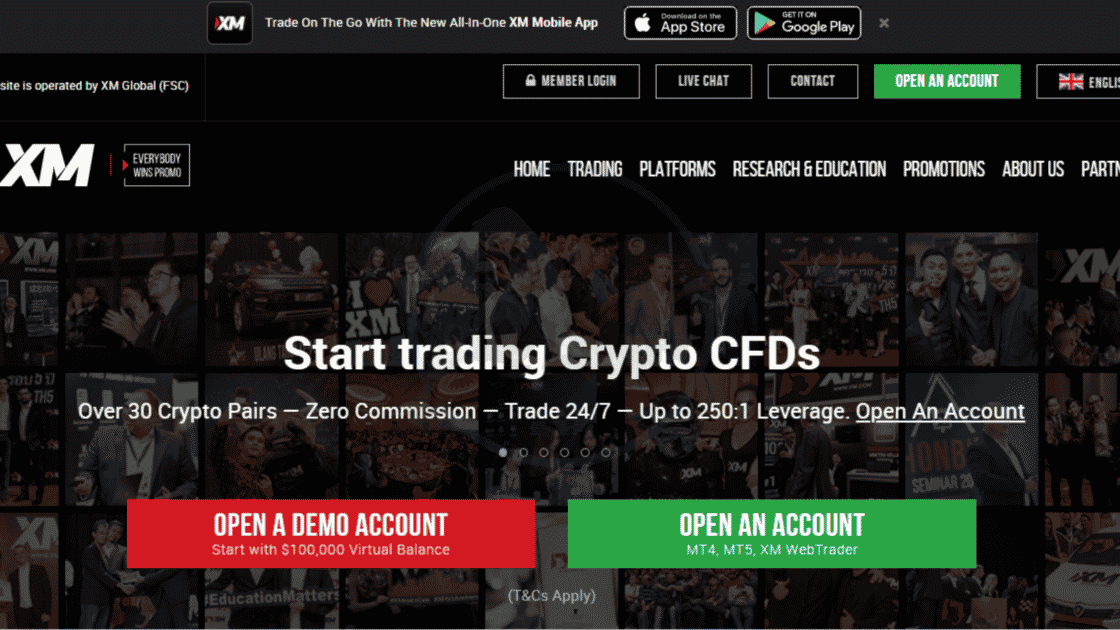 1). Step 1 Visit the broker website and choose between a demo and a real account (Official XM Forex Websites)
The first step to opening a new trading account is to visit the broker platform which you would like to trade with.
Here's the official XM Forex website.
Choose between starting with a demo account or a real account.
XM Forex Demo Account.
If you start with a demo account, you will: –
a). Not earn any real money – While the demo account is the best account to start trading with for beginners, the FREE funds in it are merely for practice and traders can not withdraw anything earned from this account type.
This is however not to say that the demo account isn't a good account, it is good except, that you can not withdraw anything earned from this account type.
b). Demo accounts are good for figuring out the platform – Being that you have never traded Forex with XM before, it would only make sense that you navigate the platform, figure out how it works, and more. You can do all this with the demo account.
c). XM demo account can be used to trade risk-free – If you still aren't ready with money to trade online, settle for a demo account.
Just like on a real account, you can access all the 1,0000 plus financial instruments provided by XM with the demo account.
And the best part, trading with the demo account comes without any financial risks.
The demo account has lots of advantages and disadvantages, to name but a few.
How about the real account?
XM Forex Real Account.
If you choose to open a real account with Forex from the word go then here are some of the advantages and disadvantages that you may encounter.
a). You will earn real money with a real account – if you open a real account with XM and start trading with real money from the word go, then all earnings will reflect on your account and you can easily withdraw to your bank account.
b). Loses will impact your account – Since this is a real account, if you trade and lose money, those losses will reduce your account balance.
c). High leverage – XM offers a leverage of up to 1:888 this means that even with a small account, your earnings can be amplified exponentially.
f). 24-Hour Market Access – Forex works 24 hours 5 days a week. In XM though, you can trade 24 hours 7 days a week. During the weekend, use your real account to trade cryptos and all the other CFDs that are provided 24/7.
g). Start trading with $5 – The minimum deposit for activating a real account is $5 only. And, you can finance your real account with MPesa in Kenya.
Step 2 – Fill in the required information.
Which account did you choose to open? Real or Demo account?
Whichever account you decided to go with, ensure you fill in the information required as shown in the images below to have a strong beginner trading account.
For the purpose of this tutorial, I will illustrate with a real account.
a). Enter personal details.
b). Choose trading account details
Here you can choose a micro lot account if you wish to start with $10 or a standard ultra-low account.
Picking either of the accounts will ensure that if you have a small trading capital your trade is confined to a manageable trading volume.
Also, you need to pick the trading platform from which you want to access the markets.
Do you want to access the markets from an MT4 platform? Or from the advanced MT5 platform?
Make your decision and proceed to step 2.
c). Enter Personal Details.
Personal details required for page 2 include your date of birth, city or town, street address, residential address postal zip code, and if you are a US citizen.
d). Enter trading details.
These include things like the base currency you want for your new trading account. You can choose either, EUR, USD, CHF GBP, JPY, AUD, RUB, PLN, HUF, ZAR, or SGD.
It's in this stage that you also choose leverage for your account. 
For those who are new to Forex trading, leverage refers to the amount of money XM Forex can lend you to increase your spending power in the market.
For example, if you pick leverage of 1:500; this means that with a deposit of $10, you will be able to control up to $5,000 in the market.
leverage is a way to help you make more money with a small deposit.
Makes sense?
Try not to misuse or overuse leverage though.
Just as it can help you grow your account fast, it can also help you blow your account fast.
e). Enter Investor Information.
Here, you are supposed to choose the amount you think you can invest in USD.
Also, choose your level of education, employment status, total annual income, the intended purpose of your investment, and your total estimated net worth.
f). Trading knowledge and experience.
Here you are supposed to enter information regarding your experience with trading. It's ok not to have experience but be willing to learn how to trade.
g). Enter the account password you wish to use.
Which password do you wish to use to access your account? Key it in at this stage.
Make sure your password has: –
8 — 15 characters
At least one uppercase letter (ABC…)
One of more lowercase letters (abc…)
At least one number (123…)
h). Confirmation.
Confirm that you have carefully read and fully understood the entire text of the Terms and Conditions, Order Execution Policy, Risk Disclosure, Conflicts of Interest Policy, Refer A Friend Program, and Privacy Policy, and agree to join XM by clicking the confirmation buttons.
Installing trading platform.
Congratulations, you just created your real trading account.
However, this account can only be used for funds management. If you want to manage trades (open positions, set stop loss and take profit, and/or do trade analysis, you will need to install a different platform). The MT4 or an MT5 platform.
How will you know what to install and where will you get the software or app?
Well, after registration you will receive two emails from XM. The first is for email address confirmation and the second is for records.
It shows you your trading account ID, the trading platform to install, and the server to use to access your trading platform.
Follow the instructions on that second email to install a trading platform and start trading.
Conclusion.
The XM account opening process only takes two minutes.
If you follow the details/steps outlined above, your account should be ready within the same day.
Also, if you open an account with the links on this post, you will not be required to verify your proof of residence.
You only need to upload the front and back of your ID and you are good to go.