The best way to explain what Japanese candlesticks are is by using a picture.
The picture below shows two candlesticks.
One is a bullish Japanese candlestick (green), and the other is a bearish candlestick (red).
---
We use the Japanese candlestick charts to describe price action during a given timeframe in trading.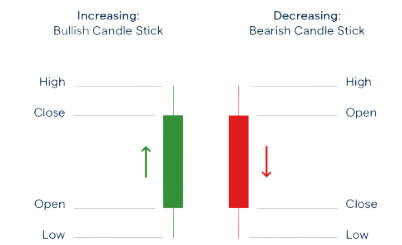 You can use the Japanese candlesticks in a 1-minute timeframe, 2 minutes, 5 minutes, or even in a chart representing a 1-year timeframe.
In a nutshell, the Japanese candlestick charts are formed using open, high, low, and close of the chosen chart timeframe.
Get $10,000 in Your DEMO Account. Join Quotex.
Note: –
If the close is above the open then that means that price is rising.
If the close is below the open it means that the price is falling.
The red or green part of the candlestick is called the body
The thin lines extending above or below the body are called shadows or wicks. They show the highest/lowest price reached within the selected timeframe.
The top of the wick or shadow is what we call the high
And the bottom of the shadow is what we call the low
How to Read Candlestick Signals When Trading.
Though there are individual candlesticks that you can use to open successful trades, going for a combination of candlesticks is always the better decision.
These combinations of candlesticks are what we call patterns in trading.
Depending on the formation of a candlestick pattern you can either identify: –
Moment of exhaustion in the market.
All one needs to do is wait for a particular pattern to appear on the screen and make a trade based on what the pattern is known for.
I can continue with this candlestick education series if you want me to. All you have to do is comment on this post and show interest and in my next article, I will continue with the explanation.
Seriously, don't be shy. Hit the comment button.
Cheers,
Kenn Omollo