I don't have to say that photocopy businesses have become extremely necessary nowadays.
The digital age has not managed to wipe out paper completely which is why in busy towns, you still see a photocopy business on every street.
In Nairobi CBD, there is even more than one photocopy business in one building. And guess what? They all make significant profits.
---
Photocopy businesses have been listed on several sites as easy small businesses to start in Kenya and continue to pop up in every area.
But, is this statement true?
And why is that?
Because they are inexpensive to start and the barriers to starting a photocopy business are few.
If you are interested in indulging in this small business, use this guide to get all the insights you need. Do not invest blindly.
And good luck with your business.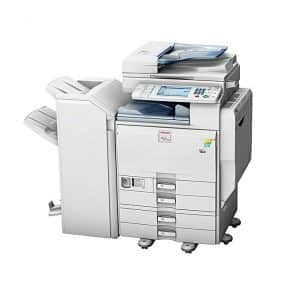 Ricoh Aficio MP C5501 Color Laser Multifunctional Printer Copier Fax Machine.
1. Obtaining a License.
a. Local Authority License: –
This is usually required of all businesses. the cost varies from county to county with the average being 3,000 Kenyan shillings for a standard business license.
b. Kopiken license:
This is a license from the body responsible for ensuring that all copyright laws are adhered to.
Many bureaus lack this but it is mandatory by law to have it.
The cost of these licenses vary.
For a 3 in 1 small office printer- 1500 Kenyan Shillings.

1 to 2 normal size copiers- 3500 Kenyan shillings.

For 3 to 5 normal size copiers- 5000  Kenyan shillings.

For 6 to 10 normal size copiers- 7000 Kenyan shillings.
There are penalties for not having these licenses so it is always better to be safe than sorry.
Eventually, it will cost you less and peace of mind to have a license.
2. Setting up the premises.
Photocopying is not a differentiated product. Where you set up your photocopying business is what makes the difference.
When choosing your location go for;
Foot traffic: – A crowded building will take you further than a highway with many cars. It is easier to attract customers to your copy and print business as they walk past it.

Surrounding Facilities:-  Setting up your photocopy business next to campus or technical institution will greatly boost your sales.

Style or elegance: – Observe the class of your targeted consumers.

Demographics:- Look at the population and their specific consumer needs.
3. Get the equipment.
The main equipment you need to start a photocopy business is a photocopier and computer.
a. Photocopier.
The photocopier is the main piece of equipment, therefore, it is important to be keen while choosing one. Some factors to consider are;
Business scale.

Maintenance and repairs.

Printing speed.

Finishing.

Versatility.

Cost of consumables like a toner.

User-friendliness.
There are different kinds of photocopiers;
3 in 1 with a printer, copier, and scanner: Small bureaus prefer to invest in this one.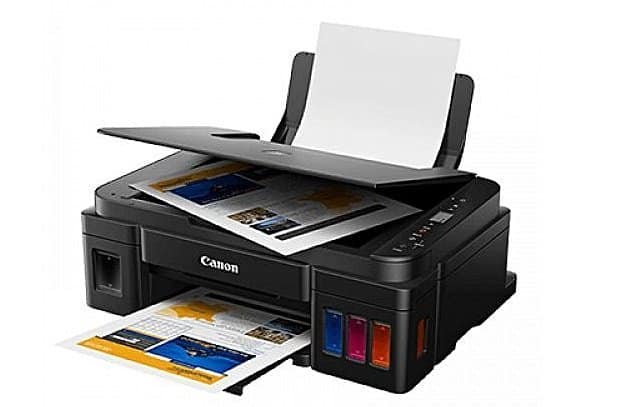 HP Deskjet 2050A: It's an all in one printer costing between 5,000 and 8,000 Kenyan shillings. The Deskjet Printer is perhaps the most common printer used in the business.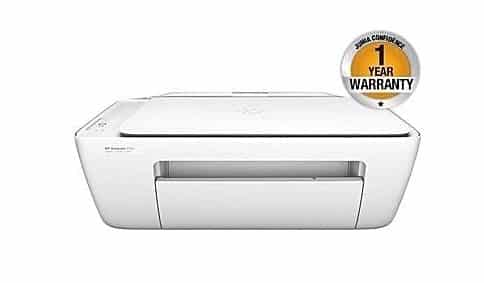 HP 2515: It costs more, going for 16,000 Kenyan shillings.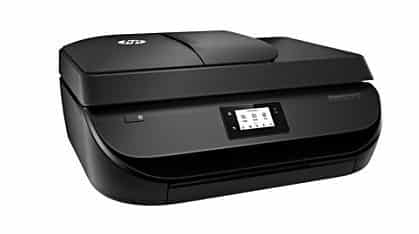 If you are purchasing a refurbished machine, make sure to get it from a trusted dealer and when choosing the brand, consider the availability of spares and maintenance in your area.
You do not want a small fix to cost you an entire machine.
b. Computer.
Any standard computer should be able to connect with your photocopier and do the job.
Opt for good processing powers, depending on the other services you may offer.
Your photocopy business may be in a cyber, which means you need a computer that connects easily to the internet.
Luckily for you, the prices of computers have greatly decreased yet all the computers have basic functions.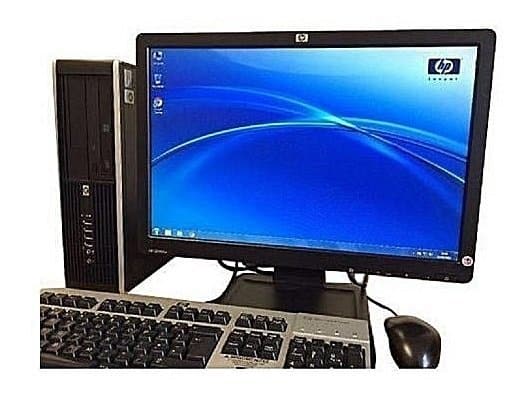 HP 4300 – Core i3 desktop – 4GB RAM-500GB HDD -Monitor 19″ – KES – 24,000
c. Scanner.
A good scanner costs 7,000 to 14,000 Kenyan shillings. If you purchased a 3 in 1 printer, you can simply skip this step. You do not need a scanner.
d. Laminator.
A standard laminating machine costs 4,000 to 7,000 Kenyan shillings. Most people laminate papers of size A$ and below but buying a laminator that can work on larger sizes like A3 won't cost you too much in the long run.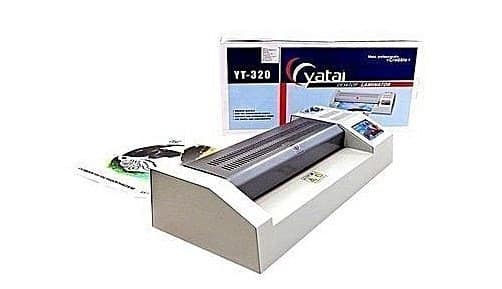 YATAI A3-A4 Laminator Heavy Duty Laminating Machine A3 & A4 size for office and home
e. Binding machines.
Binding machines are purchased based on how many pages they can bind at go. Most colleges only need to bind 50 to 70 pages at a go.
e. Supporting tools.
Supporting tools include stationery, staplers, spiral binders, flash drives, etc.
4. Revenue.
Like any other business, the goal when starting a photocopy business is to make a profit.
The price of photocopying a single page in black and white usually ranges from 1 shilling to 5 shillings.
When it comes to printing, the cost ranges from 3 shillings to 5 shillings.
If the page is colored, it goes up to 20 shillings per page.
For glossy pages, the prices vary from 5 shillings to 50 shillings per page.
If you still want to make more, try a bigger paper size and you can charge more.
The factors that will influence your pricing will be;
Quality of printing: – With a guarantee of making clean copies, you could charge more. However, it takes a while to earn the reputation of making clean copies.

Location:- If the area you are in is bougie, then charge more so your customers feel you are superior.
If there is barely any competition close by, by all means, increase your pricing. Do not go beyond reason though. Make it a point to study the market for photocopy businesses. Bureaus located near educational institutions generally tend to bring in more income.
Market demand: – Whereas the demand is higher, the cost of the product or service always tends to rise.

Demographics: – Look at the consumers, in terms of number and needs.

Class of targeted customers.
Bureaus outside Nairobi and in rural areas generally tend to charge higher. However, they don't have the characteristic traffic of urban areas.
5. Operations.
How you run your photocopy business influences how much you make.
The key operations in a photocopy bureau include;
Opening and closing: – The opening and closing hours need to be realistic. For instance, in an academic institution, the business needs to open before the institution activities begin to allow early photocopying before programs begin.

Cleaning: – It is key to attracting customers and needs to be done routinely, especially, with the amount of paper waste that is produced.

Maintenance of equipment: – Photocopy equipment is fairly expensive and needs to be handled with care to avoid losses and temporary shutdowns.

Printing and photocopying: – The operator ought to know what they are doing and follow the customers' instructions to avoid doing the wrong thing and having to repeat it. Repetition leads to wastage of resources and losses.

Accounting: – Practise good accounting to avoid losing money due to mismanagement. Spend only on what you need and account for every penny.
6. Manpower.
Most copy and print businesses are run by one person; the owner.
In cases, where more people are needed, they are usually paid on a commission basis. The commissions are usually 50/50 or 70/50 in favor of the owner.
In some cases, there is a basic salary involved. In compensation, it is important to balance returns and rewards to avoid losses.
Running a new copy and print business is tricky.
You need to prevent a high turnover of employees. Have the employees that best represent your brand handle the competition.
Employees should also be actively involved in getting the word out.
All-rounded employees bring about better returns. Encourage your staff to be knowledgeable in using the equipment, using software, and handling customers.
7. Competition and survival.
The first consideration for new customers is accessibility, price, and then quality.
Customers don't mind paying extra for easy access especially when bureaus are located near government offices.
When it comes to price, change it if there are several businesses around you. There is not much to play around with though considering the price margins.
A few things that could help in surviving competition include;
You could add discounts on bulk orders to attract customers.

Offer other services e.g KRA pin registration, renewal of certificates, the printing of abstracts, etc.

It always helps when the operator of the bureau knows what is happening around them, for example, examinations, campus project deadlines, or applications for roles using particular forms.

Reach out to your community to build your customer base.
In the case of photocopying, the local community is better to appeal as they are closer. No one will travel miles to use a certain photocopying business unless it is extremely special.
In rural areas, if you (the owner) are proactive there is a small consistent market in the form of churches, weddings, funerals, and such others.
Several bureaus survive wholly on this kind of market.
Businesses that offer the full package and not just photocopy services tend to survive longer.
Not all photocopy businesses survive. A number shut down and for various reasons;
Machine Breakdown.

Search for more profitable alternatives: Running a photocopy business requires patience because the profit machine is usually small as you begin.

Relocation.

Low returns.

Harassment by authorities.
Starting a photocopy business requires you to be smart, calculating, creative and proactive.
8. Trends.
It is always important to find your niche in whatever business you begin. in the photocopy business, some of the features you could have are;
A1 and A0 printers and scanners for architectural drawings near architectural firms or architecture schools.

Offer public services such as KRA pin registration.

Having a typist to type documents.

Bureaus with employees skilled in software like CorelDraw, Pagemaker, ArchiCad, or other design software.

3D printing.
In conclusion, with an expanding economy and more educational institutions, there will always be a need for starting photocopy businesses.
Running a photocopy business is not expensive and the barriers are few so there will always be competition.
Opportunities exist based on location and thriving bureaus do so on loyalty.
With this in heart and mind, you are good to join the copy and print industry.
Good luck with your business.
Tagged With : best printer for photocopy business • photocopy business ideas • photocopy business proposal • photocopy center business plan • photocopy machine for business • photocopy shop business plan pdf