In today's post, we look at the triangle chart pattern on binary options trading platforms (in this case, Olymp Trade). We discuss the most famous triangle patterns, how to identify them, and lastly, how to enter orders using patterns.
If you are a trend hunter, always looking for opportunities to capture trends as they are beginning to form, then this article is for you.
Why?
As it is, triangle chart patterns belong to the family of tools used to identify trend continuation.
What does that mean exactly?
Well, these patterns, often formed mid-trends, signify the continuation of the trend they are formed on.
As a result, every time you see either of the patterns, you should be assured that the trend will be continuing in the main direction.
That said, there are three types of triangle chart patterns on Olymp Trade. And we will discuss all of them and how to draw them shortly.
But first:
What is the triangle chart pattern?
It is a pattern formed on the chart as a result of prices moving into a tighter and tighter zone as time progresses.
Such patterns signify an unending battle between the bulls and the bears, where each of the sides wishes to take control of the market direction but eventually, the trending direction wins.
How to draw triangle patterns
We mentioned that prices are forming a tighter pattern as the time moves. As such, to draw the triangle pattern, you just need to connect at least two highs and at least two lows.
To do that, just draw a line connecting the highs and another one connecting the lows.
Extrapolate both lines until they meet at some point.
The resulting shape should be a sort of a triangle.
Symmetrical triangle chart pattern.
 A symmetrical triangle pattern is formed when the market is making higher lows and lower highs.
When you draw two lines to connect these points (highs and lows), it comes together to form a triangle.
When you see such a formation, it is telling you something.
What?
The symmetrical triangle pattern is a sign that as much as both bulls and bears are fighting, no one is winning. As a result, neither the bulls nor the bears succeed in creating a noticeable trend.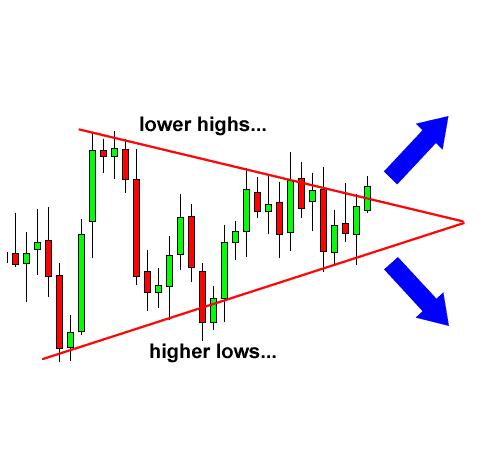 From the chart above, it is safe to conclude that the market is consolidating. As such, you don't actually know where the market is going to move next.
But all we know is that as the two slopes get nearer and nearer to each other, a breakout is looming. Problem is, we don't know it's going to break out in what direction.
How to trade symmetrical triangle pattern
Even though we are blind as to where the market is going next, we can still make money out of it.
How?
You know for sure that the market is going to breakout. Therefore, you can place an order above and below the two trend lines.
And as soon as one is fulfilled, cancel the other.
Better yet, exercise patience. Wait for the breakout to occur before opening a position.
Ascending triangle
While the previous one is a consolidation pattern, the ascending triangle is a bullish pattern.
It is formed during an uptrend.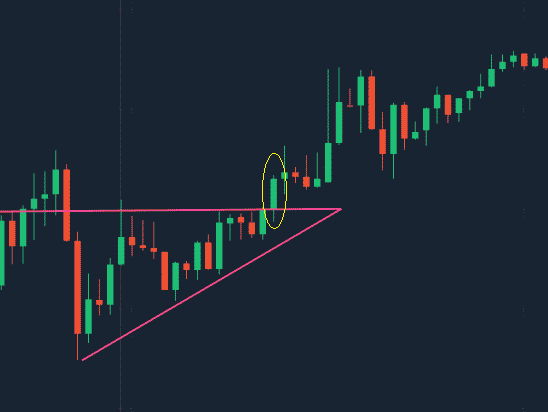 As you can see, the upper arm resembles a horizontal line used to mark resistance levels on the chart.
On the flip side, the lower arm looks more like a trend line.
The two lines come together to form an ascending triangle.
It depicts that the bulls are gaining strength. And that is why the prices are marking higher lows.
Where to enter a position
Just like the symmetrical triangle, ascending triangle signals impending breakout. And more often than not, the break out here is bullish.
For this reason, you should open a position after the breakout.
Descending triangle
As you guessed it, the descending triangle is the complete opposite of the ascending triangle. They are formed along with downtrend and often signifies a continuation of a bearish trend.
From the chart above, you can tell that the line connecting the highs is a trend line, while the one connecting the lows is horizontal.
Whenever you see such a pattern, you should expect the downtrend to continue.
Where to enter a trade on descending triangle
Just like the other previous triangle patterns, you should wait for the break out to occur, then open a sell position.
What to keep in mind when trading triangle chart patterns on Olymp Trade
There is no surefire way to tell the direction of the market. As such, don't be surprised that either ascending or descending triangle is full of false signals.
It happens.
But there is a way out.
You can pair the triangle pattern on Olymp Trade with a trend following indicators like the MACD.
This way you should be able to tell a false signal from a real one.
For example:
During a breakout, the price should of course break any of the lines forming the triangle pattern. And to confirm this as a valid signal, the MACD lines should be diverging, indicating that a new trend is indeed forming.
Final thoughts on triangle charts
Don't be so much engrossed on where the market is moving after break out. It is very much possible that the prices will go in the opposite direction.
Just to be safe, be ready for movements in any direction. And use indicators to confirm signals.
Visit Website.
Features
What\'s this?
Rating
REGISTER
1

Get $10,000 in your DEMO account
Minimum trading amount is $1
Get up to 92% Rate on Return
Fast deposits and withdrawals
$10 minimum deposit
$10 minimum withdrawal
Get $10,000 FREE to DEMO trade in Olymp Trade