As mentioned yesterday in our introductory piece on candlesticks trading, traders can open trades either with a single candlestick or a combination of candlesticks (also known as patterns).
In today's piece, we expand on single candlestick patterns.
And what are single candlestick patterns you ask?
---
These are individual candlesticks that can be used independently to open successful trades in Forex or binary options.
As you will later learn in this piece, single candlesticks help traders identify continuing trends and trend reversals.
If you want the best from trading using single candlestick patterns, be sure to analyze the charts for longer timeframes before you settle for opening a trade with any amount.
As a rule of thumb, you should use a 1-hour timeframe or longer in your analysis before settling to open a trade in 1 minute, 5 minutes, and/or 15 minutes duration.
Here are some examples of single candlesticks and how to trade them in Quotex.
1). Hammer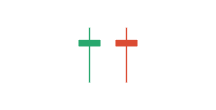 The hammer is a single candlestick used to identify trend reversals. It can either be red or green and it has a long lower wick and a small and/or no wick at the top.
Should you spot this single candlestick pattern after a downtrend, open a UP trade.
Conversely, you should open a DOWN trade if the hammer appears on the charts immediately after an uptrend.
2). Inverted Hammer or Shooting Star.
Just like the hammer, the shooting star is a trend reversal indicator and it can appear in either red or green color at the end of a trend.
Being the opposite of the hammer, the shooting star has a long upper shadow and/or no shadow at all at the bottom.
Should you spot a shooting star at the end of a downtrend, open a up trade.
Conversely, you should open a down trade if at the end of an uptrend the shooting star appears.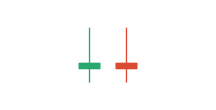 3). Doji
Unlike the shooting star and the hammer, the Doji has a long wick both on top and below it.
When Doji appears on the charts, it can be translated to indecision in the market.
The Doji appears when both buyers and sellers and opening trades with almost similar amounts at the same time.
If you look at the Doji carefully, you might notice that the opening price and closing price are very close and sometimes the difference is only a single point.
Play aimlessly with the Doji candlestick and you will lose money. If you are lucky, you will get back your invested amount.
My 2 penny advice? Don't trade when the market shows indecision and if you must trade, trade based on the context of the previous candlestick.
These are the most common single candlestick patterns. Try to identify one or all three patterns on the DEMO account and comment with the pattern you identified.
If you don't have an account, register here.
Cheers
Kenn Omollo