It can be hard to know when to buy or sell an asset in Quotex, especially when the market is volatile or even when you are just getting started in trading. One tool you can use to help make your trading decisions is the moving average.
In this article, we're going to explain how to use a moving average to trade in Quotex. We'll also show you how to adjust it so that it works best for you on 1-minute timeframes or even on 4-hour timeframes.
What is a moving average?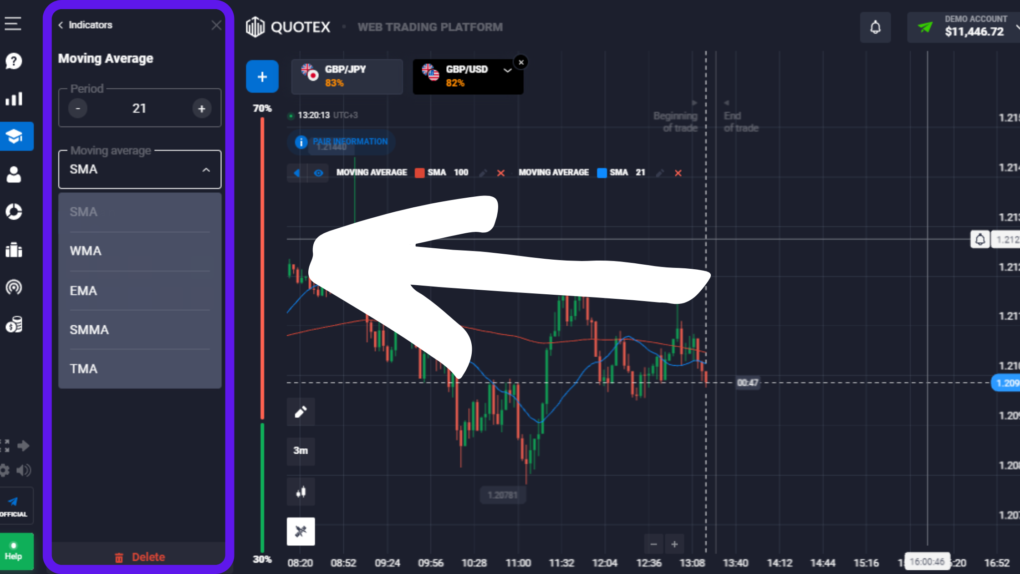 In a nutshell, the moving average (MA) is simply a mathematical calculation that averages the prices of a security or commodity over a certain period of time. The longer the time period, the smoother the MA will be.
---
When used as a technical indicator, the MA can be very helpful in predicting future price movements on any broker platform. The MA is calculated by taking a number of the latest prices and dividing it by the number of total periods.
As with any technical indicator, it's important to use a moving average with caution and to understand how it works in order to make informed trading decisions.
Here are a few tips for using a moving average:
1) Verify that your moving average is correctly set up before using it as an investment tool. Be sure to adjust the periods to fit your trading style and the current trading conditions.
2) If you're trading options with smaller MA periods, consider using shorter periods (e.g., period 21) rather than longer periods (e.g., period 200). Shorter periods will smooth out more frequent price fluctuations giving you more signals. This is especially ideal for scalpers.
Why Use a Moving Average Indicator
1). The reason you might want to use a moving average when trading is that it helps you identify trends.
If you see that the market is trending up, for example, using a moving average will help you buy stocks at lower prices and sell them at higher prices.
If the market reverses, you can still use the moving average to play the market to your advantage.
2). Moving averages can also act as support and resistance levels.
What are the support and resistance levels you ask?
These are price levels or zones that limit the financial markets to a range. Often diagonal or horizontal. While the support level is the level below the price, the resistance level is the level above the price.
You can use the rectangle indicator in Quotex to draw support and resistance levels on the charts or you can use trendlines. But if you are not a fan of either, you can use MA to act as your support level when the price is above it and resistance level when the price is below it.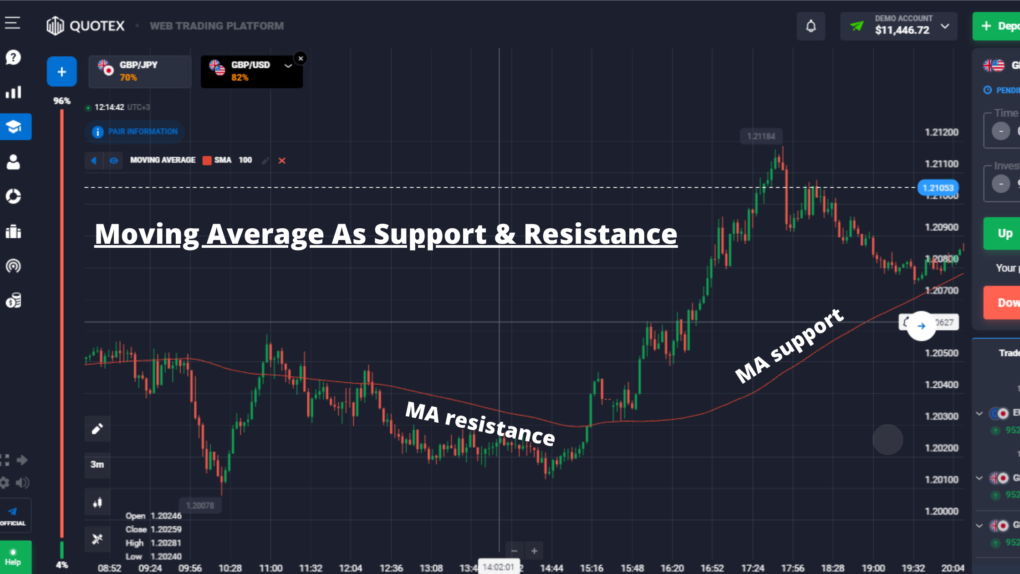 Types of Moving Averages
There are a few different types of moving averages, each with its own specific advantages. The two most common types of moving averages however are the simple moving average (SMA) and the exponential moving average (EMA).
The rest of the moving averages include – WMA, TMA, and SMMA.
Moving Average Strategies.
These are trading strategies that are formed from moving averages alone or moving averages together with other indicators, oscillators, or writing tools in Quotex.
Here are some of the best and most basic moving average strategies to use in Quotex: –
1). Moving Average Breakout Strategy
A moving average breakout strategy is a trading strategy that uses a moving average and price to indicate when to buy and sell financial instruments online.
The strategy is based on the idea that the price will move above or below the moving average at some point. If the price was trading up and it breaks out the moving average to the bottom, then there is a chance that lower prices may continue.
Conversely, you will if the market was trading below a moving average and it break out to the top then there is a greater chance that higher prices will be seen and you should trade up.
How to Trade Moving Average Breakout in Quotex
This strategy is pretty easy and straightforward. All you have to do is create an account in Quotex if you aren't already registered.
Once you've registered, find and click on the indicator tab then locate and click on moving average.
If you will be using this strategy on a smaller timeframe, make sure you adjust the period accordingly. For example, you can use period 21 for a 5 minutes timeframe and period 10 for a 1-minute time frame.
Done that? Now, wait for the market to break the moving average either from the top to the bottom or the bottom to the top and trade in the direction.
2). Moving Average Crossover Strategy in Quotex.
This strategy involves using two or more moving averages set at different periods to find the best entry points to trade in Quotex.
To use this strategy you will need to add two moving average indicators to your chart and set them to period 21 and period 50 respectively.
Once you have achieved that, your next course of action is to scour the chart looking for imminent crossovers of MA 21 and 50 and trade in the direction of the 21-period moving average.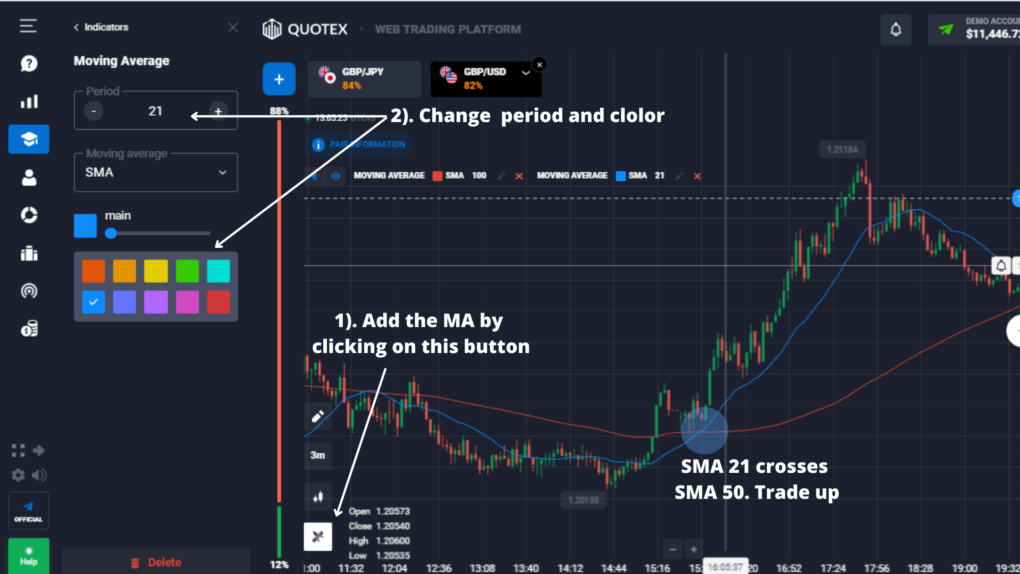 Disadvantages of Trading With Moving Average
There are a few disadvantages of trading with a moving average though.
The first disadvantage is that the Moving Average may not provide accurate signals in predicting future price movement.
Secondly, any sudden changes in the price of the underlying assets may cause the Moving Average to "jump" and produce erroneous signals.
Finally, using a moving average can lead to complacency, as traders may become lulled into believing that the Moving Average is providing accurate signals, when in fact it may not be.
Always use the moving average together with other indicators, price action, and news to improve your trading results.
Conclusion: How To Use a Moving Average to Trade in Quotex
I hope that the information I have provided in this post will help you start trading with moving averages on Quotex. But even as you try to ensure profitability, remember that indicators don't work well independently and combine them with oscillators or other drawing tools for increased accuracy.
Tagged With : apakah broker quotex resmi • are brokers legit • are brokers safe • best indicator for quotes • broker explained • broker quotes bloomberg • broker quotes definition • broker quotex opiniones • brokers or broker's • do brokers lose money • download broker quotes • how to use indicators • how to use indicators in quotex • is quotex a regulated broker • is quotex a trusted broker • is quotex broker legit • is quotex legal in us • is quotex legit • is quotex regulated • is quotex.io legit • partner quotex broker • quotes broker demo account • quotes indicators • quotex binary options review • quotex broker • quotex broker affiliate • quotex broker apa • quotex broker apakah aman • quotex broker apiis quotes a good broker • quotex broker apk download • quotex broker app • quotex broker dari mana • quotex broker demo • quotex broker descargar pc • quotex broker erfahrungen • quotex broker id • quotex broker indonesia • quotex broker legal • quotex broker login indonesia • quotex broker opiniones • quotex broker pc • quotex broker penipuan • quotex broker regulated • quotex broker review • quotex broker web • quotex broker wikipedia • quotex indicators • quotex legit • quotex options • quotex regulated • quotex review reddit • quotex reviews • quotex strategies • Quotex withdrawal • quotex.io legit • what are common indicators • what are the 4 indicators • what does an fx broker do • what exactly does a broker do • what is indicators mean • which broker has lowest deposit • which indicators are examples of self indicator