Are you an Olymp Trade Nigerian Trader with money in the bank and wish to deposit directly to your trading account?
All you need is a Bankcard and you can use it to deposit money directly from your bank account to Olymp Trade.
Note that you do not need to transfer money from your bank to other wallets. This method is direct and it limits transaction costs.
---
More good news, Olymp Trade will not charge anything to accept your Naira Bank Card deposit.
If any charges will be incurred, then probably from your bank. Olymp Trade deposits and withdrawals are free.
But what is a Naira Bank Card?
A Naira Bank Card is any bank card, whether Visa or Mastercard, which is denominated in Naira.
Any transactions with the card involving other currency denominations such as Euro and U.S Dollar will need to undergo conversions into Naira. Often done by the bank.
The amount will then be credited into your Olymp Trade account as USD or EURO depending on the account currency you chose at registration.
Depositing Money to Olymp Trade Using Naira Bank Cards.
If you have a Naira Bank Card and money in the bank account connected to the card, then you can make a direct deposit into your Olymp Trade trading account.
Follow these simple steps to fund your Olymp Trade trading account in Nigeria using your Naira Bank Card:-
Have enough money in the bank account connected to your Naira Bank Card.
You must ensure your bank account has enough money, depending on how much you would like to deposit into your Olymp Trade trading account.
The minimum deposit amount using Visa is $10 which translates to 3850 Naira or thereabout.
Also, note that your bank may charge you some amount for the transfer.
Olymp Trade does not charge any commissions on either deposits or withdrawals.
Have a valid Naira Bank Card.
Your Naira Bank Card must be valid and connected to your bank account.
Note that expired Naira Bank Cards will be rejected and the deposit will not go through.
Naira Bank Cards which are not enabled for electronic and international transfers will also not serve the purpose.
If you realize that your Naira Bank Card is not valid due to expiry or any other reasons, get in touch with your bank.
They need to rectify all issues before you proceed.
Log in to your Olymp Trade trading account.
You will log in to your Olymp Trade trading account by:
Entering your email address.

Entering the password you set during registration.

Solving some captchas.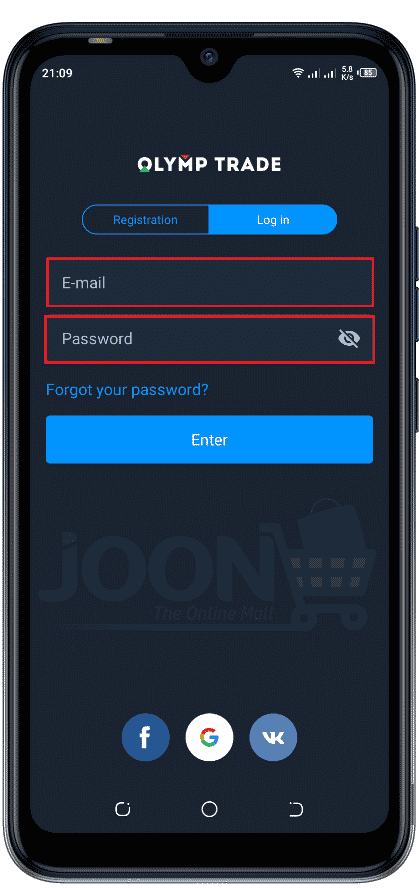 Initiate the Deposit process.
To initiate the deposit process, locate the deposit button, and click on it.
The payment form will pop up. You will then be required to fill it appropriately.
Set the Deposit Amount.
On the payment form, locate a field labeled 'Deposit amount.'
That is where you will enter the amount you wish to deposit in terms of USD or EUR depending on your trading account currency.
The amount you enter will be deducted from your Naira Bank Card after conversion into Naira.
Remember that the minimum deposit amount using Naira Bank Card is $10 which is equivalent to 3850 Naira or thereabout.
Select the Payment Method.
Locate and click on the field labeled 'Payment method' on the payment form. A list of all payment methods supported by Olymp Trade appears in three categories (Bank Cards, Internet Banking, and Electronic Payment Systems).
For your case, you are depositing into your Olymp Trade trading account using the Naira Bank Card.
It falls under the first category – Bank Cards.
Now, within the Bank Cards Category, there are three options – Bank Cards, JCB, and China UnionPay.
Choose Bank cards from the list because Naira Bank Cards are a kind of Bank Card.
Save your card.
If you wish to make future deposits using the same Naira Bank Card, there is a way your card can be remembered.
That is by ticking the Save Card box before you proceed.
Take a Bonus.
Taking a bonus is optional while depositing money into your Olymp Trade trading account.
But why would you ignore the OnPay bonus of up to 50% for all traders which is usually 100% if you deposit within the first hour of registration?
You can also use coupons or promo codes to take varied percentages of bonuses depending on the code used.
To take a bonus, locate and click on the Bonuses and Promo Codes button. You will then choose the kind of bonus to activate once in there.
Proceed.
Click on the blue Deposit button to proceed, which brings you to the card details interface.
There, different Naira Bank Card details will be required.
These include the Card number, Name on Card, Card Expiry date, and the CVV/CVC of the card.
Enter the Card number.
Locate the field labeled 'Card number'.
Enter the 16 digit Naira Bank Card number printed on the front of your card.
Also Read: – How To Earn Airtime Online on Kenyan Websites and Mobile Apps
Enter the Name on Card.
Look for the field labeled 'Name on card' which is next after the card number field.
Enter the Name printed on the Naira Bank Card, which should be the account holder's (your) name.
Enter the Card Expiry Date.
Locate the next field labeled 'Valid until' and enter the Expiry date of your Naira Bank Card in the order of Month/Year.
On your card, this date is printed against the words 'Valid Thru' and in the order of Month/Year.
Enter the Card CVV/CVC.
The next field is labeled 'CVV/CVC'. Locate it and enter the last three or four digits of the number printed on the back of your card.
Proceed.
Click on the green Pay button to proceed.
Wait for payment processing.
You will have to wait for your payment to be processed.
Bank Card deposits are instant.
Olymp Trade will notify you of the successful Olymp Trade trading account refill via email. You can then begin trading.
Conclusion.
Some of the bank cards which work well with Olymp Trade in Nigeria are: – The First Bank Verve card, UBA MasterCard, Diamond Yello MasterCard, GTB MasterCard, EcoBank Visa among other Naira cards.
Is there any other card that you have used to make a deposit that you'd like to recommend?
Leave a comment to help other Nigerian Traders.