Looking for a surefire way to trade in Olymp Trade without interruptions?
Why not verify your trading account in advance?
Contrary to what most traders believe, Olymp Trade account verification is easy. And can be completed in just a few days.
---
In this post, I will walk you through the exact steps you need to take as well as verification documents needed.
Keep in mind though;
Account verification isn't a must for new accounts. At least until you reach a certain trading volume. The only thing you need to do at that stage is to strengthen your account security.
How?
Simple.
Verify your email address and the phone number. That's all.
Later on, Olymp Trade themselves will ask you to prove your identity by providing identity documents we will discuss today.
This way, you unlock the high level of an account security badge.
Getting ready to verify your Olymp Trade account.
To begin the account verification process, you first need to find your profile. To do that, open the Olymp Trade app and locate an icon at the top right corner. That's the feature of your profile.
And if you have not verified your email and phone number, this is what you will see.
To solve this, do the following:
Confirm your email address

Confirm the phone number

Use two-factor authentication.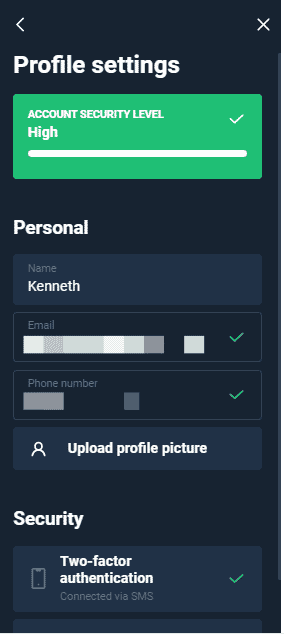 Doing this will fortify your account so no one else can access and rob you of your hard-earned money.
The next step in Olymp Trade account verification is uploading required documents. And as I have mentioned above, this is only done upon request by the broker.
What documents are needed to verify the Olymp Trade account?
Before you start the account verification process, make sure you have the following documents:
A colored photo of your National Identity card (ID) or a passport. This will be used to prove your identity as a person.
A photo of you holding either your ID or passport. The photo should be held close to your face and it should be colored and clear.
Proof of residence. This could be any utility bill like an electricity bill or water bill or bank statements with your postal address in it. You can even use your KRA receipts if you are in Kenya.
Proof of funds origin. This will be used to prove the method you used to deposit funds on Olymp Trade. If you are using an eWallet, a screenshot of the transaction section is enough. Just make sure the screenshot captures that record of funds deposit to Olymp Trade
All of these documents should be clear and easy to read, otherwise, you may encounter problems verifying the account.
Once you have these documents, follow these steps:
Verification steps.
Right on your profile, you will see the Authentication button. Click on it. But remember, you may not see this option if you haven't been asked by Olymp Trade to verify your account.
Tick the two boxes to agree to Terms and Conditions and click continue
The next step is to choose your country and then select the ID document type you have. You can use your ID, Passport, or Driving License. Then proceed to click 'My Document is double-sided' and then click on 'Choose to Upload' to upload the ID images. Once done, click on Proceed.
The next step is to upload a selfie of yourself holding the ID you provided above. Choose the file and upload, done? Click Proceed.
Time to provide proof of your residence. To complete this step, take a picture of your bank statement, tax declaration, and utility bills. You will see the types of documents you can use here. Additionally, the document should be dated within the last three months.
Finally, proof of payment. This step depends on the method you used to deposit funds to Olymp Trade account. If you used your credit card, go ahead and take a picture of its front side and upload it. On the other hand, if you used an eWallet, take a screenshot of the transaction history showing the initial transfer of funds to Olymp Trade.
And you are done with the Olymp Trade account verification process. What is left is to wait.
How long does the account verification take?
Take it easy.
It doesn't take years.
Olymp Trade account verification will take at most 5 business days. This period is used to verify the validity of the documents you provided.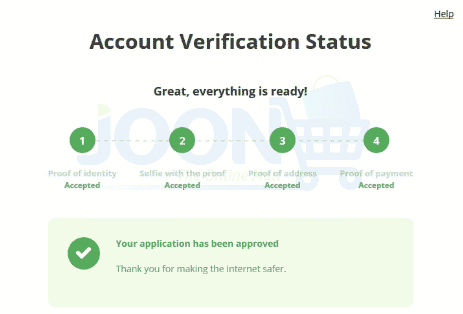 Once it is done, you will get a confirmation through the email address you used to open the account.
Also, you can see the verification status right from the platform.
Why is verification necessary?
Account verification is an ideal way of curbing fraud. Olymp Trade uses it to protect itself and to protect you from unauthorized persons.
Additionally, you will be able to move a large sum of money once your verification goes through. And yes, during the verification process, you can still withdraw funds less than $100.
Tagged With : how to verify forex account • how to verify my olymp trade account • how to verify olymp trade account • verify olymp trade account