If you just began trading on Olymp Trade, then you must be aiming at winning every trade. 
I can tell you for a fact, that you are not alone in this quest. Newbie and experienced traders have all been in a frantic search for that strategy that will win them all trades.
While at that, most traders find themselves going into very sophisticated trading systems. They actually think that the more complicated a strategy is, the more accurate it is bound to be.
To demystify that, here, in this post, I will show you how to win every trade in Olymp Trade with simple trading strategies. 
So buckle up and get ready for the guide: –
Winning Every Trade in Olymp Trade.
The first time you saw the headline, you must have gone into an utter disbelief and rubbished the claims that any trader can win every trade, right?
Yes, it is expected because to this far, no trader has proven to be immune to losses in the asset market, however experienced.
But did you know that with the right strategies, your losses can actually be minimized to near none?
Even when the system is not 100% effective, the wins outweigh the loses, and better still, there is a way to recover the lost amount.
If you follow my strategy, you will always emerge a winner out of the market no matter what.
Simple Trading Strategies to Win Every Trade in Olymp Trade.
Here are the simple trading strategies to employ:
Momentum Trading.
This involves trading in the direction of rapid price movement.
But what really is rapid price movement?
It is when the price moves towards one direction very fast and significantly.
How then do you spot a trading signal while momentum trading?
You wait until the price demonstrates rapid movement either upwards or downwards.
The cause for rapid price movement is varied.
Both technical and fundamental factors can trigger rapid price movement in one direction.
What that means is that the price of any asset will show momentum in one direction just any time if the said triggers are activated.
Watch the price closely and if it portrays a very fast movement in one direction, open positions in that direction.
Momentum trading is just the same as trading the trend.
Pullback Trading.
Pullbacks are temporary reverses in the price of an asset before the price resumes the primary trend.
As a trader, you can leverage these pullbacks to trade profitably on markets with strong downtrends or uptrends.
Spotting a trading signal on the market is very simple.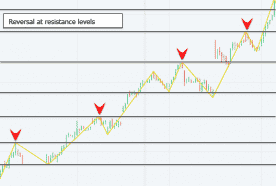 The first thing to identify is a strong uptrend or downtrend.
Once you have that, the next thing is to wait for the price to reverse shortly and then show signs of resuming the primary trend.
What causes price pullbacks or retracements?
They occur naturally on the price of an asset, because the price doesn't just move up and down on a straight line.
Demand and supply forces at that very moment also play a key role.
What then should you expect on this kind of trading?
Expect pullbacks any time there is a strong trend in any direction.
Once the pullback has occurred and the price has begun resuming the initial trend, open positions in the direction of such trend.
Range Trading.
A range is a channel in which the price tends to move without breaking upwards or downwards.
The upper channel may be a resistance level while the lower level may be a support level.
To identify a trading signal in this strategy, you first need to establish the channel limits.
These are levels where the price seems not to break upward or downward.
Once you establish the levels, you can then trade up once the price hits and retests the lower level and trade down when the price hits and retests the upper level.
Price ranging has no definite cause because that is how the price moves.
Those are levels where market movers exit and enter trades in the same manner as you.
Breakout Trading.
This kind of trading comes into play when the range trading technique fails.
This is when the price breaks the usual channel it has been trading within either upwards or downwards.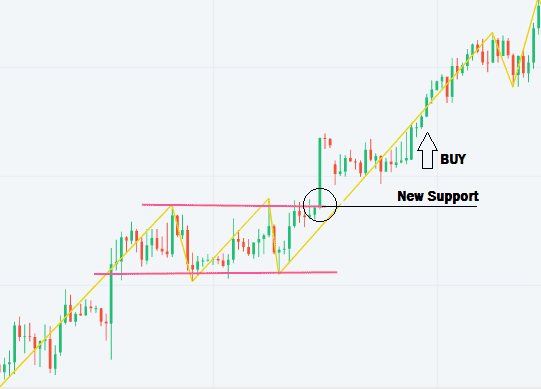 Breakouts occur very often and spotting a trading signal is very easy.
Just establish significant levels of the price where it has been ranging, then wait until the price breaks out of that range.
Once the price breaks out of the range and retests the level without breaking it backwards, it's time to enter a trade in the direction of the breakout.
News Trading.
Not all people like technical analysis.
You can actually trade positive and negative news events on the related assets and win big.
Just make sure you are up-to-date with the relevant news related to the asset you would like to trade.
Positive news events call for buy positions while negative news releases mean that it's time to sell the asset.
It is actually that simple and profits come raining.
Final Thoughts on How to Win Every Trade in Olymp Trade.
For all trading strategies, you need money management strategies to accompany them. It is the only way you can win more, or rather, every trade.
Fixed Time Trading – incorporate the martingale money management strategy. Martingale involves doubling your investment every time you lose and reverting back to the initial amount after a win. This ensures you recover your loses and profit ahead of recovery. If all goes well you should win more or even end up recovering what you lost.
Forex Mode Trading – trade alongside proper risk to reward ratio of at least 1:2. That means that your Stop Loss level exposes only up to half of your target profit. You Take Profit on the other hand, targets at least twice the amount risked by your Stop Loss. Remember you can target more than twice the risk, depending on the trade set up.
You must realized that it's not the sophisticated strategies that yield profits only. The simple ones matter too. Happy Trading!
Tagged With : how to win every trade in fixed time trading