If you went to Google and searched, "how XM trading works" then chances are, you have never traded before, you don't have a trading account and most importantly, you want to start your trading journey.
Whichever description fits why you are searching for how XM trading works, I've got your back.
And just to cover even people who don't have trading accounts, I will start with the account opening process.
---
1). Opening an account with XM.
Since trading is something which we do online through an online trading account like XM Forex'; the first step to starting your investing journey would be to open a trading account.
At XM you can choose from tens of account types including: –
If you are just starting out and your aim is to invest anything with anything from $10 to $50, I recommend that you open the XM ultra-low account.
This account type not only ensures that you can trade with the minimum allowed deposit at XM ($10); but that your account is protected from negative balance, you get to choose a trading volume of as little as 0.01 and you can also trade up to 100 lots per ticket.
It is the plenty of options to choose from for me. See all XM Forex account types.
Whichever account type you choose to go with, it should only take you two minutes to complete the registration process.
Open an XM Forex Real Account.
Congratulations. You now have a trading account. Now, what next?
2). Account Details And Login Credentials.
If your account opening process was successful, you will receive the first email to validate your email address. This is important for the status of your new XM account. Do it.
The next email that you will receive from XM will be a very important one.
In it you will find your account ID for accessing either MT4 or MT5.
On the same line you will also see the platform and server that you should login to. It can either be MT4 or MT5.
Use the trading ID and your password to log in to the XM member area. Don't worry about the server details, we will use them later.
While in the member's area, don't forget to verify your account.
If you registered with the XM registration links on this website, ID verification only should be enough to get you started.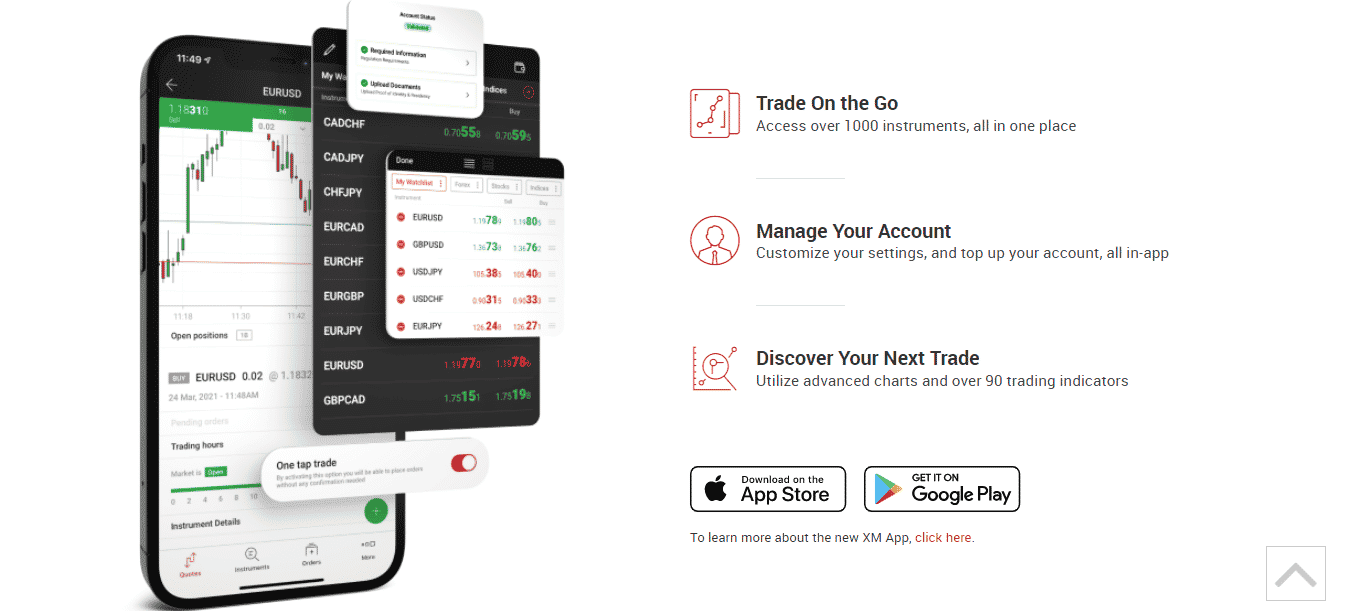 Remember the server details we received in step two? Now, this is where they come in handy.
You need a trading platform that's easy to use to be able to manage your trades online.
The most reputable, popular, and recommended platform is the MetaTrader platform
.Check the second email you received from XM Forex to see which platform you picked in step 1 – the account registration process.
Did you pick, MT4? Download MT4 here.
Did you pick, MT5? Download MT5 here.
Through either of these platforms, you will be able to invest in more than 1,000 financial instruments in XM Forex including; currency pairs, stocks, indices, metals, commodities… you name it.
Plus, MT4 and MT5 platforms are also available to use on Windows, Mac, iPhone, iPad, and Android devices.
Which device do you want to download your XM Metatrader platform on? Choose the best platform for your device here.
4). Make a Deposit to Your XM Forex Account.
You have opened a trading account, received your account's login details, and downloaded and installed your preferred trading platform (MT4 or MT5). Now, what next?
Next, you need to fund your trading account to start placing trades online.
Have I already mentioned that the XM Forex account is different from the XM MT4 or MT5 account?
Well, they are different.
While the XM Forex account is used to manage funds (deposits and withdrawals); the XM MT4 account is used to manage trades (buy orders, sell orders, stop loss, take profit, technical analysis, and more.
Note: you can not fund your Forex account on the MT4 or MT5 platforms. You will need to switch to your XM member area to perform this action.
On the XM member area locate and click on the deposit button to begin the deposit process.
If you are in Kenya you can use Visa, Skrill, Neteller, Astropay, Bitpay, Webmoney, or Mpesa to fund your account.
Which method is most preferred for XM deposit in Kenya you ask?
Use Mpesa, it's fast, safe, and convenient and you can withdraw back your money to Mpesa and receive shortly.
5). Start Trading With XM Forex.
If your deposit was successful, you will see it in the XM member's area.
Now you can trade with real money and withdraw real profits.
But what if you have never used MT4 or MT5 platforms to trade?
Easy.
If you are using the android MT4 or MT5 platform, just tap on the plus sign on the top right and add the assets you wish to trade.
Would you like to trade currency pairs, commodities, indices, stocks, or futures?
Click on the folder that describes what you would like to trade and add assets by tapping on them.
All the assets you add will appear on your home screen.
If you are using your laptop though, activate the market watch on the top left corner of your screen, and at the bottom of the assets shown, "click add" and type the asset you wish to add to your list.
For example, you can add EUR/USD by clicking the add button and searching for the pair.
Alternatively, you can right-click on the watchlist and navigate to show all symbols.
You will see all symbols available. Click to add one by one.
Analyzing trades with XM MT4/MT5 platforms.
Are you satisfied with the assets you have added to your watchlist?
Now, it's time to analyze the assets you want to trade in order to have an edge over the market and increase your chances of becoming profitable.
Metatrader unlike all web-based platforms has hundreds if not thousands of technical and fundamental analysis tools that you can use to tell which direction the market will go.
As a rule of thumb, you should follow the trend if you are just starting out.
You can add tools like SMA (commonly used by trades) to trade trends and to trade breakouts.
Other strategies that you can use when just starting out in Forex include: –
a). Range trading – this is where you identify key zones that the market constantly oscillates between and short the market if the price reaches the top of the range and open a long position if the market is at its lowest in your range channel.
b). Momentum trading – This strategy focuses more on the strength of a trend and puts a little emphasis on the trend itself. To profit from this strategy, make sure you only open positions when the market is gaining momentum and close if momentum is low.
Use tools like momentum indicator, RSI, MAs, and the stochastic oscillator to keep checks on the movement of assets you are trading.
c). New Trading –  though old, it is still a great way to speculate on what direction the market is going to take. Some of the most important news that you can look at and that will most certainly drive prices are political news, economic news, and social news.
As you continue being more active in the market and gaining experience you will learn other types of strategies that are mostly preferred by advanced traders.
Trading for the first time on XM MT4 or MT5.
You have opened an account in XM, installed MT4 or MT5 platforms, funded your account, analyzed the charts, and are now ready to place your first trade; what's the procedure?
It's simple.
If you are trading with your phone, tap on the asset you wish to trade.
For example, if you are interested in opening a position on the EUR/USD micro pair, you will tap on it.
Next, click on new order and click "BUY" if you are predicting that the first currency in the pair e.g EUR in this case will grow in value as compared to USD.
Or "SELL" if you are forecasting that the price of EUR (base currency) will weaken as compared to the quote currency (USD) in our case.
Before you exit the screen, ensure you also set your "Stop-loss" and "Take profit" levels.
Stop-loss ensures that you do not lose more than anticipated if the price does not go your way and taking profit ensures that you cash in on your wins when the time is ripe.
Conclusion.
That's every step that you need to take to place your first successful trade in XM.
You can always go back to the XM member areas to add more funds or withdraw your earnings from the platform.
Above all, you can modify the volume amount of your trade from say 0.01 to 0.1 or 0.2 or more depending on your account balance?
Did you learn something from this post? Join our Forex WhatsApp group for beginners to continue learning.
Also, don't forget to ask questions in the comments below.