How much money have you earned in Olymp Trade so far?
Nothing?
Why?
---
I guess it's probably because you aren't already trading actively on the platform. Or because you don't know that there are alternative ways to make money from the Olymp Trade platform without trading.
What if I told you that if you read this post to the end, you could learn how to start making money with Olymp Trade, with your phone without having to put up any upfront payment, would you read it?
And if I further told you that personally, I have earned a little over $81,000 doing this simple task in Olymp Trade with my phone, would you believe me?
If you wouldn't, then I guess you should stop reading this post right now and find something else that can make you money online.
If you would, then see the image below for proof, proof, and more proof.
Without wasting too much time, let me introduce you to Kingfin.
The official Olymp Trade affiliate partner.
Now, this is the program that lets you make money in Olymp Trade without ever having to make any deposit.
How to get started with the Kingfin affiliate program.
To begin making money with this program, you will need to: –
Pick a traffic source to promote your links.
Converting this traffic to traders.
Withdraw your money to any of the accected wallets.
How to make a profit promoting Olymp Trade.
After creating an account on Kingfin, you will need to advertise Olymp Trade to earn up to 60% revenue share of the trading platform.
Some of the easiest to use platforms to get traffic for Olymp Trade include: –
TikTok.
Ads.
Telegram.
YouTube.
Your own website among other methods.
In this section, we will discuss each of these methods as possible sources for advertising Olymp Trade for profits beginning with: –
1. TikTok.
TikTok is a wildly popular app for sharing short soundtracked videos.
According to 2021 download data, TikTok already has over 1 billion active users, and many of them are still very young.
But the community is rapidly aging up as older people join the platform to start promoting their businesses or personal brands.
If you just joined Kingfin today and you were wondering if there can be an easier way to promote the platform for instant results, then this is it.
It's free, the audience is engaged and you can start doing it with your phone.
Follow my Tiktok account below to see how I do it.
If you don't have a TikTok account, here's how to do it.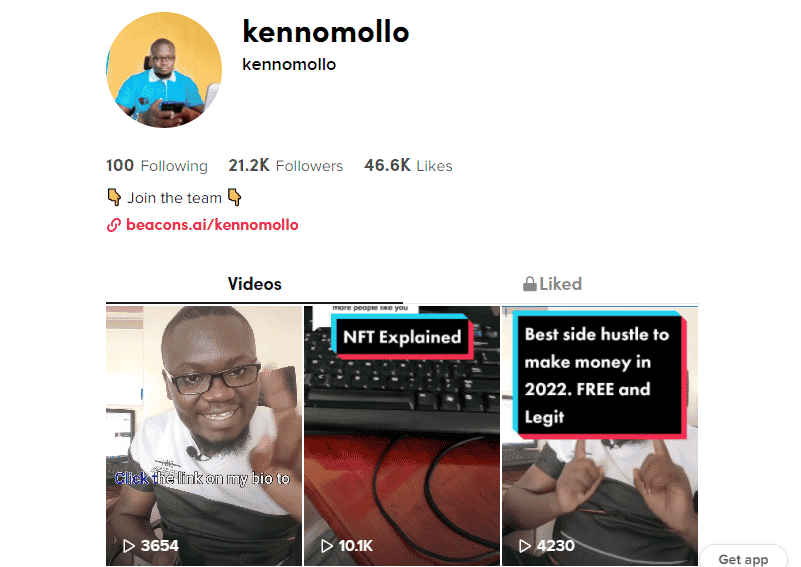 2. Ads. 
Other than using TikTok to get fast results for your Kingfin affiliate business, you can also use targeted ads.
The only difference is that when you choose TikTok as a source of traffic, you may have to do very many TikTok videos daily, eternally.
Choosing ads on the other hand only requires you to do a few videos, banners, or posts in an eternity.
You can use these materials repeatedly to get FREE, regular traffic, or to buy traffic.
Free methods for driving ad traffic to Kingfin.
a. Use your website to drive FREE traffic to Kingfin.
A website is one of the coolest online resources where ads are frequently placed for traffic.
Websites with the highest amount of traffic will most often than not, consider selling ad spaces for fixed prices.
If you have a website that is already receiving too much traffic and were thinking of beginning to sell ad spaces, why not use it to your advantage to drive traffic to kingfin?
Start a FREE promotion on your website to convert that FREE traffic to money for your business.
Below is an example of ad space on my blog.
b. Use your Social Networks to drive traffic to Kingfin.
If you don't have a website or money to create one but would still like to promote Kingfin, use your social networks to your advantage.
The system of free promotion on social networks involves inviting the target audience to join your groups and communities. Like you see influencers doing on Instagram and Telegram.
Seeing that customers only want to put their money where other customers are already engaged, it would only make marketing sense to use free software to drive your numbers up.
Using software for engagement is one of the most widely-used methods for free promotion on social networks.
Take Instagram for example.
You can quickly find people from your target audience, like their posts, watch their stories, and subscribe to their accounts.
Doing this continuously encourages people to visit your account and subscribe to you if they're truly interested in the product you're advertising.
Find and use combin to automate the process of liking, viewing, and subscribing to the selected audience.
An alternative to using software to grow your account is to post regularly on your social networks.
While at it, make sure you use subject-specific hashtags as they tend to be indexed high for people searching for specific information.
For example, when promoting on Facebook, use the tags #trading #forex #investments #earnmoney, etc. for your posts.
These tags will help you quickly show up in the social network's search results, and this in turn will drive new visitors to your page.
How about YouTube, you ask?
You can also promote your YouTube channel for FREE by posting links to your channel or videos in special groups, communities, and forums with people who may be interested in Olymp Trade as a financial product.
Using paid traffic to make money in Olymp Trade.
Paid traffic is the visitors that you attracted to a website for a certain price.
When you use paid traffic to attract traders, you pay for each person who clicks on an advertising link and opens your page.
Paid traffic can be purchased in any quantity and from any source.
The most popular channels for paid traffic include: –
Banner networks.
PopUnder ads
Push  notifications
Mobile traffic
Contextual ads
Teaser ads
Native ads
Blogger ads
Conclusion.
You can make so much money online with the kingfin affiliate program.
As much as $102,958 monthly. And the best part, you get to choose when you want to promote Olymp Trade, how you want to promote it, and on which platform.
Personally, I use free sources of traffic as my blog and if you look at the Kingfin statistics of registartion, you will always find me among the top 10.