It's been four years since I started blogging here on Joon Online and during this period, I have learned and tried tens of ways to make money online. Some of these methods I learned are easy and can be done by anyone. Even people without skills and experience, while others? Let's just say they are not for everyone.
An example of a way to make money online that's so lucrative yet is time-consuming and requires skill is blogging.
If you have the skill to write interesting, educative, or informative posts that people will want to read then maybe, you should give blogging a try.
---
But, after you have created your blog and started writing for it, how do you leverage your input to ensure that the output is good money?
In today's blog, I will show you 5 different ways that you can make money with your blog in Kenya.
If you have a blog that you've never made a single cent from and you want to change that in 2023, keep reading to find what suits your kind of content.
7 Ways to Make Money With Your Blog in Kenya
1). How to Make Money With Your Blog in Kenya: Affiliate Marketing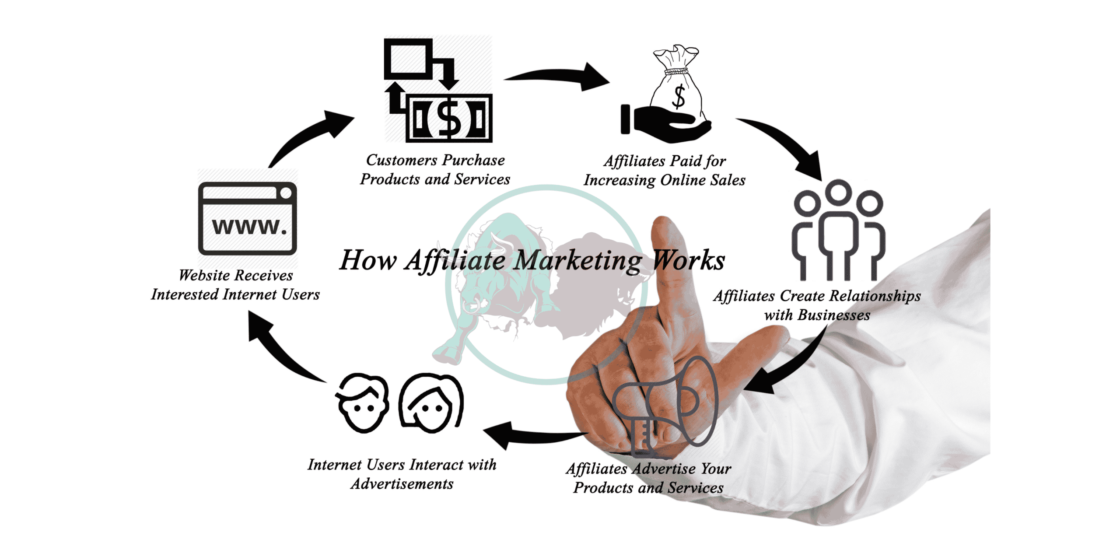 Let's start our list with one of the most popular ways to make money online with a blog that almost everyone does. Affiliate marketing.
For someone totally green about the affiliate marketing concept, what is it and how can a new blogger in Kenya leverage this method to make money online?
Affiliate marketing refers to the process of promoting a different company's or individual's products or services to your traffic, on your blog and when your readers buy products through your affiliate links, you get paid a commission.
Regardless of what niche your blog is in, there is an affiliate program for almost anything.
Just go to GOOGLE and search for your "niche + affiliate marketing" and you will find products or services to promote.
How Bloggers Make Money With Affiliate Marketing in Kenya.
Once you have identified a product or a service that resonates with your audience, go ahead and apply to become an affiliate of the company behind it.
In most cases, an affiliate site or network will allow you access to their website immediately after registration.
Click this link to see an example of an affiliate site that I am part of.
Once you get access to the affiliate site that you desire to work with, navigate to find their promotional materials to copy your affiliate link.
Write a blog post or review about the product and paste the link where need be.
You will make money (a commission) agreed between you and the affiliate when your visitors click on links on your site and buy.
How Much Money Can You Make With a Blog in Kenya?
How much you make with your blog as an affiliate marketer will depend on the typical structure of the company you choose to work with.
For example, I have worked with an affiliate who paid me Ksh. 350,000 from a single client. And I have also promoted an affiliate product that only paid me $5 per sale.
And remember, you may find a product that pays thousands but if you don't have enough traffic to promote it and/or even a strategy to promote it well, you might never make a dime.
2). How to Make Money With Your Blog in Kenya: Adsense.
While affiliate marketing only pays you when you make a sale or when they get a lead, Adsense pays bloggers when readers view ads or when readers click ads.
What does this mean?
It means that Adsense is still the best way to earn consistent revenue as a new blogger in Kenya.
Why? Because, as long as you can write viral content and end up getting eyeballs on your posts, you will be paid.
It doesn't matter if visitors click the links or not. But if they click, the better.
How to Get Started With Adsense in Kenya
Assuming you already have a blog and you have created some content for it, go ahead and visit the AdSense official website to make your application.
One thing to note though, is that your application can either be approved or rejected.
If it is approved, then you can start serving ads immediately and AdSense will start paying you for the partnership.
And, have I already mentioned that payments are sent monthly to your bank account and you will only be paid if you make 70 Euros in a month?
If you don't reach the payment threshold, don't worry, your earnings will be held until you achieve the required amount and then sent in a lump sum.
How to Get Approved by Adsense on Your First Try.
Write high-quality content.
Make sure your website has the about us page, contact us, and privacy policy before you apply
Make sure you are 18 yrs and above before you apply
Ensure your website doesn't have copyrighted stuff
Ensure your website is compatible with Adsense.
Sign up for an Adsense account
Login to your Adsense account
Add the AdSense code.
Wait for 1-2 weeks for final review & approval.
How Much Money Can a Blogger Make With Adsense in Kenya?
If your blog is approved for Adsense, the sky is the limit for you.
You can make any amount you want. As long as you are consistent with your content and you get good traffic, money will follow.
For example, this blog averages Ksh. 100,000 and Ksh. 150,000 a month.
And it's not like the entire country visits this blog, I only get 1,000 visitors from Kenya daily.
3). How to Make Money With Your Blog in Kenya: Sponsored Posts
After your blog has grown you will also start receiving requests from brands to post some type of content on your website.
This content can be in your niche or far from it.
Do not accept content that doesn't resonate with your brand if you want to maintain a certain image for your blog.
Also, before you accept any sponsored post, no matter how much it pays, ask yourself, will it clash with Adsense?
Examples of content that Adsense will ban your account for are adult content and gambling content.
Surprisingly, these are the kinds of content that most companies are seeking to promote on blogs.
In case your blog doesn't have Adsense, and it is ok with you, go ahead and post them on your site.
How Much Do Bloggers in Kenya Charge For Sponsored Posts?
The amount charged by bloggers for sponsored posts varies depending on the content that the sponsor wants to advertise;
If they want a "do-follow" or "no-follow" link.
The period that they want the sponsored post to be live on your site.
The traffic that you get on your site (both direct, organic, social, and email)
If they want you to write the post (your rates should apply)
Ideally, you can make anything between $15 and $100 for a single sponsored post on a Kenyan blog.
Check market rates to price your guest posts better.
4). How to Make Money With Your Blog in Kenya: Direct Advertising.
These refer to links or banner ads that Kenyan bloggers place on their websites to make money from their traffic.
Unlike AdSense which places ads on your site automatically when your AdSense account is approved, direct advertising required you (the Kenyan blogger) to place ads manually.
If you are using a WordPress blog, then you can place the ads on widget areas like the header, footer, sidebar, or even in between paragraphs of your posts.
How Much Do Kenyan Bloggers Make With Direct Advertising?
How much you will make with direct advertising will depend on the market rates that the advertising company is currently using.
But, it can also depend on your traffic, and cost for preferred ad placement areas.
For example, you can charge Ksh. 5,000 per month for a sidebar ad and Ksh. 10,000 per month for an ad on the header of your blog.
Of course, these are not the true reflection of the rates, and rates can change if the advertiser wants the space for a longer time and they are willing to pay in advance.
5). How to Make Money With Your Blog in Kenya: Sell Merchandise
You can also make money with your blog in Kenya by selling merchandise.
And what kind of merchandise should you sell?
You can design t-shirts with your logo, mugs, books, pens, and hoodies, among other things, and sell them to your loyal fans.
It goes without saying that there are some designs that will not sell as much as others. That is why it is advisable to use the print-on-demand method if you want to blog and make money selling merchandise in Kenya.
6). How to Make Money With Your Blog in Kenya: Sell Courses
There is no doubt that if you go niche and start writing about things like health, nutrition, fitness, Forex, personal finance… you name it.
Then at some point, your readers will start seeing you as the god of that topic.
When that time comes, you should be ready and equipped with a course that you can sell to them.
And believe it or not, having an audience that's interested in your product is one of the easy ways to become rich in blogging.
Why? Because they will buy and refer their friends, relatives, colleagues, and anyone else who can find value in what you sell.
If it helps, upsell other stuff that can also benefit your readers like eBooks, whitepapers, or membership to a group.
7). How to Make Money With Your Blog in Kenya: Ask for Donations
Scroll to the bottom of this post and you will find our Mpesa Till number. If you liked this post then feel free to support our work by either donating Ksh. 100, 200, or more.
Whatever you send, we will appreciate it.
Did you see what I just did there, that's how you ask for donations on your blog.
You might not get so many people donating, but the little that you end up making, that's money. And that's what your blog can make at this particular time.
When your traffic grows, you may see more people donating.
Conclusion: How to Make Money With Your Blog in Kenya
Kenyan bloggers use different methods to make money with their blogs. These are just but a few methods that I have tried with this blog and saw results.
If you are having trouble monetizing your blog in Kenya, feel free to leave a comment below and I will guide you on what to do
If you are making money blogging in Kenya, also leave a comment to encourage other bloggers who are just starting the journey.
See you in the next post.