What is MT4 and What is TradingView?
MetaTrader 4, also MT4, is an online trading platform which most brokers and other asset speculative traders use to access the markets.
Traders can log in using their broker account credentials to analyze prices of different assets and place trades directly on the platform.
TradingView on the other hand is a web-based charting platform that traders use to track prices of different assets.
Traders can track and analyze the prices of different assets.
You can also place trades directly on TradingView, provided you connect to your broker on TradingView, which must be supported on the platform.
So here is the BIG question which want to answer with this post.
Which is better between these two platforms? 
MetaTrader 4 Overview.
MT4 is an electronic trading platform widely used by online retail foreign exchange speculative traders. It is FREE. And it is easy to access and use.
That is to mean that there is a very high likelihood that MT4 supports your broker and you can log in on the platform to analyze and trade anytime.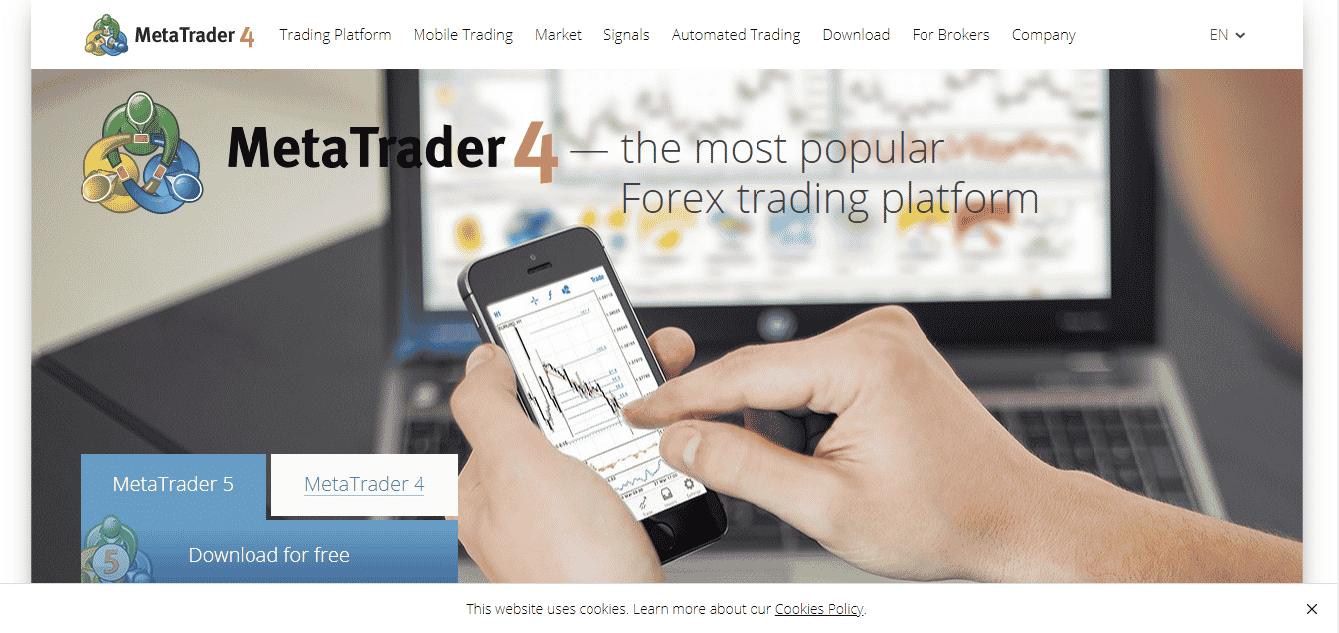 The MetaTrader 4 platforms have more than enough market indicators to choose from.
Talk of trading indicators, oscillators, and drawing tools and tones of them are available on MT4.
The best part is that they are tools that are easy to use for both newbies and experienced traders.
Coders can actually design their own trading indicators using the proprietary MQL4 programming language.
MT4 has been around since 2005, offering services to clients and brokers.
The MetaTrader 4 app was launched then and has kept on improving up-to-date.
Isn't that enough market experience?
Once you download the MT4 app, you get a fully-functional demo account from Metaquotes.
You can also open a demo account and use the credentials provided by your broker to log in.
The demo account enables you to develop trading skills without risking your real money.
Talk of a user-friendly interface and MT4 got you covered.
Everything is plan and buttons and options clearly show what you need to do to get what you want.
Do you fancy copy trading and the use of automated Expert Advisors?
Then MetaTrader 4 allows you to do so and increase your chances of emerging profitable from the markets.
You can download the MT4 software to any device of your choice.
Your PC, whether Windows or macOS, your smartphone, or tablet, whether Linux, IOS, or Android.
If you wish to trade on your live account, you will have to open a live account with a broker supported by MetaTrader 4.
Also Read: – How to Make Money Trading the Inside Bar Strategy.
MT4 supports almost all brokers offering Forex.
Find out if your broker is supported, and use the live account credentials they provide to sign in on MT4.
The only account available on MT4 without having to pass through third-parties is the Metaquote demo account.
Other Demo and Live accounts will then have their trading limits, commissions, and accessible markets depending on the broker.
MetaTrader 4 allows you to execute trades by instant execution, market execution, or by request.
Trades do not take unnecessarily long before execution, so what you order is what you get.
Does MT4 offer client support?
You can get in-depth articles on the MetaTrader website in over 30 languages.
The only problem is that you cannot contact them via direct phone call or live chat.
TradingView Overview.
TradingView is both a free and paid platform that supports several brokers.
Free because you can choose the basic plan which costs $0.00 per month, and paid because you can choose the Pro, Pro+, or premium plans which are paid for.
The Pro plan costs $14.95 per month, the Pro+ plan $29.95 per month and the premium goes for $59.95 per month.
How many charts you can open here depends on the plan you are subscribed to.
The basic plan supports only one chart per tab while the Pro version supports up to 8 charts per tab.
If you are on the free plan, you can save your charts per layout and open the saved charts in a few clicks.
Those subscribed to the Pro plan can export chart data, set custom intervals, and create spread based custom intraday charts.
What a convenience!
There is a tone of indicators and over 50 smart drawing tools available on TradingView across all subscription plans.
Talk of technical indicators, oscillators, trend lines, geometric shape drawers, and pattern and annotation tools.
Meaning, as the markets proceed in either direction, TradingView helps you understand what is technically happening for better predictions.
While still at trading indicators, some indicators are missing on TradingView.
You may have to purchase them in order to use them.
TradingView also allows you to set price alerts at specific price levels so that you can come back to trade.
The higher your subscription plan, the better the experience.
Ever heard of paper trading?
It is a simulated trading experience to test your strategies at no cost and risk, and TradingView offers you this too.
TradingView supports extended trading hours.
You can also customize scanning and screening for assets like stocks in order to trade at the best terms.
TradingView is not just web-based.
You can get the App on Google Play Store or Apple App Store.
That way, you can analyze assets and trade anywhere on your smartphone or tablet.
Community chats with other traders is a feature we cannot overemphasize.
Traders and experts can post their opinions on TradingView which may prove essential to other traders.
About client support, TradingView has a community of active traders.
They are knowledgeable and answer most of your questions satisfactorily.
Sometimes, however, your question may take a bit longer before being answered, so be patient.
Which Platform is Best?
So which platform, between MT4 and TradingView, is best?
TradingView has so enticing features such as many indicators and drawing tools, but the fact that you have to subscribe at a fee to access some of the features is a minus.
MT4 on the other hand is absolutely free, has almost all technical indicators and drawing tools free of cost.
MT4 also supports thousands of brokers and this undoubtedly makes it the best platform.