"You have exceeded the maximum amount on open trades for 1 day. Please wait for the time to expire."
Are you a trader in Olymp Trade and familiar with this kind of notification?
Here is a screenshot of how the notification looks like if you still don't get it.
---
This notification usually appears on the upper part of your Olymp Trade chart, but what exactly does it mean?
When you see this notification in Olymp Trade, it means you cannot continue trading on that particular day.
But why can't you continue trading when you still have the urge and the money to trade?
Shouldn't you be in total control of your Olymp Trade account?
Why the hell are they controlling the number of deals you can post in a day?
In today's post, we find out why Olymp Trade limits trading on some accounts and lets all the other traders to continue trading without interruptions.
Understanding Olymp Trade Daily Trading Amount Limits
Trading account limit is a new risk management system on the Olymp Trade platform.
If your account is limited and shows the above notification, it means Olymp Trade cannot execute your trades under the desired conditions in some market situations.
More often than not, Olymp Trade uses the feature to temporarily restricts the user's trading opportunities by putting a limit on them. And it's all spelt out loud in the service agreement for the platform.
Have you read Olymp Trade's service agreement?
Clause 1.5 implies that the platform can adjust material conditions of trades and determine the optimal number of active trades a trader can open.
Are you shocked that you didn't know about this?
It is because you never read the service agreement right?
Well, that was on a light note though. Hehe.
Unfortunately for traders, Olymp Trade claims that they cannot manually remove the limit.
The role of adjusting the limit to a desirably higher limit or removing the limit is left for the trader to determine.
But how?
A trader can change their different trading styles by reducing the investment amount or choosing a different asset to trade.
But then you might have tried this too and it didn't work. And you are there wondering, what next could be the solution?
Understand before you pop a gun at the broker, understand that limits are one of the fundamentals of their client's financial security.
An integrated approach to that issue enables the broker to fulfill its obligations to traders without letting them risk their funds.
So do you understand why you cannot continue trading when you are slapped with a limits notification?
Because you have reached the maximum amount allocated for you by the broker for that day, depending on your trading style.
For a specific day, for example, your limit may be set at $100. 
Which is to say, after you have placed trades totaling $100, you will get the notification, after which you cannot continue trading.
What do I mean by trades totaling $100?
I mean that if you count the amount you have invested and it totals $100 for example, whether the trades won or lost, regardless of how much profit or loss you have made, then that is it.
The system will lock you out of trading for that day, until the next trading day when the limit still remains as it were when you were stopped from trading.
So what will determine what your limit for the new day is if, at the beginning of that day, the limit is as it were the previous day?
It is your trading style, the broker says.
Their risk management system keeps tracking how you trade to increase or decrease the limit every other time.
Meaning, your limit may be low at one moment, and then depending on how you trade, it is higher the next moment, just within the same day.
If these limits are giving you trouble, then look no further.
This post is aimed at providing solutions related to such daily limits of the amount you can trade.
The target here is to have your limit increased to a higher amount which you cannot out-trade daily or have the limit removed completely.
But how?
Here's my experience with Olymp Trade daily limits and how I solved them.
Let me walk you through my struggle with the Olymp Trade daily limits and how I solved the issue.
I am sure that it will be a worthy course because it will save you the struggles and frustrations which I went through and take you straight to the solutions.
My Trade History.
On this particular day, I had taken 8 trades.
My system of trading is such that I increase my trade size whenever I lose, such that I will recover my lost money and still make a profit once I win a trade following lost ones.
Therefore, I had taken such 8 trades and only won 2, losing 6, which is no cause for alarm because I had been recovering after losses.
Want to see the screenshot proof for my 8 trades?
You may wonder what my 8 trades have to do with all this but you will come to realize their significance later.
Find the screenshot evidence of my 8 trades below.
They are two sets, the first 4 trades and then the last 4 trades.
New Balance.
Now, after trading the 8 trades, my balance shot from $89.5 to $95.5.
That means that out of my 8 trades, I had made a profit of $6.
You can do your calculations from the above screenshots and you will validate this.
But still, I will provide evidence for my account balance after the 8 trades, which is $95.5.
Find it in the screenshot below:
New Trade.
With a balance of $95, I tried to risk a meager $15 trying out a new strategy.
Remember I knew nothing about limits at that time, so I was sure that the $15 trade would be executed.
I was OK losing the $15 on a bad trade,
So I made my analysis and entered a sell position expiring in 1 minute.
Limit Notification.
To my shock, my trade could not be executed.
I got the limits notification on my account.
You don't believe me?
Let me just show you the screenshot for this particular account.
Note my trade amount which is $15, my trade duration which is 1 Minute, and the notification at the top of the chart from the screenshot.
Here we go:
Searching Online.
This was so unreal and unexpected. 
It was my first time encountering such a thing and it really scared the $hit out of me.
The next thing I did was of course what any other millennial would do, go online to try to get some info on this new phenomenon.
When I got online, I was slapped with the fact that Olymp Trade had actually introduced such a risk management tool that would impose limits as to how much traders can trade a day.
What the hell was I seeing? I could not believe my eyes, because such a thing spelled doom to my trading strategy.
I was at some point actually redirected to Olymp Trade's own website which confirmed the same.
If you need a screenshot of the same, then here it is: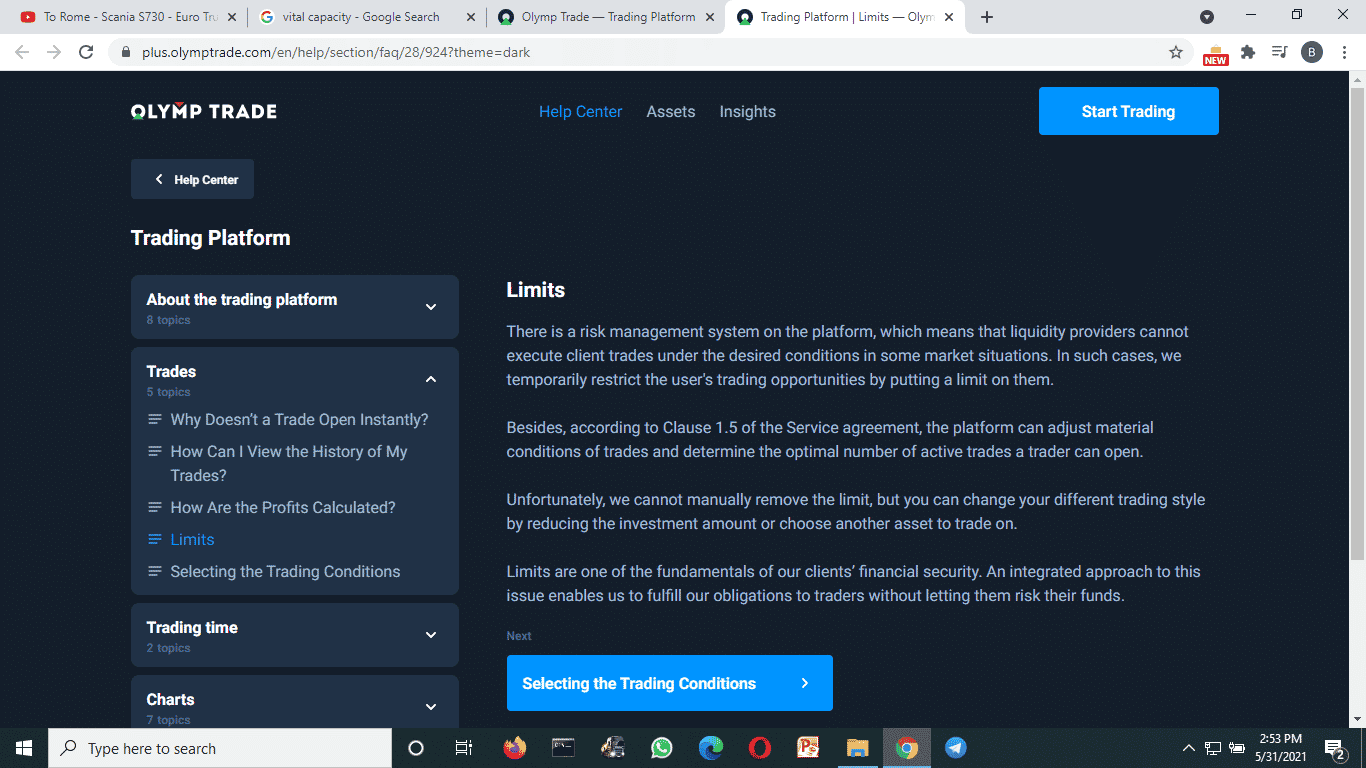 Checking the Limit.
Well, it was now clear that it is true that Olymp Trade is imposing limits on traders, which was a new scary thing.
But I love the platform to death. Plus I wanted to prepare you for your turn. Hehe…
If you still haven't been slapped with the limits thing but you'd still like to learn more about it; then
Here's a detailed procedure on how to check the limit in Olymp Trade:
Locate and click on the Profile tab on the far right of your price chart. It is the icon containing a photo of you, the trader.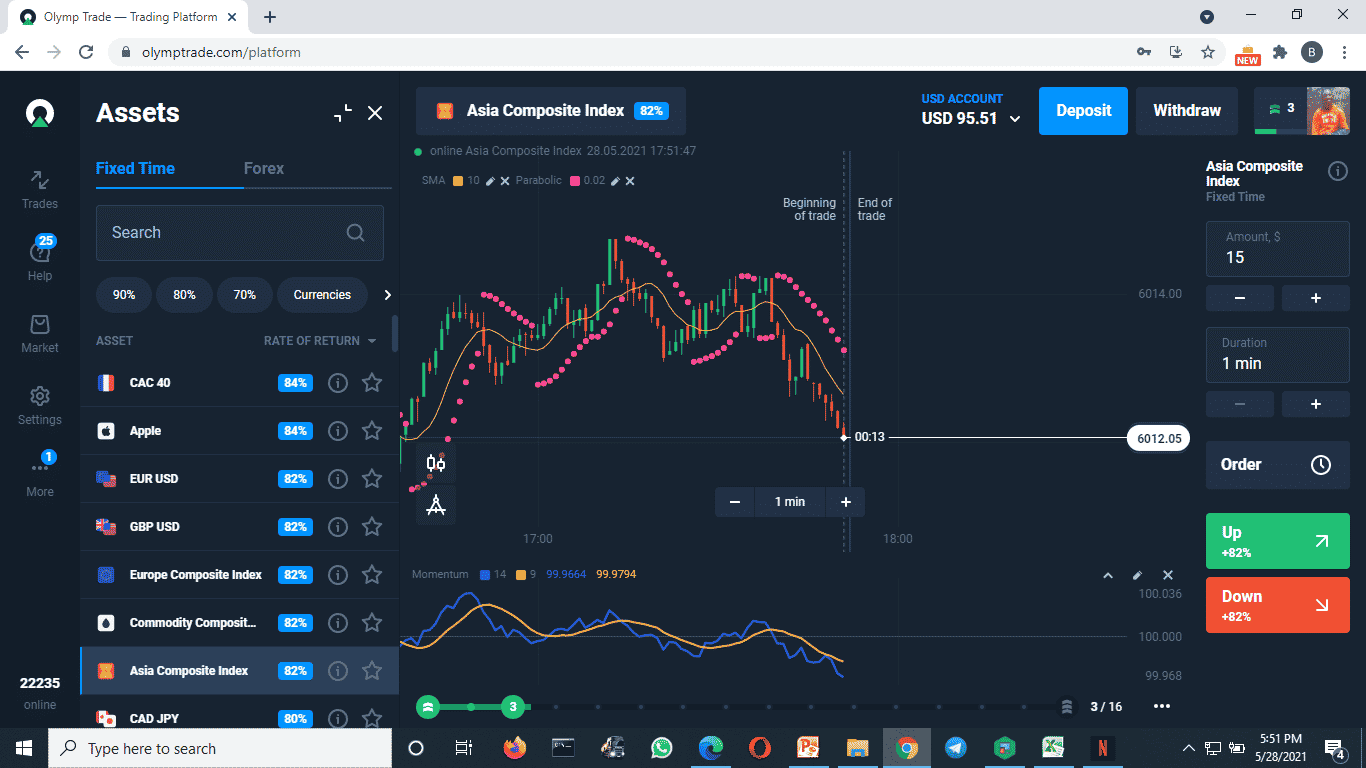 Clicking on that tab brings forth a pop-up with various options. Locate and click on the option indicated as "Profile Settings." It is located just above the "Log out" option.
Once you click on "Profile Settings," another set of options pop up. Locate and click on the option indicated as "Trading Limits." It is the last option in that set, located just below the "Password" option.
There, your trading limit pops up in a separate position, in the middle of the chart. According to Olymp Trade, as you can see below, my limit for that day was $12.
It must be shocking how I could have a limit of $12 yet on that day, I had traded over $57 according to my previous 8 trades. That means that it had been higher on that day and now had dropped to $12.
It must probably be because I had invested $30 on the 8th trade, which was way above 10% of my total account.
Wondering what I am talking about referring to 10%?
We shall discuss the significance of letting your trade size remain below 10% later in the solutions section.
Attempt to Solve the Limit Problem by Depositing More.
Well, I couldn't do anything about it, so I began thinking about solutions.
The first thing I could think of was maybe, just maybe, my limit could shoot up if I deposited some more money into my trading account.
I was so convinced that a balance of above $120 could actually increase my limit and take me back to normal trading.
So what did I do next?
I embarked on an attempt to deposit some more money.
See, I initiated a deposit of $33 from my Skrill to try to bring the balance to above $120.
As if anyone had hinted that balances above $120 would increase my limits. Hehe.
Desperate moments call for desperate actions anyway. So I went ahead. Here is a screenshot showing how I initiated my $33 deposit:
New Balance.
Yea, so the deposit was successful and my account balance rose from $95.5 to $128.5. See screenshot evidence below:
Because I was so confident that my account balance of over $120 would work magic and increase my limit, I went ahead to trade with my $15 trade size.
That was after my analysis of the market, and my trade duration was still 1 Minute.
New Trade Outcome.
Guess what the outcome was?
I am disappointed to report that I got the same notification as before as if nothing had happened in between.
See the screenshot below, noting my $15 trade size, my 1 Minute trade duration, and the limit notification:
Confirming the Daily Limit.
Angry and feeling cheated, I decided to confirm what had happened to my limit.
To my shock, nothing had actually changed as pertains to the limit.
It was still at a measly $12.
See below my screenshot evidence:
Seeking Help from Olymp Trade Support.
According to me, depositing more was the only trick in the book and it had failed.
The only option I had left was to contact Olymp Trade support team via live chat. 
And the support team reacted almost immediately.
Here is how to contact Olymp Trade Live Chat Support:
Locate and click on the "Help" tab on the far left of your chart among the many icons vertically arranged there. It is the second tab after the "Trades" tab.
A number of options appear. Locate and click on the first option indicated as "Support".
Clicking on "Support" brings forth several other options. Click on the icon labeled "Open Chat" under the second option which is "Online Consultant".
Doing so will open a tab where you can write your name and your concern and then send. This will open the conversation box and an online consultant will come to your aid.
Can Verifying Your Account Increase or Remove the Limit? Let's Find Out.
The first question I asked was whether one can increase their limit by verifying their account.
There was no point asking about deposits first, yet I had confirmed that it actually can't work.
So what response did I get?
That verification process has nothing to do with and does not affect the limit on my account.
Whether or Not Increasing the Deposit Can Increase or Remove the Limit.
What I did next was to get a bit cunning and ask about something I had already tried and hadn't worked.
There is no harm in asking anyway, so I did it. I asked whether increasing my deposit can increase or remove the limit.
The response I got was exactly what I had expected, that making a deposit does not also influence the limit on my account.
What then is the Solution to the Daily Limits in Olymp Trade?
Two crucial things had failed, which I had really hoped would help. 
Was having my account verified

And increasing my deposit.
So what really works and can help with this limit menace?
From what the online consultant advised, I can deduce a thing or two which can be done in an attempt to solve the limit problem.
Let us get to the specific things which you can do to solve the limit problem in Olymp Trade. Here we go:
Use a Smaller Trade Size.
She, the consultant said, using smaller trade sizes for each trade (not more than 10%) of your account balance will help.
The risk management system will automatically detect that you are risking less and that your trading style is changed
Hence, it will give you a higher limit or even remove the limit.
Use a Larger Trade Duration.
Olymp Trade online consultant recommended that if trading FTT, you should try using a larger duration of trading which is at least 10 minutes.
That way, your trading risk is lower and the risk management system will automatically detect that you have lowered your trading risk and give you a higher limit or remove the limit.
Wait Till 21:00 UTC to Utilize your Limit.
If your limit is just enough to meet your trading needs and you have exhausted it, you can choose to wait till the next trading day.
According to Olymp Trade, limits are updated at 21:00 UTC which is the beginning of a new trading day.
You can choose to wait until then to continue trading.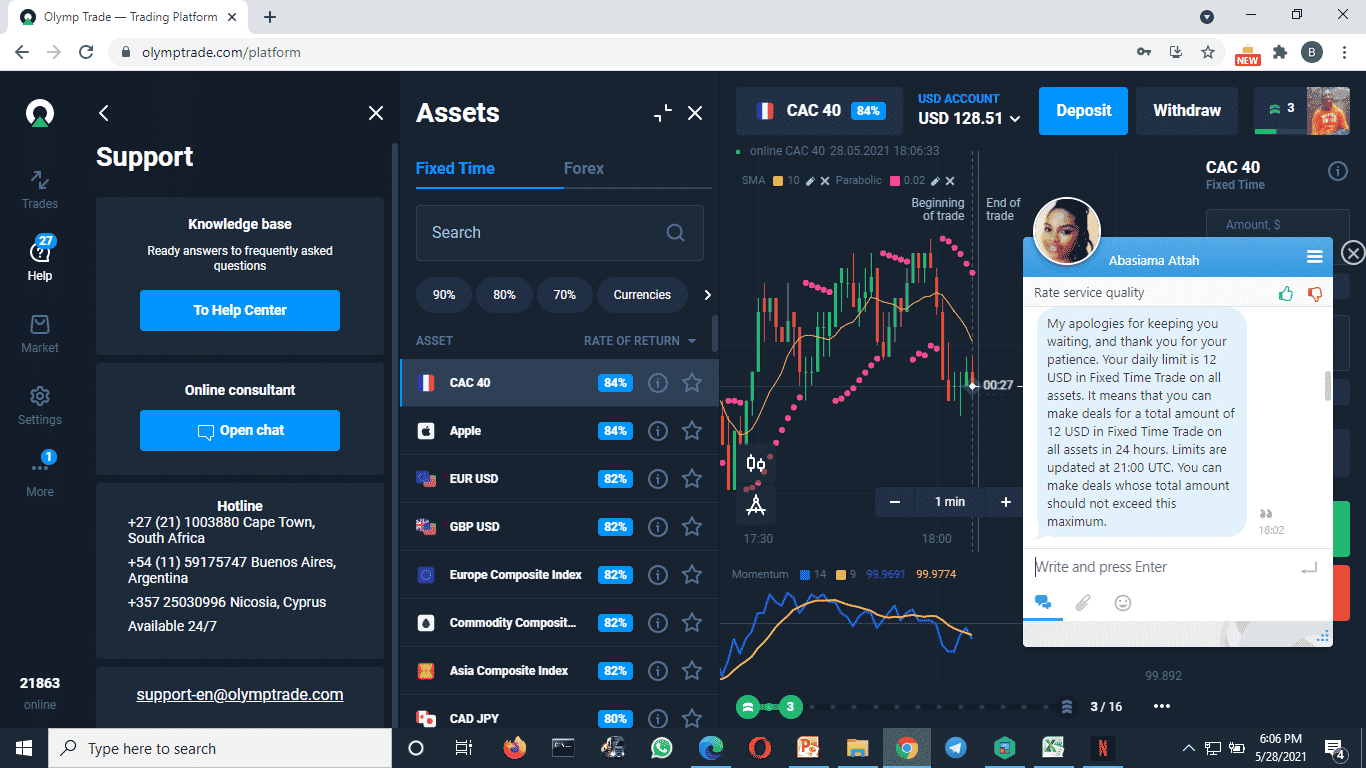 Trade on a Different Mode.
Olymp Trade offers two modes of trading – Fixed Time Trading (FTT) and Forex Mode.
Each of the modes has different trading limits.
You may find that your limit is $30 on FTT but $3,000 on Forex.
What do you do then, if you have exhausted your FTT limit?
You may trade Forex, only if you are well conversant with how Forex works.
If you have no idea about how Forex works, you can as well try the other previous solutions.
Final Thoughts on Olymp Trade Daily Limits and How to Solve Them.
It is clear from the above discussion that everything about limits is dealt with automatically.
Olymp Trade has clearly stated that they cannot manually remove the limit. It is an automatic risk management system that checks all trading accounts every other time to update the limits depending on trader actions.
Meaning, you can play around with the automatic system to adjust the trading limit.
If you schemed the article, you may want to reread it keenly to find a couple of solutions to the limit problem. 
Remember, deposits don't influence the limits, keeping your stake below 10% of your account balance does.
Here's another clever hack that I tried and got tremendous results.
After trying everything, I withdrew all my money and deposited it all at once.
Before the withdrawal, my limit was at $12 but after depositing over $160, my limit shot to over $400.
Could this be another solution to the limit problem? I may not tell whether it will work for you but it did for me, so go ahead and try it.
Happy Trading!