An Olymp trade demo account is an account type specially designed for intermediate, advanced, and expert traders to learn how to trade or improve their trading skills without risking any real money.
This account type comes with $10,000 free and easily replenishable virtual cash which you can use for as long as you continue to hold an active account in Olymp Trade.
In today's post, I want us to look at the Olymp Trade demo account. The advantages of starting to trade with a DEMO account, the disadvantages of trading with a demo account, and more.
---
In case you are totally green about trading and can't quite make of what I'm talking about, create an account here to follow along with the article.
Advantages of trading with a demo account in Olymp Trade.
While you can open an account in Olymp Trade today, make a deposit and start trading on a real account to start making real money, it is advisable that you start trading on a demo account and only switch to a real account after gaining confidence.
Why? Because trading is risky and there is a great chance that you will lose some money or all your money when you start trading with real money without experience.
But, avoiding early losses is just one of the advantages of using a demo account.
Here are 5 more reasons why you should trade with a demo account before funding a real account in Olymp Trade.
1). It is free to trade on a demo account
Just as the name suggests, a demo account is merely a trading account type used for demonstration purposes.
And because Olymp Trade wants to give you a chance to try its platform before you make a deposit, it gives you FREE access to everything with a demo account.
Once you register a demo account in Olymp Trade, you get the same rights as someone who is trading on a real account.
You can do anything and everything on the platform except withdraw profits.
Remember, the cash provided in a demo account is virtual and therefore can not be withdrawn.
2). A demo account allows you access to all financial instruments in Olymp Trade and the real market
When you open a demo account in Olymp Trade you get free access to over 100 financial instruments spread across 5 different asset classes.
You can use the Olymp Trade demo account to trade currency pairs, commodities, metals, stocks, indices, and crypto.
The best part, these are real financial instruments traded on real accounts.
3). Get Risk-FREE trading conditions on a demo account
Have I already mentioned that all funds in a demo account are virtual?
What this means is, that you get to enjoy trading without the worry of risking real money.
Plus, when you lose everything on the Olymp Trade demo account, you can just replenish your account by using the replenish button next to your account balance.
4). Make and test strategies on the Olymp Trade demo account
Other than trading for fun, you can also use the Olymp Trade demo account to develop your own effective trading strategies.
If these strategies work effectively on a demo account, then chances are, they will work for you on a live account.
Because the demo account also comes with unlimited funds, you can test and backtest your strategies thousands of times until you find what works best.
5). Demo accounts help boost trader confidence
Since it is free to use the demo account and you can literally refill your balance for FREE when you run low, it is the best account type for practicing.
And other than, gaining experience while trading, what else do you get when you make mistakes, rectify them and continue pressing repeat? Confidence.
Yes.
Trading over and over on a demo account helps you develop and grow your confidence in trading.
Use the Olymp trade demo account for a week, a month pr a year; until you are ready to trade with real cash before you shift to a real account.
Disadvantages of Trading with a Demo Account.
While the demo account is beneficial in every way to traders of all levels, it also has its own drawdowns.
Here are some of the reasons why you should not use the demo account for so long.
If you can, then I advise that after only one week of trading with a demo account, you also fund the live account and runs it parallel to your demo account.
1). You will not make real money with a demo account
As mentioned earlier, the demo account comes with demo credits meant for practicing. As such, you will not be allowed to withdraw profits you make on this account type.
See the image below, I have grown my Olymp Trade demo account from $10,000 to $349,409, and for the very reason that this is a virtual account, I can not withdraw these funds.
A solution to this problem.
Once you have developed a demo that makes you money, make it a point to fund your real account and begin trading with real money to start earning real cash.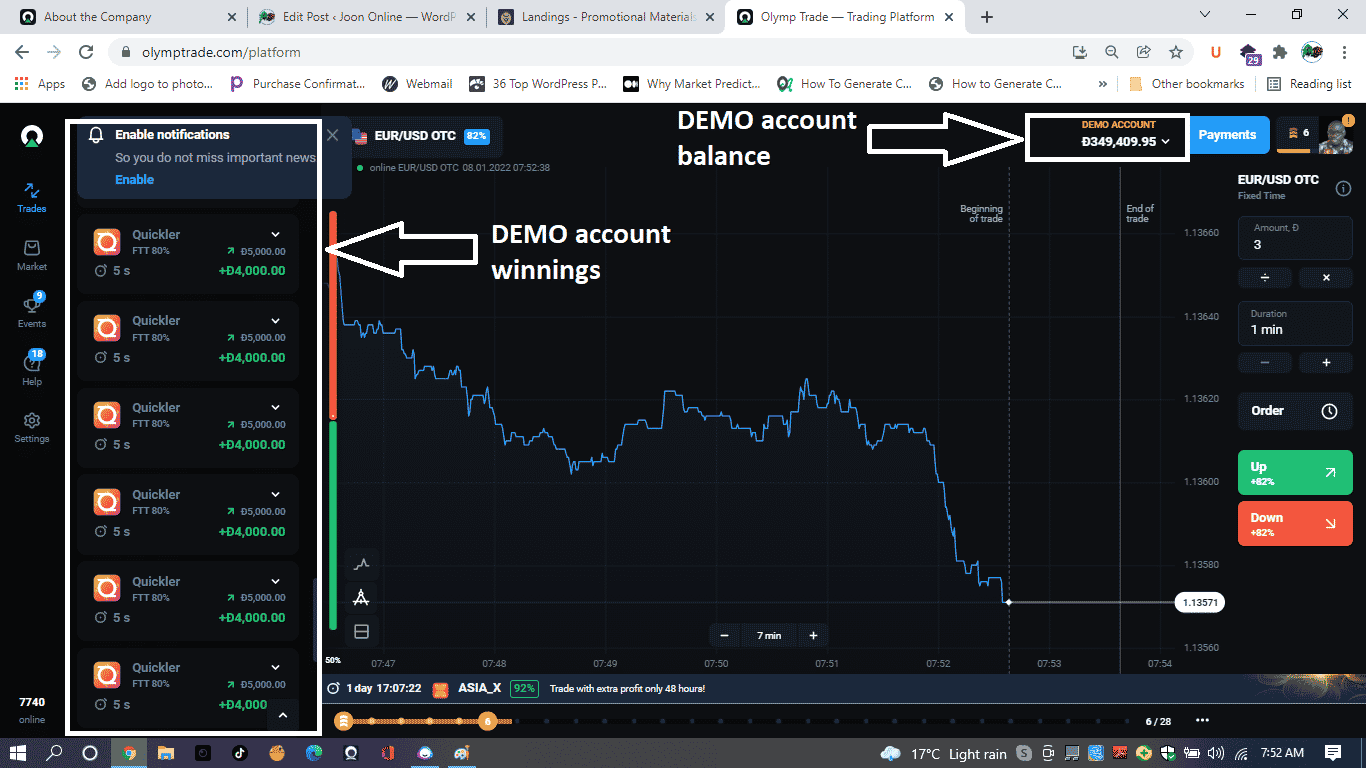 2). Trading Psychology
Because it is FREE to trade on a demo account, it is almost impossible to develop your psychology as a trader on this account type.
Why?
Because FREE money has a way of making traders feel almost blank.
When trading on a demo account, you might not feel fear or anger when you are losing money. And, you may also not feel overconfident or greedy when you are winning trades.
And this may not feel like a problem when your money is not on the line but you will definitely sweat it when you go live.
Solution
Even if it's only $10 that you have as disposable income, deposit that money to your trading account and have a feel of what real trading feels like.
I guarantee that you will only begin to grow your trading psychology when you start trading with real money.
Frequently asked questions.
1). Does the Olymp Trade Demo account affect the market?
No. The Olymp Trade demo account has no effect on the market.
It is simply a simulation of what would have happened if you traded on a real account.
As a matter of fact, Olymp Trade, or any other broker with a demo account for that matter does not send your order through when you use a demo account.
The demo platform just looks at the next move in the market and gives you that.
2). Is the demo account in Olymp Trade the same as real account trading.
Yes, the Olymp Trade demo account is designed to follow the exchange rates available on the real account.
Therefore, it is safe to say that trading on a demo account is similar to trading on a real account.
3). How long should I trade on a demo account?
If you are trading for fun, then it is ok to trade on the demo account for eternity.
If your objective for trading is to make real money though, then 1 week to 4 months is the ideal time limit for trading exclusively on the Olymp Trade demo account.
Conclusion.
There you have it. 5 reasons why you should start trading with the Olymp Tarde demo account and 3 reasons to go live instead.