What is a multiplier?
A multiplier is a special tool in Olymp Trade, used to multiply returns by up to x500.
How does the Olymp Trade Multiplier Work?
To understand how the multiplier works and why it is important that Forex brokers offer the feature; we must first demystify the lot trading concept.
But what is a lot?
Let's use this simple analogy to explain what a lot is and see how it applies to Forex.
Example;
When you buy diapers from the supermarket you don't have any choice to split the pack. You have to buy it as it is.
Another example, when you buy tea bags from the supermarket, you don't get the choice to request for half of what is in the box. You must take the whole pack as it is.
That's how lot sizes work in Forex.
Except, the packs of diapers or tea bags are now bundles of currencies you will be buying/selling.
Unlike diapers which only have 32 pieces in a single pack, a standard lot in Forex has 100,000 currency units.
However, most Forex brokers now have diverse lot sizes of smaller units to accommodate micro traders.
For example, what Olymp Trade offers for $10 Forex accounts can easily pass for a micro account offering micro-lots.
How will your lot size affect the amount of money you spend or make on the Olymp Trade Forex Platform?
Well, to further understand the multiplier concept, we will need to draw some knowledge from our past topic on this blog. PIPS trading. What are PIPs?
A pip (or percentage in point) is a measure of value change between two currencies which can be as low as 0.01 in currency pairs with Japanese Yen and 0.0001 in the rest of the pairs.
If you think of it, 0.01 pips can only generate the lowest profits on a $1 position. Perhaps the reason why Forex brokers offer the profits multiplier option. To multiply your yields.
In Olymp Trade you can set the multiplier tool to give back up to x500 the invested amount.
But How Really Does This Thing Work?
Think of the Olymp Trade Multiplier as an advance or a short term loan that you get when trading Forex.
Assuming you have $1,000 in your trading account and you trade a ticket sizes of 500,000 USD/JPY, your leverage will equate 500:1.
Notice something?
With $1,000 only Olymp Trade has allowed you to trade 500 times your account balance.
Note: – without this advance, you would only be able to buy or sell tickets of $1,000 at a time.
So, how does this work?
Well, your $1,000 deposit is set aside by the broker who then allows you to borrow 500 times in leverage of 500:1.
Interestingly, your $1,000 is not touched.
All losses and profits are added or deducted from your remaining cash balance and when you close your position, your $1,000 is returned to your account.
Should your balance go beyond your set margin – for the sake of our example $1,000 for a 500:1, the system automatically closes your trade to prevent loss.
One big problem with a multiplier
The same way this tool can multiply your gains, if the market goes south (made wrong predictions), it will amplify your loses.
Let me explain.
If you open a long buy position and applied the Olymp Trade Forex multiplier, but then the market drops and trends downwards, you will lose more money than you had invested.
What should you do to avoid this?
Simple.
Pay attention to money management rules at all times.
How to add a multiplier to your chart on Olymp Trade
To add the tool, make sure you are logged into your Olymp Trade Forex account.

Locate the settings tab on your left

Click on it and you will a window with boxes.

Scroll down until you see the Multiplier tab with a box beside it.

Tick the box to enable the multiplier tool

Once you do that, your trade management section should be showing a change, specifically on the box where you input investment amount

How to correctly use multiplier tool
Once you have added the tool, you can easily specify the multiplication rate by clicking on it and choosing from the available options
For example.
There are three multiplication rate options when trading the Dow Jones Index: x30, x50, and x100.
If I decide to invest $100 on a trade with an x30 rate, the total invested amount will be $3000.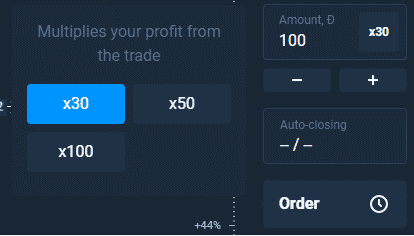 Once you have opened a position, you can easily check the multiplier rate applied from the Trade section
What next? Use the Olymp Trade Multiplier Tool.
Now that you have learned how important a multiplier is when trading on Olymp Trade, now go on and use it to multiply your profits.