Imagine a system where as an Olymp Trader you can make a forecast; lose (get your money back 100%) – win (get your stake money plus (+) profits. Simply put, you never get to lose no matter the outcome of a trade. How is that even possible you ask? It is possible if you activate the Olymp Trade risk-free trading feature in your account.
In this guide, I will teach you how to improve your Olymp Trade yields by using risk-free trading as a tool for making profits.
It helps if you already have an active VIP account.
---
If you don't have one yet, go ahead & create yours to get $10,000 free demo units for training.
And note that if you register & make a deposit within the first hour of registration you get a 100% bonus.
Meaning, if you deposit $100 you get $100 more.
All smart traders take advantage of this offer & treat it as another easy way to make money off broker systems.
So, What are Risk Free Trades & How do They Work?
Risk free trades are trades which ensure that a trader does not lose any money even when their asset predictions are wrong. Instead, they are refunded their money for another fresh start.
But, in the event that they win, the traded amount is still credited to their account with all the profits. No commissions charged.
In Olymp Trade the risk free trading amount limit is $100 meaning that after you activate the feature, you can open a trade which does not exceed $100 & if you loose; the traded amount is returned to your account. Olymp Trade assumes the loss.
This however does not limit you from making a trade with an amount lower than the trade limit ($100). You can still trade a lower amount like say $90 & still get $90 back when you loose.
But if you decide to trade with amounts higher than $100 & loose; your lose is only covered to $100.
For example, if you should trade with $120 & lose, Olymp Trade will only refund you $100. The $20 on top is your loss.
Not bad at all, mh?
But How do You Activate Risk Free Trading in Olymp Trade?
First note that risk free trades are only available for VIP traders. To activate a VIP status in Olymp Trade, make a lump sum deposit of $2,000. This gives you the risk free trade benefit among other benefits like: – faster withdrawal & higher profit yield.
After you have activated your benefits with the lump sum deposit, click on the gift button below your chat to get risk free trades.
This is how it looks.
Click the activate button to make the risk free trading feature go live.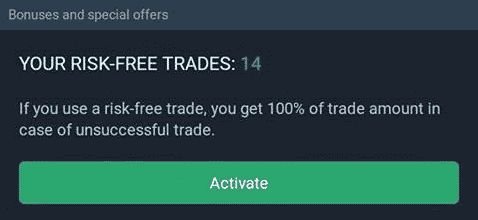 Note that there is a limit put to the number of times you can use this feature.
While this account can be refunded the traded amount 14 times (courtesy of Olymp Trade risk free trades), other accounts can get more or less. The number of times you can use this feature is somewhat determined by your trading volume. The more you trade, the more you'll get more leverage.
Tagged With : Olymp Trade Forex • Olymp Trade Option • olymp trade risk free trade • Olymp Trade strategies • Olymp Trade Tips • Olymp Trade Tricks • risk free trade in olymp trade