It's official. Binary options trading is one of the top ways to earn extra money on the financial market. Just like in Forex, you can trade all the major assets including Stocks, currency pairs, commodities, indices, metals and/or even cryptocurencies on binary options platforms. But for someone who has never traded Stocks, Forex, or even binary options before, how is it done in a safer manner?  Start trading with a demo account.
In today's post we look at demo account trading. For the relevance of the title of this post, we will use the Quotex demo account as an example.
So whether you already have an account on Quotex and you are not sure how to trade, or if you just came across this post and have never traded before, saddle up. And get ready for a simplified Quotex demo account learning experience.
---
What is the meaning of a demo account?
A demo account is a trading account type provided by Forex, Stock and digital options trading platforms to allow traders access to their trading platforms without risking any money.
In simpler terms, a demo account comes with FREE demo units (virtual cash) to allow new traders learn how to trade.
Quotex demo account can also be used for various purposes including: –
Creating new strategies
Testing new strategies
Familiarizing yourself with the Quotex platform.
Testing trade execution speed in a platform.
Among other uses.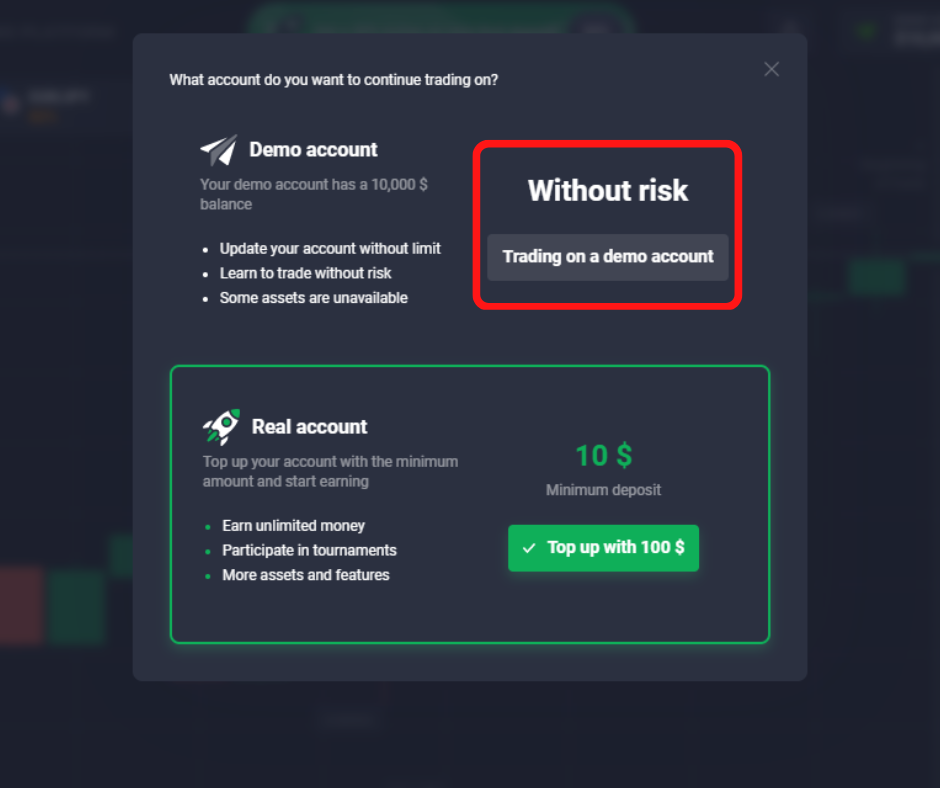 How a Demo Account Works.
In order to understand how a demo account works, we must first understand how Fixed Time Trading, binary options trading, or digital options trading as it is called in Quotex works.
And to understand digital options trading in Quotex, we must look at Quotex features and locate all the basic trading tools available on the demo account.
The image below shows how the Quotex demo account looks.
I have labeled each of the basic tools for trading on Quotex to help you follow up with this demo account guide.
1). Asset Tab
This tab opens all the financial instruments that can be traded on Quotex.
As a trader in Quotex, you are required to choose an asset to trade. For example, you can choose "EUR/USD" by clicking on the plus sign under (1) indicated on the image above.
2). Chart
The Quotex demo account has 4 chart types. Namely: –
The area chart, Japanese candlestick chart, Heiken Hashi chart, and the Barcode chart.
Must as all these 4 charts are useful and relevant, the most popular and easy-to-use chart is the Japanese candlestick chart pointed under (2) in the image above.
When there are more reds on the chart than there are green candlesticks, then that's an indication that the market is trending downwards.
When there are more green candlesticks than there are red ones, then that's also an indication that the market is trending upwards.
You can also use indicator tools on the Quotex demo account to help you pick directions easily. More on that later on this guide.
Last but not least, the bottom of the chart also has a (+) and (-) sign, use that tool to adjust the timeframe of the chart.
For example, if your chart to 1 minute timeframe, candlesticks on your chart will be formed in 1 minute. The higher the timeframe the more data you get to analyze on the chart.
3). Quotex Demo Account Balance
All new Quotex accounts have $10,000 issued free to beginning traders to learn how to trade.
When you place a trade with any amount, for example, $1, this amount will be deducted from your demo account balance.
In simpler terms, your demo account balance will be reduced by $1 when there is an open trade for that amount.
Should you lose this trade, you will not lose more than $1. And if you win, the $1 will be returned to your DEMO account with profits of up to 95%.
Feel free to click on the demo balance marked (3) on the image above to refill your account for FREE back to $10,000 if you run low.
4). Quotex Demo Account Trading Window.
This is where all the action happens and it is marked (4) on the image above.
The trading window is used to change the duration of the trade and set the amount for trade and for trading.
In Quotex the minimum trade duration is 1 minute. The minimum trade amount is $1 and the red and green buttons are used to place trades.
After setting the trade amount and duration;
Click the green button to place an Up trade – placing an Up trade means you are predicting that the price of the asset you are trading will increase in value at the expiration of the option.
If the trading duration lapses and the price ends up increasing in an Up order, you will make profits of up to 95%.
Conversely, you can click the down button to predict that after a certain duration, the price of the asset you are trading will decrease in value.
If at the expiration of your trade price goes below where your order was executed, you win.
5) Results Window
Use this window to monitor trades that are running and to see the results of closed trades.
Quotex – Difference Between a Demo Account And a Live Account
There really isn't a big difference between a DEMO account and a live account on Quotex.
In fact, it is just the same thing, different platforms. If anything, these are the only features distinguishing a demo account from a live account in Quotex.
| DEMO ACCOUNT | REAL ACCOUNT |
| --- | --- |
| ✓ Comes with $10,000 for practice | ✓ You have to deposit money to trade |
| ✓ No emotional commitment | ✘ Comes with heavy emotions since real money is involved. |
| ✘ You can not withdraw money made on a demo account. | ✓ You can withdraw all money made on a real account. |
| ✘ Some assets are not available in a DEMO account | ✓ All assets are available in a LIVE account |
| | |
New to Digital Options Trading? Here's Why You Should Start With a Quotex.io Demo Account!
Much as it is very easy to convince yourself that you can start making money trading without experience, those dreams never almost come true.
If you are new to trading and you don't want to be caught unawares on a real account then you should definitely start on a demo account and shift to a live account later.
If you are still not convinced that a demo account is better for you as a newbie trader on Quotex then ignore my two-penny advice on the list below and continue to the next section.
1). Risk-FREE trading – One of the main advantages of using a demo account either on Quotex or on any other Forex, Stock or Digital Options broker is the ability to access the markets risk-free.
Risk-free trading on Quotex means that you will not need to deposit any money to start trading as the demo account provides $10,000 FREE for trading practice.
Now, should you take advantage of risk-free trading on the Qxbroker demo account? Yes!
Yes, if you want to gain some experience before shifting to a live account. And Yes if you want to test trading conditions on Qxbroker before risking real money.
2). Free Education – If it is true that you have never traded any financial instruments before then it is also true that you don't know anything about a trading platform.
The Quotex demo account is an ideal educational tool to help you learn about the trading platform before starting to make money with the platform.
Use the demo account to navigate the platform, learn where to find what tool, how to come up with trading startegies an more.
Why is Qxbroker The Best Platform for Demo Trading?
The Quotex demo account is feature rich with trading tools that you will only find on Trading view and Metatrader platform.
A quick glance at the Quotex indicator tab reveals that it has tens of indicators, drawing tools, and oscillators which are not available on the Olymp Trade demo account, Iq Option demo account or any other reputable broker out there.
This means that a newbie trader who starts their trading journey on Quotex has an upper hand at learning how to use more tools to trade that a trader on the competing sites.
The best part, Quotex is available internationally. Including the US, UK, Canada among all the other countries where most digital options brokers aren't allowed.
And not to forget that the Quotex.io demo account allows you access to most assets. Including stock, commodities, metals, indices, currency pairs, and cryptocurrencies.
More About The Quotex Trading Platform.
Quotex.io or qxbroker.com is owned and operated by Awesome LTD.
It was launched in 2019 and to dat it has become one of the most popular trading platforms with over 1 million downloads in play store.
Quotex is regulated by IFMRRC – International Financial Market Relations Regulation Center and it is also one of the few brokers that offer up to 95% rate of return.
The Quotex trading platform is built for traders of all statuses with simplicity, and security, among other beneficial features.
How to open a demo account with Quotex?
There are four different ways to open a demo account with Quotex. You can either use the Email method, Gmail method, Facebook method, or VK method.
In case you missed our previous post on creating a new Quotex account with either of these methods, find some time an read it.
Otherwise, today I will show you how to open a demo account with Quotex without creating an account.
a). How to use the Quotex Demo Account Without an Email #Step 1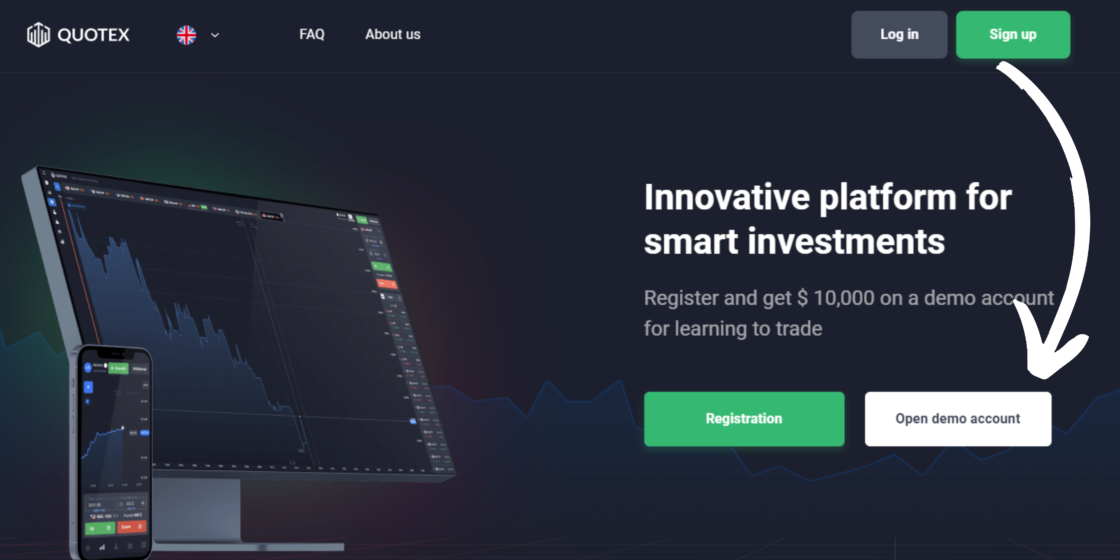 Next, click on "Open demo account" button on the main page.
Now choose trading on a demo account in the popup on the screen.
Quotex will be redirect you to the trading platform.
As mentioned earlier, you can not withdraw money from a demo account.
To be able to withdraw your profits from Quotex, consider switching to the live account.
If you make your deposit on Quotex, you will also get a 30% deposit bonus for your first deposit.
b). How to Get The Most Out of The Quotex.io Demo Account.
As insinuated throughout this post, the demo account has so many benefits. But, the full potential of a demo account can only be realized  with an open mind about learning and trading.
Moreover, you don't even need to have an Email to use a demo account. And if you do create an account, you do not need to risk any money to try trading.
All factors considered all you need to succeed on a demo account is: –
Have a Strong Will to Trade.
Since digital options work with time duration, you might not need more than 30 minutes daily to open trades.
This is because the minimum trading time in Quotex is only 1 minute. If you use 20 minutes to analyze the charts, then placing 10 trades a day shouldn't be trouble.
And trust me, everyone starts on a demo account. So, why not you?
Do Not Be Afraid to Make Mistakes.
Have I already mentioned that trading on a demo account comes with no risks?
You can literally take advantage of that benefit and place as many trades as you can. Try as many strategies as humanly possible. And learn from your mistakes.
Doing this will prepare you for different scenarios when you do move to a live account. So, don't be afraid. Demo trade your way to success.
Understand The Goals of a Demo Account.
Much as trading on a demo account is risk free, using the demo account longer is also risky. Why?
Because trading on a demo account does not test your human emotions to the core. And if you keep on trading without feeling anything and losing nothing, you might not be fully prepared for real trading.
What do I mean?
If you trade on the demo account longer, you will not know the pain on losing real money. Later when you start trading on a live account, you might feel like it is a different thing all together.
My two penny advice? Treat the demo account with respect. Why?
If you don't you will not be prepared for real account trading.
Tips to Get The Most Out of The Quotex Demo Account
Open a live account alongside a demo account
– doing this will help you make real money with Quotex as you can easily switch to a live account to make real money with winning strategies from your demo account.
Trade on a DEMO account like you would on a live account – if all you can afford to start trading on a real account is $100, my two penny advice is that you trade with at most $5 on the demo account. Doing this will help prepare you psychologically for your $100 account. If you are able to make $100 on a demo account with $5 trades, chances are you can make money with a live account too.
Overall, the Quotex Demo account is ideal for traders of all statuses. If you are not sure which broker to start trading with, try Quotex. Remember, the demo account is FREE for all.
Frequently Asked Questions.
1). Is the Quotex.io Demo Account the Same as The Qxbroker.com, Demo Account?
Yes.
These two domain names are both owned by Awesome LTD which is the company that owns and runs Quotex. s such, when you access Quotex through either the www.quotex.io or www.qxbroker.com you will see the same broker.
Tagged With : Bhutan • Quotex • Quotex Afghanistan • Quotex Albania • Quotex Algeria • Quotex Andorra • Quotex Angola • Quotex Antigua And Barbuda • Quotex Argentina • Quotex Armenia • Quotex Austria • Quotex Azerbaijan • Quotex Bahamas • Quotex Bahrain • Quotex Bangladesh • Quotex Barbados • Quotex Belarus • Quotex Belgium • Quotex Belize • Quotex Benin • Quotex Bolivia • Quotex Bosnia and Herzegovina • Quotex Botswana • Quotex Brazil • Quotex Brunei • Quotex Bulgaria • Quotex Burkina Faso • Quotex Burundi • Quotex Cabo Verde • Quotex Cambodia • Quotex Cameroon • Quotex Canada • Quotex Central African Republic • Quotex Chad • Quotex Chile • Quotex Code D'Ivoire • Quotex Colombia • Quotex Comoros • Quotex Congo • Quotex Costa Rica • Quotex Croatia • Quotex Cuba • Quotex Cyprus • Quotex Czech Republic (Czechia) • Quotex Denmark • Quotex Djibouti • Quotex Dominica • Quotex Dominican Republic • Quotex DR Congo • Quotex Ecuador • Quotex Egypt • Quotex El Salvador • Quotex Equatorial Guinea • Quotex Eritrea • Quotex Estonia • Quotex Eswatini • Quotex Ethiopia • Quotex Finland • Quotex France • Quotex Gabon • Quotex Gambia • Quotex Georgia • Quotex Germany • Quotex Ghana • Quotex Greece • Quotex Grenada • Quotex Guatemala • Quotex Guinea • Quotex Guines Bissau • Quotex Guyana • Quotex Haiti • Quotex Holy See • Quotex Honduras • Quotex Hungary • Quotex Iceland • Quotex India • Quotex Indonesia • Quotex Iran • Quotex Iraq • Quotex Ireland • Quotex Israel • Quotex Italy • Quotex Jamaica • Quotex Japan • Quotex Jordan • Quotex Kazakhstan • Quotex Kenya • Quotex Krygystan • Quotex Kuwait • Quotex Laos • Quotex Latvia • Quotex Lebanon • Quotex Lesotho • Quotex Liberia • Quotex Libya • Quotex Liechtenstein • Quotex Lithunia • Quotex Luxermbourg • Quotex Madagascar • Quotex Malawi • Quotex Malaysia • Quotex Maldives • Quotex Mali • Quotex Malta • Quotex Mauritania • Quotex Mauritius • Quotex Mexico • Quotex Moldova • Quotex Mongolia • Quotex Montenegro • Quotex Morocco • Quotex Mozambique • Quotex Myanmar • Quotex Namibia • Quotex Nepal • Quotex Netherlands • Quotex Nicaragua • Quotex Niger • Quotex Nigeria • Quotex North Macedonia • Quotex Norway • Quotex Oman • Quotex Pakistan • Quotex Panama • Quotex Paraguay • Quotex Peru • Quotex Philippines • Quotex Poland • Quotex Portugal • Quotex Qatar • Quotex Romania • Quotex Russia • Quotex Rwanda • Quotex Saint Kitts And Nevis • Quotex Saint Lucia • Quotex Saint Vincent And The Grenadines • Quotex San Marion • Quotex Sao Tome & Principe • Quotex Saudi Arabia • Quotex Senegal • Quotex Serbia • Quotex Seychelles • Quotex Sierra Leone • Quotex Singapore • Quotex Slovakia • Quotex Slovenia • Quotex Somalia • Quotex South Africa • Quotex South Korea • Quotex Spain • Quotex Sri Lanka • Quotex State of Palestine • Quotex Sudan • Quotex Suriname • Quotex Sweden • Quotex Switzerland • Quotex Syria • Quotex Tajikistan • Quotex Tanzania • Quotex Thailand • Quotex Timor-Leste • Quotex Togo • Quotex Trinidad And Tobago • Quotex Tunisia • Quotex Turkey • Quotex Turkmenistan • Quotex Uganda • Quotex Ukraine • Quotex United Kingdom • Quotex United States • Quotex Unitex Arab Emirates • Quotex Uruguay • Quotex Uzbekistan • Quotex Venezuela • Quotex Vietnam • Quotex Yemen • Quotex Zambia • Quotex Zimbabwe • Suotex South Sudan