Quotex is one of the newest digital Options trading platforms that allow traders to trade online and make money on the price fluctuation of different assets (commodities, currency pairs, stocks, indices, and metals).
Like all the major trading platforms before it, the Quotex trading platform has a mobile app that will allow you to start trading on the go.
Plus, the interface is simple and just as beautifully designed as the Quotex web app.
---
In today's post, I will guide you step by step on how you can trade with the Quotex mobile app.
Before we begin the lesson though, let me remind you about our new signals service for both Forex and Fixed Time Trading. You can join us here if you are interested.
Join Quotex: Get 50% Deposit Bonus
How to Find and Install the Quotex Mobile App
Before you can start using the Quotex app, you need to find and install it. Fortunately, it's just as easy to install as it is to use.
Here's how to find and install the Quotex mobile app.
1). Android.
For android users, click on this link to register and get quick access to the app.
Join Quotex: Get 50% Deposit Bonus
How to Register and Login to Quotex.
The Quotex registration process is simple.
You only need an email address a memorable password and to be 18 years and above to register to the platform.
Once you have registered, verify your email address and login to start using the app.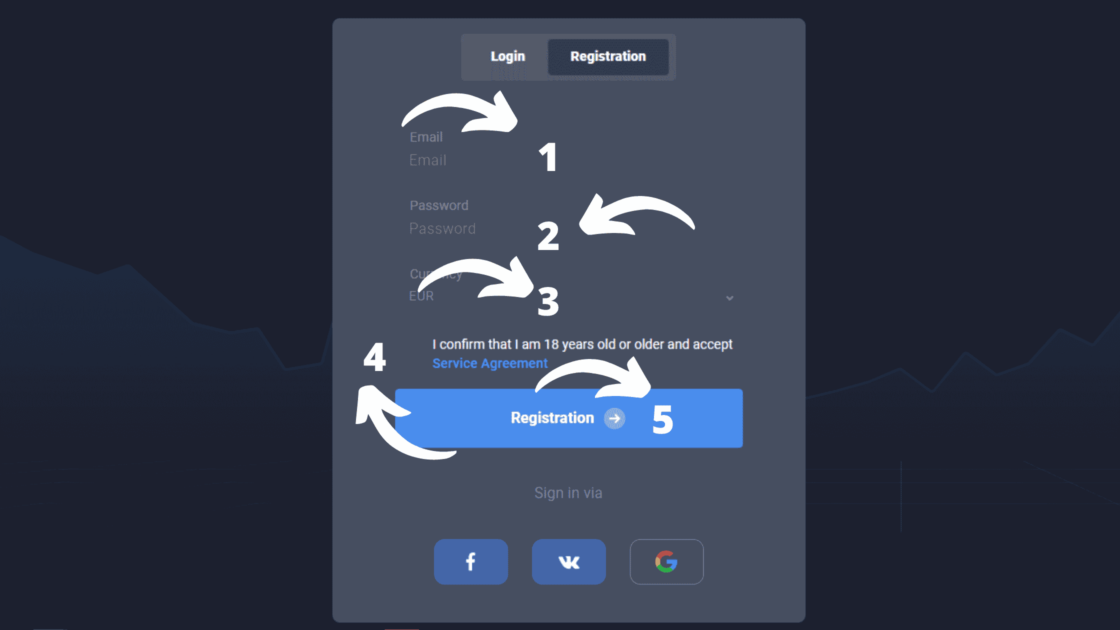 As you can see, the Quotex account registration process is very straightforward.
Just follow the instructions from the app or on this article and your account will be ready in no minute.
Join Quotex: Get 50% Deposit Bonus
How to Login to The Quotex Mobile App
Did you manage to register an account in Quotex?
Now let's log in to start trading with the app.
To log in just: –
Open the Quotex mobile app;
Choose the "Log in" form;
Enter your username and password;
Enter the Email used for registration and password.
Click the "Login to account" button. It's that simple. You are in.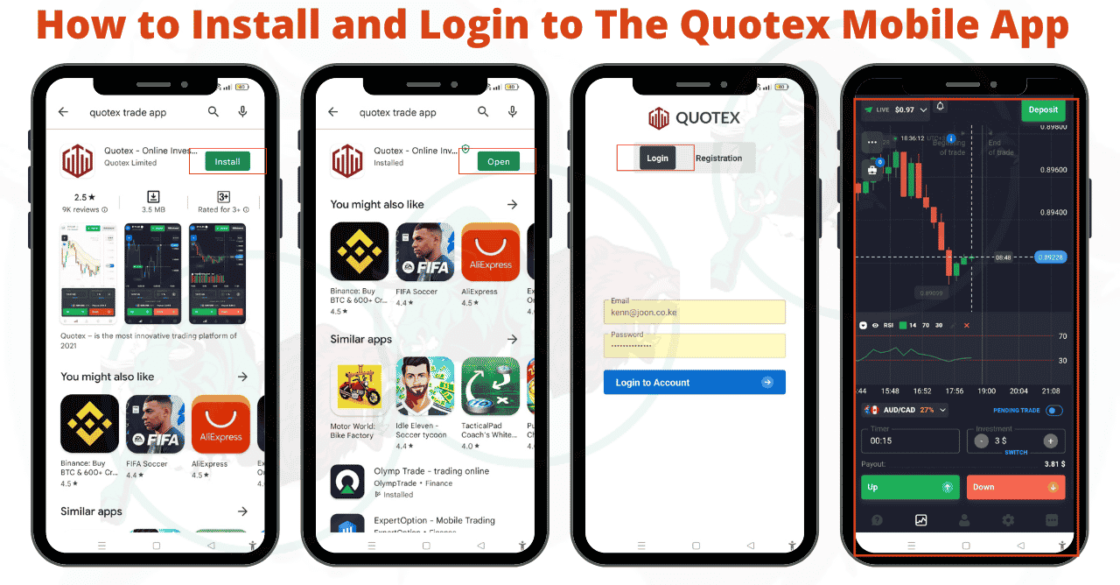 Join Quotex: Get 50% Deposit Bonus
How Can You Trade With Quotex on Mobile: Quotex Mobile App Features.
Quotex mobile app has the same features as the Quotex desktop app.
You can use the mobile app to manage trades, analyze charts, view trade history, close positions, and view and edit personal information among other things.
1). Asset in Quotex.
Though Quotex is new, it has a handful of assets that you can trade profitably. So whether you like trading currency pairs, stocks, metals, crypto or indices, you are covered on the Quotex mobile app.
You can access Quotex assets by clicking on (1) as shown in the image below.
2). Trading Tools
After you have found the asset that you'd really like to trade, how do you analyze it to ensure that the position you Open on Quotex ends up being profitable?
Quotex drawing tools, timeframes, charts and indicators are hidden under the blue button at the top left corner. Tap on it once to open and choose what you want.
Tap on the time frame to change from 5 seconds to 1 day, and charts to shift from area charts, candles, bars, and Heiken Ashi.
Drawing tools to find arc, crosses, curves, cyclic lines, date range, date and price range, disjoin channel tools, extended line, Fibonacci fan, flat top or bottom, Bann box, Horizontal line, parallel channel… whatever drawing tools you can think of, you will find them on Quotex under the guideline (2) in the image.
You can also use the same button to access over 20 indicators and oscillators on the platform.
Join Quotex: Get 50% Deposit Bonus
3). Trading and Trade Management.
When you are ready to trade, you can use the timer button at the bottom to choose the duration of your trade, the investment button to choose the investment amount, and the up and down button to choose the direction of your trade (3).
To see your trade history (4), just tap on the briefcase button at the top left and a new window with all your trades on Quotex will pop at the bottom.
Join Quotex: Get 50% Deposit Bonus
Now that You Have Registred, learned where to find what, and more, let's look at the mobile app deposit process.
How to Fund Quotex With Mpesa or Airtel Money Plus Deposit Bonus.
Tap the deposit button at the top right corner and scroll down to find E-payments.
Under E-payments choose Airtel or M-pesa.
Though the minimum deposit is $10 if you deposit $100 and use our Quotex promo code, JOON. You will get an additional $50 for FREE. Tap on the use "bonus button" to enter the code.
Now click the deposit button to continue.
Tap the pay button to proceed.
Enter Mpesa PIN or Airtel Money PIN to complete the process.
Your funds will reflect in Quotex instantly. If you used the code, you will receive $50 extra.
Join Quotex: Get 50% Deposit Bonus
How can you Trade With Quotex on Mobile: Quotex Demo Account.
In case you are not ready to start trading on a live account with real money, just switch to the Quotex demo account and start trading with it.
Whether you deposit money to the live account or not, the DEMO account will always be there and you can switch to it at any time.
You can also use the demo account to come up with your own trading strategies and to text and backtest them.
Is the Quotex Web Platform Different from The Quotex Mobile App?
There is no major difference between the two platforms. If anything it is just the positioning of the tools on the app. Nothing else.
Here's How to Deposit, Trade, and Withdraw Money from Quotex WebApp.
Join Quotex: Get 50% Deposit Bonus
Tagged With : Bhutan • Quotex • Quotex Afghanistan • Quotex Albania • Quotex Algeria • Quotex Andorra • Quotex Angola • Quotex Antigua And Barbuda • Quotex Argentina • Quotex Armenia • Quotex Austria • Quotex Azerbaijan • Quotex Bahamas • Quotex Bahrain • Quotex Bangladesh • Quotex Barbados • Quotex Belarus • Quotex Belgium • Quotex Belize • Quotex Benin • Quotex Bolivia • Quotex Bosnia and Herzegovina • Quotex Botswana • Quotex Brazil • Quotex Brunei • Quotex Bulgaria • Quotex Burkina Faso • Quotex Burundi • Quotex Cabo Verde • Quotex Cambodia • Quotex Cameroon • Quotex Canada • Quotex Central African Republic • Quotex Chad • Quotex Chile • Quotex Code D'Ivoire • Quotex Colombia • Quotex Comoros • Quotex Congo • Quotex Costa Rica • Quotex Croatia • Quotex Cuba • Quotex Cyprus • Quotex Czech Republic (Czechia) • Quotex Denmark • Quotex Djibouti • Quotex Dominica • Quotex Dominican Republic • Quotex DR Congo • Quotex Ecuador • Quotex Egypt • Quotex El Salvador • Quotex Equatorial Guinea • Quotex Eritrea • Quotex Estonia • Quotex Eswatini • Quotex Ethiopia • Quotex Finland • Quotex France • Quotex Gabon • Quotex Gambia • Quotex Georgia • Quotex Germany • Quotex Ghana • Quotex Greece • Quotex Grenada • Quotex Guatemala • Quotex Guinea • Quotex Guines Bissau • Quotex Guyana • Quotex Haiti • Quotex Holy See • Quotex Honduras • Quotex Hungary • Quotex Iceland • Quotex India • Quotex Indonesia • Quotex Iran • Quotex Iraq • Quotex Ireland • Quotex Israel • Quotex Italy • Quotex Jamaica • Quotex Japan • Quotex Jordan • Quotex Kazakhstan • Quotex Kenya • Quotex Krygystan • Quotex Kuwait • Quotex Laos • Quotex Latvia • Quotex Lebanon • Quotex Lesotho • Quotex Liberia • Quotex Libya • Quotex Liechtenstein • Quotex Lithunia • Quotex Luxermbourg • Quotex Madagascar • Quotex Malawi • Quotex Malaysia • Quotex Maldives • Quotex Mali • Quotex Malta • Quotex Mauritania • Quotex Mauritius • Quotex Mexico • Quotex Moldova • Quotex Mongolia • Quotex Montenegro • Quotex Morocco • Quotex Mozambique • Quotex Myanmar • Quotex Namibia • Quotex Nepal • Quotex Netherlands • Quotex Nicaragua • Quotex Niger • Quotex Nigeria • Quotex North Macedonia • Quotex Norway • Quotex Oman • Quotex Pakistan • Quotex Panama • Quotex Paraguay • Quotex Peru • Quotex Philippines • Quotex Poland • Quotex Portugal • Quotex Qatar • Quotex Romania • Quotex Russia • Quotex Rwanda • Quotex Saint Kitts And Nevis • Quotex Saint Lucia • Quotex Saint Vincent And The Grenadines • Quotex San Marion • Quotex Sao Tome & Principe • Quotex Saudi Arabia • Quotex Senegal • Quotex Serbia • Quotex Seychelles • Quotex Sierra Leone • Quotex Singapore • Quotex Slovakia • Quotex Slovenia • Quotex Somalia • Quotex South Africa • Quotex South Korea • Quotex Spain • Quotex Sri Lanka • Quotex State of Palestine • Quotex Sudan • Quotex Suriname • Quotex Sweden • Quotex Switzerland • Quotex Syria • Quotex Tajikistan • Quotex Tanzania • Quotex Thailand • Quotex Timor-Leste • Quotex Togo • Quotex Trinidad And Tobago • Quotex Tunisia • Quotex Turkey • Quotex Turkmenistan • Quotex Uganda • Quotex Ukraine • Quotex United Kingdom • Quotex United States • Quotex Unitex Arab Emirates • Quotex Uruguay • Quotex Uzbekistan • Quotex Venezuela • Quotex Vietnam • Quotex Yemen • Quotex Zambia • Quotex Zimbabwe • Suotex South Sudan