What is a trend reversal?
A trend reversal is a large price change where the chart changes direction to form a new trend. And the newly formed direction goes consistently to make a new trend.
Sometimes though, pullbacks or consolidations come forth to confuse new traders.
---
A price consolidation/pullback is when a small counter move occurs against the trend and it is corrected before a new trend is formed.
It is a common thing for traders to confuse pullbacks to trend reversals and reversals to pullbacks – especially at the onset of a directional change.
Good news to you though, you can activate the rate of change oscillator on your chart to pick accurate trend reversal points.
What is a rate of change?
Rate of change is an oscillator  on Olymp Trade – used to determine the direction of a trend and to find its reversal points.
When you activate it, it is formed below your chart and it automatically takes the form of a line.
The rate of change oscillator moves with the chart and periodically intersects the zero level to give entry signals.
How to set the "Rate of Change" trading tool on your Olymp Trade Chart.
Login to your Olymp Trade account and set the chart to Japanese candlesticks.
If you aren't already registered, create an account here.
Done that?
Good.
Now click on the indicator tool to add the rate of change oscillator.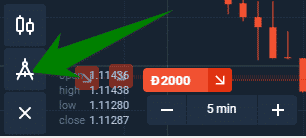 Don't worry about setting the tool up. It will give you accurate signals with the standard settings.
How to open winning down trades with this tool on Olymp Trade.
To open a winning down trade with this oscillator, look for these clues.
The oscillator has to reach its top value before… .

it turns downwards and starts moving toward the zero levels.
Even with those conditions set, don't open your trade. Not yet.
Wait at least until you see these two signals: –
A downtrend of the chart.

And an intersection between the rate of change line and the zero level line.
The rate of change line has to continue dropping to confirm falling prices.
Now Open a down trade for two hours.
How to open a winning UP trade with the rate of change tool on Olymp Trade.
To open a winning UP trade with this oscillator, look for these signals.
Make sure an uptrend has formed on the chart.

The Rate of Change line has intersected the zero level from bottom up and continues to rise, which confirms a bullish trend.
Now open a UP Trade for two hours.