In 2018, the World Bank concluded after a study done in Kenya that about 84 percent of Kenyans use solid fuels such as wood, charcoal, and agricultural residue.
2 percent of the population was estimated to use kerosene as their preferred cooking fuel.
Technically, more people use kerosene, not just in cooking but also in lamps.
---
The bottom line, most people use traditional fuels than gas and electricity.
Why?
The reason is simple.
It is because cooking Gas is very expensive in Kenya. However, the government has been working on ways to reduce the prices to make it affordable to every Kenyan, but still, this is a far stretch.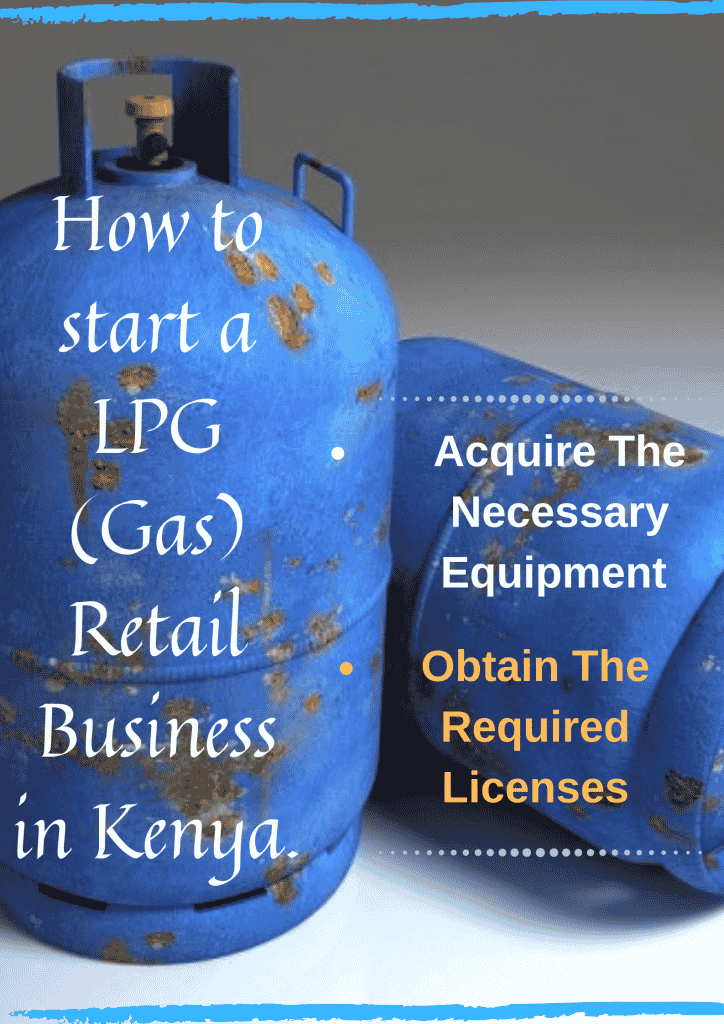 The said World Bank report also estimated the cost of using gas for an individual to be KES. 35,000 yearly, that of kerosene, KES. 2000 and wood,15000 Kenyan shillings yearly.
Electricity, on the other hand, with modernization, has grown popular, though not replacing LPG.
In urban areas, gas continues to be the most desired cooking fuel, whether expensive or inexpensive.
For this reason, if you want to start a gas retail business in Kenya, the best place to set your business is in urban areas.
And just so you know, there's more to consider than just location for an LPG business.
Here's a full guide on how to start a cooking gas retail business in Kenya.
1. Understanding The Business Structure.
The structure of the liquid petroleum gas business is pretty easy.
First, there are the oil marketing companies that brand the gas and package them in cylinders.
Some cylinders are purchased from Asian countries and others from local companies like East African specter.
You would not believe this but as of 2021, there were 60 oil companies in Kenya selling LPG gas. The most popular being Vivo, Total, Kenol Kobil, and National Oil Corporation of Kenya.
Hashi gas, located in Mombasa has also slowly been growing more popular.
There are large-scale importers who bring tones of LPG into the country from oil marketing companies too. These tanks are then bought by wholesalers who sell to retailers who then sell to consumers for profits.
2. Obtain The Required Licenses.
Which licenses do I need for a small-scale LPG business in Kenya?
All traders operating in Kenya need licenses depending on the kind of business they are practicing.
To start a gas retail business in Kenya, you need;
a. Local Authority License.
This is the most basic license in Kenya required for the operation of all kinds of businesses.
The cost of a local authority license varies from county to county with the average being 3,000 Kenyan shillings for a standard business license.
b.  Energy Regulation Commission (ERC) License.
For a license application, you need a sketch showing the business location and a valid supply agreement.
When it comes to location in your drawing, pick an open area. It is required that LPG retailers store their cylinders in the open to avoid disasters associated with the business.
You'll also need these documents to start a gas retail business in Kenya: –
Pin registration.

VAT registration.

Tax compliance certificate.

Lease agreement.

Fire certificate.

Authority from the brand.

Certificate of weighing scale calibration from Weights and measurements.
Several retailers however operate without these documents especially in towns outside Nairobi. What stands though, is everywhere in the business license issued by the county counts.
Kenyan Gas Consumers also do not check for these licenses. They only care about the price.
Equipment Needed to Start an LPG Business in Kenya?
1. Gas cylinders.
Gas cylinders are not usually sold on their own.
The companies that make gas cylinders don't usually have the intention of acquiring profit from gas cylinders themselves.
They make them to fill the gas that they will sell to the consumers continuously.
However, it's not impossible to acquire gas cylinders for your LPG business. You can get cylinders through;
a. Petrol stations.
Petrol stations sell small-scale gas cylinders at different prices depending on the brand and size of the cylinders.
b. Brokers, Dealers, And Shylock.
These are those who get secondhand cylinders from consumers and sell them.
Some people need to dispose of their cylinders when they move or when they feel the need to get a gas cylinder in a different size.
That said, if you want several empty cylinders, you may find yourself scraping off from different sources.
Gas cylinders for the retail market come in different sizes; 3, 6, and 13 kilograms.
Study your market to know what sizes to stock more of. 3 kilograms is purchased most in low-income areas and areas around universities and campuses where there isn't much of a need for bigger cylinders.
The average size, 6 kg is common in most places. People with higher income and small restaurants prefer 13 kg.
There are other sizes like 15kg, 35kg, 50 kg, etc.
I would advise you not to stock those options unless you already have a specific market for them such as big restaurants.
There have been cases reported of pirated cylinders. Usually, these cylinders are fake.
They are painted and branded just to look like the cylinders from oil companies but are not legitimate.
That's why it's always important to get your cylinders from a licensed wholesaler.
To attract retailers, these pirated cylinders are usually way cheaper.
Be wary of extremely low prices. It's the case of the deal being too good.
Since cylinders are required out in the open, these cages are extremely necessary. 
They are sometimes leveled, offering storage room, and provide security.
They also help with defining space, especially in an area with several retailers.
Cages are gotten from anywhere and can be bought cheaply.
However, it is most effective to have a blacksmith make for you a cage that fits your specific needs.
Safety Tip – Go for strength and quality over anything else to avoid losing your gas cylinders to thieves.
The other things you need for business are;
Fire extinguisher.

digital weighing scale.

Security locks.

Transportation trolleys etc.
LPG.
In summary, you can get your LPG from legal suppliers or illegal suppliers.
Legal LPG Suppliers in Kenya.
Legal suppliers are whole suppliers that have been licensed by the ERC to sell gas.
Most of the time, these are the oil companies that sell through distributors, agents, or petrol stations. Petrol stations operate differently though.
Some agree to sell to wholesalers while some simply don't. Others will agree to sell only those of their specific brand.
It's important to carry out your research when it comes to this, to know where to buy, transportation, and distance logistics. Also, compare different prices.
Why pay more when you can pay less?
Alternative LPG suppliers in Kenya.
It may be shocking that this is included in the guide but when over 30 percent of LPG is acquired illegally, it is important to mention it.
There is a black market for everything and LPG is no exception.
There are several illegal wholesalers all over the country who deal with smuggled fuels or refill without authority from the brand.
Most of them are found in the industrial areas of Nairobi like Donholm, Baba Dogo, and Nairobi's industrial area.
Several retailers buy from illegal wholesalers because their prices are attractive and they are not a process.
Safety tip: -There are ways to avoid counterfeit products though; check for a test date, branded seal, or sticker.
These indicators are not too helpful though as they are easy to copy too.
Survival – How to Make Consistent Profits With This Small Business.
Initially, oil marketing companies weren't selling to wholesalers so the business was growing slowly.
But as of 2009, oil marketing companies were forced to adapt to the competition that was there and sell to wholesalers and retailers.
This even made the gas retail business expand further, with more people coming in.
The demand for liquid petroleum gas is also increasing in urban and peri-urban areas leading to more shops opening up in Nairobi, especially because of the set-up for apartment housing that doesn't support the use of solid fuels.
The LPG business struggles in rural areas though, and this is because most people in rural areas do not buy fuel. 
Fuel sources such as wood and animal waste are readily available to them.
You can survive competition through strategic location, price control, efficient operations, marketing, complimentary services, and stocking of the more popular brands.
Marketing, Client Retention, and Other Trends in LPG Business.
There are several trends in the gas retail business that have come up as a result of increased use.
One of them is delivery.
It is always advisable to offer delivery services because of the bulkiness of the goods.
Most households do not refill their cylinders from vendors who are far away so hiring a  person to carry the gas on foot, or a motorbike simply solves the problem.
Some retailers also act as wholesalers.
This trend is common in rural areas where there are fewer retailers and one retailer at a central location could distribute it to other retailers.
At this point, it is very profitable to start an LPG business. The initial investment is usually low but the break-even point averages 8 months. For the next years or so, it will only continue to grow.
Tagged With : gas business in kenya • gas supply business idea • home cooking gas distribution business idea • how to start lpg gas business • lpg gas business in kenya • lpg gas business plan • lpg gas business plan pdf • lpg gas distribution business plan