If there is one great determinant of how much money a trader will make on Olymp Trade then it is knowing when to take profit and when to exit the market.
Well, some traders may opt to wink it and go in blindly, hoping there will come an opportune time to exit the trade; while others would rather pre-set the SL and TP variations and fate the system to cut them out when trades go south; or bag them money if predictions are right.
Trading either method is right. But in my opinion, having a stop loss and take profit condition preset when trading Forex in Olymp Trade gives you more control of your money.
---
It allows you to determine how much you want to lose when your trades go south, or how much you want to win if your predictions are right.
[fcrp_review_sc room_id="7823″]
'Controlling a position' on Olymp Trade.
Anytime a trader sets to open a position, he/she has only one goal: to make profits. This goal is sometimes represented by the exact amount of money he/she wishes to make per trade.
Example;
When after analysis, the trader realizes that the asset he/she is trading is going to drop from $50 to $40, he will set his trade to close at $40 or slightly below or above the level.
What does that mean?
When you open a position, two things might happen. Either you are right and you make a profit or you are wrong and you lose money.
Good for you if you are correct.
But if your prediction is wrong, you need to close that trade before it becomes a disaster. That's what we mean by controlling a position.' Here, you are trying to fix a positive result from rather a messed up prediction.
For this reason, before you open any position, you should know the price level at which you admit defeat. Or the price level for which you are OKAY, taking profits.
If you predict that the price will drop from $50 to $40, but instead it goes up, you should admit a mistake when it reaches say, the $55 mark.
If you do not control your open positions, your account will blame you.
Note, position control is entirely manual. You need to watch the chart and follow price movements across the charts for the entire trading period.
Does that sound like too much work?
There is another way.
An alternative to manual position control is to set SL and TP in Advance.
After all the explaining, I know you will not even want to try the position control technique because, well, it is tiresome.
But what if there was another way?
Well, on the Olymp Trade Forex platform, you are allowed to set stop loss and take profit orders in advance (before placing a trade). This way, you can save time and even close the trade automatically.
How to set stop loss and take profit orders on Olymp Trade.
One thing though:
These two orders are not available on the chart until you add them from the settings section.
How?
Make sure you are logged into your Olymp Trade trading account. Once in, locate the settings icon of the left sidebar.
Click on it.
You will see a list of boxes you can tick. Scroll down to the Take Profit and Stop Loss box.
Tick the box as shown above.
Now that you have added it to your chart, what exactly is this technique (for beginners)?
What is take profit and stop-loss?
Take profit – this is an order that closes the trade once it has accumulated a certain amount of profit. You are instructing Olymp Trade to automatically close the open position once it has made you a certain amount of money.
On the other hand, Stop Loss is an order that exits the trade once it reaches a specific negative level. Use it to close a trade when your prediction goes sideways.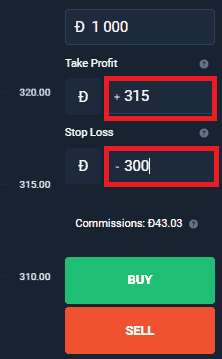 Interestingly, you can set Stop Loss and Take Profit orders as you are opening a trade or after you have opened the trade.
Example of Stop Loss and Take Profit at work.
To drive the point home, I will be using Apple stock as an example.
Using a 10-minute chart, after analysis, I predict the price will start going up again.
There I will open a long buy position lasting 20 minutes. The stock is trading at D305 (demo account).
I will take a profit at 315. If I'm wrong and the stock falls, I have set a stop-loss order at 300. Looking at the chart, you will see that the stock has reversed several times at this price range.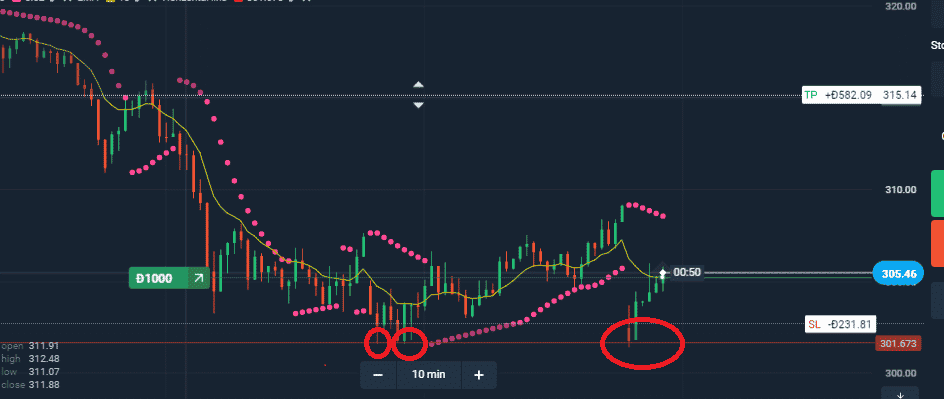 Think of it as the support level.
One more thing:
From the screenshots above, you can see that take profit and stop-loss orders are displayed on the chart.
Also, if you want to change the position of these orders, just click and pull it to the new position.