You've probably heard of options trading before – but did you know that there's a whole online platform dedicated to it? Though fairly new, Quotex is one of the leading options trading platforms, and in this article, we'll go over some basic strategies that you can use to get started.
1). Same Color Legendary Strategy For Beginners
If you're new to the world of options trading, then you may be wondering what some of the best strategies are for making money in this market.
One popular strategy that many traders use is known as the "same color legendary" strategy.
---
This involves trading in a particular direction based on the color of the previous candlestick on the charts.
There are a few things to keep in mind if you're thinking of using this strategy.
First, you will need to set your chart to Japanese Candlestick.
Other than that, you'll need to know how volatile the market is (are same color candlesticks forming with bigger bodies?).
Second, you need to be comfortable with risk. This strategy can produce some quick profits, but it can also result in some big losses if the market doesn't move in your favor.
If you're willing to take on those risks, then the same color legendary strategy can be a great way to make money in the options market.
How to Use the Same Color Legendary Strategy in Quotex, For Beginners.
Step 1 – Select the Japanese Candlestick chart in Quotex.
Done that? Now select a time frame of between 1 minute and 1 hour. This strategy works with all instruments in Quotex including currency pairs, commodities, indices, metals, and stocks.
Step 2: Wait until the current candle closes and trade immediately.
If the current candlestick closes Up (green), you should immediately open a UP trade. If it closes as red then you should open a DOWN trade.
In Quotex you can trade with the "same color legendary" strategy on 1-minute durations to 1 hour. The trade amount will depend on your account balance, your risk tolerance, and the kind of money management strategy you are using.
Should you lose a trade with this strategy, then you can consider using a loss compensation system to recover.
The loss compensation system works on the principle that if a trade loses then the trader must increase the trade amount of the next trade by 2.5 times what was lost.
If you win this next trade you will have recovered lost funds and made profits.
2). Moving Average Strategy For Technical Analysis Traders
One of the most popular technical analysis tools in trading is the moving average. Moving averages smooth out price action by creating a single flowing line that represents the average price over a certain period of time.
There are different types of moving averages, but the most common ones are the simple moving average (SMA) and the exponential moving average (EMA).
SMAs are calculated by adding up the closing prices of a certain number of past periods and then dividing by that number. EMAs place more weight on recent price data and are therefore more responsive to price changes.
Uses of Moving Averages.
Moving averages can be used in a number of different ways, but one of the most common is to use them as support and resistance levels.
When the price is above the moving average, it is considered to be in an uptrend, and when it is below the moving average, it is considered to be in a downtrend.
Another common use for moving averages is to help traders identify trends. A trend is defined as a period of time during which prices move in the same direction. Trends can be up, down, or sideways.
The direction of the moving average can also be used to identify trends. An uptrend is defined as a period of time during which the market was moving up.
A downtrend is a period in a chart when the market is moving down. And a sideways trend refers to a time period when the market is indecisive (moving sideways ).
How to Trade The Moving Average Strategy in Quotex.
Step 1: Select a candlestick chart with a timeframe of 1 or 5 minutes. You can also use longer time frames like 1 hour r even four hours. It all depends on you as a trader and your preferred trading style.
Step 2: Click the indicator tab as shown in the image below and select moving average. Add it twice.
For the first SMA, you will need to adjust the periods to period 4. And for the second moving average you must set it to period 60.
Opening a Trade With This Strategy in Quotex
Now look for a recent intersection of these two lines. If the moving average (4) breaks the moving average (60) from bottom to top, we Open a UP Trade.
Period 4 is the one that is so close to price and 60 is the one that's far apart. You can also change the color for one SMA to make it easier to distinguish them.
If the period 4 moving average crosses the period 60 moving average from the top to bottom, open a down trade.
3). "Bullish engulfing" and "Bearish engulfing" candlestick patterns strategy
Another very popular strategy is to look for candlestick patterns known as "bullish engulfing" and "bearish engulfing. in Quotex"
These patterns can give you a good idea of when the market is about to turn. For example, if you see a bearish engulfing pattern form after an uptrend, it could be a sign that the market is about to reverse and head down.
If you see a bullish engulfing pattern form after a downtrend, it could be a sign that the market is about to reverse and head Up.
Of course, you never want to blindly trade based on any one indicator or signal. But if you see a bearish engulfing pattern form, it's something worth paying attention to.
There are other candlestick patterns that can also be helpful in trading options. But the bullish and bearish engulfing patterns are two of the more commonly used ones. So it's definitely worth familiarizing yourself with them.
4). Martingale Money Management Strategy – Best Fore Traders With Good Trading Capital
The Martingale money management strategy is a popular option for Quotex traders with good trading capital. T
his strategy involves increasing your position size after a loss, so that you eventually make a profit. While this can be a successful strategy in the long run, it can also be very risky, so it's important to use it carefully.
About The Quotex Trading Platform
Quotex is a powerful options trading platform that enables traders to take advantage of the volatile markets with ease. The platform is packed with features and tools that help traders make informed decisions and execute their trades seamlessly.
Quotex also offers a wide range of assets to trade, so there's something for everyone.
Here are some of the features Quotex is loved for
Quotex Features
✔️ Website
www.quotex.io or www.qxbroker.com
✔️ Trading platforms
✓ Mobile and Web platforms
✔️ Minimum Deposit
✓ $10
✔️ Minimum Withdrawal
✓ $10
✔️ Minimum Trade Amount
✓ $1
✔️ Trading
instruments
✓ Currency Pairs / CFD, Indices, Cryptocurrencies, Commodities
✔️ Trading Signals
✓ Yes
✔️ Persona Analyst
✘ NO
✔️ Analysis tools (Indicators, Oscillators and Drawing Tools)
✓ Yes
✔️ LIVE support
✓ Yes
✔️ Minimum Trade Duration
✓ 1 Min
✔️ Rate of Return
✓ Up to 95%
✔️ Weekend Trading
✓ Available
✔️ Trading Bonus or Promo Codes
✓ Get 30% Bonus on first deposit
Registration
How to Create an Account in Quotex
If you want to start trading options on Quotex, the first thing you need to do is create an account. Here's how:
1. Go to the Quotex website and click on the "Create account" button.
2. Fill out the form with your Email and password
3. Agree to the terms and conditions.
3. Click on the "Register" button.
6. You will then be taken to a page where you can choose between a demo and a live account. If you pick a live account, don't forget to fund your account and start trading.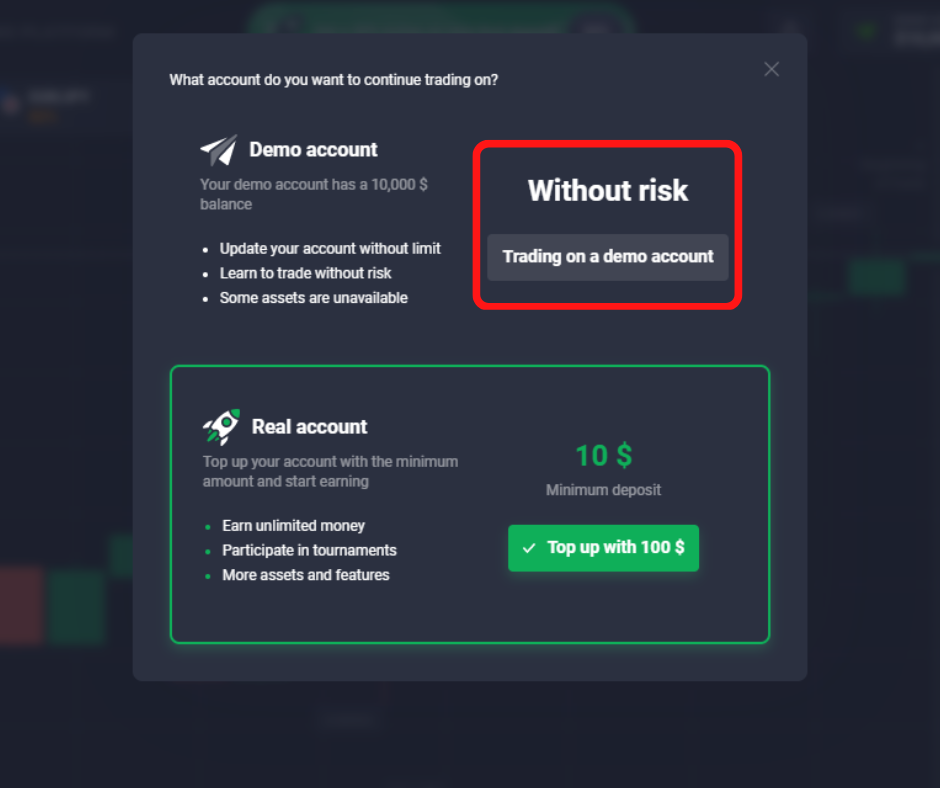 How to Fund Your Quotex Account
If you're interested in options trading on Quotex, you'll need to fund your account before you can get started. Here are a few strategies for doing so:
1. Use a bank transfer: This is the easiest way to fund your account, and it's also free. Simply log in to your online banking portal and initiate a transfer to Quotex.
2. Use a credit or debit card: You can use your credit or debit card to fund your account, but there will be a fee involved. To do this, simply log in to your account and click on the "Deposit" button. Then, follow the instructions provided.
3. Use Perfect Money: You can also use Perfect Money to fund your Quotex account. Simply log in to your account and click on the "Deposit" button. Then, follow the instructions provided or watch the video below.
How to Withdraw Money From Quotex
It is simple to withdraw money from your Quotex account. You can do so via credit/debit card, bank transfer, or e-wallet. The process is fast and easy, and you can get your money in as little as 24 hours.
Here are the steps to withdraw money from your Quotex account:
1. Log in to your account and go to the "Withdrawals" page.
2. Enter the amount of money you wish to withdraw.
3. Choose your preferred withdrawal method (credit/debit card, bank transfer, or e-wallet).
4. Enter your withdrawal details and submit the request.
Your withdrawal will be processed within 24 hours, and you will receive your money shortly thereafter.
Why Quotex is a Good Broker to Trade With
If you're looking for a good broker to trade with, Quotex is a great option. They offer a variety of features that make them a good choice for both beginner and experienced traders.
One of the things that makes Quotex a good choice is their low minimum deposit requirement ($10). This makes them a good choice for those who are just starting out in the world of options trading.
In addition, they offer a variety of account types to choose from, so you can find one that best suits your needs.
Another reason to choose Quotex is their customer service. They have a team of knowledgeable and friendly customer service representatives who are always willing to help. Just Email them for help whenever you need it.
Finally, Quotex offers a variety of trading tools and resources that can help you be successful in your options trading career.
Overall, Quotex is a great broker
Conclusion
Options trading can be a great way to make money, but it's important to have a solid strategy in place before you begin.
Quotex offers a variety of options trading strategies that can help you make money, regardless of the market conditions. Whether you're looking for a conservative strategy that will provide steady gains or a more aggressive approach that will maximize your profits, Quotex is the broker to go for.
Tagged With : Bhutan • Quotex • Quotex Afghanistan • Quotex Albania • Quotex Algeria • Quotex Andorra • Quotex Angola • Quotex Antigua And Barbuda • Quotex Argentina • Quotex Armenia • Quotex Austria • Quotex Azerbaijan • Quotex Bahamas • Quotex Bahrain • Quotex Bangladesh • Quotex Barbados • Quotex Belarus • Quotex Belgium • Quotex Belize • Quotex Benin • Quotex Bolivia • Quotex Bosnia and Herzegovina • Quotex Botswana • Quotex Brazil • Quotex Brunei • Quotex Bulgaria • Quotex Burkina Faso • Quotex Burundi • Quotex Cabo Verde • Quotex Cambodia • Quotex Cameroon • Quotex Canada • Quotex Central African Republic • Quotex Chad • Quotex Chile • Quotex Code D'Ivoire • Quotex Colombia • Quotex Comoros • Quotex Congo • Quotex Costa Rica • Quotex Croatia • Quotex Cuba • Quotex Cyprus • Quotex Czech Republic (Czechia) • Quotex Denmark • Quotex Djibouti • Quotex Dominica • Quotex Dominican Republic • Quotex DR Congo • Quotex Ecuador • Quotex Egypt • Quotex El Salvador • Quotex Equatorial Guinea • Quotex Eritrea • Quotex Estonia • Quotex Eswatini • Quotex Ethiopia • Quotex Finland • Quotex France • Quotex Gabon • Quotex Gambia • Quotex Georgia • Quotex Germany • Quotex Ghana • Quotex Greece • Quotex Grenada • Quotex Guatemala • Quotex Guinea • Quotex Guines Bissau • Quotex Guyana • Quotex Haiti • Quotex Holy See • Quotex Honduras • Quotex Hungary • Quotex Iceland • Quotex India • Quotex Indonesia • Quotex Iran • Quotex Iraq • Quotex Ireland • Quotex Israel • Quotex Italy • Quotex Jamaica • Quotex Japan • Quotex Jordan • Quotex Kazakhstan • Quotex Kenya • Quotex Krygystan • Quotex Kuwait • Quotex Laos • Quotex Latvia • Quotex Lebanon • Quotex Lesotho • Quotex Liberia • Quotex Libya • Quotex Liechtenstein • Quotex Lithunia • Quotex Luxermbourg • Quotex Madagascar • Quotex Malawi • Quotex Malaysia • Quotex Maldives • Quotex Mali • Quotex Malta • Quotex Mauritania • Quotex Mauritius • Quotex Mexico • Quotex Moldova • Quotex Mongolia • Quotex Montenegro • Quotex Morocco • Quotex Mozambique • Quotex Myanmar • Quotex Namibia • Quotex Nepal • Quotex Netherlands • Quotex Nicaragua • Quotex Niger • Quotex Nigeria • Quotex North Macedonia • Quotex Norway • Quotex Oman • Quotex Pakistan • Quotex Panama • Quotex Paraguay • Quotex Peru • Quotex Philippines • Quotex Poland • Quotex Portugal • Quotex Qatar • Quotex Romania • Quotex Russia • Quotex Rwanda • Quotex Saint Kitts And Nevis • Quotex Saint Lucia • Quotex Saint Vincent And The Grenadines • Quotex San Marion • Quotex Sao Tome & Principe • Quotex Saudi Arabia • Quotex Senegal • Quotex Serbia • Quotex Seychelles • Quotex Sierra Leone • Quotex Singapore • Quotex Slovakia • Quotex Slovenia • Quotex Somalia • Quotex South Africa • Quotex South Korea • Quotex Spain • Quotex Sri Lanka • Quotex State of Palestine • Quotex Sudan • Quotex Suriname • Quotex Sweden • Quotex Switzerland • Quotex Syria • Quotex Tajikistan • Quotex Tanzania • Quotex Thailand • Quotex Timor-Leste • Quotex Togo • Quotex Trinidad And Tobago • Quotex Tunisia • Quotex Turkey • Quotex Turkmenistan • Quotex Uganda • Quotex Ukraine • Quotex United Kingdom • Quotex United States • Quotex Unitex Arab Emirates • Quotex Uruguay • Quotex Uzbekistan • Quotex Venezuela • Quotex Vietnam • Quotex Yemen • Quotex Zambia • Quotex Zimbabwe • Suotex South Sudan