By now we are all aware of the coronavirus which has in the past few months affected millions of people worldwide. Maiming at least 16,558 people and infecting at least 381,761 people to date.
Out of the 381,761 infected persons, 102,429 people have made a total recovery (which is good news). Source – Worldometer.
The other good news though is that most governments are now locking down cities and boundaries and in some cases forcing people to stay at home. All in an attempt to keep the virus in control.
---
But other than keeping you alive, do you know how else staying at home is good news to me and you – the seasoned trader?
Well, staying at home without any distractions means we can now trade earn without limits.
It means we can buy Safaricom shares now (when they are down to 24.60 shillings per share) and wait to sell (at 33.50 shillings per share) when the economy is steady on its feet again. 
Even more interesting we can trade international stocks like: –
Apple.

Facebook.

Starbucks.
On our phones and make just as much money when we sell later.
One thing to keep in mind though, even with utter surety that preferred stocks are falling and that it is the ideal time to BUY,  you can still make a mistake and lose all your money.
To minimize that risk, it is recommended that you find a working strategy to trade over this period.
For those trading Forex, Stocks, Commodities, indices, and Crypto on Olymp Trade; I recommend that you try the Striped clouds strategy to trade.
Trading with the Striped clouds Strategy on Olymp Trade.
What is Striped clouds?
This is a trading strategy based on the Ichimoku Cloud indicator and intended to work on long time frames: an hour or more for profitability.
Which Parameters Should You Set to Trade With this Strategy?
Asset – Choose your preferred asset to trade on the charts – In Olymp Trade you can trade stocks, commodities, currencies, indices, and crypto.

Switch to the Japanese candlestick chart.  – This will show you a more refined price chart.

Set the time frame to 1 hour. This is the preferred time frame for this strategy.
Disclaimer: – Do not use time frames of less than an hour. You risk getting a lot of false signals on them.
4. Add the Ichimoku Cloud indicator to the chart and set it.
How to Set The Ichimoku Cloud Indicator in Olymp Trade.
Click on the indicator button on your chart to access the Ichimoku cloud.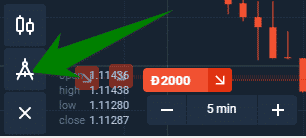 2. Once you have located the indicator, click on it once to activate.
You do not need to change the periods of the indicator lines
The Ichimoku Cloud standard settings are best suited for trade strategies.
For easy analysis, you can change the color and thickness of the Tenkan Sen, Kijun Sen and Chikou Span lines as shown in the image below.
How to use Stripped Clouds Trading Strategy to Place Winning "UP Trades".
Wait for 2 signals to appear on the chart.
The Tenkan Sen to cross Kijun Sen from bottom to top.
The Chikou Span line crosses the price chart in the same direction.
If you see those two signals, open an up Trade for three hours.
How to use Stripped Clouds Trading Strategy to Place a Winning "DOWN Trade".
Wait for these 2 signals to appear.
The Tenkan Sen line crosses the Kijun Sen from top to bottom.
The Chikou Span crosses the price chart in the same direction.
When the next candle starts to form after the crossings, open a down trade of 3 hours.
How not to lose money with this strategy.
The Striped Cloud strategy works best in a strong trending market.
Do not use it during the flat.

Use this strategy on currency pairs with JPY.

Add other trend indicators to the Striped Clouds indicator or support and resistance levels to confirm the signals.