Looking for the most convenient way to make money on your phone?
In this article, I will show you how to install the Olymp Trade app both for Android and iOS. I will also show you how to start trading online right from your phone.
And that is not all,
---
You will also learn how to navigate the Olymp Trade smartphone app interface seamlessly.
Ready for it? Let's dive right in.
How to download the Olymp Trade app for Android and iPhone.
Follow these steps below to download and install Olymp Trade smartphone apps:
If you are using an Android phone, download it below by clicking on this Google Play icon.
iOS phones, download the Olymp Trade iPhone app on AppStore by clicking the image below.
Once you have successfully downloaded the app, the installation process will begin almost instantly. Give it a few seconds to fully install before you start trading using Olymp Trade Android and iPhone app.
The next step is to log in to your Olymp Trade trading account. If you don't already have an account, use the registration tab on the app to register.
You will get $10,000 Free Demo units which you can use to practice trading – risk-free – on real market conditions.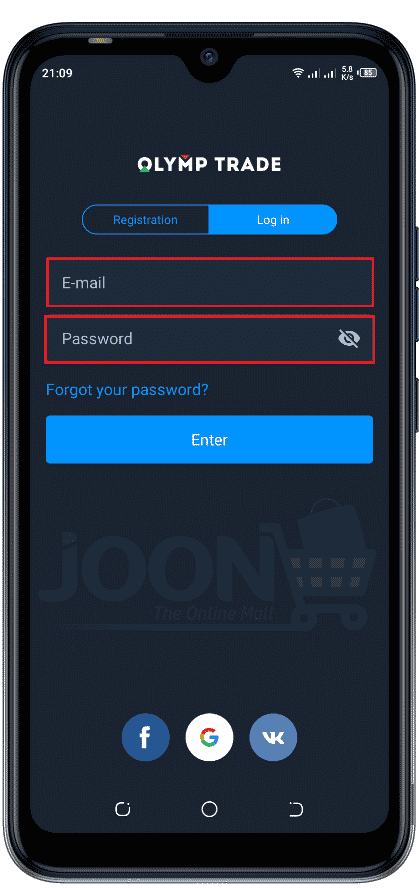 Understanding the Olymp Trade app interface and tools.
When you first log in to your Olymp Trade app, this is how the trading interface looks like: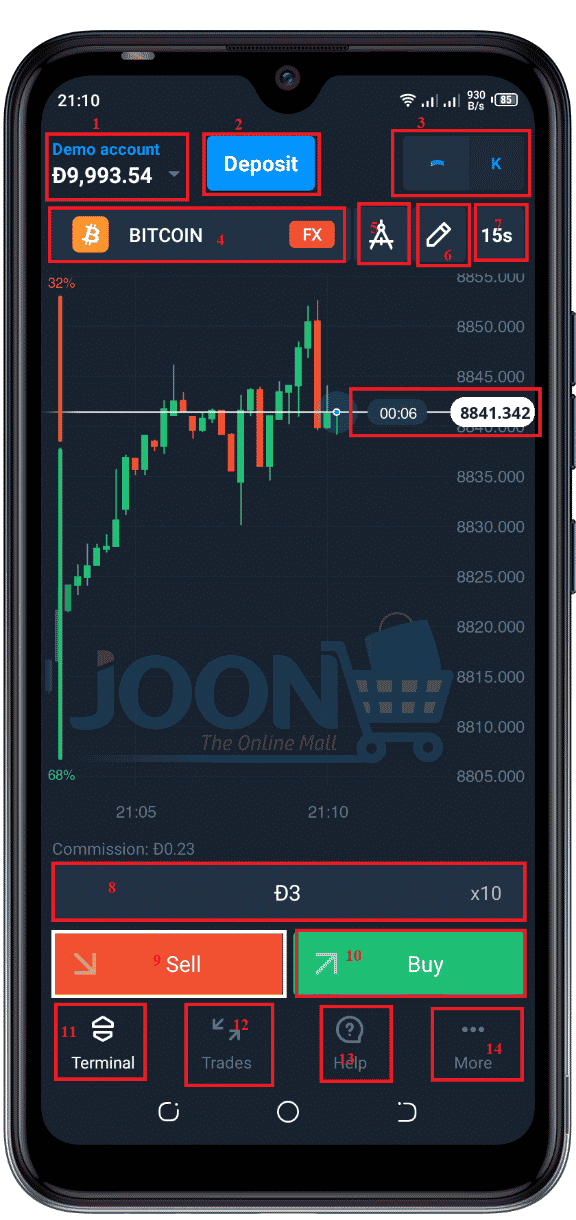 We have attached each tab to numeric values which we will use to explain how the platform works.
Each number in this list represents the tabs shown in the image above.
This is where you see the type of Olymp Trade account you are currently using along with its current balance. Use this tab to switch from demo account to live account and vice versa. Also, if your demo account balance runs low, you can replenish it from here.
Deposit button – Use this button to deposit funds into your Olymp Trade trading account. Just click on it and select the amount you'd wish to deposit, choose a payment method from the list, and complete the process by following instructions on how to deposit.
This is the place where you can access your personal profile. Also, use this section to adjust profile settings and even log out from the Olymp Trade app. You can also find your user ID right under your name in this section.
This shows the name of the asset you are currently trading and the type of trade, whether Forex or

Fixed Time Trade

. To select a different asset, just click on this button, decide if you want to trade Fixed Time or Forex. Then go ahead and

select the asset you want

e.g (EUR?USD) and it will be added automatically to your trading chart. If you don't see the asset right away, use the search option at the top.
The compass symbol leads you to Olymp Trade technical analysis tools. From this place, you can add indicators or oscillators to the chart. Additionally, access Olymp Trade trading strategies from here.

The pencil symbol allows you to draw lines on the chart. Use this button is you want to draw a trend line, vertical line, or horizontal line.

This shows the interval of the candles. You can change how long it takes for a single candle to form. Also, in here, you can change the

type of chart

(Japanese candlesticks, bars, Heiken Ashi, and Area chart).
This is the section showing you the investment amount. Here, you can specify how much you want to invest in a single trade. To change it, tap on it and type the exact amount.
The red button is the sell button. Use it to open a sell position during a downtrend. As such, after analyzing an instrument and you think its prices are going to drop, use this button to enter a sell position. And if your prediction is correct after the expiry time is over, you make money (up to 92% of the invested amount). If you are wrong, well, you can guess what happens.
Use the green to open a buy position during an uptrend. If you think the asset's prices are going up, use the green button to enter a buy position. Once the trade expiry period is over, you will either make or lose money. This totally depends on your predictions.
The terminal button is like a 'home' button. It takes you to the chart.

Trades tab is where you can access trade history. Find all the trades you have executed in the current account

Help button takes you to the resource section of the Olymp Trade android and iPhone app. Here, you can find answers to most of your questions including access to the Olymp Trade support team. Additionally, you can use this section to find guides on how to trade on Olymp Trade.
More button is where you can deposit funds, send out withdrawal requests, view transaction records, view the app settings, etc.
What to do next.
Now that we are done with the tour for Olymp Trade app on Android and iOS; it's your turn to familiarize yourself with the app.
Try it on a demo account to see how it works.
Also, you can bookmark this post for future reference.
Useful Links 
---
*Risk warning:
The information provided does not constitute a recommendation to carry out transactions. When using this information, you are solely responsible for your decisions and assume all risks associated with the financial result of such transactions.