As a freelance writer, the initial step is the most difficult in finding a writing gig.
There are so many writers out there with more experience at freelancing than you do.
And they have a larger client base than you currently do.
---
Simply put, there is still competition in Online Writing making it very difficult for new writers to get a share of the market.
However, there are still several easy ways to position yourself in the freelance writing business to get hired amidst that stiff competition.
In this post we list 10 easy ways to get your first writing job online.
Preferred for newbies but experienced writers can also use the tips to get more clients.
To begin with: –
1. Cold Pitching 
One of the best ways to get a gig is to cold-pitch. It is very bold as it involves approaching potential clients who may not have expressed need. As a freelancer, you need to be constantly marketing yourself to clients.
In writing the clients could be bloggers, companies without an online presence, and new websites.
To be more effective in your cold pitch, you need to;
Find the right client

Be brief and to the point

Explain what you have to offer

Speak to the client's needs

Establish credibility with a few work samples

Follow up
2. Guest posts 
To jump-start your career, you can do posts on others' websites for free as a guest.
What makes it hard for clients to pick beginner writers is that they cannot see your work and if you don't have sample work to show, you end up with situations like this: –
Writing guest posts makes it easy for potential clients to find you. It also helps you establish credibility when pitching to other clients.
Websites that allow guest posts are several, but here are a few common ones you may want to try;
To find more sites that accept guest posts on google, search for the niche you are interested in plus (+) guest post e.g Health and Wellness + "Guest Posts"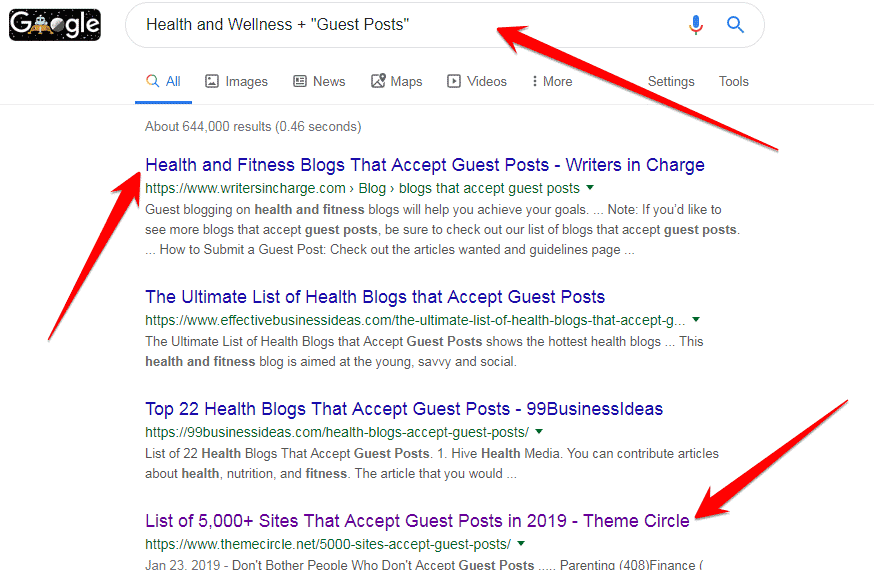 3. Warm-pitching 
This is a softer way to pitch. It is not as bold.
Warm pitching involves following potential clients and keeping tabs on them and their opportunities. You can also find ways to get involved passively in their community by writing comments, and sharing opinions before you eventually express interest.
The best place to get these kinds of opportunities is on LinkedIn, Twitter, Facebook, Medium, Tumblr, Instagram, Baidu…
4. Advertise on your social media 
If you have a large following, you can advertise your services through your social media.
All you have to do is express availability and the kind of services you offer.
Some professional networking sites that can help with this include: –
5. Use online marketing tools 
Many online tools help you market your services like About me. About me adds an addon automatically to all your emails and messages where someone can click and find out the services you offer.
Contently is another marketing tool for freelancers. It enables you to share your samples.
Other tools include: –
Proposify

Prospero

Draftsend

Hootsuite
6. Create an account on a freelancing platform 
Using a freelancing website is perhaps the easiest way to find your first writing job.
They compile all listings for you, serve as payment middlemen and even have writing tools to help you start your freelancing journey.
All you have to do is bid on several jobs and hope to be picked for freelancing projects.
Freelance writing job websites include: –
Upwork

IWriter

Fiver

iFreelance
7. Respond to Job advertisements 
This is perhaps the most obvious way to get your first writing job online or offline. There are always listing on websites for writers if you know where to look.
You could find them on networking websites like Linkedin or even advertisement boards such as Craigslist for international writers, and Fuzu.com and  BrighterMonday for local jobs.
8. Look for local clients 
People ignore this, but it is a very efficient way.
Sometimes, the gig is closer than you think.
Network with the businesses around to find out if they have opportunities for you.
You could also speak to those you know and ask for referrals.
9.  Contests 
When using sites such as freelancer, you may face a bit of difficulty when placing bids for jobs as a beginner.
Mostly, in terms of experience profile, you'll rank the lowest among the bidders.
Contests are neutral ground for all freelancers to participate.
They do not guarantee payment, so most freelancers avoid it. This makes it easier for you as a newbie to win the contest and build your profile.
Some of the easy contests available online include: –
Logo design contests

Storytelling contests

Designing branded stationery

Graphics design

Shirts design

And more.
10. Start a blog 
If you are having trouble getting your work out there. Maybe you haven't found contests or guest-posting opportunities for your niche. You could always start a blog.
Having your blog or website allows you to manage your content. You are your boss and you give yourself and others gigs.
For your site to pick up, it may take a while and a lot of effort on your part. Eventually, it pays off.
Another advantage of writing your blog is that it establishes your credibility as a writer. When applying for other online gigs, you stand a better chance of getting orders.
That is because you now have the experience that clients have been looking for in pitches.
As a freelance writer, you don't have a salary that is guaranteed. You earn as you work.
Finding work is therefore crucial not just as a beginner but even as you carry on. All these methods mastered, will make your first landing writing job a lot easier.