Congratulations on deciding to trade online with Olymp Trade. I know how fulfilling taking this bold step feels like.
But if you've never had a trading account then chances are, you are confused and thinking;
How do I start trading?
---
If that be your question then you are in the right place. Because in this article, I will show you how to place your first fixed time trade on Olymp Trade.
You will learn how to add and adjust indicators among other important practices of successful trading.
Let's dive right in, shall we?
Getting Started on Olymp Trade.
Before you place your first trade in Olymp Trade, you first need to open an account. I know you already have one. But in case you don't, follow this link to register.
The Olymp Trade demo account is free and comes with $10,000 virtual money for practicing.
But, isn't that just all you need to begin trading?
And now that you have it, let's go ahead and learn how to place a first fixed time trade on the Olymp Trade platform.
First, make sure you're logged in to your Olymp Trade account.
Use the email and password you joined Olymp Trade.
Feel free to use the login button on this registration form to access your account: –
Once you are logged in, this is what you will see on the desktop. Of course minus the numbers.
You can customize everything on this window for better interpretation of the charts and to better understand the platform.
Customizing the Olymp Trade Platform for Easy Trading (For Newbies).
First, you may want to change the type of chart on your account.
To do that, locate the charts button on the bottom-left of your screen (watch the video below to learn how).
Now click on it to reveal its content. You will see a list of charts; Area chart, Japanese candlesticks, Heiken Ashi, and Bars
Select Japanese candlesticks. It is easy to use and preferred by almost all traders.
Now, your chart should look like the screenshot below
To start trading, choose the asset you wish to open a position on.
To do that, navigate to the assets button (shown as number 1 on the image above) and click on it. You will see a list of assets available to trade on Olymp Trade. Most newbies prefer trading currencies (EUR USD, GBP USD, USD JPY, USD CAD, and likes…
When it opens, you will see a window such as the one shown below.
Notice those four columns?
Select the Fixed Time (1). Always use this option when trading fixed time trades.
The second row (2) shows a list of assets. This includes currencies, cryptocurrencies, gold, stock, commodities, and indices, among other tradable instruments. Switch into any of them by clicking on the name located below the rows (see the red arrow on the above screenshot). Remember, during weekends, the only operating assets are crypto. All the others only operate 5 days a week.
The third one (3) shows how your asset changes within 24 hours.
The last row (4) shows a possible rate of return. Here, you should always go for those assets with the rate of return of over 80%. Just click on 80% below the rows.
Based on the criteria described in (4) above, I found Ethurium showing an 80% rate of return.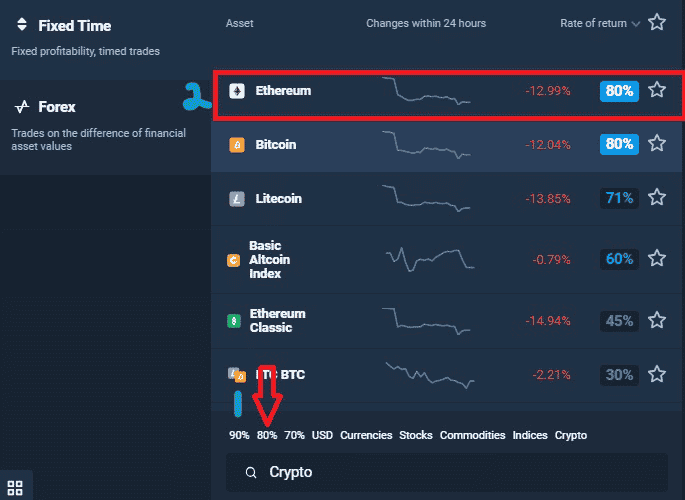 Let's pick it (once you find your preferred asset, click on it and it will be added to the chart).
Next;
The green and red candles represent the price of the chosen asset at a given time. You can choose a chart time frame from 1 minute to several hours to increase or decrease the time it takes for one candlestick to form.
Opening a Fixed Time trade position on Olymp Trade.
Once the instrument is added to the chart, look at it, and determine the kind of prevailing trend.
In a nutshell, a trend is the general direction of the market. As such, the prices can be going up to show an uptrend.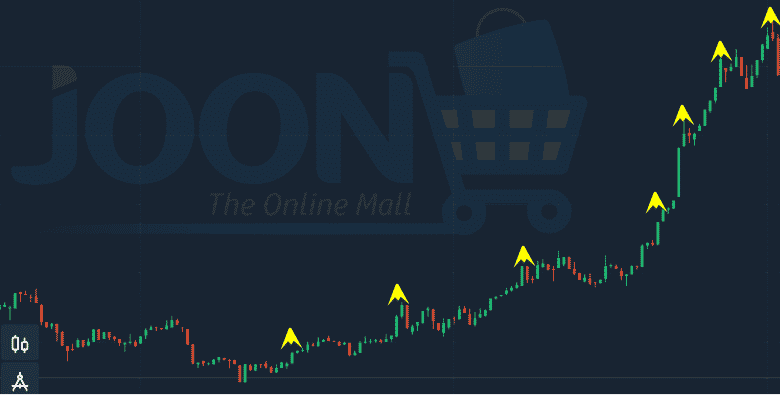 Or downwards to hint a downtrend.
Sometimes, it is easy to determine the kind of trend in the market by just looking at it.
Other times, it just isn't so easy.
You can, however, use Olymp Trade trend indicators to tell which direction an asset is headed to.
Discussion on how these tools work is beyond the scope of this article but if you are interested in learning about the indicators available on Olymp Trade and how they work, don't hesitate to check our educational resource here.
Moving on, once you've determined the direction of the asset, it is time to open a position.
Basically:
If the prices are going up, you should enter a buy position

On the flip side, if the prices are decreasing, enter a sell position.
From our chart below, we can determine that the prices of Ethurium are increasing.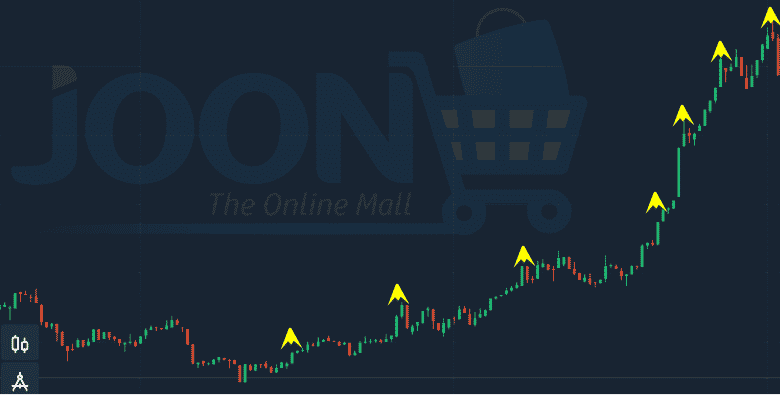 For this reason, we should open a long position.
But before that, there are some parameters that we need to set to execute our trade seamlessly.
For simplicity, I have marked (numerically) the processes on the image below and further explained them in points.
This is where you specify how long you want the trade to last. After which it expires and you make or lose money depending on whether your prediction was correct or wrong. You can pick any expiration time from 1 minute to several hours. I picked 5 minutes. Meaning, after 5 minutes of opening the trade, I will know if I made a profit or lost my invested money
This is where you specify how much you want to invest in a trade. Click on it and type the amount. Olymp Trade allows a minimum of $1 and a maximum of $2000 on a standard account. I choose $2000
Since I have determined the prices are going up, I will click on the green button (Buy button).
If the prices were going down, I would have used the red button. This is the sell button, use it every time you think the asset is going down.
Now, when you click either of the buttons, two things happen.
One, the account balance will decrease. The amount will be less by the amount you invested in the trade. So if you invested $3 and you had $10,000, your balance will be $9,997.
Second, after the specified period has expired, the above balance either remains the same or increases.
How?
Well, your balance remains at ($9997) if your prediction was wrong. Meaning, you lost $3 you had invested.
On the other hand, the balance will increase by $5.4 if your prediction was correct.
So, where does that increment come from?
Remember when we were choosing an asset?
We picked one with an 80% return rate, which meant that for every dollar we invest, we will get an additional 80% profit.
Now, here is the math:
80% of the invested amount + the capital [(80% of $3) + $3] = $5.4.
In this case, $2.4 is the profit as $3 was your initial investment.
What happens if your prediction was wrong?
If your prediction is wrong, you only lose the invested amount. Nothing less or more.
And that is how you place your first fixed time trade on the Olymp Trade demo account.
Since a demo account is for practicing, and you are a newbie, you can drain your $10,000 account balance to continuous losses. And when that happens, don't worry. Instead, read this post to learn how to replenish a demo account and recover the initial $10,000 at no cost.
Further, let's look at how to place your first fixed time trade on a live account in Olymp Trade.
Trading FTTs on the Olymp Trade Live account.
Before we begin, let's first switch to a live account. You can do it in two steps as shown in the image below.
Click on the DEMO ACCOUNT button and select a Live account.
Trading on the live account is no different from the demo account. The only difference is that you are using real money in the former and virtual money on the latter.
As such, to trade on a live account, you must first deposit funds.
Click on the Deposit button and you will see a window like the one shown in the image below.
Choose the mode of payment. Olymp Trade has several options such as Bank cards (credit and debit cards), MPESA, Neteller, WebMoney, Skrill, and Bitcoin.

Input the amount you'd wish to deposit and use promo code if you have one. The Olymp Trade promo code that's currently active is (boy30).

Click Deposit to finish the process.
Wait for some minutes and the funds will reflect in your Olymp Trade account.
Wrapping up
To place your first fixed time trade on the Olymp Trade platform, first, choose the instrument, determine whether the asset is going up or down, specify the trade expiry time, decide on how much you want to invest in the trade, and then finalize by clicking on the appropriate button (green for buy position, red for sell position).
Wait for the trade to expire to see the results. Your account balance increases if your prediction was correct and reduces if you were wrong.