Olymp Trade is an online trading platform that offers a wide range of assets for trading, including forex, stocks, cryptocurrencies, and commodities. Traders on the Olymp Trade platform can make money here by either trading or promoting the product, running a blog, YouTube channels, or TikTok about Olymp Trade among other methods. But how does Olymp Trade make money? Read on to find out!
1). Commissions charged on Forex
Though Olymp Trade is popularly known for Fixed Time trading, it also offers Forex and Stock trading on the same platform. Because Olymp Trade does not charge spreads, it takes a commission for each trade placed by the trader.
And, these commissions vary based on the size of the trade, the asset traded, if a trade runs overnight among other parameters.
---
Ideally, a trade placed with $1 with leverage of 1:500 would be charged a $0.12 commission on Olymp Trade and a trade placed with $10 with a leverage of x50 would only attract a $0.11 commission on Olymp Trade.
Simply put, leverage also plays a big role in how much you pay per trade in Olymp Trade Forex.
You can confirm how much commission Olymp Trade will charge your trade by checking the information under the CALL and PUT tab before placing your trade.
2). Olymp Trade Makes Money By Selling Trading Strategies on Olymp Trade Market
Olymp Trade recently introduced a unique feature in its online trading platform – the Olymp Trade Market. On this platform, Olymp Trade sells different tools including themes and trading strategies.
If you want a ready-made winning strategy on the platform, you can purchase it from the Olymp Tarde Market for the listed price.
To get started, simply log into your account and click on the 'Market' tab. From there, you can browse through the available strategies, and BUY what you want.
3). Sales of Trading Signals on Olymp Trade Market
Other than selling trading tools and charging a commission on Forex, Olymp Trade also make money, through the sale of trading signals on their market.
This is a service that they offer to traders who want to make money trading but aren't ready to do their own analysis.
The signals are generated by the Olymp Trade algorithms and provide information about when to buy or sell certain assets.
The prices for these signals vary depending on the asset and the time frame, but they typically range from $2 to $5.
You can pay for Olymp Tarde signals using your Olymp Trade account balance or through a variety of other methods including Binance, Skrill, and credit/debit cards.
Once you have purchased a signal, you will be able to see signal offerings on your chart. You can then use it to place trades on the assets that it covers. If the signal is successful, you will make a profit. If it is not, you will lose money.
It's needless to say that purchasing Olymp Trade does not guarantee success and that you should also analyze the market to increase your chances of success.
4). Sales of Special Trading Indicators and Tools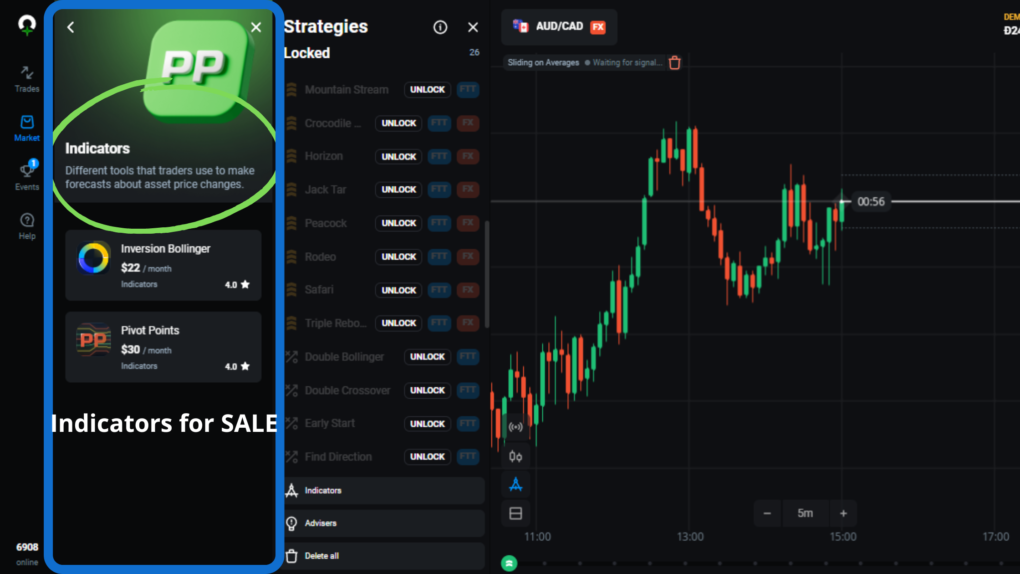 Olymp Trade offers a variety of FREE trading indicators and tools to all traders. Some of these FREE indicators include but are not limited to the following:
MACD Indicator
RSI Indicator
Fibonacci Retracement
Bollinger Bands
If you want specific indicators your an improved trading experience on the platforms, then you can also visit the Olymp Tarde marketplace to purchase special indicators.
Some of the best indicators currently selling on Olymp Trade include: –
The Inversion Bollinger Indicator
Pivot Points
Each of these indicators and tools can be used to help you make more informed and successful trades.
For example, the Inversion Bollinger is a unique combination of two Bollinger Bands indicators with different settings presented as an oscillator for the trader's convenience.
If you buy this indicator, it will prompt you when to buy or sell the asset.
By selling these indicators and tools, Olymp Trade is able to generate revenue and profit from its clients. This is how Olymp Trade makes money on the side.
5). Trader Loses on Fixed Time Trades
Have I already mentioned that the Olymp Trade platform offers both Fixed Time trades and Forex Trading?
While Olymp Trade will charge you a commission for trading Forex on its platform, it will not charge you anything for trading FTT. Why? Because it makes money when some traders lose money on the Fixed Time trades.
It's either you forecast the correct movement of the market on FTT and get back your stake with a profit of up to 92% or lose your trade amount. If you lose a Trade, the money you used on that trade goes to the platform.
Why Traders Lose Money on FTT.
The main reason why traders lose money on Fixed Time trades is that they don't properly manage their risk.
Fixed time trades are a very risky trade type, and if a trader doesn't have proper risk management in place, they can easily lose all of their investment.
Another reason why traders lose money on Fixed Time trades is that they don't analyze the market before trading.
Trading without first analyzing the market can lead to serious losses including losing everything. Before you commit to trading, make sure you have some idea; either technical, fundamental, or based on price action on what the market will do next.
If you're thinking about trading on Olymp Trade, be sure to carefully consider all of the risks involved.
Fixed Time trades can be very profitable, but they can also be very risky. Make sure you have a solid risk management plan in place before you start trading.
How to Make Money from Olymp Trade
We have looked at how Olymp Trade makes money as a company and now, we should look at how you can also make money on the same platform.
So, how can traders make money from Olymp Trade either by trading or through other methods?
You can make money in Olymp Trade by trading stocks on the stocks platform on Olymp Trade. All you have to do is BUY stocks low, hold hoping they will increase in value, and SELL high.
You can make money from Olymp Trade by trading Forex, or Fixed time Trades. Both platforms can be accessed from any device and you only need one account to trade whatever you want. Plus, you only need a $10 deposit to get started, the minimum trade amount is $1 and, you can withdraw as little as $10 when you are done trading.
You can also make money on Olymp Trade by promoting the platform. This is especially true for webmasters and influencers.
To learn more about how you can leverage your skill to make money on Olymp Trade, read this post.
Conclusion
Winding up, Olymp trade makes money through
Commissions charged on Forex
By selling trading strategies on Olymp Trade Market
Sales of trading signals on Olymp Trade Market
Sales of special trading indicators and tools
When traders lose money on Fixed Time Trades
Among other methods listed in this post. If you are keen enough, you will notice that these are smart additional services to help you make money alongside the platform. Take advantage of each possible tool, indicator, or VIP strategy on Olymp Trade to increase your chances of making money on Olymp Trade.
Which method used by Olymp Trade to make money online surprised you? Tell me about it in the comments section. Let's have fun with this post.
Tagged With : how to earn from olymp trade • how to earn money from olymp trade in india • how to make money from olymp trade • how to make money on olymp trade in nigeria • how to make money online with olymp trade • how to make money through olymp trade • how to make money using olymp trade • how to make more money in olymp trade • how to make profit olymp trade • what is olymp trade and how does it work • what is olymp trade and how it works