Do you have or intend to hold a small Forex or Fixed Time Trading Account?
Are you wondering which strategies are suitable for a small account? Then you are in the right place.
In today's post, I'll show you 7 best trading strategies for a small account.
---
But wait a minute, what do we mean by a small account?
A small account, in this case, depends on various factors; capital, account type, and leverage if you are trading Forex.
How small is a small account for you?
Some strategies require huge accounts of at least $100,000 while others are just suitable for small accounts of $10,000 or less.
Others still fit small accounts of $1,000 and others, small accounts of $100.
Define what a small account is in your own terms, and you will find a suitable strategy to use.
Scalping.
Scalping is a fast-paced method of market analysis and execution of trades. 
If you are a scalper, it means, you read and interpret chart data in a matter of seconds and then place trades almost immediately.
And in a few minutes when your trades make money, you close them and take whatever little profit that's been made.
What that means is, as a scalper, you will keep your eyes glued on the screen to spot trading opportunities in splits of seconds.
Good as this strategy sounds, you will win some trades and lose others.
You must balance your trades well so that your wins are more than your losses.
This ensures that you end up with profits at the end of the day. 
News Trading.
What else does News trading imply if not trading in response to news affecting certain assets?
If there has been a News release that affects a currency, commodity, stock, cryptocurrency, index, or just any other asset, go ahead and trade that asset accordingly.
A news event which implies a growth in price will call for a buy position while one which implies a decline in the price of that asset means a sell.
You only need to follow economic calendars and establish which news events are significant to which asset.
News events are almost always accompanied by significant price moves in the direction favored by the news.
That way, a well-timed entry followed by a huge price move in the predicted direction can really serve your small account a huge boost.
Range Trading.
A range means that the price is trading within an upper and lower level without breaking the levels up or down.
Whenever the price reaches the upper level, it reverses downwards to the lower level.
On hitting that lower level of the channel, the price reverses again upwards towards the upper level.
If you notice this consistent behavior in prices, can't you figure out a way to profit from this repetition?
The answer is Yes! You can trade that range.
Just establish the levels first, then watch to ensure the price always reverses at reaching such levels.
Wait for the price to retest the level and reverse before entering a buy at the lower level or a sell at the upper level. Successful trade setups are bound to grow your small account big time.
Breakout Trading.
Do you remember everything we said about range trading?
Well, let us build from there.
Not always will the price trade within two unbreakable levels.
At times the price breaks any of the levels and rallies away from that range and may never even return.
That is what is called a breakout.
You first need to have identified a ranging behavior of the price.
While waiting for the price to reverse at any of the two levels, something unusual occurs and that is the price breaking the range.
Once you spot that, be patient and keep calm as you wait to see what more hints the price has to offer.
See to it that the price actually retests the level it has broken successfully without returning into the range.
You can then trade in the direction of the breakout.
A successful breakout will actually move a distance equal to or more than the height of the range. That translates to profits in your account.
Retracement Trading.
A retracement is a pause in the prevailing market trend before that initial trend resumes.
How to know that a retracement is happening is by first establishing that there is a strong trend in one direction.
If then the price tries to move in the opposite direction, it is most likely just a slight price correction before the trend resumes.
Once a retracement is over and the initial trend is resuming, that is the time to enter a position in the direction of the initial trend.
You can imagine how much your small account will profit if the primary trend actually resumes and rallies all the way up or down.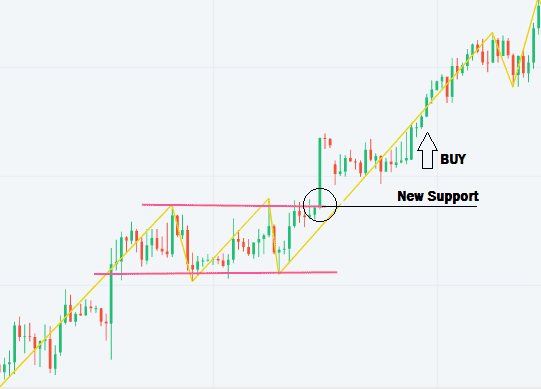 Moving Average Strategy.
The best way to apply moving averages is to use two of them, with different periods and colors to distinguish them.
Once you apply them on your chart, you are ready to trade the strategy.
Buy Set-up.
The two moving averages pointing up.

Shorter period MA crossing over the longer Period MA upward.

The price trending above the moving averages for a while.
Sell Set-up
The two moving averages pointing down.

Shorter period MA crossing over the longer Period MA downward.

The price trending below the moving averages for a while.
Money Management Strategies.
While trading any of the above trading strategies, you must incorporate a money management strategy.
Your small account needs money management for protection as it also grows.
The best money management for Fixed Time Trades is the Martingale while for Forex Trades is the use of proper risk to reward ratios.