Last updated on 10/19/2021 – Personally, I use the KCB (Quick serve) VISA Card to make Olymp Trade deposits.
If you have the card make sure it is enabled for SMS such that when you make a successful Olymp Trade deposit you receive this message on your phone.
USD 10 transaction made on KCB Card (number) at LIMASSOL on (date) (time) available balance KES (Bal) Enquirers Call – +254711087000 (KCB Bank Contact)
While loading your skrill account with Mpesa seems easy and convenient; it is often a long and tedious process that requires time and patience.
As in, you have to wait  – like forever for the approval of Eastpesa (the transfer service for Mpesa-Skrill).
And when EastPesa decides to approve your new account; you still have to wait an eternity to see your funds uploaded.
That sucks!
It gets worse when after hours or sometimes a day – you have to keep begging Eastpesa to fund your account and their agents get rude.
And please tell me that this hasn't happened to you too.
This long wait is probably because there isn't another way to send money to Skrill but to use Eastpesa.
Which so far, Joon Online readers from Kenya describe as crappy, inconvenient, and unreliable.
I'd go on and on listing more adjectives I've heard and read about the service…
But badmouthing the Eastpesa service isn't why I'm writing this post?
Rather I'm writing to show you a new way to deposit money to skrill — conveniently.
A new way that cuts Eastpesa and reduces the wait time to 1 second.
Which is ideal

  especially if you are rushing to lock down on Olymp Trade Double bonus for deposits done within the hour of registration.
How to Load Skrill Account With Visa
> Login to your Skrill Account
> Locate and click on the deposit button as indicated in the image below (Step 1)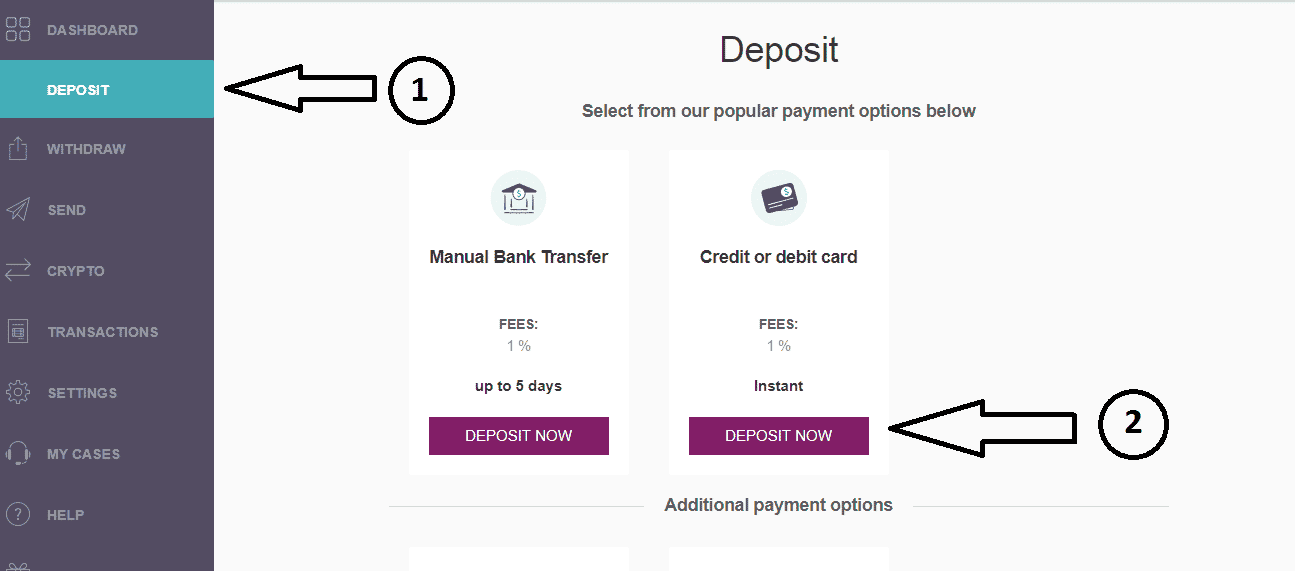 > Next click on the Deposit Now button under Credit or debit cards (indicated in the image above as 2). These are Visa cards. Works for all banks. So don't be afraid that it may not work.
> Now fill all the fields marked with the red star and click (ADD CARD TO CONTINUE)
> Next choose the amount and deposit
Your Skrill Account will be loaded instantly.
How to Load Olymp Trade From Skrill
Now that your funds have reflected on Skrill, Login to Olymp Trade to begin the process.
Click the make deposit button on top of your chart then choose Live Account.
You will be redirected to a page with all the payment methods. Choose Skrill
Input the amount you'd wish to deposit.
You will be redirected to the Skrill Payment page.
Login to Skrill to complete the process.
Your new account balance will be updated instantly.
Important
In order to make a deposit from Visa cards the following conditions must be satisfied:
The card must be VISA or MasterCard.

Your name must be written on the card.

3D secure system of your card must be enabled (The SMS code, which is sent by your bank to confirm the online purchase). Visit your bank to enable this.
Tagged With : Load Skrill Account With Visa