Do you want to start making money in Olymp Trade?
I'll help you with the tips for starting out on this post.
Just follow the steps outlined below to begin.
Register an Olymp Trade account here. Or install the Android app/ iOS app .

Follow my success method to start making money. It is simple and proven to work.
Start with the DEMO account to learn how it works.
Or deposit money to start trading with a real account.
Interested?
Join Olymp Trade here.
Install the Olymp Trade mobile app here to start trading.
Make a deposit – minimum $10. Use Skrill, Neteller, Bitcoin, Webmoney, Qiwi, Yandex, Fasapay, or Visa.

Start trading with a minimum of $1 in Olymp Trade.

Trade with the FREE $10,000 DEMO credits to get a feel of how this works.

Trade with LIVE Account to make profits and withdraw.
How Much Should I deposit to Olymp Trade as a Beginner?
The least you can deposit to Olymp Trade is $10.
But, if you ask my recommendation, I'll say deposit at least $100.
And here's why;
If you deposit $100 you get a $20 deposit bonus.

If you make the $100 deposit within the first hour of registration you get $220 deposited into your account.
Broken down: that's your $100 + $100 (for first time deposit made within the hour) + 20% deposit bonus.
$100 deposit gives better leverage.
How to Start Trading in Olymp Trade – Tips for Beginners.
Login to Olymp Trade to set your chart.
2. Select the asset to trade. Below are my preferred assets.
USDJPY or EURJPY – (Highly volatile in the Asian Session – Trading Period – 00:00 am — 09:00 pm UTC) – convert to Kenyan time to the find best time to trade FTTs in Kenya.

EURUSD, USDCAD, GBPUSD, USDCHF, EUR RUB, or USDRUB – (Highly Volatile in the European Session – Trading starts at 06:00 am — 03:00 pm UTC).

EURUSD, USDCAD, GBPUSD, USDCHF – American Trading Session – (Highly Volatile – Trading starts: 01:00 pm — 10:00 pm UTC).
Note – The assets in blue are my favorite. Convert time from UTC to your regional time to know when the best time to enter these markets are. Trading on a highly volatile market ensures that you win more because entry and exit points are clearer.
3. Select Candlesticks.
4. Select 1 minute as your trade time (up to 10 minutes is the ideal time for a highly volatile market).
5. Chose Sentimental indicators for your chart (Sentiment indicator will show you what other traders are trading).
Olymp Trade Tip for Beginners – Try Demo Trading First.
How To Start Making Profits With Olymp Trade.
Strategy 1.
To make profits from your trades, you're going to do more than just click on random buttons.
The first and easiest strategy is to use the sentimental indicator to know what to trade.
This indicator shows you what most traders are trading at a given time.
Look at the sentimental bars to confirm the position of other traders.

Choose the amount to trade – minimum $1.

Select 1 minute.

Again, what's the position of most traders? Are they putting or calling FTTs?

Put your money where other traders have put theirs.

Wait for 1 minute to see the results.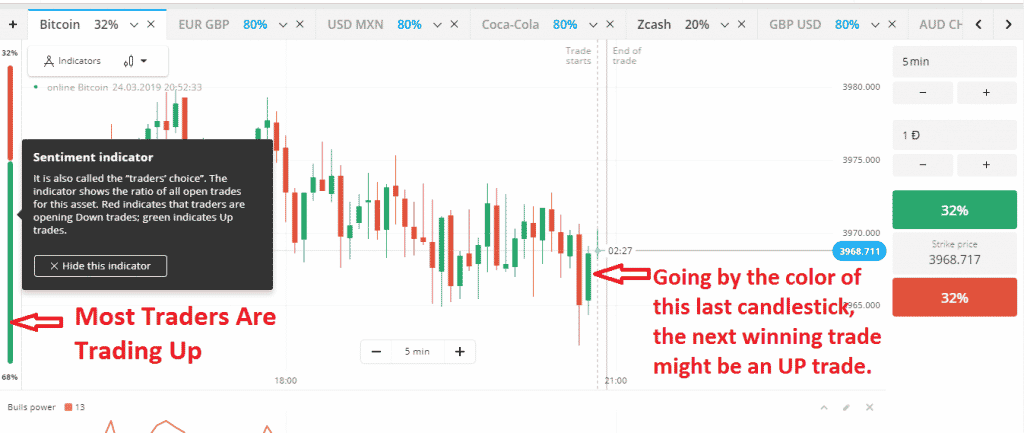 Tip to help you stay in the game longer –

Sentimental indicators show how investors are trading at a given time. They can also be used to forecast the future behavior of traders. For example, if a huge percentage of investors are trading UP, chances are the market will soon turn and start going the DOWN direction. Be careful not to follow a sentimental trend for too long.
Strategy 2.
Use Diversification as a Strategy for Compensation.
As a newbie or sometimes an experienced trader you will get false alarms of the market heading UP when in fact it is going DOWN. And vice versa.
You can lose a lot of money if you don't change your trading style then.
One such easy way to ensure that you still win more even if the market only presents a 50% chance of winning at a given time is to diversify your trades. Put different trades on different assets.
2 Factors to Consider When Diversifying Your Portfolio. 
Know if you are cut for risks before using this strategy. This is because diversification involves investing more in different assets at a given time. And you don't want to make emotional investments? Lest you blow your account in a minute.

Know your risk capacity – How much can you afford to invest in the market at a given time? Well, however much your account balance is, you don't want to invest anything above 5% in the financial markets. Trust me. My recommendation, ignore your willingness to trade everything at a go – this is not poker – and it isn't gambling either. Just stick to investments below 5% of your account balance. In fact, try to do anything between 1% and 3% – until the account has grown. By this, I mean that if you have $100 your ideal risk capacity should range between $1 to $5.
How to Diversify Assets in Olymp Trade. 
Review the market to find volatile assets. Volatile assets offer the highest probability to win more.
Tip – Volatility doesn't appear by chance. Know when each trading session begins to understand when it is best to trade. Go back to the third sub-topic of this post to see the trading sessions and the volatile assets recommended.
2.  Decide if to Call or Put an FTTs in a given asset.
For example, you can pick EURUSD- it is highly Volatile between 06:00 am — 03:00 pm UTC – in the European trading session.
3. Repeat the same procedure on other volatile assets (diversify).
4. Wait for those trades to expire to collect your profits (if you win).
Note: You can only have 10 open trades at a given time. 
Strategy 3.
Use the SMA indicator to Improve your Trading Performance.
For the step-by-step guide on how to set the SMA, read my earlier post – How to Use Olymp Trade SMA Trend Indicators to Win More.
Strategy 4.
Early Closing of a Trade.
Did you know that instead of waiting for your trade to expire, you can actually sell it and cash out early?
Well, this is very much possible.
But, how?
Just use the sell function on the trading platform. The selling tool allows you to close a trade and get a refund before the expiration. This function is available in both desktop and mobile trading versions.
If you register via the form below you will get 30% bonus on all your deposits. Valid till 31st December 2020. Register and use this promo code – boy30 to get an additional 30% on all your deposits. Example, deposit $100 and get $130 in your trading account.
Useful Links 
[fcrp_review_sc room_id="7823″]
Tagged With : bonus code olymp trade • bonus promo code olymp trade • Olymp trade Argentina • olymp trade bonus code • olymp trade bonus promo code • Olymp trade Colombia • Olymp Trade Ecuador • Olymp trade login • Olymp trade Mexico • Olymp trade Peru • olymp trade promo code • olymp trade promo code 2019 • Olymp trade registration • Olymp Trade South America