In finance, Fibonacci retracement is a method of technical analysis for determining support and resistance levels.[1] They are named after their use of the Fibonacci sequence.[1] Fibonacci retracement is based on the idea that markets will retrace a predictable portion of a move, after which they will continue to move in the original direction.(Aspray, Tom, 13 August 2011)
Though unpopular to many a newbie trader; Fibonacci can be used to target specific prices when placing orders. In fact if used well; you can pick trading direction almost immediately.
Fibonacci Retracement is Superior to Most Indicators.
Unlike SMA Trend Indicator and other moving averages; Fibonacci retracement levels are static prices. This means, it is easy for you as a trader to act or react when a price level is tested.
To prove this point and to show the profitability levels a trader can reach if they used Fibonacci retracement levels; I did a test.
I picked a newbie trader from among the people who pre-ordered this eBook (Download the whole book here for free) and showed her how Fibonacci works.
Suffice it to say that she had not traded on a live account before. And on her first trial with Fibonacci, she earned a cool $145.6 in a few hours.
This is what she said afterwards: –
"As a beginner of Olymp Trade, I was a bit skeptical about the idea of winning. I didn't know the best method to use to ensure success. So I held on. I did not trade on a live account until I met Kenn Omollo and he showed me a simple strategy from his trading eBook (Fibonacci Retracement). Afterwards, trading in Olymp Trade became seamless and fun for me. This new strategy has helped me make $145.6 in less than 24 hours …" Ivy.
How to Use Fibonacci Retracement to Find Entry Points in Olymp Trade. 
When using this indicator to pick entry points to a trade; make sure the assets you are trading are volatile enough. Fibonacci works better on volatile markets. Reference volatility – Download my trading eBook here to see most volatile assets.
Ideally, you should buy at a Fibonacci support level when the market is trending up. Or sell at a retracement level shown when the market is heading downwards.
Unlike most indicators, Fibonacci tend to predict the future price of assets. And that's what makes it superior in technical analysis.
In simpler words, when you see a new trend direction coming up; just keep in mind that the price will return back to the previous price levels before resuming to the trending direction.
Setting up the Fibonacci Retracement Levels on Your Chart.
To find Fibonacci you have to set your tool on the high and low price points you can seen in your chart as below.
For uptrend, pick Fibonacci under indicators; click on point A and drag your cursor to point B.
If you do it right you will have something like this: –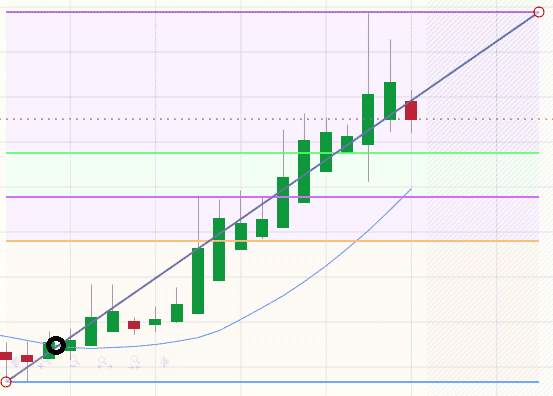 Do you see the trend now?
This is an upward trend.
To pick downward trends, you will do the opposite of what you see above.
You will drag your cursor from top to bottom.
Other data that you will also see with the Fibonacci are retracement levels.
They can be shown in decimal places or in percentages.
See the image below.
What do those percentages stand for?
Simply put the asset traded in the chart above hit a high price at 100% but it will still go back to either of the percentages shown (Support levels) before it can continue in the upward direction.
The retracement will happen because traders will be opening trades at these levels hence the pull back. More often, you will see prices pull back to the nearest support level 61.80% but it can still go below that only to keep rising.
Earlier when I was trading with Ivy, we used this strategy and opened trades with the time option.
Basically what we did was to open trades slightly above or below retracement levels.
Like in the upward trend above, we'd set our strike price around at 63% or 60% if the price was closer to the 61.80% support level.
Meaning we added or reduced percentages by one or 2 depending on the new price.
Note – Having Fibonacci on your chart does not mean you will henceforth be correct on all your trades. It only means that going forward; you can open better trades and maybe win more. Fibonacci can also be used with other indicators e.g. candlesticks, support, and resistance or trend lines for enhanced results.
P.s – This is an excerpt of my trading eBook –  Click here to download the entire book for FREE.
Tagged With : Fibonacci retracement levels in Olymp Trade • How to Join Olymp Trade • How to win in Olymp Trade • Olymp Trade Indicators • Olymp Trade winning