Do you have an Olymp Trade account already?
And how much money have you earned on it since starting to trade with the real account?
Have you earned – USD – 1,000; Ksh. 502,000; JPY – 900; INR – 39,000;  EGP – 12,000 or just as much as MYR -300,000?
Really, how much money have you made with your Olymp Trade account so far!
Nothing?
Don't worry!
The past really doesn't matter.
What matters is how you trade to make consistent profits – going forward.
And if you ask me how to achieve that; I'll almost immediately recommend that you start using trend indicators on all your fixed time trades.
Personally, I use them.
And I believe that applying indicator ensures a nearly 900% correctness in trading.
To help you get the concept right, I will use this post to talk about one indicator only.
The simple moving average, SMA indicator or the ordinary as it is often refereed.
Note that there are many other indicators though!
Like the Parabolic SAR indicators, Sentiment, Bollinger Bands, EMA, The Ichimoku Cloud, Zigzag, WMA, Average Directional index, Alligator among others.
We will discuss each of them later – on separate posts.
But now,
SMA Indicator Explained.
SMA indicator is a trend tool used by traders and market analysts to pick consistencies in charts. 
Traders then use these consistencies to make or increase online trading profits.
The simple moving average tool is literally smacked onto the chart to form a thin line(s) which moves along the trading chart.
Ordinarily, SMA trading strategy is beneficial to all beginning and experienced traders who are really serious about making consistent profits while trading online.
Why Choose SMA?
SMA stands out from the rest of the indicators because it is calculated with the simplest formula in the class.
It is also preferred because it is easy to construct and read.
SMA Indicator Olymp Trade  | How to set the trend indicator in your chart.
After picking the SMA analysis tool the only parameter which you will be able to change in the settings is the number of price periods used to calculate the average.
Note that each line is presented to a standard period of 10 but you can still average it depending on what you want to use your SMA line for.
If your intention is to use it for a short analysis of up to 15 minutes then select your period to be in the range of 5 and 10.
Alternatively, do a period of between 15 and 20 for an accurate medium-term analysis.
In practice, you can set the SMA trend indicators and make changes following the steps below.
Step 1.
Login to your Olymp Trade account. 
If you don't already have an account, use this registration form to create one.
If you register via the form below you will get 30% bonus on all your deposits. Valid till 31st December 2020. Register and use this promo code – boy30 while making a deposit to get an additional 30% on all your deposits. Example, deposit $100 and get $130 in your trading account. Deposit $10 and get $13.
Step 2 .
Click on the A symbol (indicator) on top of your chart – on the left.
A list of all available indicators will pop on the edge of the chart.
Step 3.
Click on SMA.
It is the first option in the list. And be cautious not to click on it twice.
An orange line will be added to your chart and it will immediately start moving along the chart as seen in step 4.
The line moves together with the chart because it is put to standard settings.
You can however change it to get clear results. And to pick trends first.
Step 4 – The SMA Line.
Can you now read any trend with the line you set?
I thought so too!
And that's why instead of ending the guide here I will continue further to show you how to make your SMA line better.
How to change SMA Trend Indicator Settings.
Now that you have your SMA indicator line, it is time to make it easy to read.
Locate and click on the pencil (edit icon) on the chart, next to your SMA tool.

Use the adjusting tool in step 2 to spread your line – personally my lines are spread from 10 to 60. Doing this makes the SMA line streamlined like it is shown in the chart below. This makes it easy to pick the current trend.
In this example, it is easy to tell that the trend is on a downward movement. So if you wanted to win more you'd put an option rather than call.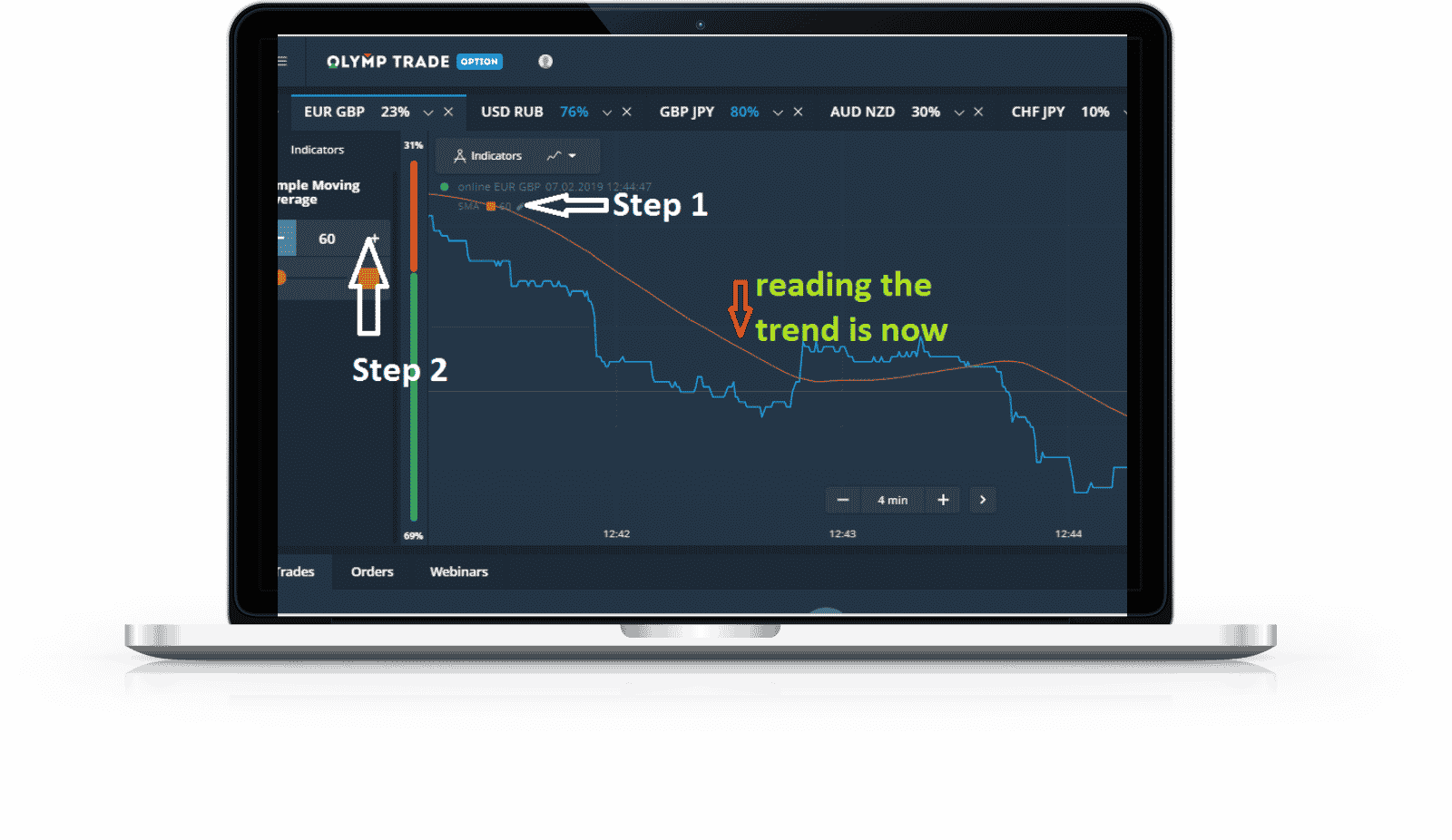 You can also change the color of the line if you want to.
Simply click on the orange box under the simple moving average adjusting tool and change to whatever color you prefer.
What does the SMA tell you?
SMA is highly customizable. This means that you can calculate SMA for different periods of your choosing.
All you have to do is change the periods to depict long and short SMA and you are good to go.
This way, the simple moving average smooths out the price noise (volatility) and makes it so easy for you to see the price trend of the underlying asset on Olymp Trade.
Now, if the SMA is pointing up, it is a signal that the price of the asset is increasing.
On the other hand, if the SMA is pointing down, it means the price is decreasing.
Other SMA signals include:
Determining uptrend or downtrend
When the short-term SMA (period 10) is above the longer-period (SMA 60), there's an impending uptrend

If the longer period simple moving average is above the shorter period simple moving average, that is a downtrend signal.
SMA trading patterns
Two popular trading patterns come out clear on the simple moving average: the death cross and a golden cross
A death cross occurs when the 10-period SMA crosses below the 60-period SMA. This is a sign of a bearish trend and you should sell if you are trading.

A golden cross is caused by short-term simple moving average breaking above the long-term simple moving average. Confirmed by high trading volume, this is signal that there's more money to be made on up trades.
How to profitably trade the SMA signals on Olymp Trade
Buy when the price line is above the simple moving average line (bullish crossover).

Sell when the price line is below the simple moving average (bearish crossover).

When short-term SMA crossover the long-term SMA, enter a long trade.

Exit the trade when the short simple moving average crosses below the long simple moving average.
Theoretically, that's how you trade on Olymp Trade using the simple moving average.
Continue reading to see all we've discussed in practice.
How to Read SMA Signals.
If you monitor and see the Olymp Trade SMA indicator rise above its average, then the indicator's ascending movement will continue.
And when the chart crosses the indicator upwards from below, it likely signals a rise.
On the other hand, a fall of SMA lines below average imply a descending trend.
Meaning that when the chart crosses the SMA downwards from above, it likely signals a fall.
Tagged With : SMA trend indicator • Winning Olymp Trade Africa • Winning Olymp Trade Asia • Winning Olymp Trade Burkina Faso • Winning Olymp Trade in India • Winning Olymp Trade in Kenya • Winning Olymp Trade in Malaysia • Winning Olymp Trade in Nigeria • Winning Olymp Trade in Vietnam • Winning Olymp Trade Kenya • Winning Olymp Trade South Africa