RSI, also known as relative strength indicator is a technical analysis tool in Olymp Trade.
It falls under oscillators.
Unlike moving averages which simplify price data to show trends;
---
RSI' strength is in showing trade reversal and entry points.
Apply this indicator in your chart and you will notice two lines running parallel like in the image below.
These two lines can either intersect upwards or downwards.
When you notice such intersections, consider them a signal to open a trade in the trending direction.
How to set the RSI Indicator in Olymp Trade.
Step 1.
Login to your Olymp Trade account.
Or register here if you don't already have one.
Step 2.
Find the indicator button on top of your chart.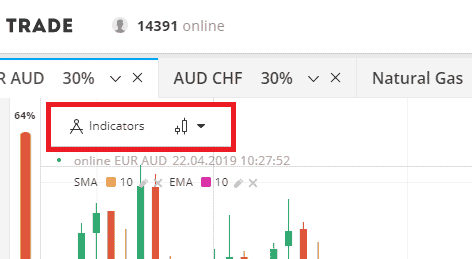 Step 3.
Scroll down to RSI and click on it.
Now scroll down your trading interface to see your RSI indicator.
This is how it looks.
Note – if you edit the indicator by reducing the RSI period, you will receive more signals to open a trade. However, most of the signals will be less accurate.
On the other hand, you can increase the periods of the indicator. Now doing this will give you fewer signals but they will be more accurate.
How to Read the RSI Indicator to Open Winning Trades. 
When using any oscillator, always trade in the direction of the trend.
You can pick your direction by analyzing the direction of the chart and comparing it to the RSI.
Now, if the RSI does not coincide with the price in your chart, know that the trend may soon reverse and it is not safe to open a trade.
If the two directions sync though, open a trade in the direction shown.
Overbought & Oversold Assets as seen in RSI.
Though not so often, you will sometimes notice the RSI line rise above level 70.
Do you know what this means?
It implies that the asset which you are trading is overbought.
Other times you will see it fall below level 30 to imply that the asset which you are trading is oversold.
Overbought Assets.
When an asset is overbought its value grows quickly.
And this only means one thing,
The price soon reacts by going back down.
Oversold Assets.
On the same breath, you will notice oversold assets when the price falls fast then stops.
When an asset is oversold, you can expect to see it rise again in no time.
Look out for the RSI crossing the level 30 line upwards. When it does, consider it your entry signal to open a UP trade.
Click here to download my Free Trading eBook for an explanation of more indicators like this.
Happy Trading.
Tagged With : RSI trend indicator • Trading and winning in Olymp Trade • Trend indicators in Olymp Trade