Last updated on 28/02/2020 – Olymp Trade has now integrated with Mpesa. You can deposit directly by following the steps outlined below.
How to deposit to Olymp trade via Mpesa.
Login to your Olymp Trade account or create an account here if you don't already have one.
Click on the make deposit button on the top right corner of your trading account.

Wait to be redirected to the deposit page.

Chose a deposit method from this list (if you are in Kenya, pick Mpesa).

Choose the amount to deposit.

Scroll down to bonuses and click on promo code.

Enter Promo Code e.g rimba30 to get a 30% bonus.

Now click on the activate button to add your bonus to the deposit.

Next click on deposit.

Enter your phone number in this format – 254 708 655 398. Note, I have committed the plus sign. Now click next.

Enter your Mpesa PIN then press OK to process your payment.
You can also watch the video below to see how it is done.
---
Otherwise, use the guide below if you still want to deposit with the CBA loop MasterCard.
Are you looking for the best, the easiest and the most convenient way to fund your Olymp Trade account in Kenya?
After testing different ways for this service; I have come to the conclusion that the CBA loop MasterCard is the only reliable bank card to use for all your online transaction in the country.
Besides funding your Forex accounts, you can use the card to make online purchases from sites such as Amazon, Alibaba, Konga and more. Or use it to pay for online subscription services such as web hosting (Bluehost)  — or for email subscription services like Aweber.
Before we jump to the steps to follow to fund your Olymp Trade account with the CBA Loop MasterCard; let's first review the product and find out why it is better to use it than to use the other Kenyan bank cards.
What is Loop CBA MasterCard?
CBA Loop is a digital banking, money management and investment product by Commercial Bank of Africa.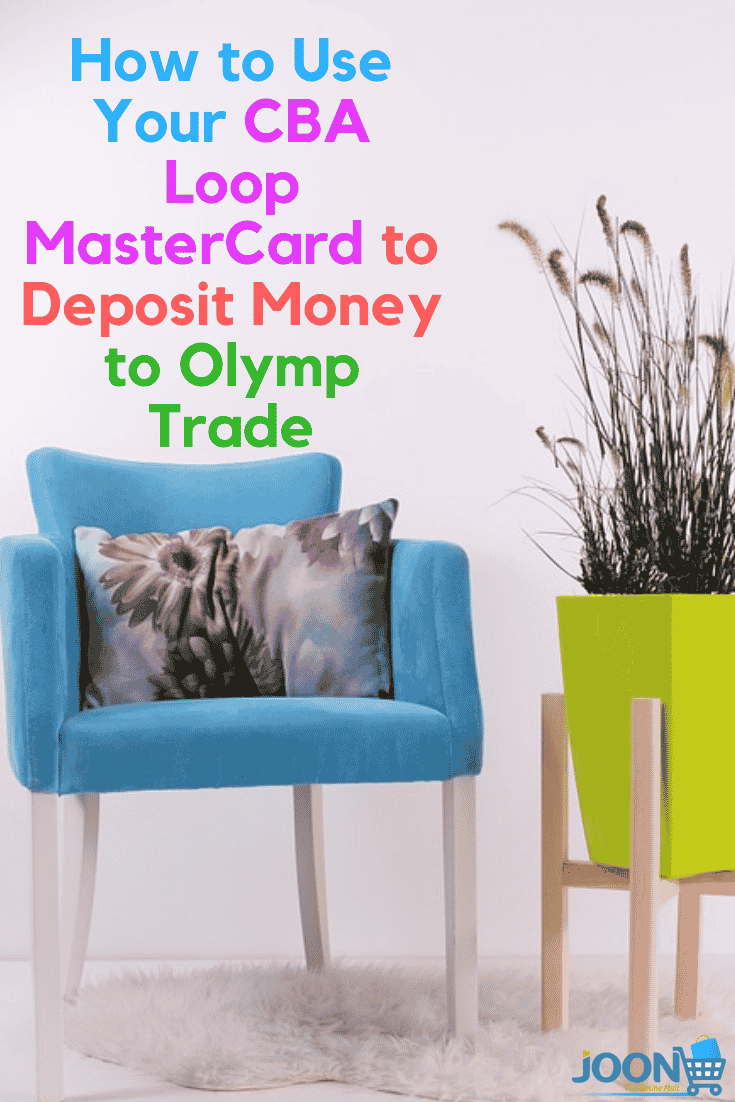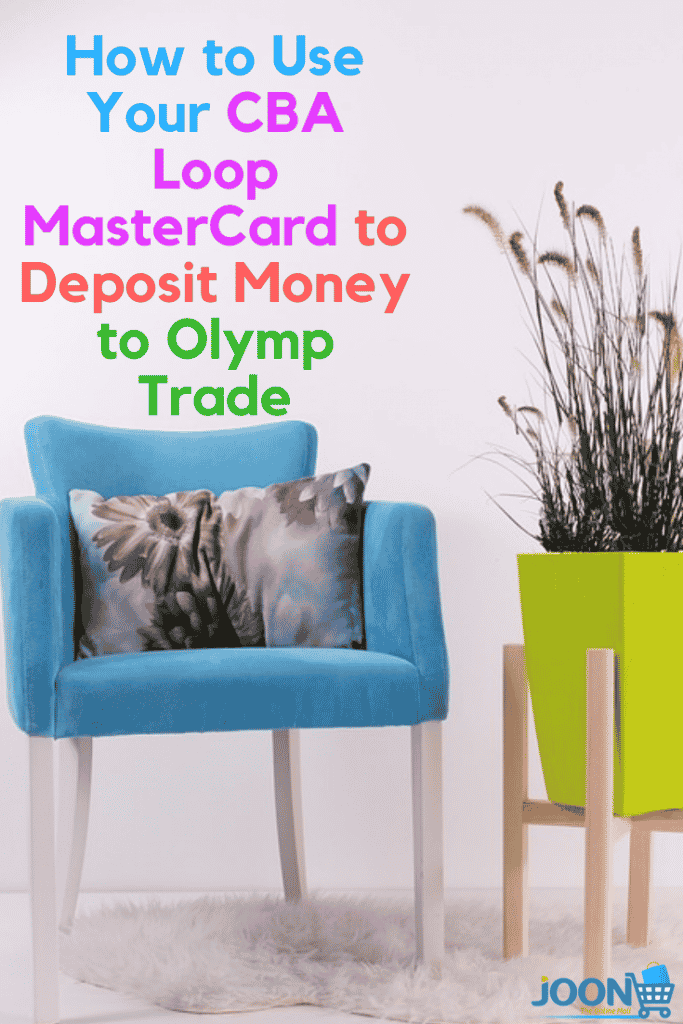 The product has a mobile app and can also be accessed via web browsers.
Among the services that you can perform with the product include: – sending money, paying bills, buying goods, investing, budgeting, borrowing loans and more.
You can also set your savings target via the app, track your spending habits and let your money work for you. Find these features in the growth section of the app.
How to Apply for The CBA Loop MasterCard.
Getting started with the process to get a CBA Loop card is easy. All you need is to download the CBA loop app here or use this link to access the website.
Once you are in, fill the forms shown to create your user credentials.
Note that the CBA Loop application process is progressive and each time you complete the application forms, you will be sent to the next page and the next… until you fill all the required details.
When the application is complete, you are required to review your application details before submitting the form.
Below is an image of how a CBA Loop application form looks.
The green arrow pointing downwards show the entire process in six simple steps.
Another important point to note, CBA MasterCard are issued instantly.
However, you will be required to deposit Ksh. 600 to facilitate the process (this fee does not apply in Kisumu branch).
How to Deposit Money to Your CBA Loop Account Via Mpesa.
The process is simple;
Go to your Mpesa Menu.
Click on Paybill.
Enter CBA loop paybill number – 714777 then press OK.
Use your mobile number in place of the account number.
Enter the amount you wish to deposit i.e – 600 for MasterCard or Ksh. 1,000 for Olymp Trade.
Enter your Mpesa Pin and press OK.
Confirm the payment details before making your deposit.
How to Transfer Money to Another Looper. 
Login to your CBA Loop account.

Click on payments then on send money (if you are using a laptop). Or menu on the left top side of your loop mobile app then select the send money option.

Chose loop as you medium of transfer, fill the recipient details then click on send.
Note: – Sending money via CBA Loop app to another looper is free. Sending from loop to pesalink attracts a transfer fee of Ksh. 48. And sending to an mpesa line costs – Ksh. 42.
CBA Loop Branches | 12 Convenient Places to Pick Your CBA MasterCard.
After applying for the CBA loop card online, you can pick your MasterCard from any of the locations listed below.
CBA Loop Kisumu Branch.
Mega Plaza – Ground Floor  – Oginga Odinga Street.
2. CBA Loop Eldoret Branch.
Zion Mall Ground Floor – Uganda Road.
3. CBA Loop Nairobi Branches.
Garden City Mall branch – Along Thika Road.

Yaya Center –  contact – 0709 714444.

CBA Loop Mama Ngina.

Sarit Center Branch – 0709 714444.

CBA Loop The Point Mall Branch Buru Buru.

Maasai Mall – Ongata Rongai Branch.
4. CBA Loop Mombasa Branch.
Mombasa Avenue Loop Store – CBA building Moi Avenue.

Nali Center Loop Store – Ground Floor.
5. CBA Loop Nakuru Branch.
Nakuru CBA Bank Branch – CBA Center – Nakuru Loop Desk – Moi Avenue.
6. CBA Loop Branch Machakos.
CBA Bank Branch Machakos – Loop Desk – Mbolu Malu Road.
Note: you can also walk-in to any cba bank branch near you and ask if the branch offers this service.
How to Use Your CBA Loop Card to Fund Your Olymp Trade Account in Kenya.
Yes, you can also use your CBA MasterCard to fund your online trading account.
To do that, login to your Olymp Trade account.
Or, use this form to create an Olymp Trade account if you don't already have one.
If you register via the form below you will get 30% bonus on all your deposits. Valid till 31st December 2020. Register and use this promo code – og3ya to get an additional 30% on all your deposits. Example, deposit $100 and get $130 in your trading account.
Step 2.
Now click on the make deposit button > then click on deposit to live account.
Step 3.
Next click on the Visa/MasterCard Button.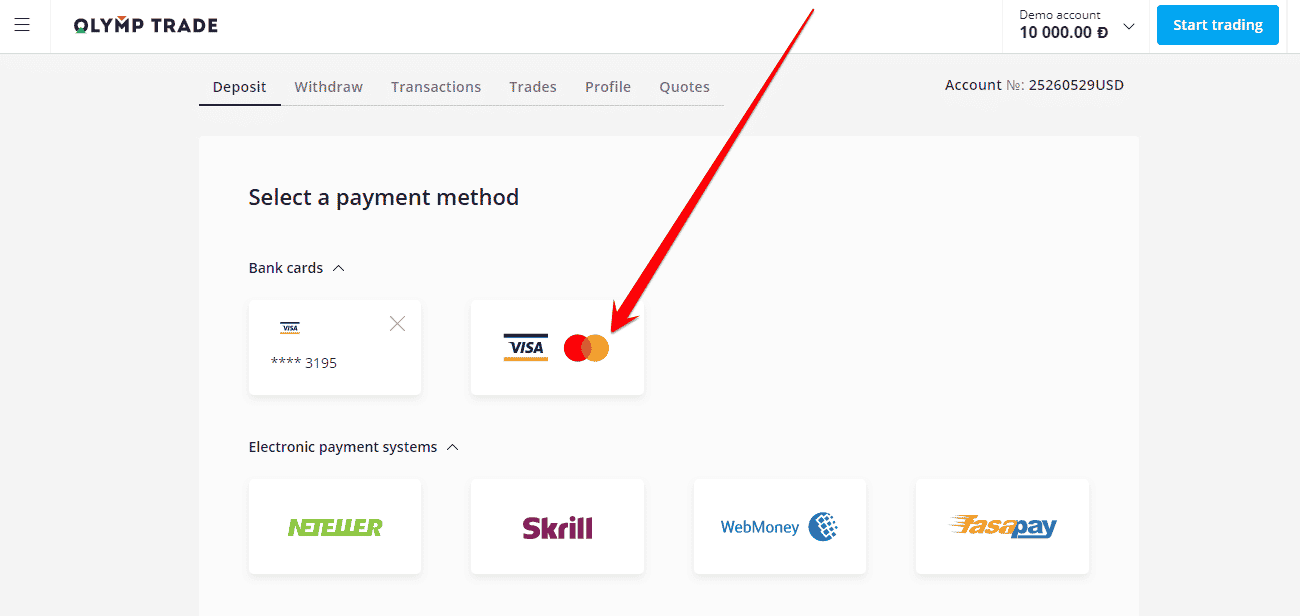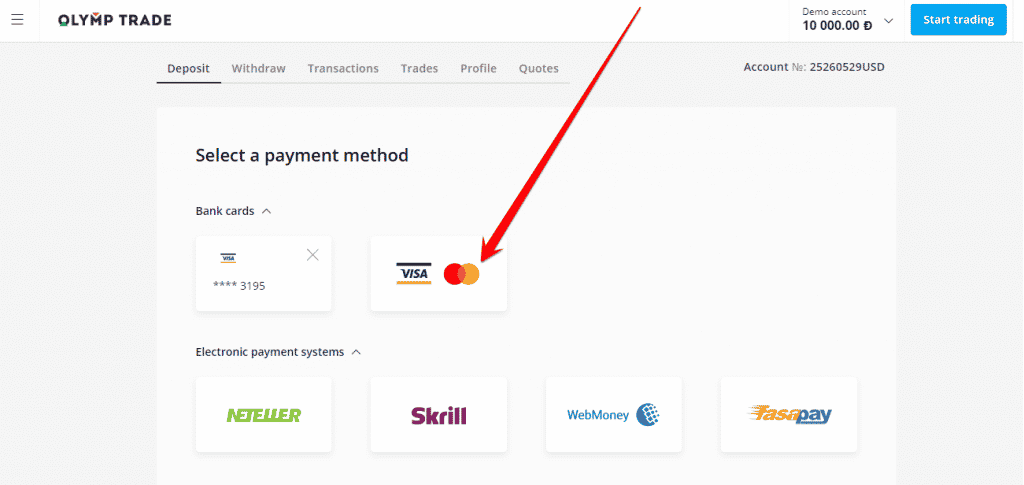 Step 4.
Now choose the amount to deposit with your CBA loop card and click the deposit button.
If you will be using the candlestick/martingale method to trade (watch video on how the strategy works), I recommend that you deposit  $100 for starters.
Note – If you deposit within the first hour of registration, you will get double the amount you deposit in your Olymp Trade account. Example, if you deposit $100, your account will be funded with $200.
However, Olymp Trade minimum deposit amount is $10.
Step 5.
The last step is to fill your CBA MasterCard details as shown with the arrows below then click on pay.
Your funds will reflect instantly in Olymp Trade.
How to WIthdraw Money From Olymp Trade to Your Loop Mastercard.
After playing and winning in Olymp Trade, you can withdraw your money back to your loop MasterCard.
It is easy. Follow the steps outlined below to do it.
Step 1.
Click on the menu button on the top left of your browser then click on the withdraw button as shown below.
Step 2.
If you used your CBA loop card to deposit then the system will automatically pick your card as the destination of funds.
Enter the amount you want to withdraw then scroll to the bottom of your Olymp Trade withdrawal page to send a request.
Your funds will reflect in your card in about 30 minutes.
How to Withdraw Money from CBA Loop MasterCard to Mpesa.
Login to your CBA loop account (if you are using a desktop or a laptop).

Or just open your CBA loop app if you are using the mobile app.

Now click on the payments button.

Select the send money option.

Choose mobile money to send to Mpesa.

Enter the mobile number you want to send money to.

Enter the amount you want to transfer then click on the proceed button.
You will be charged Ksh. 42 for your transaction regardless of the amount.
Summary.
Benefits of The CBA Loop Card.
You can make online payments with your card to any website or service.

Using the CBA loop card to send money is cheaper compared to other money transfer services.

It is free to use the CBA loop card on some services.

You can make payments through Safaricom playbill and till numbers.

Get unsecured loans of up to 3 Million with your loop mobile app and an overdraft of up to 100,000 shillings.
CBA Loop Charges.
Send money from your loop Card to another looper for free.

Transfer money from your loop card via pesalink for Ksh. 48.

Withdraw or send money to a Safaricom line and you will be charged Ksh. 42 only.

Send money via EFT @ KES 66.00.

RTGS @ KES 66.00.

And CBA @ KES 66.00.
Apply for the CBA Loop Card Here.
Or contact the CBA Loop Card Customer Care –
Tel: +254 20 2884000.
Email: contact@cbagroup.com.
Tagged With : Benefits of CBA loop card • CBA Loop Branches • CBA loop charges • CBA Loop Contacts • CBA loop paybill • CBA Loop to Olymp Trade • How to apply for the CBA loop card • Withdraw money from CBA loop to Mpesa