What didn't I do to make money when I was jobless?
I sold mandazis, vended water, sold tea/coffee. And on the extreme, I wrote articles on freelancing-sites-only to earn $1.5 per 500 words. And it is understandable because I was a beginner. I survived. (Now I earn at least $200 per post)
However, if I was in that tight situation again — unable to pay bills — unable to get decent meals — and always hiding from the landlord; I'd do these other gigs instead.
---
9 Great Tips on How to Make Money Without a Job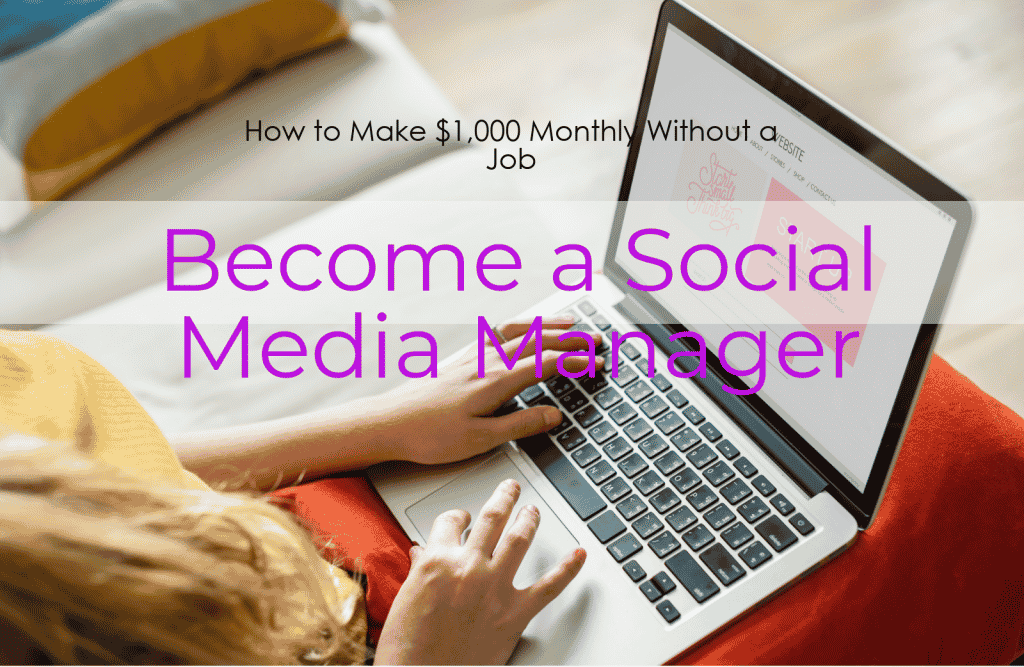 1. Become a Social Media Manager 
Take a quick scroll at your social media profiles. What common thing do you see? Nothing?
Take another keen look!
Small businesses are struggling to drive traffic to their businesses.
They advertise aimlessly, ineffectively. And in a spam-my way. This is quite unfortunate because, instead of drawing clients close, they are pushing them away.
Do you see that opportunity?
You could help these businesses grow in revenue by managing their social profiles, campaigns, and content.
Pitch them to become their social media manager.
And God help you that you should earn in the range of Ksh. 30,000 and Ksh. 50,000 – per client. Per month.
Word of caution,
It is not going to be easy to get your first client. Except if you are patient. And persistent. Send as many pitching emails as you can. Do walkins.
And ask for referrals. Because honestly, you only need two clients paying Ksh. 50,000 each to make Ksh. 100,000 per month.
2. Become a Virtual Assistant 
Virtual assistant jobs are the best work-from-home hustles which you can ever take to earn so much from.
Not only do they require the skills which you already have, but they are also easy to do and pay more. Some even paying as much as six figures yearly.
From my experience, such insane figures come from bookkeeping. But you could still make sane figures from Nairobi. Legit figures. Ranging from Ksh. 3,000 per hour to Ksh. 6,000 per hour.
If you are up for Virtual assistant tasks then these are some of the common skills which you must have
Good grammar

Multitasking abilities

Microsoft suits proficiency

Internet research skills

Ability to use google drive well

Good verbal communication
Because you will be responsible for: –
Organizing computer documents

Data entry

Scheduling appointments

Booking events

paying bills
Think of it as an administrator job in an established company setup. Except, you get to work from home.
You will need two clients paying at the rare rate of Ksh. 2,000 per hour to make Ksh. 100,000 (plus) per month.
3. Earn Ksh. 100,000 Podcasting 
Instead of sitting dead, jobless at home worried about how you will pay your bills, why not start voicing your thoughts for money?
It is called podcasting. Recording your opinion on audio with the aim of reaching thousands of people in the world.
When that happens (And Let's Call it Going Viral); you can earn as much as $18 per 1000 downloads which of course is pegged to your podcast having a 15 seconds ad in the preroll slot.
You can however cash in more money when you get a $25 deal for 1000 downloads or $54 for 3000 downloads – which however ensures that a 60 seconds ad is placed in the middle of your podcast.
Ideally, these earnings change by the number of downloads you get.
And, did I already mention that these amounts are independent per episode?
Meaning, you'll only need 1000 downloads (on X2 podcasts) per day – from your series to earn Ksh. 100,000 per month.
However, advertising isn't the only way to monetize your podcasts. You could seek deals to voice books, coach newbies or become a podcast consultant.
4. Earn Ksh. 100,000 Selling Products on Jumia 
Jumia is the best online platform that you can use to make money online in Kenya. Not only does it have a professional layout, an untarnished history of paying sellers on time; but it also has the largest community of buyers. Which means that it is an ideal market for anyone.
If you want to have 100% success with the platform then this is probably how you should go about starting your business on Jumia.
Visit the Jumia website and search for products with high consumer ratings and top purchases.
Find out if you can source these products (from the manufacturers) at a cheaper price. Buy in wholesale and list in Jumia at reduced prices.
Not only will you grow so fast, but you will also manage to earn Ksh. 100,000 monthly while selling on Jumia.
Do this repeatedly on a number of products to get more success.
5. Take Online Jobs for Copywriting 
Ideally, what you will be doing is write articles, stories, or web content that get people to take action.
While sometimes it requires skill, art, and experience to hack 3 figures; you can earn more by working more.
At least at the beginning.
And when you have established a name, a brand, and prospects, you can review your rates and earn more working less. Let's just say, cutting on the huge chunk of clients who make you work for 80% of the time and only earn you 20% of your total revenue.
FYI, if you are so good at it that your client feels the impact of your service; they will increase the rates to keep you.
6. Start Blogging 
Blogging is one of the easiest ways to make Ksh. 100,000 per month. It requires so little money to start. And there are literally thousands of ways to make money with it.
If you want to earn Ksh. 100,000 monthly blogging in Kenya then you should already have started the journey.
The only things to remember are: – your success might be determined by the blogging niche you pick and the content you create.
Not to mention that — to be successful in blogging, you have to be persistent and if you learn the ropes, you can as well make $1,000,000 easily. Every year.
7. Teach English Online
Do Kenyans speak the best English in Africa? Or it's just me.
Believe me, I didn't know that I spoke good language until recently — when some white folks from England came to our village for charity work and I became the translator.
After long walks and talks, one of the two visitors turned to me and asked, "Kenn, are you sure you are not English?"
Hehe… I wish I was.
It's also good to mention that she reads all posts on this blog and she thinks, my writing is good too.
Back to our question. Do Kenyans speak the best English in Africa?
If you think you are one of a kind then you could become an online English teacher and earn close to $Ksh. 100,000 per month.
Jimmy ESL gives great counsel on all ideas teaching Online English. Join them to learn from home.
And for proof that teaching English online pays, checkout VIPKID. Their highest earning English teacher is paid Ksh. 90,000 per month.
8. Trade Options With Olymp Trade
Did you read my post about how I earned Kshs. 502,000 in under two hours while trading options in Olymp Trade?
You wouldn't believe how broke and Baggerly I was. Almost slipping to depression because of unpaid bills.
And to tell you the truth, if there is something that I did then and I'd still do again then it is online trading.
But how does options trading work?
It's simple.
You only have to predict the movement of your preferred currencies over a specific time frame.
Like, you could predict that the asset price of this currency pair (EUR GBP) will rise in the next minute from a strike price of (0.88120).
If the price changes even by just one single point, you win. For instance, if by the end of the selected period, say 1 minute, the price moves to (0.88121) you win up to 90% profits. Note that it is only the last digit that has changed from 0 to 1. Could go to 3,4,5….. Or down to (0.88119) affecting the last two digits (you lose)
Read more on how Forex Works.
You can start trading with $1. But in order to make Ksh.100,000, you will need to scalp more and sometimes to invest more. Only trade with what you can afford to lose.
9. Become a Google PPC Manager 
At least all major companies in the world and in Kenya have a website. And now even the small and mid-sized companies, small businesses, and even personal brands.
One of the reasons why these people have websites and blogs is to enhance their profitability. To send traffic that converts to sales and to make profits in the long run.
In addition, they all have marketing budgets to take care of the costs.
However, they sometimes end up making losses because of the ineffectiveness of their campaigns.
They don't set up the correct GEO to get the best conversions. They don't track their campaigns to see what works. Most probably because they don't know-how.
So, how about you become the hero of this story? Do everything for them at a share of the generated revenue?
If you run successful campaigns you can earn as much as Ksh. 10,000 per client in Kenya. Which translates to at least 10 clients to make Ksh. 100,000
Conclusion 
To start making money without a job, all you need is the will to put either of these ideas to the test. Remember, every gig you see on this post has worked for someone else. Including myself (I earned 502,000 with Olymp Trade).
As a rule of thumb, only take clients in areas you have passion and skills working on.
Offer great service and that simple hobby that you are about to start today will eventually turn into a mega-million enterprise.
Tagged With : how to earn money without a job • How to make 100000 monthly without a job • how to make a lot of money without a job • How to make Ksh 100000 monthly working from home • how to make money everyday without a job • how to make money without a job • how to make money without a job in college • how to make money without a job in high school • make money job online • ways of making money without a job • ways to make money without getting a job