Do I enjoy blogging in Kenya? Yes! How was I able to start a blog in Kenya and start making money with my blog?
I'll tell you about it.
And am I the richest blogger in Kenya?
---
Well, I'm not sure what the answer to that question should be.
But if you rephrase your question to ask if I have earned millions of shillings blogging in Kenya for the past two years, I'll definitely nod in approval.
Because hey, if it wasn't for blogging, how else would I have earned my first million?
Long story short, in just under 3 years of blogging in Kenya, I have earned a total of Ksh. 6,042,499.78.
I have earned around 812,201.84 Kenyan Shilling in my best month and even 169,571.68 Kenyan Shilling plus in a single day.
And in today's post, I will as much try to show you that blogging works wonders as I will also show you how to start your own professional blog in Kenya.
How to Become a Top-Earning Blogger in Kenya in 5 Simple Steps.
Choose your blog name and buy hosting for that new blog.

Install WordPress content management system (CMS)

Pick a simple theme to give your blog a framework.

Customize your blog with plugins.

Write rich content for your readers.
If you are totally green about blogging, don't worry. I will explain each of these points as we continue.
If you read this post to the end you should be able to start blogging in Kenya in no time.
I have also updated the post with videos which will guide you on each step.
How I started blogging in Kenya on – www.joon.co.ke.
If you are an avid reader of my work then chances are, you must have read the story of how I started this blog.
Honestly speaking, I wasn't looking to start a serious career in blogging.
If anything, I just wanted to share stupid stories with people. Mostly fiction. And maybe to grow my writing confidence.
So I went over to Wordpress.com, created a free WordPress account, and set up my first blog on the platform.
You'd imagine that because everything was Free, I was happy.
And if that's your guess, then yes, I was happy.
But only for the mere reason that setting up a blog on wordpress.com is easy.
Everything else wasn't as easy as I'd seen most blogging guides elaborate.
Why?
Because after setting up my blog: –
No one was there to guide me on how to drive traffic to it.

I never truly had complete control over my website.

My website URL had an extension of wordpress.com (https://abisae.wordpress.com/) and I hated it.

WordPress.com limited how many free and premium plugins/themes I could use. Unless of course, I upgraded to a business package.

I could not utilize Google analytics unless I upgrade to a Business plan or higher. Meaning, I could not track my traffic, analyze reader behavior or see what my most popular posts were – except of course if I was willing to pay another $300+ a year.

And last but not least, it was very difficult to monetize my FREE WordPress blog.
But because I did not have any option and thought that creating a blog on wordpress.org (the best FREE version of WordPress) was difficult, I continued to use Wordpress.com to my detriment.
Now that I have mentioned the two WordPress platforms, why don't we just get over the difference?
Wordpress.com or Wordpress.org. Which CMS should you choose if you want to start a blog in Kenya?
There are very many differences that you can pick from the two WordPress platforms. I'll just mention one in this post though;
WordPress.org is for website owners who want to be independent. Meaning, you'll build everything on your own.
Almost from scratch.
But the good part about it all is, that you're free to install any themes/plugins, you have the freedom to choose how your website will look, and most importantly to customize functionality.
This is the best choice if you want to be like me. Haha…
WordPress.com on the other hand is good for you if you want everything fast and easy. You just sign up and get a ready-to-use website.
The downside is it will cost you so much to have less measured control of the site.
At some point I even decided, you know what, I'll just pay for the wordpress.com business plan. After all, I wanted a better site, right?
Here's proof of payment.
After testing and backtesting that platform for about a year, trying different impossible stuff on the platform, I decided wordpress.com did not fit the bill.
Of course, if my dream of becoming the richest blogger in Kenya was something to go by.
Long story short, I found out that there was a different version of WordPress; free, easy to use, and highly customizable.
And on the 12th of December 2018, I registered my new domain name – Joon.co.ke, set up it up, and started making money.
Believe it or not, I earned my first cheque within the first month of setting up my new blog on wordpress.org. $57.31 to be precise.
Here's proof.
My blog has since become a household name in Forex trading, a go-to resource for ways to make money online, and my name?
Oh boy, legendary in the Kenyan blogging industry.
Then you would ask,
How easy is starting a blog that makes money?
The answer is, it is very easy.
If I did it without any prior training on setting up a blog and stuff, why wouldn't you?
To make it even easier and more interesting, I will give you another choice besides sweating it out by creating a blog from scratch.
Let me take the dirty work off your hands.
Here's How to Start a Blog in Kenya in 5 Steps.
Step 1: Choose your blog name (for example Joon (joon.co.ke)
Step 2: Get your blog hosting. Bluehost is a reliable host for anyone who wants to start a blog in Kenya.
Step 3: Start your blog in Kenya by adding a content management system. WordPress is the most common CMS for professional bloggers)
Step 4: Choose a simple theme to customize your blog (WordPress has thousands of FREE blog themes).
Step 5: Write compelling content to create a blog that your readers love.
1. Choosing your blog name.
Upon deciding to go professional with blogging, the first thing that I did was head over to truehost.com and chose a domain name for my blog.
Out of everything else, I chose Joon which means life because my blog would soon become my new financial lifeline.
Once you've chosen a name, add an extension to it to create a domain name.
For example, joon.com, Joon.co.ke, Joon.ke or whichever extension you feel comfortable with.
At truehost, there is almost a domain extension for anything.
If want a free domain name, head over to bluehost.com.
Even though Bluehost does not have domain names for local extensions, e.g .co.ke, I'll recommend that you go with it on the next step.
2. Get your blog hosting.
Did I already mention that at the beginning of my blogging career I hosted with truehost.co.ke?
Yes, it is true.
I hosted with them for a few months.
Do you wish to know why I switched hosting?
This is why
Not a day passed without my website going offline.
At times it would be offline for just a few minutes, other times it would be offline for 2 days but quite so often, it was offline for many hours,
The image above shows page one of 38 other pages when joon.co.ke was offline when I was hosting in Truehost.
Do you know how it feels when your blog is offline and you know it is not your fault?
It hurts. It feels stupidly wrong.
More so because anytime your site isn't available online for readers, you aren't making money, you aren't capturing leads and you can't upload new content.
To be on the safer side as a beginning blogger, I'll recommend that you go with Bluehost.
If you are still undecided about the hosting company, here are 5 other reasons why you should go with Bluehost.
Reliability. Bluehost's facilities are world-class guaranteeing a 99.9% uptime for your blog.
Bluehost is fast, you can integrate it with Cloudflare, and also guarantees better performance.
Money-Back Guarantee. Bluehost offers a 30-day money-back guarantee, meaning you can easily pull out within 30 days if you don't like the service.
Free Domain. When you sign up for hosting at Bluehost you get a free domain name which if you ask me, saves you about $10. If you have an existing domain name, you can also use it with Bluehost. Yes, that's still possible.
I have also used Bluehost in the past and I'd vouch for it for beginning bloggers.
Great pricing – For only $2.75 a month, you can get your blog online.
Feeling ready to power your blog? Head over to Bluehost and click on that get the started tab to claim your savings.
Next, choose a plan that fits your bill.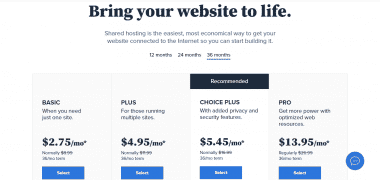 Done that?
You're almost done.
Now create your domain name or choose an existing domain to move to the next step.
Done that?
On the next step just create an account by filling in the account opening form on the screen.
You can also log in with Gmail. It's even easier.
And when you are done, click on the submit button at the bottom to purchase your hosting package.

Done that?
Congratulations.
You are a step closer to owning your own blog.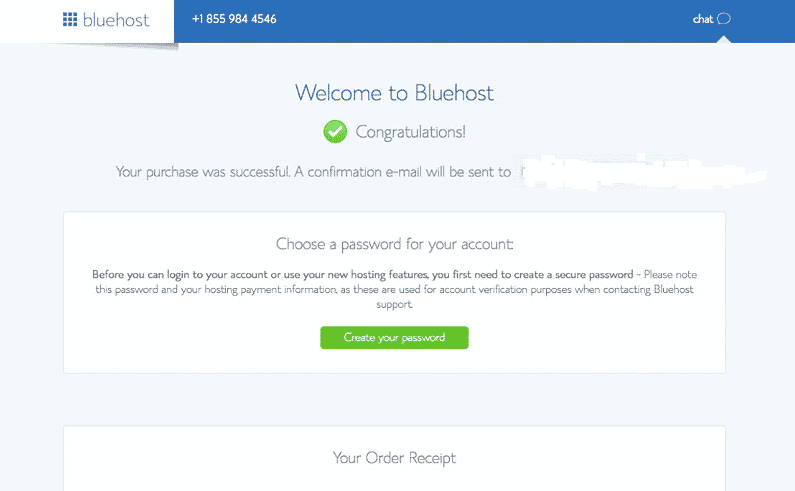 Head over to your Bluehost registered email address to set up your password and to install your preferred content management system.
For the sake of this post, we will install WordPress.
3. How to Install WordPress to Start Blogging in Kenya
Have you already clicked on that link sent to your email address?
Now login to your Bluehost account to add WordPress.
Click on the My Sites tab in your Bluehost account
Choose the Create Site button.
New windows appear for two highly recommended website builders.

Click the Start Building button under the WordPress option.
Enter the Admin Information:

Site Name: This will be the name displayed on your site. This is not the URL, but simply the name used on your site.
Site Tagline: This should reflect a brief description of your website.
Advanced Tab:

Email Address: This will be where your login information will be sent.
WordPress Admin Username: The desired login name for your application
WordPress Admin Password: The desired password for this application.
Please review our article on creating strong passwords.

The installer will take a couple of minutes to install your application. Once done:

Choose a theme to customize your blog.
Any blogging theme will give your blog a nice look and make it functional.
An example of a FREE functional blogging theme that can also make your blog look beautiful is HItMag.
In fact, this is the same theme that I used on my first blog before going premium.
To install HitMag, log in to your account.
You can either access your WordPress account via Bluehost or through your domainname.com/wp-admin
The next step, navigate to the appearance tap and then to themes.
It should be easy to locate HitMag with a simple search.
While customizing your site, make sure you add these plugins for greater appeal and functionality.
Top 7 Plugins Every Newbie Blogger in Kenya Should Install 
Akismet – will filter out and block all spam comments for you because as sure as hell your blog will receive spam that needs blocking.
Jetpack by WordPress.com –will help you: –

Filter spam and protect your blog from brute force attacks.
Fasten page speed for mobile users with lazy loading images
Give your blog a great new look with its powerful customizations.
As an SEO tool for Google, Twitter, Facebook, and Bing
With tools for managing multiple blogs using one single dashboard

Use Yoast SEO to help you with organic traffic
Google Analytics Integration for WP – for blog analysis.
Wordfence Security – to protect your blog.
W3 Total Cache (Page Speed) – Will make your blog faster.
Social Warfare (Social Sharing Buttons).
To add these plugins to your site, log in to the WordPress dashboard, locate plugins on the left sidebar and click on it to add new plugins.
The plugin area looks something like the image above.
Use the search button to find your preferred plugin, install then activate it to make changes take effect on the front end.
To this point, you have a blog.
But is it really what you envisioned?
Is it really helpful to you or to your readers without content?
5. Write rich content for your readers.
I hate to be the bearer of this bad news. You will not begin to make money with this blog today. More so if you don't begin to create great content for it now.
To make your blog interesting and worth looking at, create and publish: –
Great content – If you don't know where to begin, begin by creating the about us page, add a contact form to your contact us page, write something about your blog's privacy policy, and any other thing that can help your new readers navigate your new blog.
While creating that first great content for the blog, add a photo of yourself. Make that new blow feel personal, of course with your personal touch
3. Add a logo to your blog. In Kenya, you can find someone to help create your professional logo for less than $50. If you don't know someone in that space, go ahead and use online tools like online logo maker to create your logo online.
4. Because you'll also need a place to borrow images for your blog, why not have a look at pixabay, Unsplash, iStock, Shutterstock Paul Jarvis among other free stock places.
All said, make sure you hit that publish button as soon as you are ready to share your new content with the world.
How do bloggers make money in Kenya? Start a blog in Kenya.
Now that you have a blog and you have posted your first 30 articles, you want to know how to make money blogging in Kenya. Right?
There are thousands of ways you can make money with your blog.
To mention but a few: –
Use affiliate marketing
Advertising (use google Adsense or any other publisher out there).
Provide professional services.
Sell digital products
Let other publishers publish sponsored posts on your blog.
Make and sell websites.
Write guest posts for other blogs
Have I already mentioned that blogging is the easiest way to become rich?
And, did you miss that part that I said, "I made my first million shillings blogging in Kenya?"
Well, all that is true.
What I left out, however, is that my first million came as a result of promoting Forex affiliate platforms.
In fact, I now comfortably make Ksh. 10,000 or more daily just promoting affiliate products.
On a good day, I have even earned over Ksh. 150,000 blogging in Kenya.
If you want to learn how I do it pay me. Hehehe…
Preorder my Forex Affiliate Guide Book to learn more.

2. Make money with your blog through advertising.
By advertising, I mean google Adsense or corporate ads.
With corporate ads, the most I have ever earned blogging in Kenya is $,2008.
It wasn't much for an ad that ran for 2 months but it was really a great eye-opener for me and a consolation that blogging can really become a career.
Here's the payment for banner ads – $2,008.

But corporate ads don't come easy.
More so when your blog is new.
So what is the alternative?
Google AdSense.
The only disadvantage is, google pays pennies.
Now check this out.
For over 1 million pageviews, for almost 1 and half a year, I only earned €1,804.74.
Meaning, company ads beat google Adsense by a huge percentage.

Either way, advertising is still a good way to make money blogging in Kenya.
3. Provide professional services.
What's your professional background?
Are you a social media manager, an accountant, a lawyer?
Whichever profession you are in, you can make money by selling your professional services through your blog.
It makes more sense if it is an on-demand service and you are a thought leader in the industry.
4. Sell digital products.
If you have skills or advice to offer, sell it through your blog.
From my three years of blogging, I can tell you that people are willing to buy anything of value online.
As long as they resonate with it, they will buy it.
5. Let other publishers publish sponsored posts on your blog.
When other bloggers start noticing that you're getting noticed on SERPs, they'll begin flocking your email account with paid guest post requests.
On this blog, a day doesn't pass without someone asking.
You can charge $50 to $1,000 depending on how valuable your blog is.
6. Make and sell websites.
If you don't want to go through the stress of updating your blog every day, why don't you just sell it?
If you ask me, this is another easy way to make money with your blog.
In fact, I have sold some and even received an offer for this blog. And I'm not selling. Haha…
7. Write guest posts for other blogs.
Instead of accepting guest posts to your blog and getting paid, you can opt to seek and write for other bloggers accepting guest posts for pay.
Have questions about this post?
Leave a comment.
Tagged With : blogging in Kenya • blogging jobs in kenya • Blogging sites in Kenya • blogging sites that pay in kenya • highest earning bloggers in kenya • highest paid bloggers in kenya • how do bloggers make money in kenya • how to become a blogger in kenya • how to make money blogging for beginners • how to start a blog in kenya • how to start a money making blog • make money from blogging • Starting a blog in Kenya